Public Relations and SEO Coordinator Kelly Diehr credits much of the output of Let's Roam to its emphasis on collaboration. The company, which sells scavenger hunt packages across more than 350 locations, has also helped raise tens of thousands of dollars for various nonprofits and charities.
But her office isn't the only place to find a sense of camaraderie in Colorado tech. 
GoSpotCheck helps teams at enterprise brands in 70 countries streamline field data collection. When asked what might surprise people most about day-to-day business, Product Manager Cole Capsalis said the juxtaposition between the company's complex product offering and dog-friendly, outdoorsy, Denver office vibe.
"If you were to ask the considerable number of confused passersby on the street, they would be surprised to learn that we make software, not coffee," Capsalis said.
These 11 local tech companies are improving treatment options for cancer patients, placing nurses in short-term housing and much more. And many of the tech employees we spoke with attributed their company's success to their customer-centric approaches to product development and employee dedication.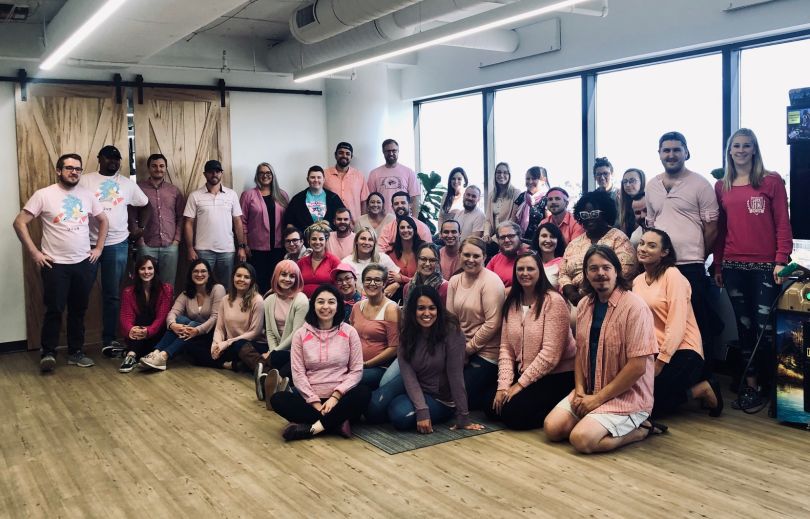 What they do: Travelers Haven is a full-service housing firm that helps businesses and organizations with traveling professionals find housing that works for them. According to its website, Travelers Haven makes 20,000 annual placements.  
One thing that would surprise people about Travelers Haven: "Most traditional corporate housing companies actually start with Fortune 1000 companies that are relocating their workforce," President and CEO Carlos Abisambra said. "The healthcare industry came with non-traditional challenges like figuring out our supply in rural areas as well as figuring out our cost structure to support the budgets for travel nurses. We developed technology to acquire and retain major healthcare clients."
One trait all team members share: "Together we thrive," Abisambra said. When he asks new hires what surprised them most about joining the Travelers Haven team, they often say how helpful every single person has been. They feel they can ask anyone a question and employees are always willing to take the time to help out.
What they do: GoSpotCheck is a software tool that gives enterprise clients the ability to better track their merchandising, increase sales, reduce labor and expenses and more. The company uses digital photo capture, machine learning, artificial intelligence and advanced analytics to bring field data to executives, technical leads and mobile workforces.  
One thing that would surprise people about GoSpotCheck: "If you were to ask the considerable number of confused passersby on the street, they would be surprised to learn that we make software, not coffee." Product Manager Cole Capsalis said. This possible mixup speaks to the welcoming space they have created for employees and community in downtown Denver. 
One trait all team members share: Members of the product and engineering teams are focused on the user at the other end of the code. "When we get together for our Agile grooming ceremonies, you will hear us throw around the first names of our customer personas like they are old friends," Capsalis said. "It keeps us grounded in the ideal that we are writing software that people are using."
What they do: Skupos is a data analytics platform for convenience stores. It offers solutions like integrations, analytics and data reporting for the stores, their distributors and consumer packaged goods (CPG) brands. The founders, who have previous experience in the CPG space, started the company in 2015.  
One thing that would surprise people about Skupos: The focus on growth and development beyond employees' job descriptions. "While we definitely love to put our heads down and hit goals, it's just as important to develop a culture of learning and personal growth," Manager of Business Development Pranav Reddy said. Skupos offers "Monday Mingle" happy hours, company lunches and ongoing training sessions.
One trait all team members share: Compassion and empathy for small businesses. "Being a small business owner is difficult," Reddy said. "Our company is focused on helping small retailers compete with larger chains, a mission we take very seriously."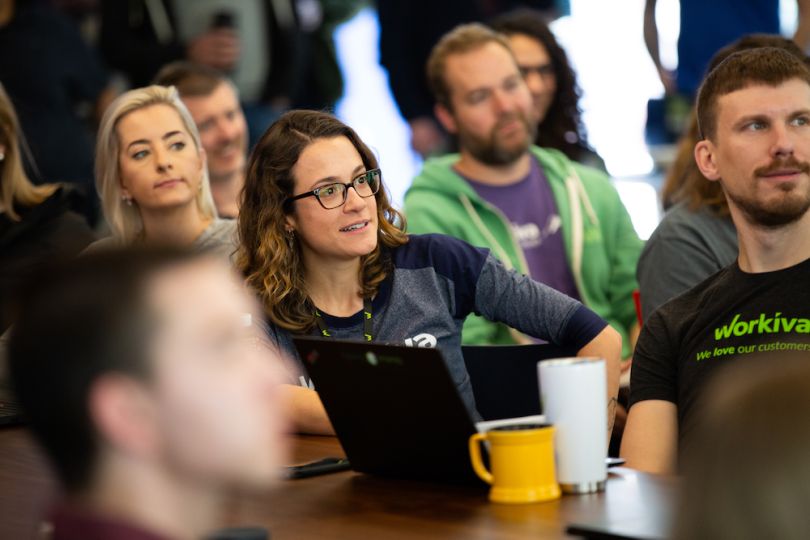 What they do: Workiva is a compliance cloud platform that helps businesses simplify data reporting. The public company provides solutions for clients in banking, government, education and insurance industries. According to its website, in Workiva's first five years, it was used by more than 65 percent of Fortune 500 companies. 
One thing that would surprise people about Workiva: The passion employees bring to helping their customers. "We create an environment where we feel comfortable trying new things, learning from mistakes and asking questions," Software Engineer Laura Meckley said. Growth opportunities include volunteering or joining one of Workiva's eight employee resource groups.
One trait all team members share: Dedication. "It's what sets us apart from other companies," Meckley said. "When you have the opportunity to work in an environment where you blend product and technical focus, you end up learning a lot from a diverse group of people."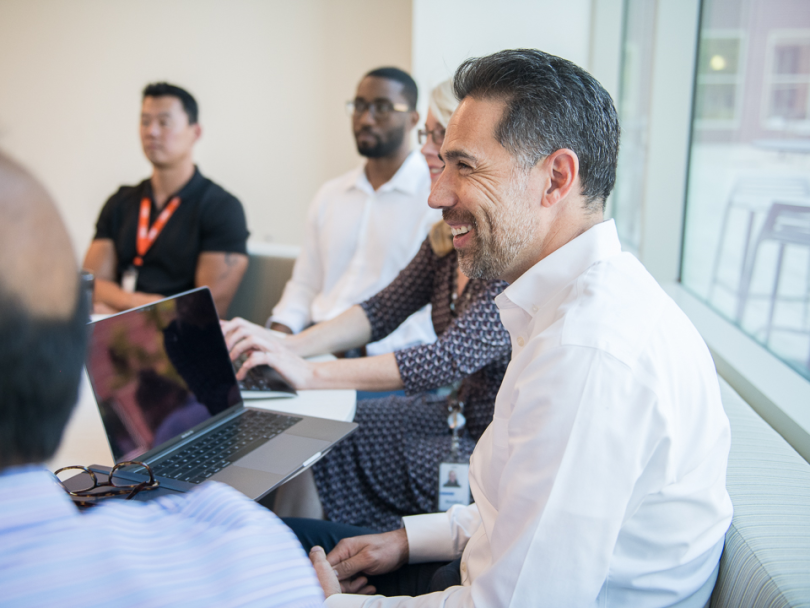 What they do: Since 1963, FirstBank has offered both individuals and companies online banking, personal checking and saving services. It has more than $19 billion in assets and 118 locations throughout Colorado, Arizona and California. 
One thing that would surprise people about FirstBank: Although it's the second largest bank in Colorado, the team has the mentality of a fintech startup. "Between our more relaxed dress code and the flexibility to work from home, working in technology at FirstBank has more than a few surprises," Career Navigator Stephanie Neiberger said. "We work with autonomy and collaborate at every level." The career navigator helps with professional growth, tuition reimbursement and on-site training.
One trait all team members share: "One of the things we all have in common is a strong spirit of collaboration," Neiberger said. "Across teams, disciplines, business lines and areas of expertise, FirstBankers work together for the good of our customers, communities and employees."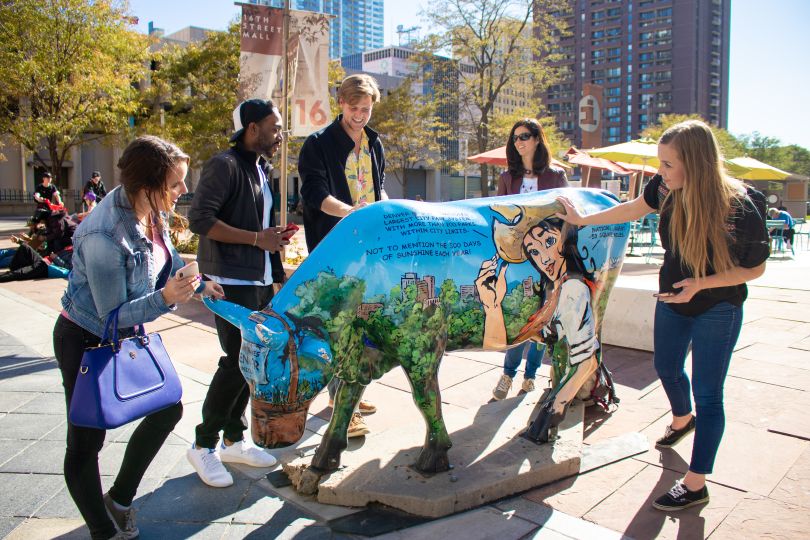 What they do: Let's Roam offers customers fun ways to explore their city by having them solve riddles and complete photo challenges on local scavenger hunts, which are two hours long. Employees recommend taking a date or going all together as an office team-bonding activity.  
One thing that would surprise people about Let's Roam: How deeply everyone is valued. "Our company is growing quickly, so each individual's impact is felt, and there is opportunity to make a substantial difference in the future of Let's Roam on a daily basis," Public Relations and SEO Coordinator Kelly Diehr said. "Any and all ideas are heard and many are implemented."  
One trait all team members share: A creative, collaborative approach. "All of our team members realize that the best possible outcomes are achieved when we work together," Diehr said. "We consistently collaborate within and across departments." And according to Diehr, that mindset extends outside of work. Employees host regular game nights and happy hours.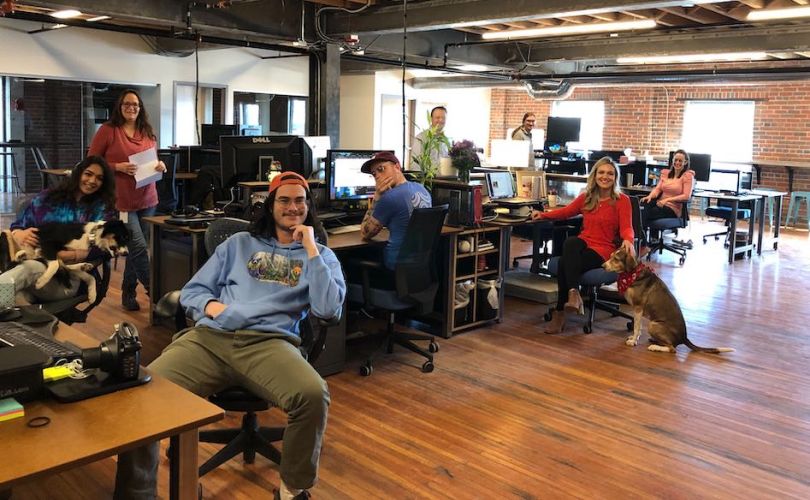 What they do: Photobucket is an image sharing, hosting and storage solution that has called Denver home for 17 years. The company provides tiered plans depending on user image storage and hosting needs. 
One thing that would surprise people about Photobucket: "Photobucket is in a new phase of innovation with a new leadership team in place," SVP of Product and Partnerships Scott Potter said. "We are focused on transforming the business by leaning into Photobucket's innovative origins." Having nearly doubled their team in the past year, the company is focused on rebuilding an easy-to-use, powerful platform to share, host and store images. The company's new website and mobile apps are set to launch in the first half of this year. 
One trait all team members share: Its team is committed to delivering a team-oriented, members-first experience. "We are objectively critical and curious to foster growth," Potter said. "We take a collaborative and informative approach to solving problems."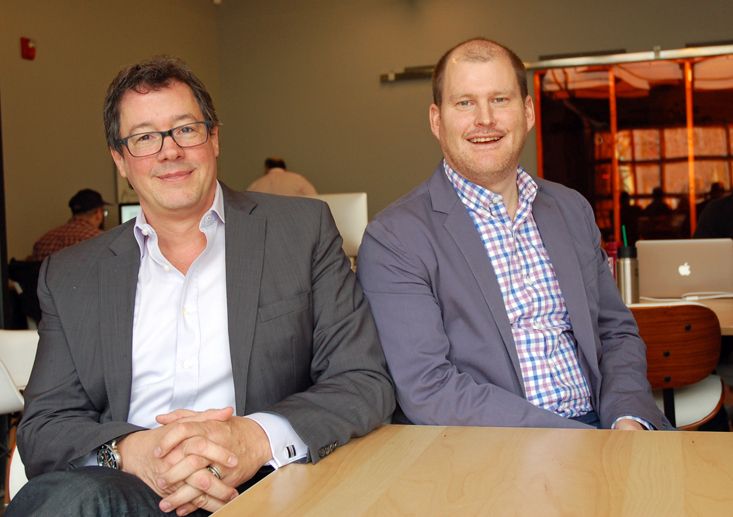 What they do: DispatchHealth allows patients to access care without leaving their homes. Users can request service through an app, online or over the phone. The company's healthcare professionals can reportedly treat everything an urgent care center can and more. DispatchHealth's services are covered by Medicare, Medicaid and many leading insurance providers. 
One thing that would surprise people about DispatchHealth: How relatable and receptive to new ideas its co-founders are. Chief Executive Officer Mark Prather, worked as an emergency room physician for more than 20 years before DispatchHealth. "One of my first conversations with him was about his passion for music and a good ol' jam session," Director of Marketing and Communications Amelia Sprague said. "Similarly, Kevin Riddleberger, our chief strategy officer, is a seasoned healthcare clinician and leader, but he's also a down-to-earth family man."
One trait all team members share: Diligence. "Members of our marketing and growth team are what I would call 'diligent doers,'" Sprague said. "We're problem solvers who are able to adapt quickly."
What they do: IntelePeer provides users with Communications Platform as a Service (CPaaS) to improve the customer experience. The CPaaS includes voice messaging, APIs and workflow automation, no coding required.   
One thing that would surprise people about IntelePeer: How much they value and reward their employees. "Every month we give out two employee awards called the "Above and Beyond" and "Blitzscaling" awards," Director of Human Resources Ana Milian said. "The winners are then awarded a $300 bonus to go on an adventure of their choosing." Examples of things people have done in the past include trips to Europe, family ski weekends and skydiving.
One trait all team members share: Passion. "Cross-department collaboration is the norm as we all work toward the common goal of making this company as successful as can be," Milian said.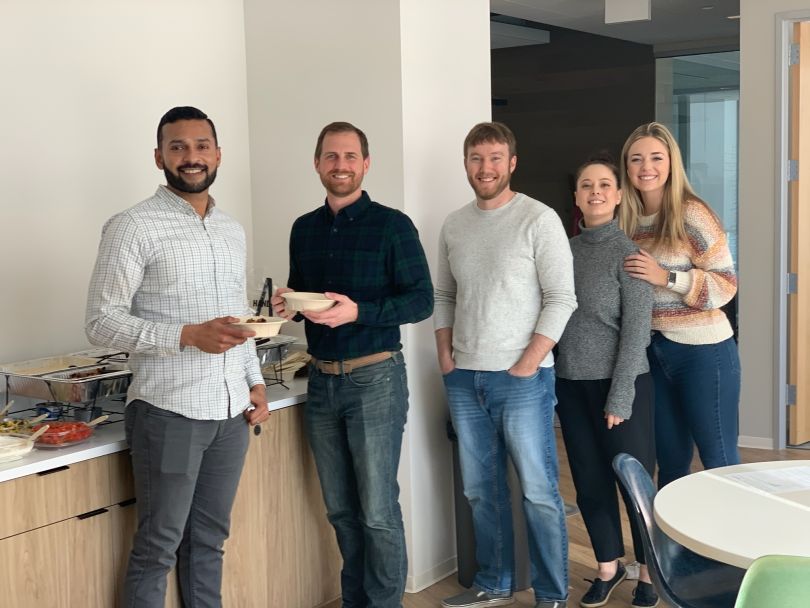 What they do: ViewRay makes MRIdian, a magnetic resonance imaging-guided radiation therapy system that can image and treat cancer patients simultaneously. The team hopes it can serve as a better treatment option for cancer patients who need radiation therapy.
One thing that would surprise people about ViewRay: The team is small but mighty. "We have 34 systems in hospitals around the world and more on the way," Director of Marketing Communications Danyelle Taylor said about the product. "We are proud of the role we play in serving the 18 million who are diagnosed with cancer each year."
One trait all team members share: An emphasis on the team's shared values. "We work together,  hold ourselves and each other accountable and are honest and transparent in what we do," Taylor said. "We are committed to bold innovation, focused on delivering radical customer delight and strive to stay humble."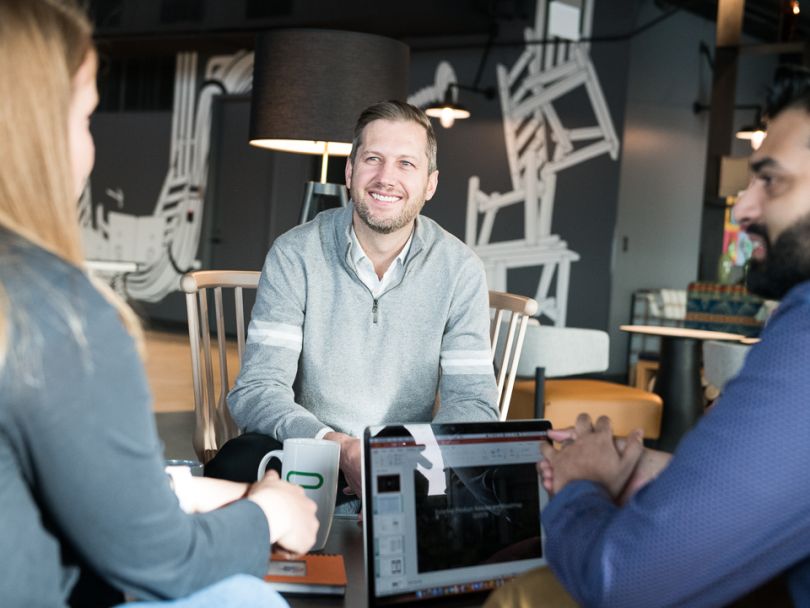 What they do: HomeAdvisor allows service professionals to connect with homeowners to provide assistance with tasks like bathroom remodeling, flooring projects and lawn care maintenance. The company's screening process includes a background check and licensing verification.  
One thing that would surprise people about HomeAdvisor: The level of amicability between employees. Director of Training DJ Atchinson has been with HomeAdvisor for almost 16 years. He has watched the company grow from a small startup. "Everyone starts their days with a 'good morning,' always asking how you are," he said. "This has stuck with me. A lot of times when companies grow, that part of the culture gets lost."
One trait all team members share: Professional and personal ambition. "I would say that we all take pride in our work each day and are dedicated to being successful," Sales Recruiter Katie Rochefort said. "Having our sales floor filled with driven and energetic people truly motivates us to recruit for our teams."
Related: Companies Hiring During Coronavirus