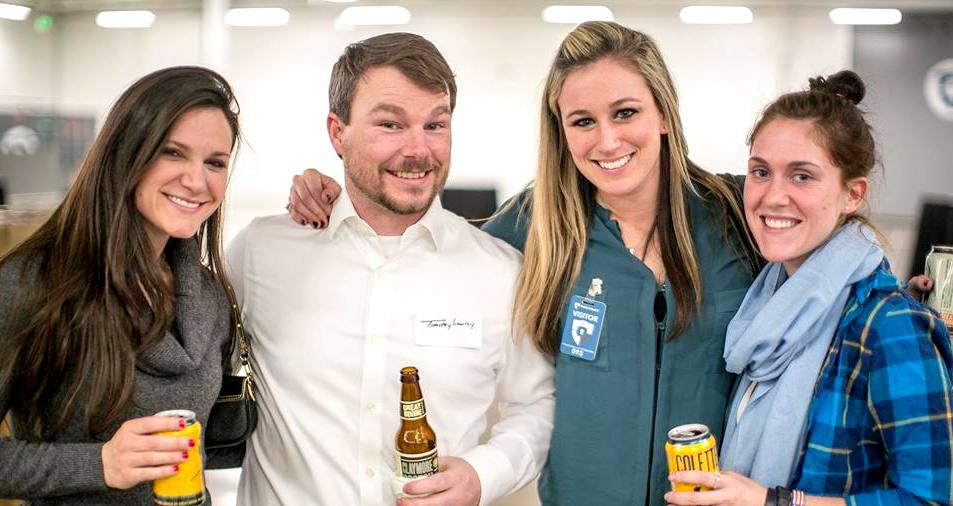 So, you're new to Colorado's startup and tech communities. Welcome!
Breaking into a new community can be difficult, especially when it's as geographically sprawled as Colorado. With so many events to attend, companies to follow and people wanting to "give first," figuring out where to start is a daunting challenge for a lot of newcomers. We here at Built In Colorado have been around for a few years, so we're in a pretty good place to make some initial recommendations. Here's what you need to know to get started in the Colorado tech community:
Tech news
In order to be part of the community, you'll probably want to start by knowing what's going on here. The Denver Post does a great job of covering local and national tech news. Denver Business Journal and InnovatioNews carry the top stories each day. If you're a Feedly user, Built In Colorado contributor Scott Pantall's created a great collection of local tech news. And it's not like we're biased or anything, but we think we do a pretty good job of getting you up-to-speed on the community, too.
Events
It's no secret Colorado startup folks like to get together and have a good time. There are networking events, like our own Built In Brews. Or you can learn from the top names in local tech at events like Hacks/Hackers, Refresh Denver and Startup Grind. Hear from budding entrepreneurs at pitch events like Boulder Beta and Denver Beta, and, of course, you can experience it all at Startup Week events across the state.
There are so many startup events happening, it can be hard to keep track of it all. Check out our events calendar or subscribe to the local Startup Digest to get a weekly email that lists 'em all.
Online communities
Not ready to put yourself out there just yet? Don't worry — Colorado's startup community is thriving online, too. Check out local Twitter chats like #HRUChat and #insidedenver, or follow and share with the hashtags #Boulder, #Denver or #techlovesCO.
Not sure who to follow? We've taken care of that too. Check out our ever-growing Twitter list of local companies and our 2016 50 Startups to Watch list. If you're a Slack addict, check out the just-launched StartupColorado team — snag an invite here.
And of course, we'd love to get social with you everywhere from Facebook and Twitter to LinkedIn and our brand-new Instagram.
Organizations
With so many startups around, it's only natural some organizations would exist to help them out. Women Who Startup supports women in the industry with events, mentorship and community. Denver Founders Network exists to connect founders, and Colorado Product is here to make sure Colorado stays on the map as a major tech leader. And the
exists to connect entrepreneurs with investors and other funding sources.
Funding
Speaking of that sweet, sweet startup cash... Whether you're looking to raise a round or just have some questions,
, Ventures,
Access Venture Partners
and Ventures are the big players in the Colorado game.
Service Provider Capital
are here specifically to get you that series A, and you can check out other VCs and angel investors in our
directory
.
Incubators/Accelerators
If you're looking for cash and a little bit of help getting things going, check out one of the many local incubators and accelerators. While Techstars is the most well-known, Boomtown is gaining ground in the community, too.
A number of industry-specific ones exist, as well, like
(for women-run businesses), (for digital health companies) and
Secure Set
(for cybersecurity companies). The isn't tech-specific, but they've also had a few tech graduates who are hellbent on changing the world.
Not satisfied? Here are a few more to check out.
Coding schools
There are even places that'll help you learn the skills you need to work at a startup. Schools like 
, 
, Galvanize, 
 and 
 have programs on all sorts of topics, like full-stack development, UX design, data science and even digital marketing. But those are just the big names; we've got more schools listed here.
Coworking
If you're a solopreneur, working with a small team or doing the whole remote thing, finding a place to park your laptop can be a challenge if you don't know where to go. Local champion Galvanize has four coworking locations along the front range, and national giant
also recently came to Denver with two locations.
has a social-entrepreneurship focus, and is partially backed by the City of Denver. The campus' curated blend of professionals is a good bet if you're looking for a place to work that's not too techy.
If none of these sound like your thing, there's sure to be something for everyone in our full list of coworking spaces.
Related: Best Startups to Work for in Colorado