Preparing to Triple Headcount, AgentSync Opens New RiNo Office
Over the course of just over a year, the insurtech startup raised $36.1 million and outgrew two offices. Now it's ready for the next step.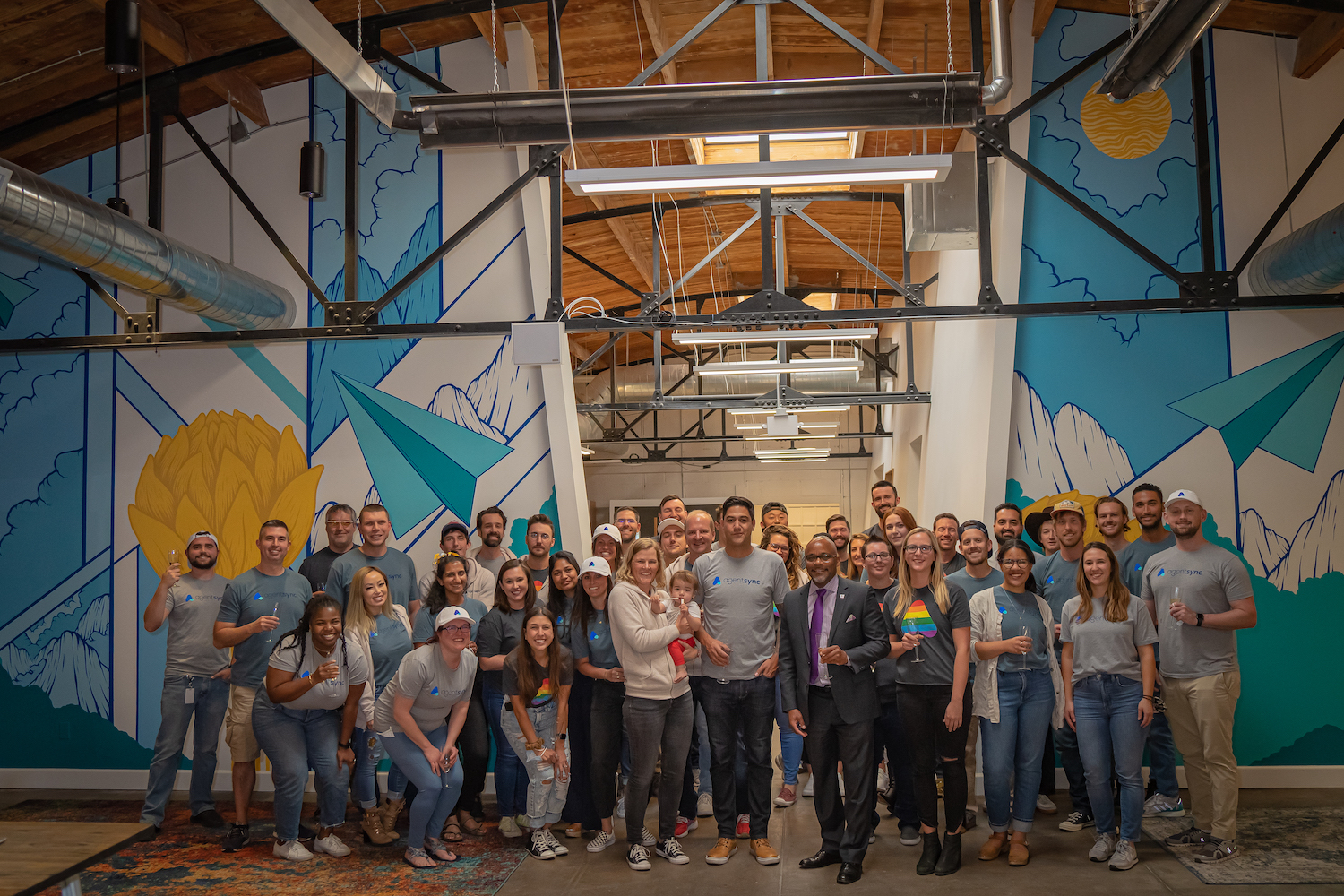 It's been a wild 17 months for AgentSync CEO Niji Sabharwal and his wife, CTO and co-founder Jenn Knight. Since moving from San Francisco to Denver in April of 2020, they've raised $36.1 million in venture capital, grown from six to 100 employees and welcomed a baby girl into the world.
AgentSync has also outgrown two offices, and it recently moved into a spacious open-concept office that they hope will accommodate their growth — at least for the foreseeable future.
AgentSync's team is on track to more than triple from 35 to 115 employees this year, and Sabharwal plans to reach 175 to 200 employees by the end of next year.
"The idea was to create a space people could be proud of," he told Built In. "The vast majority of the space is open – communal areas and lounge areas – a great place to bring in customers, investors and, most importantly, candidates."
The new 12,500-square-foot office has enough space for at least 100 employees, but Sabharwal said he doesn't imagine that many people in the office.
The company is easing back into the office with a hybrid work model, and Sabharwal expects employees will eventually average three days a week in the office. About 75 percent of the staff is based in Denver, and the rest are remote.
Growth From Seed
The Denver company's growth was made possible with three funding rounds totaling $36.1 million over a nine-month period: a $4.4 million seed round in June of 2020, followed by a $6.7 million seed extension in November of 2020 and a $25 million Series A in March of 2021.
The company's most recent valuation was $220 million, which is a tenfold increase from its valuation during its initial seed round.
Sabharwal and Knight, founded AgentSync in 2018 after his former employer, Zenefits, was fined by the SEC for misleading investors about its compliance with state insurance laws.
The investigation was sparked in part by Sabharwal's leaked emails warning sales reps not to operate in states without a broker's license.
In the wake of the Zenefits scandal, Sabharwal built AgentSync's software, which streamlines the connection between insurance carriers and insurance brokers. The software automates the time-consuming compliance process by integrating directly with the databases of regulatory governing bodies like the National Insurance Producer Registry.
"We are modernizing a very complex piece in infrastructure for the industry that has created a massive bottleneck for distribution," he said. "Where that bottleneck is created is for the onboarding, the management, compliance and all the background checks that need to go into place to get an insurance broker onboarded and compliant to sell an insurance carrier's products."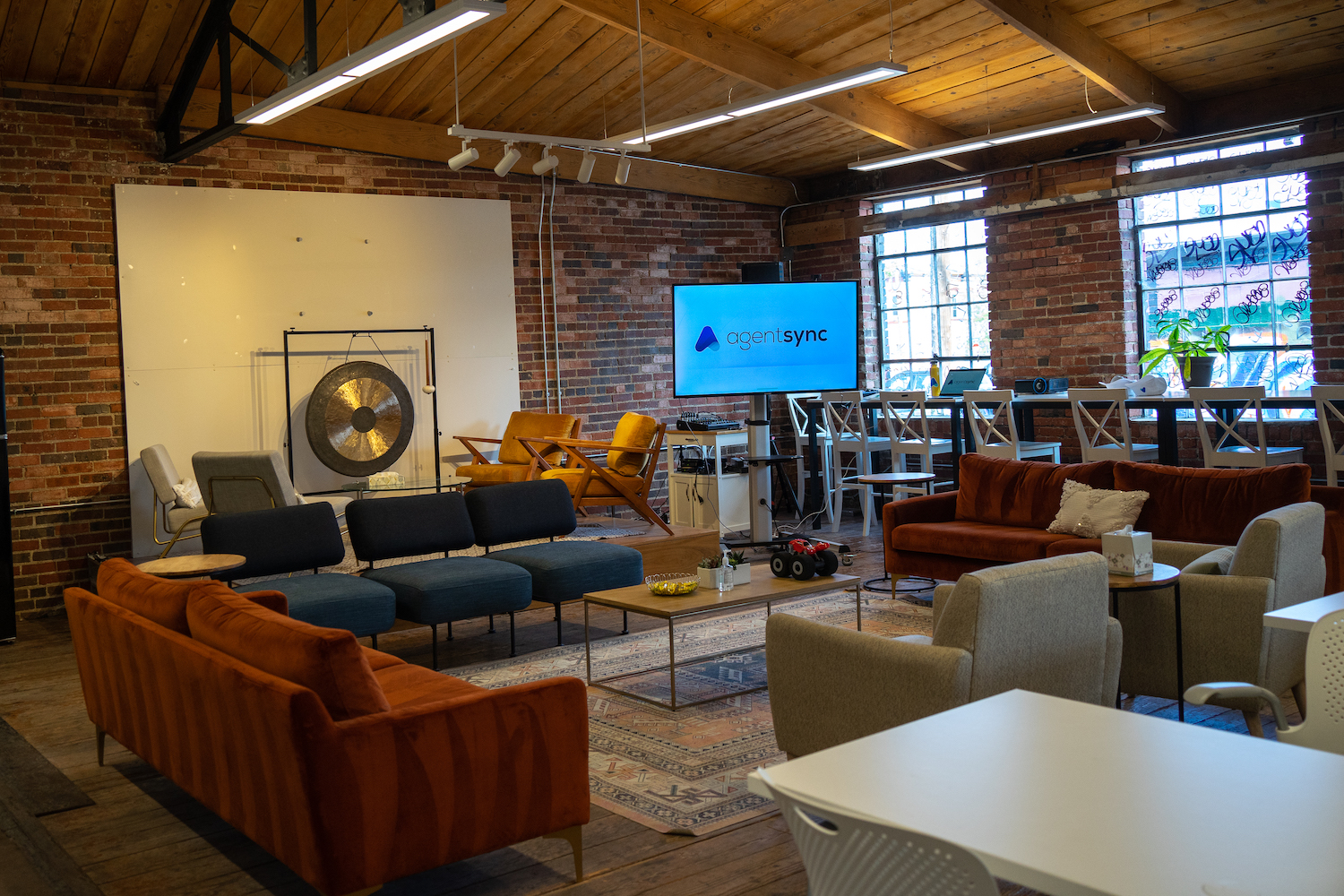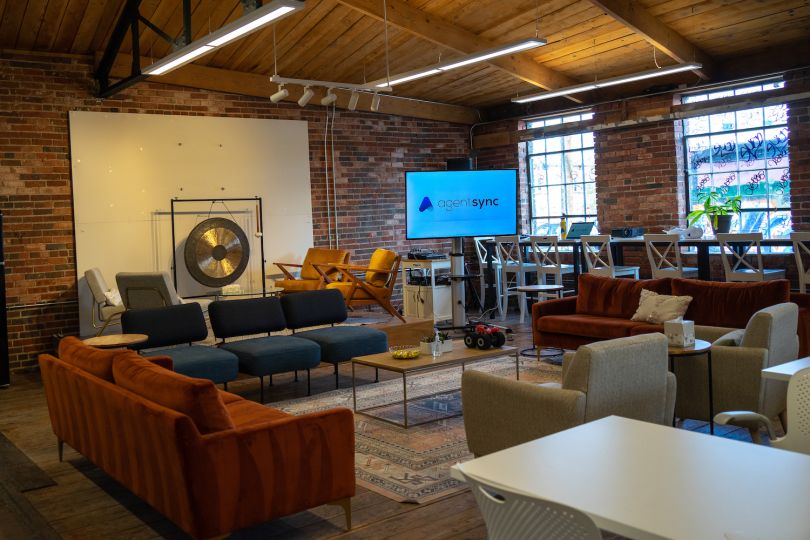 Finding a Fit in Denver
When they looked into launching a business, Sabharwal and Knight quickly realized that Denver was more affordable, a better cultural fit and offered access to talent from similar startups like Salesforce, on which AgentSync was built.
After working out of their kitchen in San Francisco for 18 months, Sabharwal was eager to get into an office behind Denver Central Market when they first moved to town in July 2020. They then expanded to a space on the rooftop of the Denver Central Market before moving into their new space at 2734 Walnut St., the former Riveter coworking space that closed due to the pandemic.
True to its surroundings, the office features murals from local artist RUMTUM, whose work is featured at the Denver Central Market and throughout the RiNo neighborhood.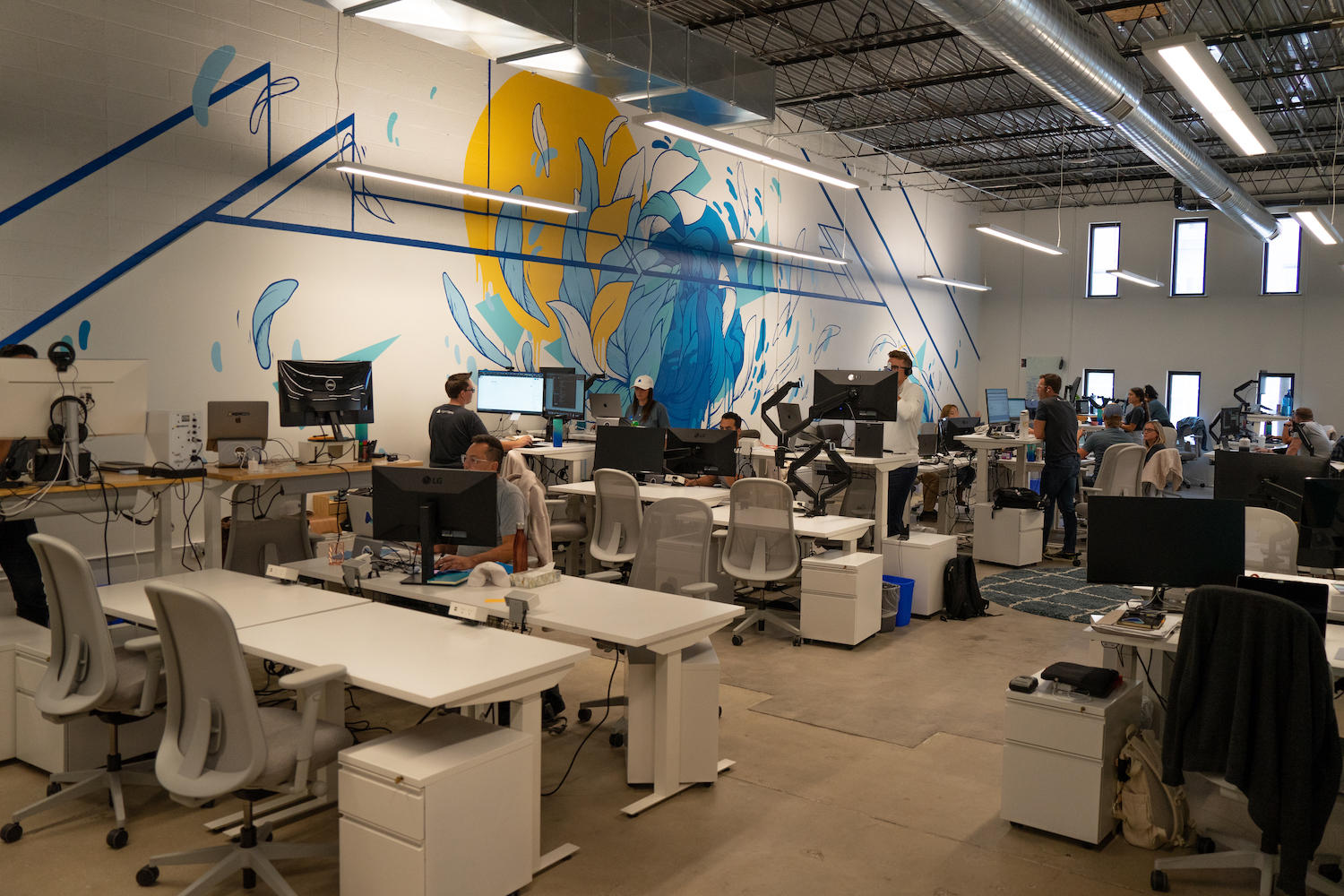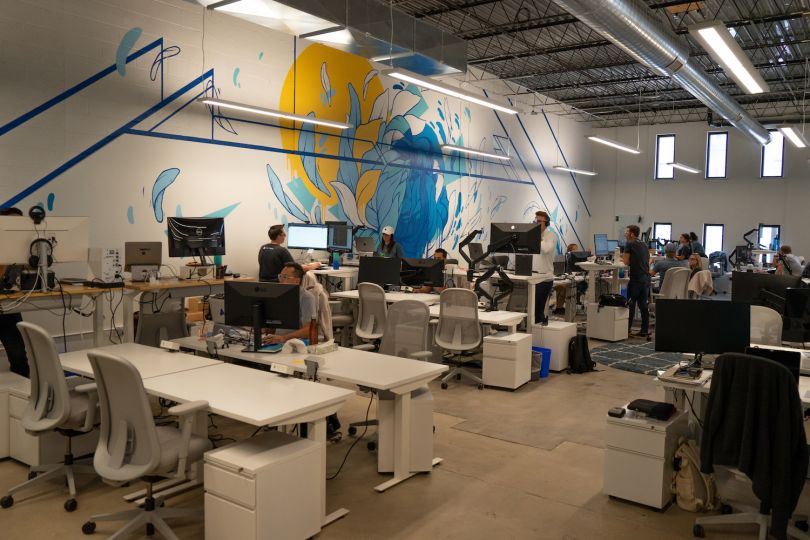 Aside from the affordability issue, Sabharwal said he also thinks Denver has a mix of candidates on the entry-level, mid-level and leadership levels who come from a mix of fields. He even recruited a teacher from their 11-month-old daughter's Montessori school.
The tech talent pool in San Francisco "has become almost like musical chairs," he said, so he hopes to find employees in Denver who are willing to stay with the company and learn the nuances of the insurance industry.
"We wanted to find a place that had really great talent that was excited to work on this problem and nerd out with us," he told Built In. "The way we are solving those problems and the technology we are applying to an industry that has been left behind in a lot of ways is extremely rewarding and a lot of fun."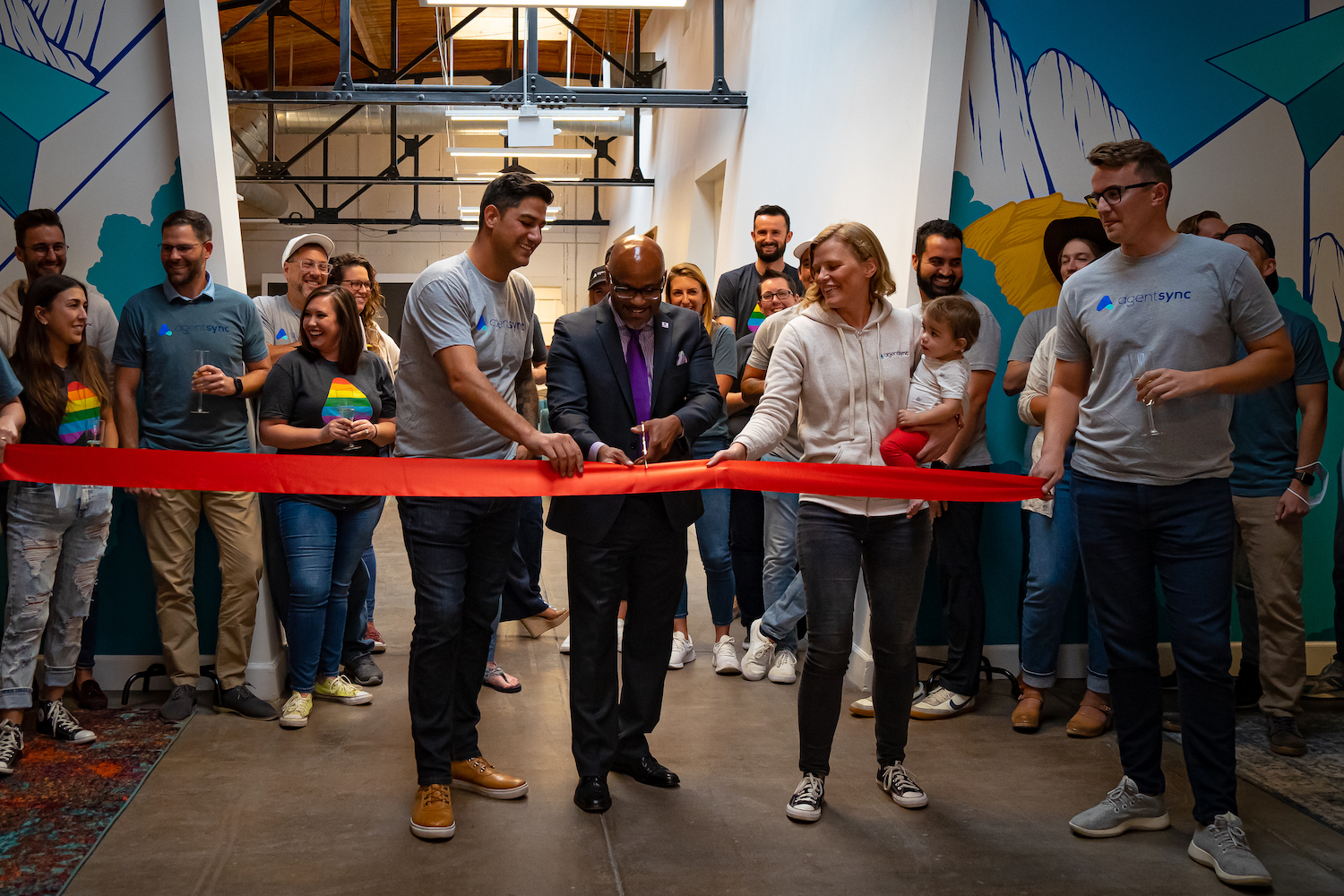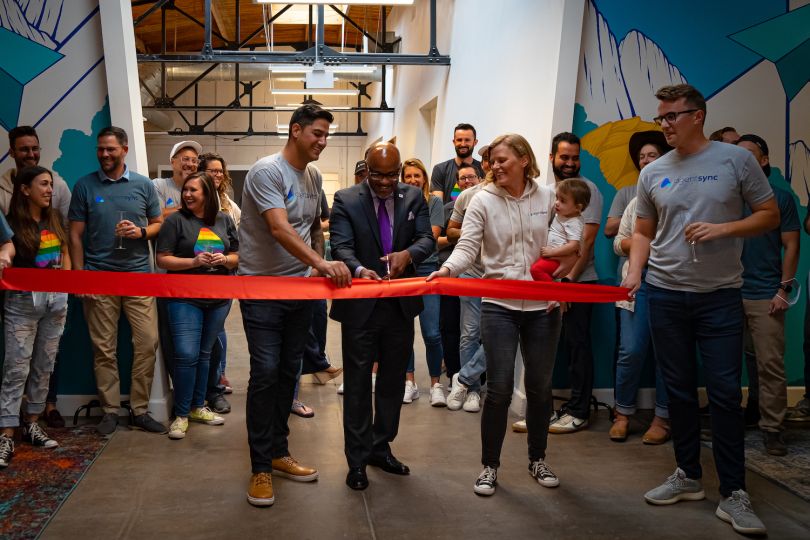 Denver is also happy to see AgentSync expand. Mayor Michael Hancock stopped by the new office for a ribbon-cutting ceremony on September 23.
In a statement, Denver Economic Development & Opportunity Chief Business Development Officer Deborah Cameron said she is excited to see AgentSync grow in the Denver tech scene.
"It is an enormous win when companies choose Denver as their headquarters. It speaks to the intentional work we are doing as a hub of innovation and collaboration, of diverse and successful businesses, and the centerpiece of it all: our incredible talent," Cameron said. "We look forward to seeing AgentSync's growth in our city, to the community partnerships they will forge, and to learning from them to keep our city competitive as a top place to do business."