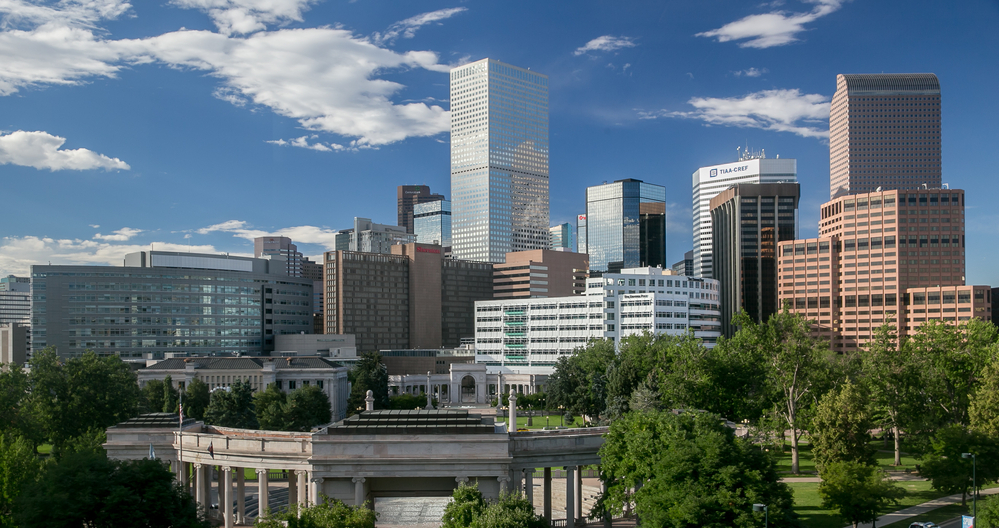 Despite facing a tightened funding environment, Colorado's tech community continues to thrive, with Denver and Boulder consistently ranking among the top cities for jobs, tech and entrepreneurship. Massive companies like Gusto and Personal Capital have set up shop in Colorado, and homegrown success stories Ibotta and SendGrid are both movin' on up, relocating their offices to the iconic 1801 California building in Downtown Denver.
But right now, we're talking about the money. We've aggregated funding data from 114 Colorado tech companies — from August 1, 2015 to August 1, 2016 — and broken them down by zip code. All in all, Colorado digital tech companies raised just over $620 million in that time, with investors writing checks as far and wide as Steamboat Springs and Durango.

Of course, Downtown Denver came out on top, with its 80202 zip code pulling in more than $241 million in the past year. That includes Welltok's December double-dip, totaling $83 million, along with Ibotta's $40 million round from last autumn.
Central Boulder followed closely, as 80302 landed just over $100 million in investments. SnapLogic and VictorOps led the area, with $37.5 and $10.6 million, respectively, in funding this year.
Coming in third is East Boulder's 80301 zip code, home to companies like sovrn Holdings, Sphero and TapInfluence, all of which contributed to the area's total funding of $48.5 million.
A notable outlier is Broomfield's 80021 zip code, which Datavail holds down on its own with a $47 million round from December. Aside from the Datavail funding, the U.S. 36 corridor saw little investment this year — possibly as a result of being home to more established companies such as Webroot and Return Path. 
Denver's RiNo neighborhood, which takes up most of the 80216 zip code, takes fifth place this year, claiming $35.5 million of the grand total. The site of creative workspaces like INDUSTRY and Taxi, RiNo plays host to companies such as Havenly, Cloud Elements and Dispatch Health, all of which raised significant rounds.
Beyond the Denver and Boulder areas, the rest of Colorado raised $109 million in the past year, including into the high country and along the Western Slope. Suburbs like Greenwood Village, Highlands Ranch and Longmont even managed to snag a piece of the pie.
So, what's next for Colorado tech funding? While we can't say for sure, it stands to reason that central Denver and Boulder will continue to pull the lion's share of funding in the coming year, with growth near Denver's Union Station and the opening of Boulder's Pearl West complex serving as major draws for some of the area's most innovative companies. As the area develops more, RiNo will show more potential as well, given its popularity among recent transplants and not-too-high (yet) rent.
However, as rents in Boulder and Denver do continue to rise, we expect companies — and therefore, funding — will be more spread out along the Front Range by this time next year, with companies in Fort Collins and Loveland arriving on the scene.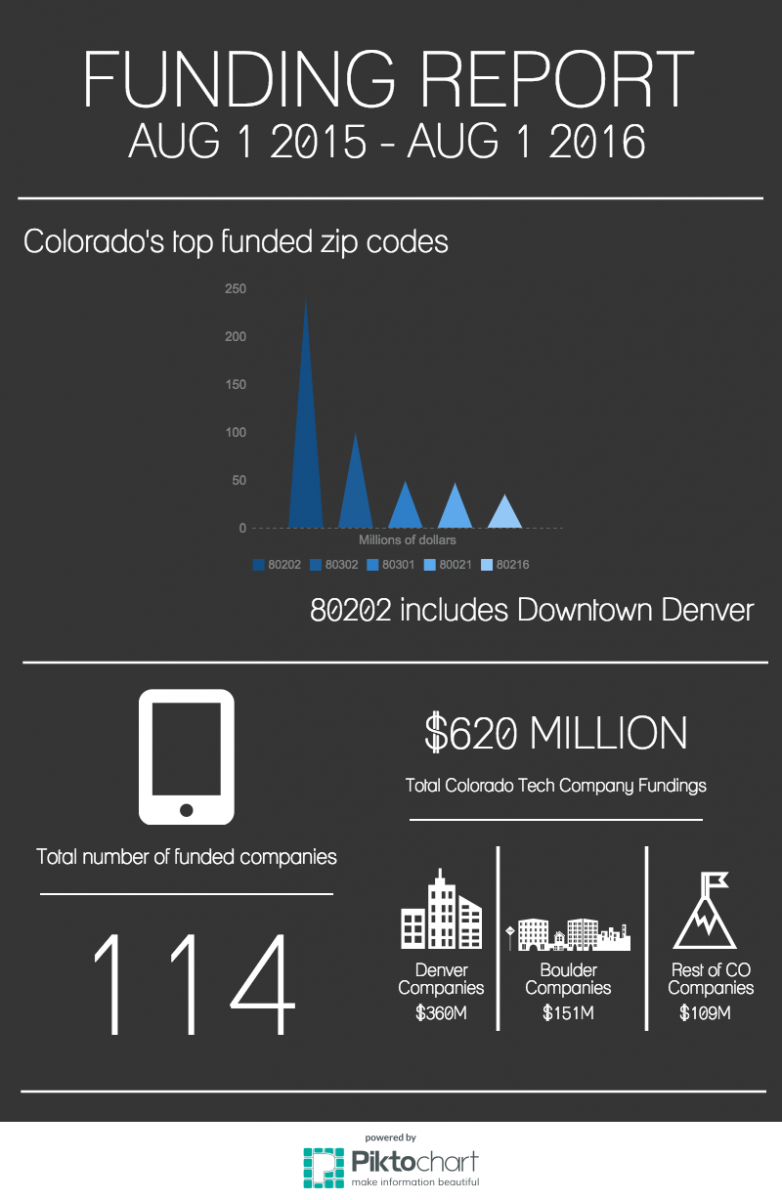 Top 10 Colorado zip codes by funding:
80202 (Downtown Denver):
 $241,807,858
80302 (Central Boulder): 
$100,450,874
80301 (East Boulder):
 $48,524,734
80021 (Broomfield): 
$47,000,000
80216 (Denver — RiNo): 
$35,531,243
80204

 (Denver — Auraria and Golden Triangle):
  $29,500,789
80203 (Denver — Cap Hill):
$26,852,393
80112 (Centennial): 
$17,238,581
80205 (Denver — Five Points):
 $12,763,966
80111 (Denver Tech Center):
 $12,355,000