Information Technology + Security
Industry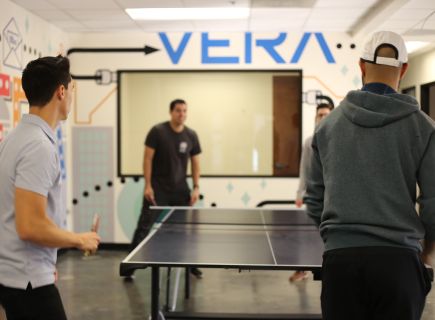 Hello, we're Vera
Vera is the security platform chosen by the Fortune 500 to secure, track, and control sensitive information that needs to be shared externally. Focused on the user experience for employees and security pros alike, Vera can protect any kind of information, no matter how it's stored or shared, anywhere it travels- without affecting how work gets done
An Insider's view of Vera
How would you describe the company's work-life balance?
Vera has an amazing work-life balance. As a manager at Vera I understand the importance of having downtime. Whether that be the team taking a 30 minute break to go play ping pong or simply wrapping up the day early on Friday because we had such a successful week. Those things are table stakes within the organization.

Chelsea
Sales Development Manager
What's the biggest problem your team is solving?
The biggest problem we solve is enabling our customers to secure any file anywhere. No matter who gets ahold of the file, where they are trying to open it, and what measures they attempt to access it, we secure it. Some of the largest companies in the world use Vera and my team is making sure its available to growing companies with sensitive data
Gennaro
Corporate Account Executive
How does the company support your career growth?
I started at Vera as an SDR in Palo Alto, CA and am now an Account Executive 1.5 years later in Denver, CO. My experience has exceeded my expectations tremendously. Vera has supported my growth personally, with my top career goals, and leads with the best sales habits and skills that I will need to build a long career.
Robert
Corporate Account Executive
Where we are
We are located on the 26th floor in the Tabor Center, right off of 16th Street Mall! Mountain Views and restaurants and bars steps away!
Perks + Benefits
Health Insurance & Wellness
Flexible Spending Account (FSA)
Health Insurance Benefits
Retirement & Stock Options
Child Care & Parental Leave
Great management with a diverse set of experience, all focused on your development and enabling you within your role. Product has a significant amount of demand across multiple industries. Fun culture, great product, tons of room for development

Jacob

Data Security Advisor

Great company culture that encourages collaboration and sharing ideas. Weekly team competitions keep the energy and focus high while also being rewarding. Management provides you with all the tools necessary to perform your job and encourages employe

Bob

Sales Development Representative
Technology we use
Salesforce

CRM

Outreach.io

Email

SalesDirector.ai

Email

Marketo

Lead Gen