[ibimage==32474==Original==none==self==ibimage_align-center]
(Photo courtsey of Andre Velez - andrevelez.com)
In 2014, Colorado companies received a total of $758 million in funding — a 64 percent increase from 2013. Several billion-dollar buyouts mixed with the rise of consumer-focused startups and expansion of tech-focused educational program actually did make 2014 the best year ever.
And what's more beautiful than the cloud-laced landscape of a Rocky Mountain skyline? The amount of cash cloud-software companies brought into the state. Colorado businesses operating in the cloud (in the technical, not THC-ical way) raised $140 million in funding across 12 companies.
Related: Best Startups to Work for in Colorado
So how will 2015 compare? Look to these 50 startups (all founded within the last 5 years), spread from Boulder to Denver to Louisville, to guide you.
[ibimage==32523==Original==none==self==ibimage_align-center]
Craftsy is a place where you can learn anything from how to paint a portrait of your dog (the class is currently $10 off) or how to discover The Art of Stir Frying. The company is an online marketplace and community for those who love to craft. It's also for those who want to enhance or broaden their skills; through Craftsy, you enroll in online classes done via video series on topics ranging from photography to cake decorating. On the marketplace, designers can sell their patterns and anyone can purchase packaged kits for knitting projects. They've built platforms that allow classmates and peers to engage on projects and share photos of recent work. And while we're sure they'll remain thrifty, Craftsy nailed down $50 million of funding late last year.
[ibimage==32463==Original==none==self==ibimage_align-center]
App-reciate your app's value with mobile marketing strategy and placement with AppThis. The company was born out of the realization that mobile is everything and is generating advertising revenue on mobile platform is tricky. AppThis both promotes discovery of apps and monetizes mobile-web traffic. It began in spring 2014, and after a few months of bootstrapping, was earning money and landed some seed funding. Since, AppThis has delivered more than one million app installs for developers.
[ibimage==32468==Original==none==self==ibimage_align-center]
Choozle is an all-in-one resource for a digital marketer who wants to make their results rise. To start Choozle'ing, a marketer embeds a small line of code into their website. From there, visitor insights — like demographic, purchase behaviors and media consumption — are gathered and aggregated into one place. Marketers can use this data for retargeting campaigns and to drive up conversion rates. Further, Choozle works on many marketing assets — even video — and works seamlessly with Google.
Big News: In January 2015, Choozle landed $4.1 million in Series A funding.
[ibimage==32508==Original==none==self==ibimage_align-center]
ProtectWise is, well, very protected. The cloud-based security system — which nabbed $14 million in Series A funding this past June — has locked down what they're stirring up. What we know so far is that ProtectWise leadership comes with serious cloud and enterprise experience, drawing from companies like McAfee, MX Logic and GDX. Sign up for early access on their website.
Here's what we could squeeze out of their site: "Absence of evidence is not evidence of absence." - Carl Sagan.
[ibimage==32517==Original==none==self==ibimage_align-center]
GoSpotCheck enables businesses to create, collect and analyze data in real time. Field reps share intelligence with the system, and then it automates that data into easy-to-digest, unified reports. On the other end, businesses can use GoSpotCheck to create custom campaigns via a web app and release it to the field team instantly. All of the data is streamlined into a dashboard full of infographics and charts for both businesses and employees to use. Dannon, Citizen and Labatt are among those fielding GoSpotCheck's services.
[ibimage==32492==Original==none==self==ibimage_align-center]
We often encounter many online promotions and e-mails promising incredible deals. But as our parents taught us, "If it sounds too good to be true, then it probably is." Until now. Meet Ibotta, the app that gets you real cash (not just points or rewards) for your everyday purchases. To take advantage, you first claim rewards through the platform. Then, you shop online through Ibotta or go in-store and then submit your receipt through the app. From there, you get cash transferred directly into your PayPal or Venmo account within two to five days. The company works with leading retailers like Target, CVS, Chili's and Sephora.
Want some cash back on your everyday purchases? Download the app here.
[ibimage==32516==Original==none==self==ibimage_align-center]
Did you know that after three weeks of training, a sales rep is 90 percent likely to forget everything you taught them? Well CommercialTribe does, which is why they created a more effective solution to onboarding sales reps. The company produces video series and content packages for new sales trainees. There are four steps: observe top company sales reps in action; practice your sales pitch on camera; send that pitch to top dogs for review; and refine with scorecard-based coaching.
[ibimage==32481==Original==none==self==ibimage_align-center]
SolidFire is a massive cloud data-storage company. And by massive, we're talking in terms of capability and funding (they received $82 million in funding last fall). They offer a range of enterprise solutions, all of which are all-flash. Through the company's five-year history, they've proven their range of abilities in five key areas: scale, performance, management, availability and efficiency. Want to know who else has caught on SolidFire? The likes of PayPal, eBay and ezVerify.
Recent Honor: Gartner named SolidFire a visionary in its 2014 Magic Quadrant report and No. 1 in its Critical Capabilities Study.
[ibimage==32480==Original==none==self==ibimage_align-center]
sovrn is where publishers like The Onion, Elite Daily, ask.fm and The Chive go to understand their value to advertisers and readers. The company offers a suite of tools and services that capture key analytics needed to engage with audiences and, very importantly, monetize their efforts. On the monetization front, sovrn assists in identifying advertising opportunities in areas like video and mobile. From there, they capture every page click and impression brought to you by that advertising content and chart it into understandable, actionable data.
[ibimage==32469==Original==none==self==ibimage_align-center]
Cloud Elements helps app developers connect their product to a range of cloud services like Dropbox, Salesforce, Hubspot and Quickbooks. The company sells an API integration service that serves the rising demand of cloud connection from both developers and consumers. Cloud Elements had a sky-high 2014; they closed a $3.1 million round in October 2014 and released Filebrowser.io, a cloud file browser that integrates into an application, allowing people to access files without ever leaving the app itself.
[ibimage==32515==Original==none==self==ibimage_align-center]
Zen Planner helps fitness-based businesses grow like the biceps on someone who has been doing crossfit for three months. Its effective membership management, billing and scheduling software serves industry providers in areas like martial arts, pilates and dance, among other activities. Zen Planner is also great for the solo trainer or the multi-facility business. After a free, 15-day trial, monthly prices range from $70 - $145, all of which don't bind you down with contracts or startup fees. Zen Planner also has a blog full of industry insights and practices for fitness-based businesses and partners.
Pumped Up: In 2014, Zen Planner was named by Outside Magazine as one of the nation's best places to work. 
[ibimage==32479==Original==none==self==ibimage_align-center]
Wunder Capital makes it simpler to invest in solar projects. The company is currently enrolling accredited investors into their fully-vetted solar projects. Right now, you can reserve your spot (it's non-binding) for a minimum of $1,000. The fund launches this year and expects investors to make returns around 7 percent annually. Wunder Capital is a Techstars Boulder alumnus and plans to build projects using proprietary software and their growing network of national installer partners.
Clear Promise: Wunder Capital promises that with $5,000 invested, 2,000 pounds of carbon is displaced yearly.  
[ibimage==32462==Original==none==self==ibimage_align-center]
Are you a ski resort or retailer that often hires seasonal or part-time employees? Well, the nature of your business' paperwork doesn't need to be like navigating a double black diamond in an off-piste location any longer. All4Staff makes onboarding simple and direct; it automates "Day One" activities, like filling out W-4's and I-9's, in one central web and/or mobile application. The Techstars alumnus has built-in features like e-signatures, photo upload and even payroll integration, making the process a smooth slope for your employee. Treat your all-star staff with All4Staff.
[ibimage==32465==Original==none==self==ibimage_align-center]
This is what bounce.io solves:
------ This is a copy of the message, including all the headers. ------
------ The body of the message is 239850 characters long; only the first
------ 106496 or so are included here.
Return-path: <[email protected]>
Received: from [81.45.149.121] (helo=mx11lb.world4you.com)
       by mail26.world2you.com with esmtp (Exim 6.77)
       (envelope-from <[email protected]>)
       id 1WnY2x-0007jx-9S
       for [email protected]; Thu, 22 May 2014 20:48:55 +0200
Received: from [559.85.192.79] (helo=mail-yg0-f65.google.com)
       by 11lb.world4you.com with esmtps (TLSv1:RC4-SHA:128)
       (Exim 4.77)
       (envelope-from <[email protected]>)
       id 1WnY2v-0005g6-Em
       for [email protected]; Thu, 22 May 2014 20:48:54 +0200
Received: by mail-uy0-f79.google.com with SMTP id a108so6217851qge.8
       for <[email protected]>; Thu, 22 May 2014 11:48:52 -0700 (PDT)
DKIM-Signature: v=1; a=rsa-sha256; c=relaxed/relaxed;
       d=gmail.com; s=20120113;
       h=mime-version:date:message-id:subject:from:to:content-type;
       bh=nGwpsI5JdnuGdfVJ5pb4gteSoSOWrTkpIo3vQW05ewc=;
       b=fW9WqOqo4h9OE0JQFj+1LKWFXM+tqQ/FtsWZcZI9iywg75sLk0n66u4z7dpIoNQZKQ
        Fif6Hkwl8RlL6Lt8O/tBGpFuGqOHDvqmtEdzrugYjtFo2pJ8P0a84lMCmKK6VB3/y8E4
....you get the idea
Those bounce-back e-mails, written in a language probably only aliens can read. The company takes the mumble-jumble above and translates it into words for humans. In addition, the company is able to provide security data and brand intelligence from those bounced messages. The funders of bounce.io are the real e-mail deal; collectively, they have 20-plus email-based patents and launched six companies based around electronic messaging.
[ibimage==32466==Original==none==self==ibimage_align-center]
Bulb is a publishing platform used by teachers, TED speakers, students and anyone with great work to share. Users are able to structure their content in the way they want it to be seen and heard. For instance, a teacher can use Bulb as a platform where students upload their work. It's perfect for, say an art student, who may be applying to college art programs; they have a portfolio in the works. Beyond that, it's highly useful for presentations: a speaker can setup their Bulb and have audience members walk through slides & presentations and create a space for extended resources.
Recent Milestone: In 2014, Bulb raised $1 million in Series A funding.
[ibimage==32510==Original==none==self==ibimage_align-center]
If you're on any prescription medication, click over to RxREVU and see if there are ways you can save on those monthly costs. The company is a large database made up of more than 6,000 ways to save money on your prescriptions. RxREVU's research is based on peer-reviewed medical journals. Through the platform, you can check savings by switching from brand to generic, or you could discover alternative drugs or over-the-counter substitutes. You can even determine whether you can benefit from pill-splitting — if you can get a larger dose for cheaper, and simply crack it in half.
Stat: The average RxREVU user saves between $500 - $3,000 per year.
[ibimage==32467==Original==none==self==ibimage_align-center]
CannaBuild has some high stakes in Colorado's budding marijuana economy. The company utilizes cloud technology to help their business clients build platforms that get their customers stoned (medically) in the most efficient, effective way possible. For instance, they help businesses advertise to potential customers, manage real-time inventory and enable automatic scheduling of pot pickups.
High Times Ahead: CannaBuild has laid ground for a smoker-to-smoker, toker Tinder, called Nuggle.
[ibimage==32471==Original==none==self==ibimage_align-center]
Collective IP is an intellectual property marketplace that connects Fortune 500s with smaller companies that have something to offer them (and vice versa). The company exists to accelerate the commercialization of global R&D, or using that SaaS of yours to get ahead with big Fortune 500 players. Collective IP works with universities, biopharmaceutical companies and research institues as well.
[ibimage==32472==Original==none==self==ibimage_align-center]
According to Conspire, your network is bigger and more powerful than you know. Think about that LinkedIn infograph on the right side of your profile, the one that shows degrees of connections. Conspire is like the live version of that, and it works through your email data. Using Conspire, you can determine which friend or colleague is best to ask for that introduction you've been daydreaming of. It works for customers, employers and investors alike. And maybe you can even use it to get a date with that long-lost person you sat next to at that boring conference 4-months ago.
[ibimage==32502==Original==none==self==ibimage_align-center]
Dizzion is the future of computer desktop systems. The company has created a cloud-based desktop that is fast, secure and allows employees to access information across their connected mobile devices. So far, a lot of contact centers and healthcare and financial services companies have adopted the platform. Dizzion was built to compliance standards, too, so sensitive corporate information and records are safe even when accessed on multiple devices.
Funding Announcement: In January 2015, the company closed $3.9 million in Series A funding.
[ibimage==32501==Original==none==self==ibimage_align-center]
Ello is a company that believes, "Collecting and selling your personal data, reading your posts to your friends, and mapping your social connections for profit is both creepy and unethical." The social network has a point — so much so that they nabbed $5.5 million in funding late last October. Ello is a social network that has a barbwire-like-code security system to keep out data miners and advertisers. The platform was built by artists and designers on a manifesto that values simplicity, transparency and absolutely no ads.
Interesting fact from Ello's manifesto:  "To assure that Ello always remains ad-free, Ello converted to a Public Benefit Corporation (PBC). A Benefit Corporation is a new kind of for-profit company in the U.S. that exists to produce a benefit for society as a whole — not just to make money for its investors." [Excerpt from this article on Ello's website.]
[ibimage==32473==Original==none==self==ibimage_align-center]
Factivate
Spreadsheets tend to illicit a variety of feelings: pride, when you build a killer one; fear, when you see a well-established one for the first time; loathing, after staring at one for hours and hours and hours. Whether you love spreadsheets or hate 'em, Factivate found that the problems arising today were around 35 years ago. Their tool was invented to crawl spreadsheets and help clients automatically detect anomalies in their data. So far, businesses across many verticals have used Factivate in their marketing and business development efforts.
[ibimage==32504==Original==none==self==ibimage_align-center]
FareScout
On the fence about whether to buy that flight to New York now or wait until next Tuesday afternoon, that time when you've heard flights are cheaper? If that sounds familiar — or if you just like to play the airline ticket market — check out the iOS app FareScout. The startup's technology uses the past 13 months of airline data and determines when is a good time to pull the trigger or wait on that ticket purchase. The app currently pulls data from destinations in the United States up to two months ahead.
Get in and get out: Download their app here.
[ibimage==32488==Original==none==self==ibimage_align-center]
Field Squared is a workforce management and monitoring technology system that gives businesses the ability to create a mobile app in just days. Using this service, a team can become more efficient, eliminate the need for data re-entry, and improve security and accountability within operations. Features of Field Squared include: data capture, team location tracking, scheduling, routing and dispatching among others. Their system is based off of the cloud and has a suite of mobile and desktop tools for field operators. Right now, the company mainly works with utility, oil and gas, and telecom clients.
Interesting Fact: Field Squared uses military grade AES-256 encryption to secure your data both offline and online.
[ibimage==32489==Original==none==self==ibimage_align-center]
Do you find yourself spread thin when it comes to managing and pulling analytics from your spreadsheets? GridCraft is the solution. Designed for business intelligence, GridCraft allows users to integrate past spreadsheets, collaborate on projects and work online through mobile devices. Using GridCraft, a business can live-stream content into their sheet and run more than 500 data analytics functions based on that information. It's intuitive, scalable and connects business with tools like SalesForce, QuickBooks and Twitter. Want to actively capture data, as opposed to the traditional, manual search-and-plug-yourself way? Get on the grid.
Spread Your Knowledge: GridCraft offers live, weekly seminars. Sign up today.
[ibimage==32490==Original==none==self==ibimage_align-center]
hobbyDB is the marketplace that offers more than a billion collectables....one day. The company aims to aggregate every collectable ever made (think electric guitars, World War II posters, corkscrews, Star Wars Pez dispensers) into one central location. hobbyDB will soon be a marketplace where users can build wishlists and make purchases just like they would on Amazon.
[ibimage==32491==Original==none==self==ibimage_align-center]
In today's world it's easy to go to a financial advisor and purchase stocks, bonds and mutual funds. What's not easy is the ability to make and understand investments around the rising impact space. Impact Trader offers both financial advisors and investors the ability to understand exactly (and visually) how their money is in effect. With Impact Trader, an investor receives monthly "Impact Stories" in the form of video and photo content that communicates not just the return on investment but the impact.
Terms we learned: SRI — Socially Responsible Investing, and ESG — Environment Social and Governance.
[ibimage==32493==Original==none==self==ibimage_align-center]
MobileDay is an app that makes conference calls easier to join and more cost effective. The app links up with a user's phone calendar, alerting the user of upcoming appointments and giving them immediate access to call into the conference or online meeting. MobileDay can even send an alert to other call attendees if you're running late. The company is excellent for international calling as well — it uses "Dynamic Dialing" to automatically route calls to other countries through the least expensive dial-in.
[ibimage==32494==Original==none==self==ibimage_align-center]
Did you know that one in four Americans will be affected by a mental health disorder this year, and that $140 billion is spent annually on treating mental disorders? myStrength is looking to help those afflicted with mental disorders, substance abuse problems and other issues with their online "health club". The company offers an eLearning resource center and a personalized — and highly confidential — dashboard for users. With myStrength, a user is able to track their mood and chronicle their progress. myStrength offers daily inspiration and supplies users with workouts fit for both physical and mental well-being. The company has made strong partnerships with Colorado-based institutions and centers. Read more about those alliances here.
[ibimage==32519==Original==none==self==ibimage_align-center]
Imagine taking your iPad and scanning a room or object and getting a perfect 3D rendering from the scan. Guess what. You just imagined something that you are now capable of doing. Occipital is a company that created a state-of-the-art Structure Sensor, which clips onto an iPad and generates 3D renderings of rooms or objects. The bracket was made during the course of 18 months and has the ability to capture fast and accurate dimensions of whatever you're scanning. Currently, the bracket that attaches to your iPad ranges from $379 to $499.
[ibimage==32520==Original==none==self==ibimage_align-center]
You know those horrendous life moments when you find yourself sitting on hold with a pressing issue, listening to the worst music ever, waiting to get on the phone with an operator or agent that you hope can solve your problem (but actually probably can't)? OneReach knows those moments and wants to make them better. The company found that 64 perent of people would rather talk to businesses by text than voice. So, they created an SMS and web-based platform where agents can connect with their customer base. Through OneReach, an agent can send a reminder like, "Your bill is due. Press one to make a payment now. Press two to make the payment later." They've also created a direct messaging platform where agents can connect with customers and work the problem out.
Top of Line: OneReach has some pretty serious clients, including National Geographic, RE/MAX and the United Nations World Food Programme.
[ibimage==32505==Original==none==self==ibimage_align-center]
OpDemand is the creator of Deis, an open source application platform that enables software teams to deploy and scale any application in seconds. Deis works with Linux container technology and creates a private PaaS that is designed with developers and operations engineers in mind. OpDemand offers three solutions: Deis Starter, Deis Pro and Deis Enterprise. Whichever you chose, the company is right there by your side, offering assistance from installation up to higher level consultation. 
[ibimage==32486==Original==none==self==ibimage_align-center]
When the time comes to experience life outside, Outdoors.io has you covered. The online marketplace allows people to rent anything from skis to bikes to badmitten sets from locals with the gear and rental houses. Colorado visitors can simply order the gear and have it delivered (and fitted) right at their hotel. Locals who don't want to spend a fortune on gear are able to rent what they need for cheap. Last summer, Outdoors.io shacked up in Michigan for a Coolhouse accelerator program, where they doubled their monthly revenue in the summer. Now, they're back in Colorado and expect to expand into more markets soon.
[ibimage==32506==Original==none==self==ibimage_align-center]
Have you ever been late to an important meeting because you couldn't find parking? Yeah, us too. Parkifi is aiming to alleviate parking nightmares not only for drivers, but for the parking facility personal. The current way of managing occupancy in garages is to have an employee walk through and physically count the open spaces. But Parkifi is disrupting that by using sensor technology to determine the occupancy of each garage. The overall hope of Parkifi is to help garages determine pricing and save drivers time (and gas) when looking for parking.
[ibimage==32507==Original==none==self==ibimage_align-center]
PetroDE is where petroleum and the cloud meet. The company collects information from many sources — wells and rigs, for instance. Using Google Earth's API, along with the public and proprietary datasets, PetroDE efficiently identifies opportunities and activities. Because it works through the cloud, teams across regions are able to collaborate and make decisions quicker than ever. Companies are using PetroDE in many ways, some to develop new business ventures, others to identify reservoir engineering opportunities, and many to increase the general productivity of their business.
[ibimage==32509==Original==none==self==ibimage_align-center]
Ramen answers two critical questions for product managers:
Is your product vision aligned with your customers' needs?

Are the products you're shipping living up to expectations?
The software platform allows product managers to collect and organize data spread across many applications and systems. Ramen becomes the central location for project management, where clients and developers can come together to see all of the wonderful progress you're making. MOZ, Creative Market, SendGrid are among the companies Ramen has partnered with.
Awesome Feature: The company has built an "Align" feature, where developers and clients can connect and make sure everything is on the right track.
[ibimage==32484==Original==none==self==ibimage_align-center]
Roximity is, quite actually, a beacon of light that draws customers into your shop. The company is a location-based advertising system that can connect with potential customers within a pre-determined radius via SMS. The company deploys a box — called a Beacon — in each store that captures data about people around it. Beacons send out personalized messages to customers as they enter and sashay about the vicinity. For instance, a spa can use Roximity to send a message to someone close by that says "If you come in within the next 30 minutes, you get 25 percent off salon and spa services!" It's targeted marketing that gives brick-and-mortars new waves of drawing power and gives potential customers new opportunities for discovery and savings.
[ibimage==32511==Original==none==self==ibimage_align-center]
SelectHub helps you make smarter decisions about the software you purchase for your business. Through its wide-ranging database, it can serve in social media analysis, risk and compliance management, CRM support, warehouse management and more. Teams are able to work collaboratively on the platform, compare systems through SelectHub's database and build consensus around purchasing decisions and vendor sources. Another bonus: SelectHub is built to reduce legal liability with its automated paper trail and management capabilites.
Term we learned: Shelfware — the software you buy, but due to factors like inefficiency, get shelved.
[ibimage==32483==Original==none==self==ibimage_align-center]
Shareable Social is a social media content machine that works with a variety of companies — particularly in the real estate world. The Techstars alumnus creates original, relevant content that relates to your industry. Imagine a real estate client. Shareable Social will write Facebook posts along the lines of this: "Relocating? Here are tips to make the trip better." They'll run features on particular light bulbs that save energy and money and ask engaging questions like the following: "If you could paint your house any color, what would it be?" Furthermore, the company schedules and distributes the content for you.
[ibimage==32482==Original==none==self==ibimage_align-center]
SlamData is the answer to all of the arm twisting and crying you have to endure to capture analytics on NoSQL databases. The company found that to even answer a simple question, a developer would need to learn new technologies, write a ton of code and go through many processes. So, SlamData created a solution to provide common ANSI SQL compatible interface to that NoSQL data. The business was launched from the SlamData open source project and the company retains those lead developers.
Get Involved: SlamData provides commercial support and training around the open source analytics technology.
[ibimage==32521==Original==none==self==ibimage_align-center]
Slicebooks is a dream for content creators, university professors, hobbyists, researchers and tech-junkies. The company allows users to slice and dice up to hundreds of ebooks to create a custom one, perfectly fit for the topic that needs to be communicated. One issue Slicebooks found was that university professors were taking many different textbooks, photocopying relevant chapters, slapping them together and calling it a book. No one was making money and everyone was getting papercuts. So, they built a flexible, wide spanning database and tool for people to create and distribute their own books with just the information needed.
Page Turner: Checkout Slicebook's book store here.
[ibimage==32512==Original==none==self==ibimage_align-center]
Have some potential investors in town, or maybe the future in-laws you want to impress? Take them on a SuiteHop. After working for the past 20 years in exclusive ticket sales, the team ramped up its tech. Now, with SuiteHop, a user can discover and purchase suites at upcoming games or concerts in a secure, real-time manner. On the site a user can look to book a suite at more than 200 venues across the country.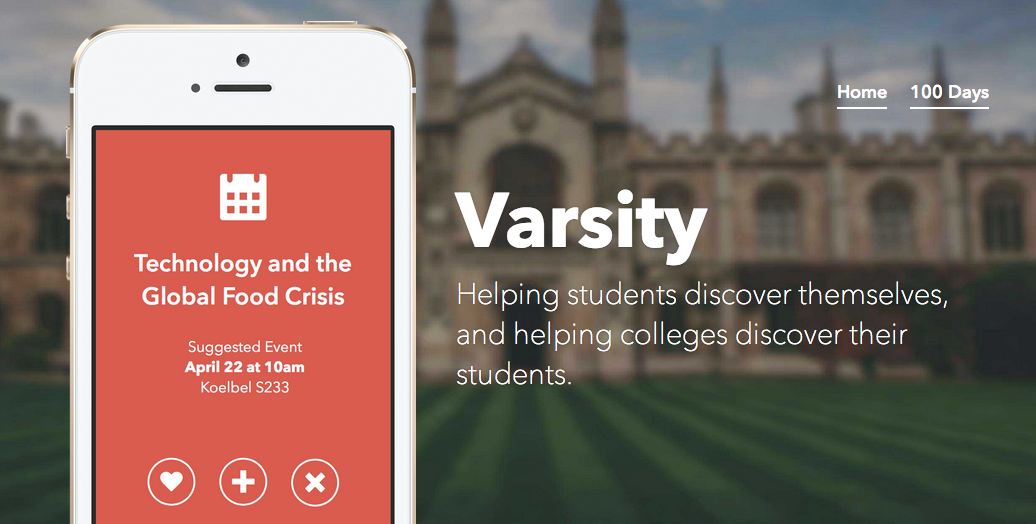 Varsity is an app that helps students discover events, clubs and classes they'll love through a personalized news feed. The app was designed by students and tied for first place at CU-Boulder's New Venture Challenge last year. To begin, a student signs in with their student ID, answers questions about their interests, and voila! A curated feed of happenings is at their fingertips. What's more is that universities are able to take this data and understand student preferences and behaviors and even gear marketing efforts to their current student body.
[ibimage==32478==Original==none==self==ibimage_align-center]
Ever wonder how TV shows on CNN or the weather channel stream live tweets onto their broadcast? Or how social media channels are fed into jumbotrons at live events like concerts or hockey matches? Well wonder no longer — just Wayin. The company gives businesses or outlets the opportunity to capture, curate, analyze and publish live social media content from relevant constituencies. Take, for instance, Wayin's work with Adobe Summit Conferences. During the event, attendees live-tweeted questions for speakers and comments around the event. The data was aggregated and used for attendee engagement and key insights into the conference experience.
[ibimage==32513==Original==none==self==ibimage_align-center]
TermScout values SNOT, an acronym that stands for Supportive, Nimble, Objective and Transparent. TermScout does creates sales intelligence and data for their clients. The company offers four products:
ScoutFeed
CompanyScout
BuildingScout
CRM Integration
The company's bottom line is helping you drive more sales with intelligence.
[ibimage==32485==Original==none==self==ibimage_align-center]
Giveaways — a term that makes your customers feel excited and valued, and a term that makes the person managing the contest terrified and anxious. Swooping in to the rescue is Rafflecopter, a giveaway and sweepstakes application that makes your future promotions secure and simple. The company manages giveaways through social media channels and has worked with audiences comprising hundreds of thousands of people. Within seconds, you can develop a giveaway, set the terms, upload a photo and generate the winner. Paid subscribers have a ton of customization options that allow companies to drive their brand into the campaign. And, Rafflecopter has worked with some serious companies, including Uber, Virgin, Yelp! and Gap.
[ibimage==32514==Original==none==self==ibimage_align-center]
Valen was born because of a flat tire and some bad customer service. Well, that's part of it. The company discovered that not all risk is equal and that not all policyholders are either. So, Valen was built to work within the vast insurance sector, building predictive modeling systems to help insurers make more consistent, accurate and profitable decisions about their business and those they are protecting. Valen provides advanced data and analytics to property and casualty insurance providers. These providers join Valen to underwrite profits by driving and lowering their loss ratio. Customers include homeowners, worker's compensation, commercial auto and telematics, commercial property and other lines of business.
[ibimage==32477==Original==none==self==ibimage_align-center]
Zellebook is a software of luxury. The company works with salons and spas as a booking and point of sale system. Its cloud-based interface is easy to use for both the business owner and his or her employees; Zellebook has even given salons the confidence (also read: time) to expand their businesses. From inventory management to online scheduling, to taking payments, the software covers nearly every strand of business. Zellebooks offers digital marketing services in addition to booking. The software is able to identify new client leads and help staff automate the push of current customers through the booking and buying cycles. Through Internet ads, email marketing and social media communication, employees are staffed with the right tools to keep producing.
Client Testimonial: "Zellebook is the first software my staff has ever loved. It gave me the courage to open a second location. I really like working with one company for my business system, website and digital marketing." - Owner of Salon Foushee & Spa.
[ibimage==32461==Original==none==self==ibimage_align-center]
There's a 10K marathon coming up and you want to do it. But, given that you're juggling that startup job and tend to always drop out of commitments like this, you don't want to hire a trainer because bailing on personal goals is a much better interpersonal activity. Well, you're in luck! Addaero offers personal fitness packages for steel traps and couch potatoes alike. Right now, a beginner can buy a 12-week, 5K training package for $60 and an advanced triathlete can buy a 16-week half marathon program for $80. Addaero is much more than training packages, however. It is a technology that collects and analyzes fitness data for athletes and coaches across a variety of goals. With Addaero, you can find other individuals to train with, hire a coach to meet goals and really use data to get the results needed.
Just Announced: Addaero launched their "Solo Athlete" iPhone app this past January. Download it here.
[ibimage==32464==Original==none==self==ibimage_align-center]
With Artifact Uprising, one Rocky Mountain man's trash is that Valencia-filtered Instagram pic of you and your fiance, announcing the big engagement. Artifact Uprising brings digital photos to life. The company allows you to create cards, prints, books, invitations and more from the photos taken on your phone. And, all of Artifact Uprising's paper is 100 percent recycled. The company has been featured in high-brow publications like InStyle and Travel+Leisure, driving the point that they're sustainable on many fronts.
Inside Tip: Want to thank that new investor or recent job hire? You can get "Thank You" cards made starting at $1.30. Click here to get real about your photos.