Guild Education Hit $4.4B Valuation, Flyreel Acquired, and More CO Tech News
Read on to catch up on the latest Colorado tech news.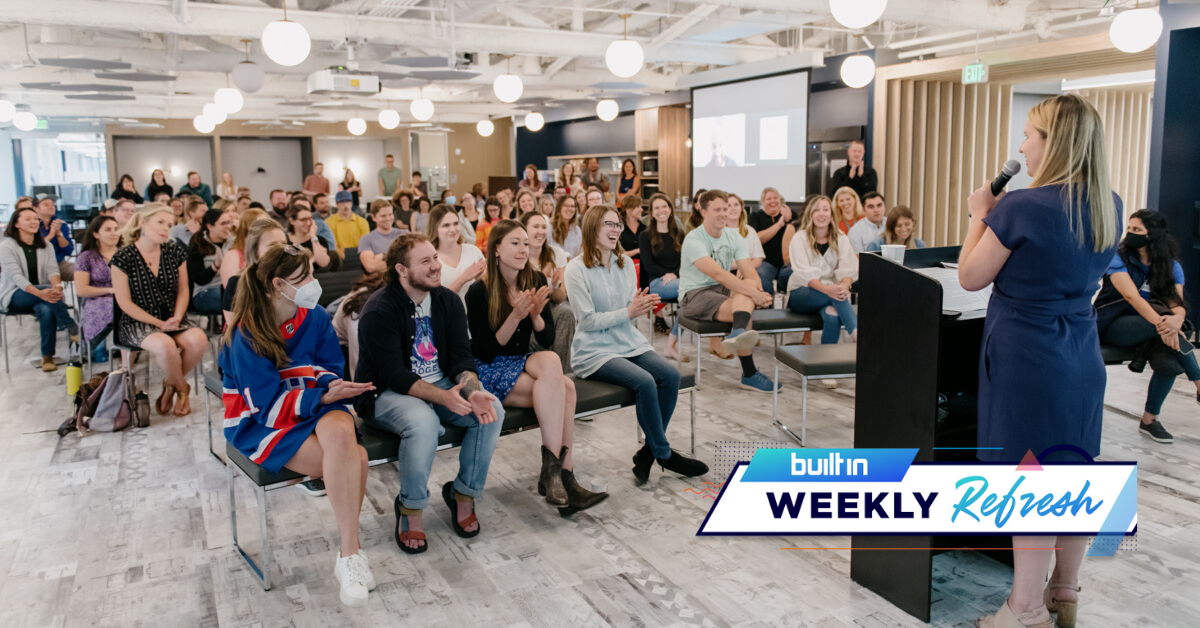 What started off as a slow week for Colorado tech companies quickly ramped up as Guild Education raised a large funding round, a VC firm pulled in a $51.6 million fund and local acquisitions were announced. Read on to see which tech companies are hiring following their recent news. This is the Built In Colorado Weekly Refresh. 
Guild Education reached a $4.4B valuation. With a $175 million Series F round, Denver-based Guild Education is now valued at $4.4 billion. The Series F round, which was led by Wellington Management with participation from Oprah Winfrey and others, comes one year after the company raised a $150 million round. Guild Education partners with employees to offer education-based benefits and is currently hiring for more than 40 roles spanning its design, engineering, finance, product, marketing and recruiting teams. [Denver Business Journal]
Hannah Grey launched a $51.6M fund. Hannah Grey is a Denver-based VC firm investing anywhere from $400,000 to $1 million in pre-seed and seed stage companies. The inaugural fund will be used to invest in "customer-centric founders redefining everyday experiences," the firm told TechCrunch. This $51.6 million fund has already been used to invest in 13 companies, including edtech platform Subject, HeroMaker Studios and August, a period care company. [TechCrunch]
Colorado Tech Quote of the Week
"ENA's mission, particularly serving K-12 and healthcare customers, will enable us to have a positive impact on communities while furthering our commitment to leading in environmental, social and governance initiatives. Together, we look forward to driving digital transformation across the public sector while delivering an exceptional customer experience." — Zayo President Andrés Irlando
Zayo acquired Education Networks of America. Boulder-based Zayo provides broadband services to schools in seven states and operates 134,000 network miles across North America and Europe. Together with Education Networks of America, a managed network connectivity, cybersecurity and communications company, the two businesses will expand their reach to more schools, libraries and healthcare providers. Financial terms of the acquisition were not disclosed, but Zayo said the deal was funded with a $750 million ESG term loan. [Built In Colorado]
Flyreel was acquired. The Denver-based property insurtech company was acquired by Atlanta-based LexisNexis for an undisclosed amount. Flyreel uses AI and machine learning to offer self-service property inspections. The company will join the insurance business of LexisNexis Risk Solutions. [LexisNexis]
Ursa Major announced its new rocket engine. Rocket engine maker Ursa Major Technologies is developing a new and bigger medium- to heavy-lift rocket engine. The rocket engine, named Arroway, is expected to come online in 2025 with ground testing beginning next year. Ursa Major, which aims for its products to be a low-cost option, is actively hiring for nearly 30 positions in the greater Boulder area. [Reuters]
Nylas rebranded. Nylas' API platform allows developers and enterprises to automate scheduling, emails and other tasks. Amid rapid growth, Nylas released a new logo and mission to reflect its commitment to helping people "unlock the true power of their communications data and remove complexity," the company said in a statement. Nylas is based in San Francisco but has a large presence in Denver, where it is actively hiring for more than 40 roles. [Nylas]