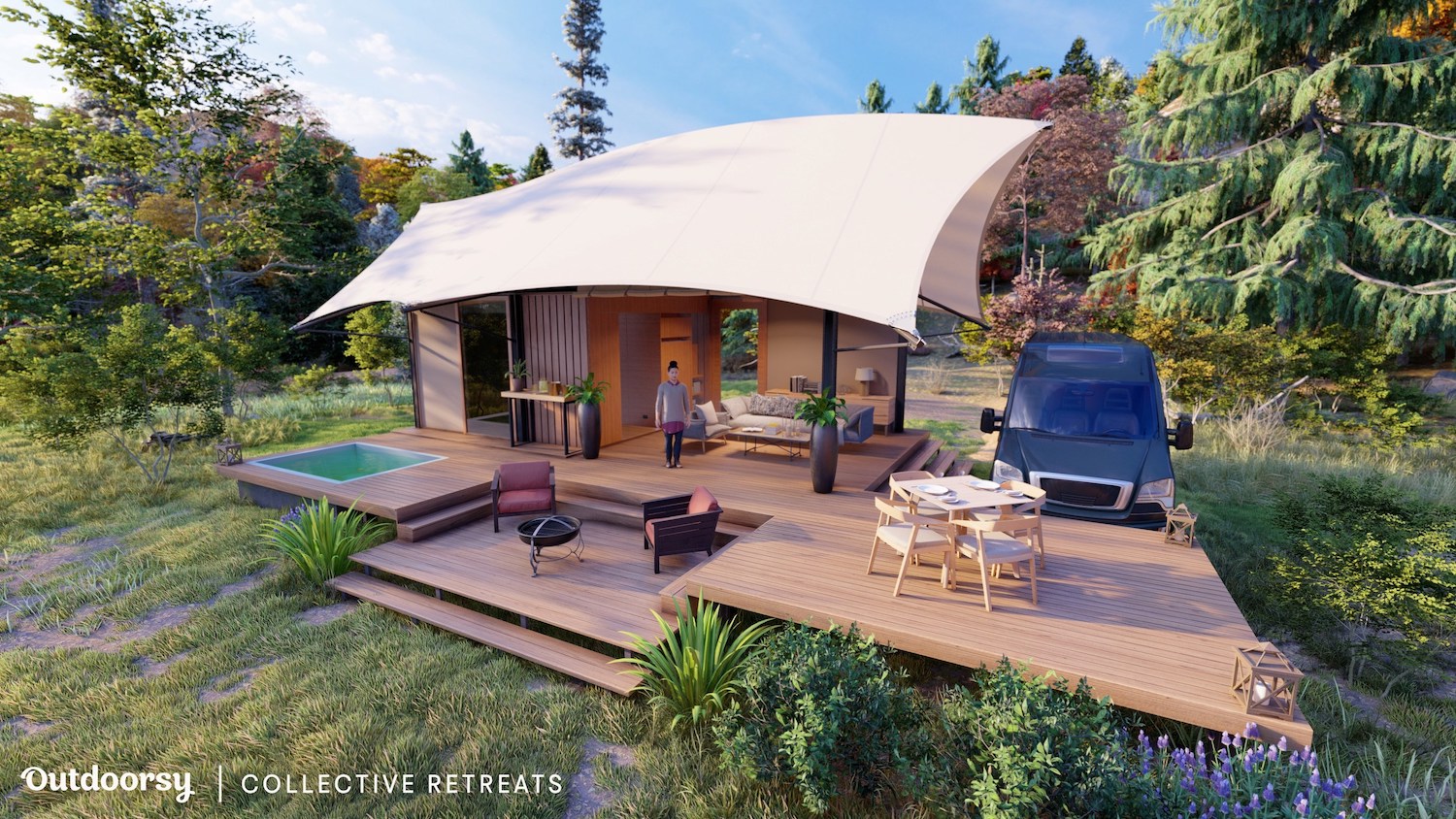 Ahead of what is expected to be a busy travel season, Denver-based Collective Retreats, an outdoor travel company, announced Tuesday it raised a $23 million Series C round. Fireside Investments and Outdoorsy led the round with participation from Revolution's Rise of the Rest Seed Fund.
Collective Retreats will use the fresh funding to expand into new markets, according to a news release. The company's website currently offers five stays in New York, Texas, Colorado and Montana. Collective Retreats, however, recently acquired new locations in the Green Mountains of Vermont, Sonoma County in California and Aspen with plans to open 25 new retreats over the next four years. 
"After a year of isolation without connection to nature, people are clamoring for a new type of luxury travel where traditional hotel rooms and lobbies are swapped for fresh air, trees and clear blue skies," Peter Mack, CEO and founder of Collective Retreats, said in a statement. 
Founded in 2015, Collective Retreats is an outdoor travel company offering luxury retreats in unexpected places. Each stay allows guests to enjoy the great outdoors while also having access to on-site activities, dining and hospitality services. According to the release, the company pairs a five-star experience with authentic ruggedness.
"Collective Retreats provides just what everyone needs with the added brilliance of uncompromised luxury hospitality," Mack added.
Collective Retreats also announced Tuesday a new partnership with Austin-based Outdoorsy, an RV and campervan rental marketplace. This partnership combines Collective Retreats' guest experience programming and hospitality expertise with Outdoorsy's platform and global reach, according to the release. 
Later this month, Outdoorsy customers will have access to Collective Retreats' flagship location on Governors Island in New York City. Guests will park their RVs in a secure parking lot near the Statue of Liberty and take a water taxi to the island where they will have access to food and beverage offerings and experiences offered by Collective Retreats. Instead of staying in an RV or campervan, guests will stay in a "luxury safari-styled accommodation" with views of New York City, according to the release. Similar offerings will be available at other locations this summer.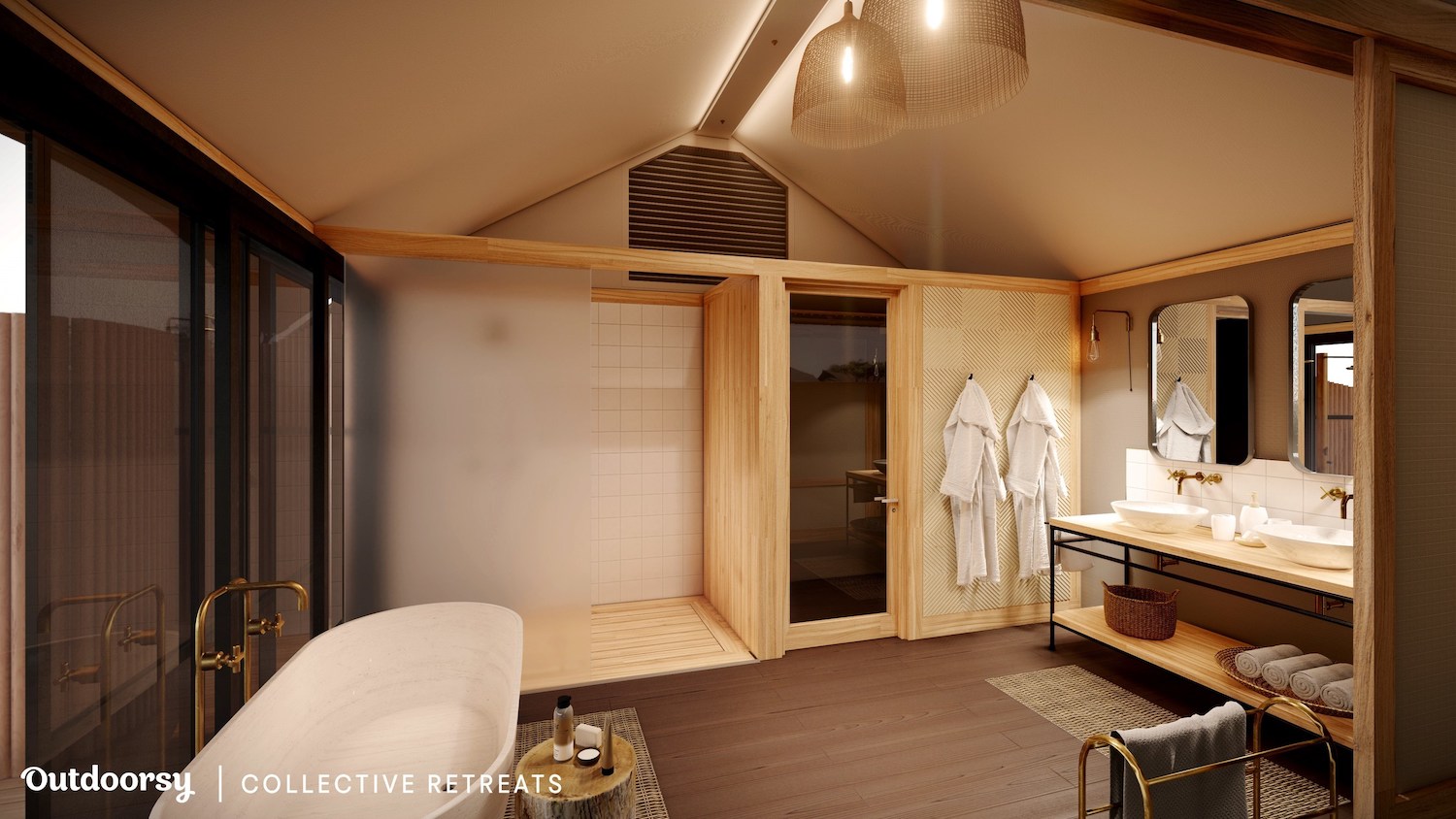 "For the majority of people renting an RV, this is their first time not staying in a hotel while on vacation, so that is the mindset they're in. They're looking for a bridge between camping somewhere convenient and camping somewhere they can anticipate a level of consistency and care," Jeff Cavins, Outdoorsy's CEO and co-founder, said in a statement. "They'll drive the extra mile if it means sleeping in comfort, and through our new campground offerings with Collective Retreats, we are answering that question of 'Where do I camp?"
This fall, the two companies will launch a new option allowing customers to stay in their rented campervans or RV from Outdoorsy while staying at a Collective Retreats location. This would give guests access to a vehicle, climate-controlled bathrooms with a shower, a soaking tub and Collective Retreats' programming options, such as live music and cocktail bars.
This is Outdoorsy's second partnership announced in just one month. Outdoorsy also partnered with Utah-based Backcountry, an outdoor gear retailer, in late May.