"How do we safely reopen our office?" 
Many company leaders are asking themselves this question, but determining the right answer is far from simple. As COVID-19 safety guidelines evolve over time, so too does employee opinion on readiness to return to a physical workplace. Businesses have to be adaptable to both of these evolutions and ready to pivot when change occurs. 
So, where do these complex reopening discussions start? The four Colorado companies we spoke with began the process by looking at federal and local safety requirements. Guidance from the Center for Disease Control (CDC), state laws and even the Occupational Safety and Health Administration (OSHA) were sourced. Some companies then formed internal committees of professionals from across the business and the office buildings they occupy to determine best practices.
From there, they agreed on protocols: offices will be cleaned more regularly; daily temperature checks will be mandated; furniture will be moved to create social distancing; and improved ventilation will be installed, among other preparations. 
But arguably the most important element these companies considered was employee opinion. Leadership strived to stay transparent on reopening policies throughout the various planning phases, and frequently surveyed team members to get real-time feedback. 
Some of the CDC's office reopening recommendations:
Install protective shields or barriers where social distancing isn't possible
Limit capacity in high-traffic areas
Use indicators to show 6 feet of social distance
Disinfect high-touch surfaces often
Exchange high-touch shared items like coffee pots and snacks with single-use alternatives
Put daily in-person or virtual health checks in place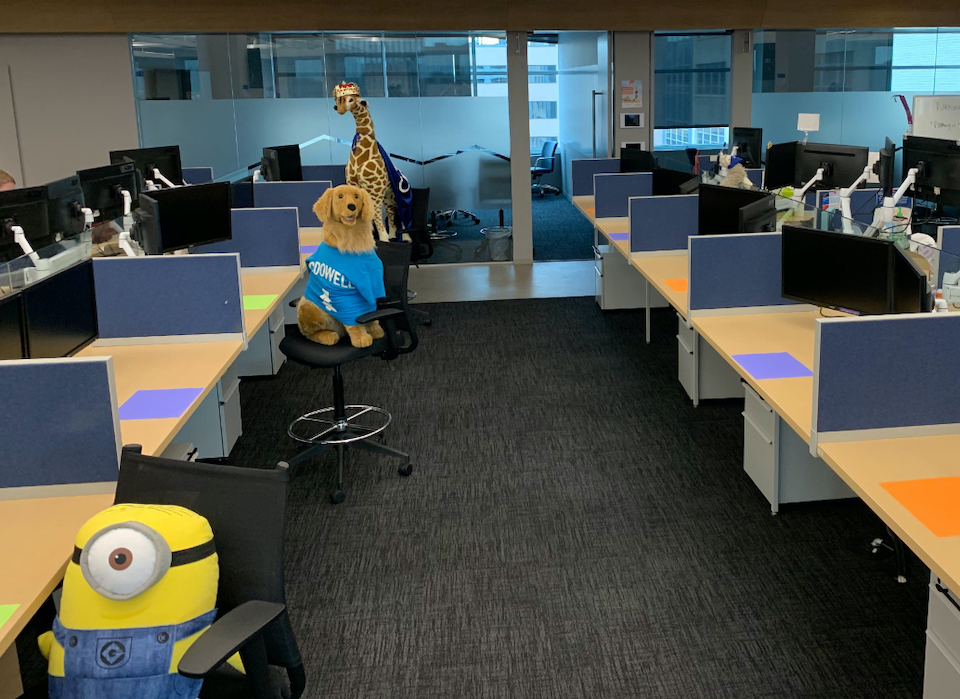 Online small business loan provider OnDeck formed an internal committee to build a reopening protocol for its New York, Virginia and Colorado offices. Senior Manager of Facilities and Office Experience Margaret Ryan said her team devised a multi-part plan that includes features like temperature checks and one-time usage refreshments based on insight from across the business and recommendations from state and federal government.
Plans for returning to the office: The initial return we are planning is voluntary for our team members, with a wider return as conditions improve. Our focus is on managing social distancing while providing cleaning services and products. We also recognize that individuals will be returning at unique comfort levels. Communicating details to employees allows them to plan how they will interact with the space.
There is a set process for team members to return during the voluntary period. It includes an application and a training course outlining the new office protocols including: a self-screening health check at home; required temperature check before entering the office; PPE and sanitizing products; desk assignments six feet apart; one-way traffic patterns; and single-serve items for drinks and snacks. 
We put a policy in place informed by response plans and recommendations from state and federal governments."
How the reopening plan came together: A committee developed the criteria that would allow the office to open in each of our locations where state, municipal and building requirements have been met. The committee was comprised of senior leadership, HR, communications, IT and facilities teams. The criteria included permittance from local municipalities, physical enhancements to our buildings and office space, and access to cleaning supplies and services. In addition, we put a policy in place informed by response plans and recommendations from state and federal governments.
Preparing for unknowns: Our policy includes contingency plans in the event of confirmed illness, or an outbreak either in our office space or the communities we operate in. The actions we'll take in our office space are focused on people behaviors and managing headcount. We can rearrange furniture to be socially distanced for collaboration spaces and desks. Without removing furniture, we will be able to scale back to full capacity when the time comes. The facilities team and the core planning committee are committed to listening to concerns or taking action on new recommendations for managing our office space. We also plan to survey team members upon their return to the office to gauge their experiences.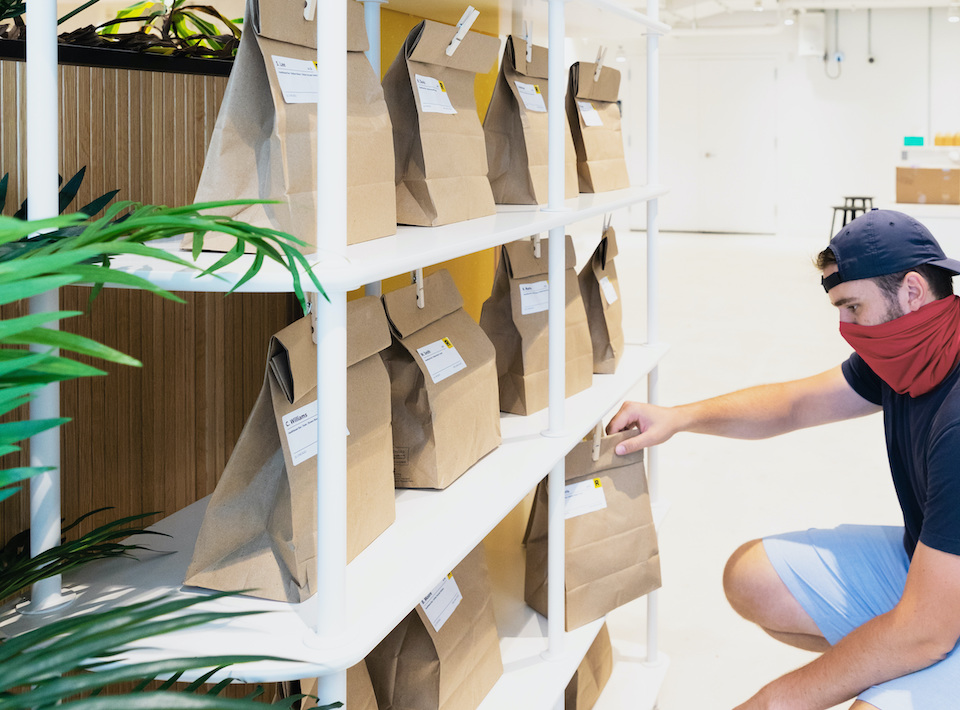 Creating a cross-functional team of professionals from HR, legal, facilities and IT was the first step in how catering marketplace ezCater approached its office reopening. Robert Mirabello, director of real estate and facilities, said the team sought insight from sources like the CDC, local and federal government, peer companies and their personal networks before building out best practices for returning.
Plans for returning to the office: After careful consideration, and lots of listening and learning, ezCater reopened our Denver and Boston offices on September 8, at up to 25 percent of capacity. All employees remain autonomous in choosing to continue working fully remotely, or working from one of our offices part or full-time.
We made changes across all aspects of the office, from moving furniture to amenities like free weekly lunch."
How the reopening plan came together: After creating our cross-functional team, we surveyed employees to understand how they felt about returning to the office. We found that a small, but meaningful, number of people could benefit from using the office at least some of the time. From there, we translated our learnings into a game plan to roll out new processes and physical space changes to support our safe return.
We made changes across all aspects of the office, from moving furniture to amenities like free weekly lunch. We implemented daily health assessments, social distancing, decommissioned kitchen appliances and implemented a way for all employees to get safe access to lunch everyday. Luckily, we're able to lean on our own product, Relish, which delivers individually packaged meals from local restaurants daily. They arrive in a single delivery at a designated place and time, so there is less traffic in and out of the office.
Preparing for unknowns: This is an ever-evolving challenge and we've been transparent throughout the planning process. We're proceeding with a phased, and intentionally cautious, approach to our return. For example, while it's legally allowed in each of our locations to have 50 percent of our max capacity on-site, we limited that number to 25 percent for now. 
When we set a target reopening date of September 8, we were clear that it might shift based on localized health data. Each team member understands that this is a fluid process and that any changes to our path forward will be communicated widely. To enable this information-sharing, we created a dedicated Slack channel for return-to-office-specific updates, as well as an email distribution list for employees to voice RTO feedback, questions or concerns.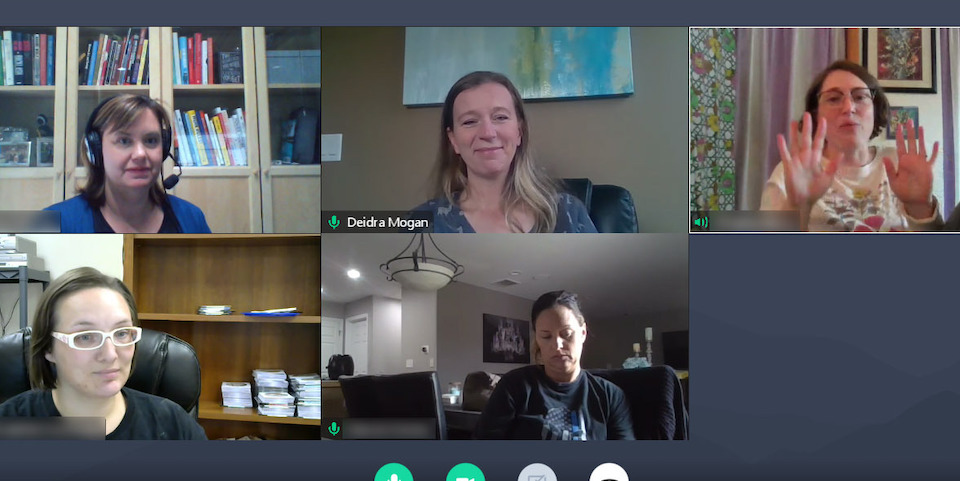 "We're looking forward to welcoming our team to a space that's not only larger, more hip and more comfortable, but also optimized for their health and safety," Deidra Mogan, KPA's HR director, said. 
Mogan said the environment, health and safety (EHS) software provider plans to open a new office in spring of 2021, fitted with safety measures like extra space and adequate ventilation. But in the meantime, it's prioritizing employee opinion and CDC guidelines in opening its current space to employees hoping to return. 
Plans for returning to the office: We haven't yet set a date for returning to the office. Most members of our workforce are enjoying working remotely and have remained productive since the start of the COVID-19 outbreak. That said, we have plans to provide an in-office option soon to accommodate people who would rather not work from home. We expect to be at about 20 percent in-person capacity during this voluntary reopening stage.
In spring 2021, we plan to relocate to a new office, although it's possible the majority of our workforce will be able to return to a shared physical environment before that date. COVID-19 prevention measures such as extra space and adequate ventilation were high on our list of concerns when choosing our new headquarters. 
The most important step in our reopening process has been our workforce surveys."
How the reopening plan came together: As an EHS company, we harness the same COVID-19 prevention program we provide to our clients. The program encompasses an array of systems, signage and procedures like facility audits, rigorous employee training and frequent cleaning of high-surface touch areas. We stocked up on cleaning chemicals and hand sanitizer, soap and other supplies employees may need. We're following federal CDC and local Boulder County requirements and recommendations for policies around face coverings, social distancing and quarantines. 
Employee communication: The most important step in our reopening process has been our workforce surveys. We pay close attention to our employees' feedback and are following their lead for introducing new procedures and timing our eventual reopening.
In addition to surveys, we hold town hall meetings every four to six weeks where we update our workforce on our current plans and address concerns. After a message from our CEO and updates from around the company, we open the floor for questions. Topics addressed during these meetings are based on information collected in our surveys.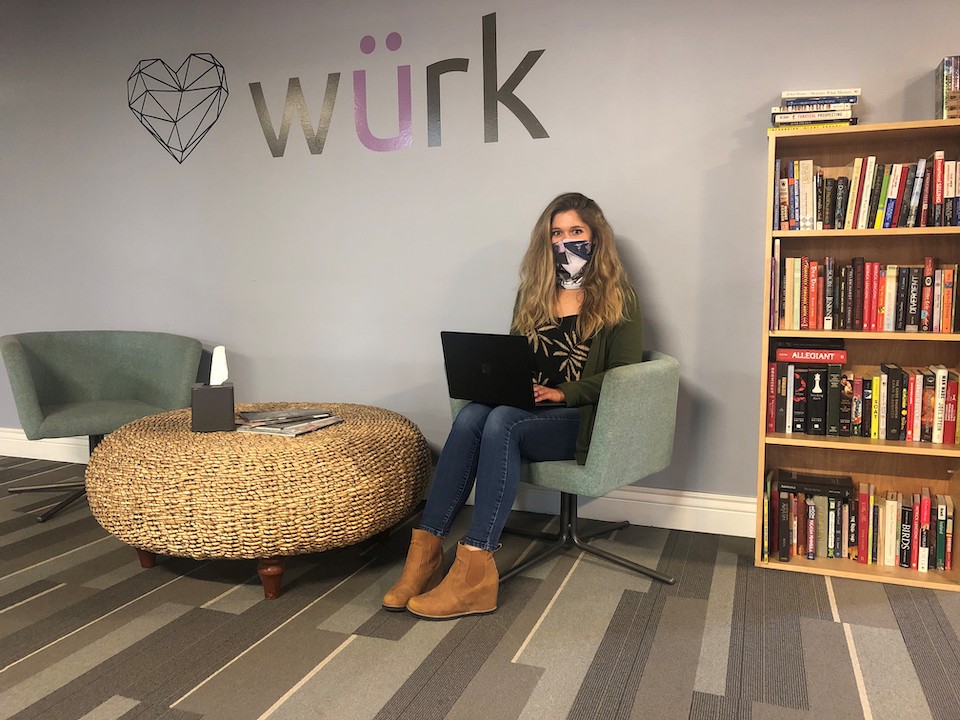 Director of People Ops Lauren Spagnuolo said Wurk employs workers that are deemed essential. So, the cannabis workforce management platform introduced safety measures — many of which are OSHA-compliant — to ensure team members can work safely in the office. Wurk also developed a contingency plan to ensure business continues if someone gets ill. 
Plans for returning to the office: Like many of our cannabis clients, we adopted a hybrid model where essential employees alternate at the office and others work from home. Following state and local guidelines, as well as standards for employee and customer safety, our team is required to complete a self-health screen questionnaire prior to traveling to the office and are required to stay home if they feel any symptoms. The office is equipped with hand sanitizer and masks and undergoes frequent cleanings. Each conference room, open space and desk is positioned to allow social distancing. 
In the event an employee does test positive for COVID-19, we have a contingency plan in place to ensure business processes are not disrupted. There is a standard communication plan to alert employees, and through sign-up sheets, scheduling and timekeeping records, we can manage contact tracing. 
Offering the flexibility to work from home will be a part of our culture moving forward."
How the reopening plan came together: We formed a committee that brainstormed reopening strategies weekly, then assigned a dedicated person to keep up with local legislation and OSHA guidelines. We surveyed the team to better understand their comfort in returning to the office and provided updates on our reopening progress during bi-weekly all hands meetings. Once we formulated a hard plan, we implemented it, documented it in a "Return to Wurk Guide," and rolled it out in a company-wide meeting.
Prioritizing employees: We decided to close the office for the rest of the year, which offers peace of mind to employees instead of operating on a month-to-month basis. Wurk's interviewing, hiring and onboarding processes evolved in response to the pandemic. It increased our remote hires, which offers a more diverse talent-pool. We are still evaluating productivity and employee preference when planning for a future model, but we agree that offering the flexibility to work from home will be a part of our culture moving forward.