Nothing stays the same for too long at Workiva — that's by design.
The product development team's gears are constantly in motion, whether it's jamming together in unified design sessions, pitching new ideas or looking for code to replace or improve. That mix of collaboration and openness to change propelled a team of four engineers last year to replace Workiva's continuous integration platform — a project that required twice as many engineers to build initially. 
We caught up with two product development leaders about what's on the horizon and how they keep their team's motor running.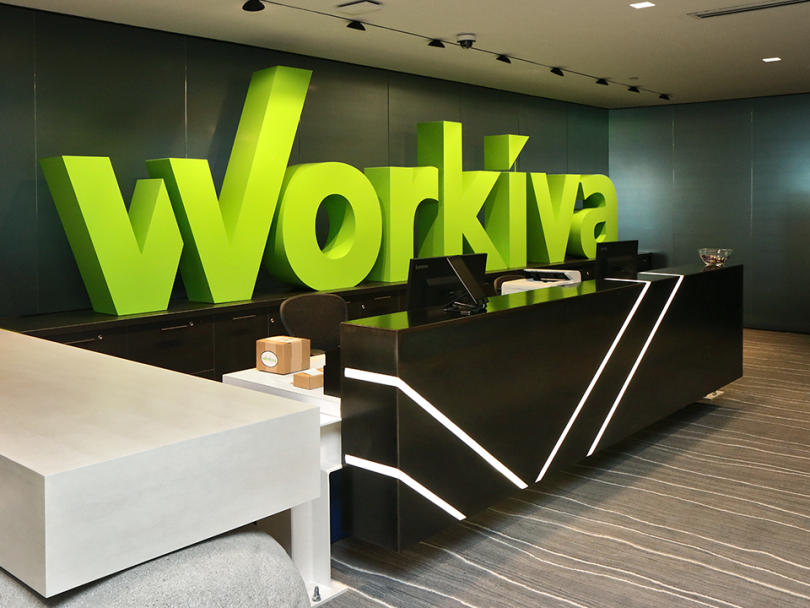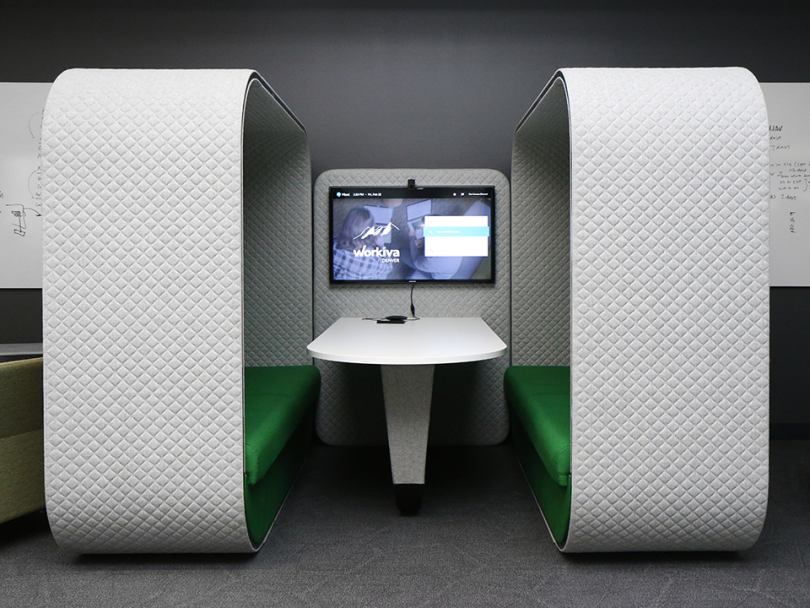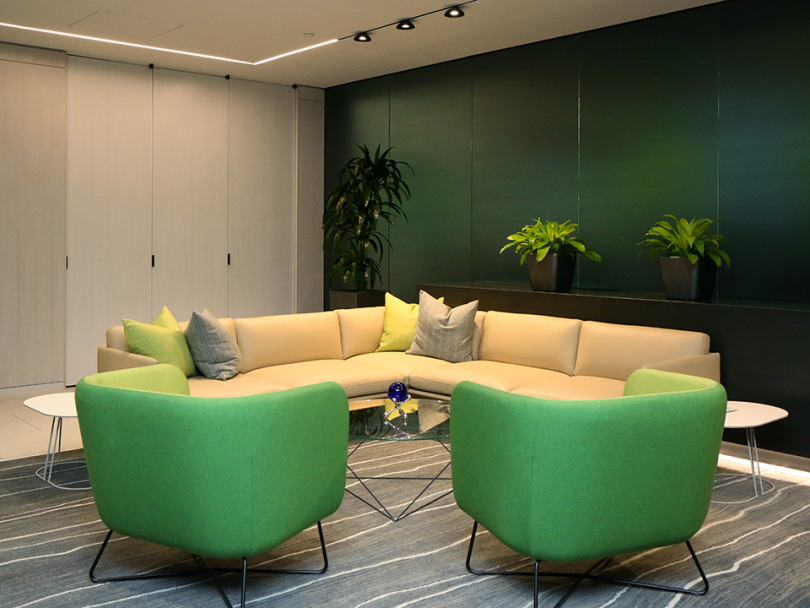 FOUNDED: 2008
EMPLOYEES: 1,300 (140 local)
WHAT THEY DO: Workiva creates and delivers its Wdesk cloud platform, which provides connected data, reporting and compliance solutions for thousands of enterprises — including 75 percent of Fortune 500 companies — around the world. 
WHERE THEY DO IT: Denver
DECORATION BUDGET: Workiva's team looks for any opportunity they can to bust out the streamers, balloons and craft supplies. They love decorating the desks of new team members and employees celebrating a birthday or accomplishment.  
RETRO GAMERS: Meet the team members building Workiva's Wdesk platform, and why they draw on Tetris to make sense of financial reporting.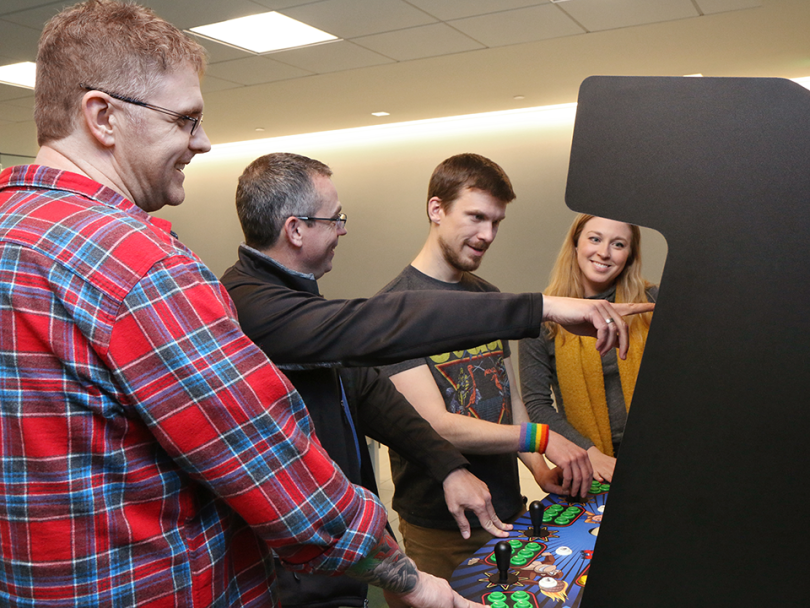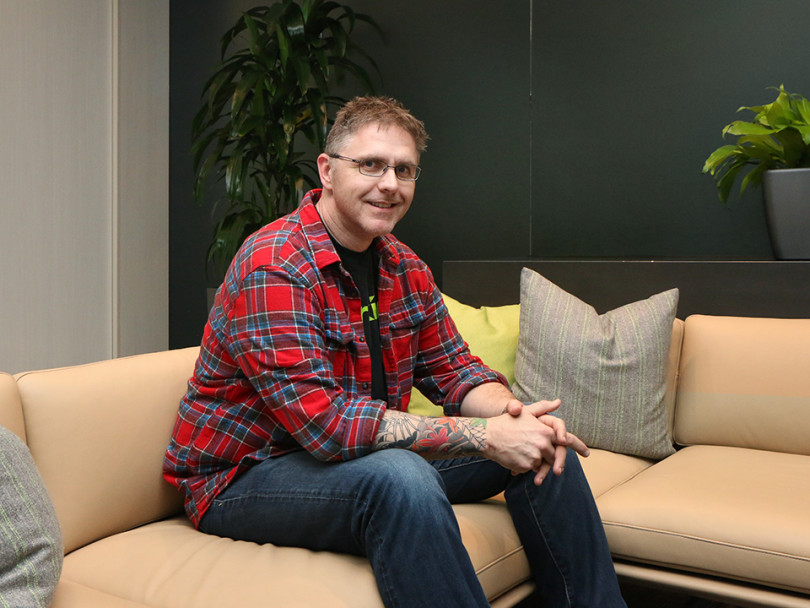 Mike, Product Development Manager
Mike is Workiva's resident coach, drawing up strategies for its product and platform teams. On the product side, he guides his team to focus on providing attachment capabilities and integration with their Wdesk platform. On the platform side, he leads the build tools team, which works on continuous integration.
BEYOND WORK: Mike has patrolled the sidelines as a football coach for the last 10 years. Over those years, he's picked up a trick or two that's helped him at work, namely to pay attention to how people respond to what you ask them to do and adjust. (Yelling doesn't work.)
Tell us about your background — what attracted you to Workiva?
I've spent the last 20 years working primarily within the Microsoft stack. I've worked through the various roles of engineer, team lead, solutions architect and, eventually, into management. I actually didn't know about Workiva as a company. A friend who was on one of my previous teams chatted up the company over lunch one day and wanted me to come over because he felt I could help them.
It took me roughly 20 minutes into my first interview to realize that this company was built around so many of my beliefs and values that I needed to be a part of it. Any company that is seeking to be better, regardless of their past success, is a company I want to be a part of.
You've been at Workiva for almost a year on the dot. What's been your approach in leading your teams, especially those who have been here longer than you?
I try to empower teams to work in a manner that they have input in what we're being asked to deliver, give them a set of guidelines to work from and turn them loose. I don't believe in big sweeping changes or changes for the sake of change. Most of the time if a team needs coaching, I just offer a gentle nudge toward a more favorable approach.
Once in a great while, I'll use team metrics to push a team toward a more desirable approach. That's one of the things I love about being at Workiva: People are driven by data here, and they're always receptive to making changes when the data tells us to.  
It took me roughly 20 minutes into my first interview to realize that this company was built around so many of my beliefs and values that I needed to be a part of it." 
How does using an Agile workflow promote and encourage innovation and collaboration on your team?
As an Agile engineer, everything revolves around open dialog. Within any given sprint, there's active pairing going on to bridge understanding and knowledge within the team. Teams estimate in unison so that everyone is unified on what we're tasked with building. We regularly hold jams, where teams get together to focus on designing new aspects of our systems. The process allows us to drive out unified designs that everyone agrees on.
All of this leads to a more consensus-based approach to the solution, eliminating concerns early on and building an agree-and-commit mentality.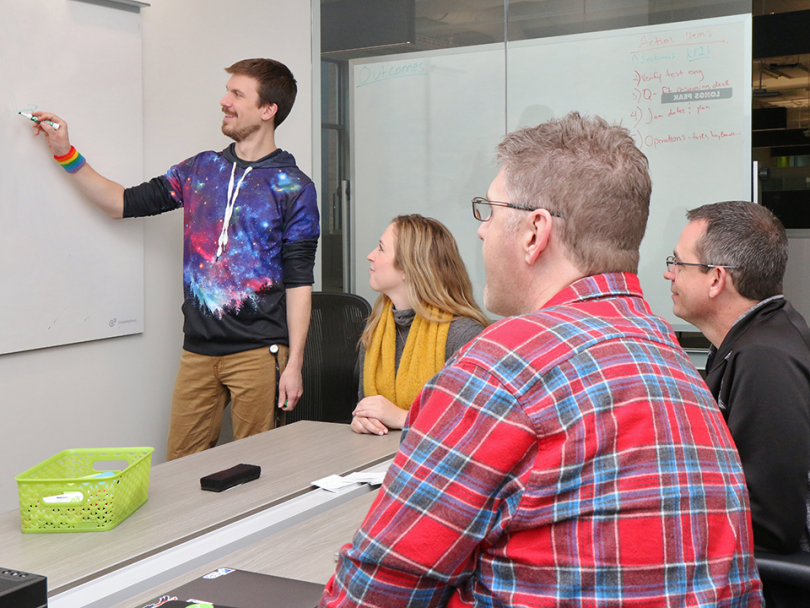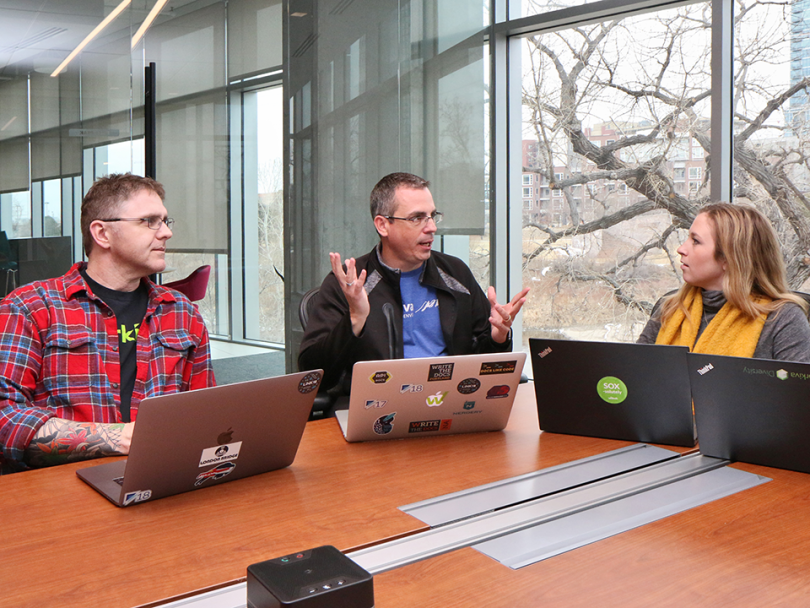 You tore down and rebuilt the main part of Workiva's platform in the past year. What was your team's approach to that, and how has it evolved your product?
When I joined in March 2018, there was a general belief from our build tools team that we could deprecate one of the main aspects of the system. We had a completely custom continuous integration platform that required eight engineers to build — and we ripped it apart and replaced it with one that was more focused on off-the-shelf, cloud-based technologies.
The team executed on such a level that not only did they complete it all in under a year with four engineers, but they also proceeded to deprecate another aspect of the system. It's been exciting to watch the evolution of the platform, and we're still not done optimizing for scalability and cost savings.
As you look toward your goals for this year, what do you hope to accomplish?
I'm transitioning out of having two teams to be able to focus on our continuous integration needs. This year's focus is on improving the overall architecture and resiliency to better serve our product teams, as well as re-imagining and productizing the user interface. We're trying to establish better ways of communicating, building, and focusing on visualizing the information in a more consumable manner.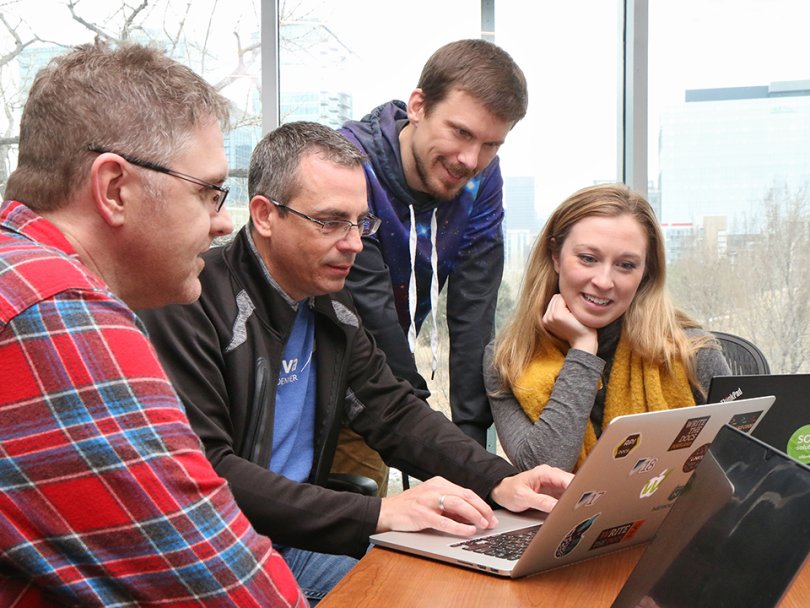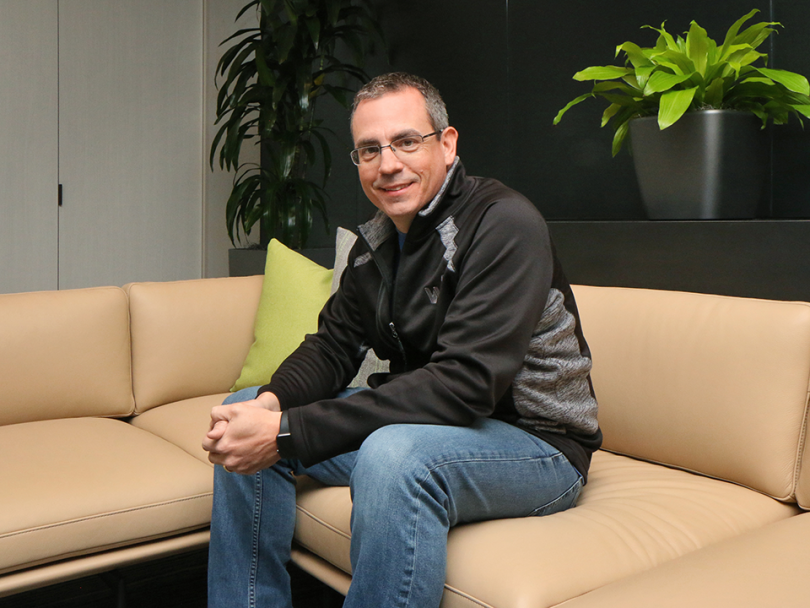 Darren, Product Development Manager
Darren manages the knowledge services and analytics services teams. He works with the product development team to connect them with the people, tools, processes and content they need to complete their work.
BEYOND WORK: If you want to know how many home runs Colorado Rockies' third baseman Nolan Arenado has hit or about Denver Nugget center Nikola Jokic's latest triple-double, Darren is your guy. He loves watching sports and tracking stats.
You have a background with varied professional experiences. What attracted you to come work at Workiva?
My background is in knowledge management and content strategy for large and small companies. No matter where I've worked, I've discovered that employees don't always know where to find help: how to do something, learn something new or who to talk to about that.
I didn't know anything about Workiva when I first heard about them, but as I started to research them, I appreciated what they were trying to accomplish — meeting the needs of customers using collaboration, centralization, accessibility and transparency. They were all the same values that I've held in high esteem throughout my career.
As a quiet leader, I've learned that I can still build up a level of respect that doesn't require me to always speak loudly to be heard." 
You manage a team that works to develop Workiva's product. What's your leadership style like, and how does that affect your team? 
I consider myself more of a quiet leader who is easily approachable and easy to talk to. I value getting to know people and understanding what makes them tick.
As a quiet leader, I've learned that I can still build up a level of respect that doesn't require me to always speak loudly to be heard. When I first meet with my teams, I make it a point to discover each person's strengths, motivations and interests. That information guides how I allocate tasks and projects. People are inherently set up for success if you give them tasks that they're good at doing.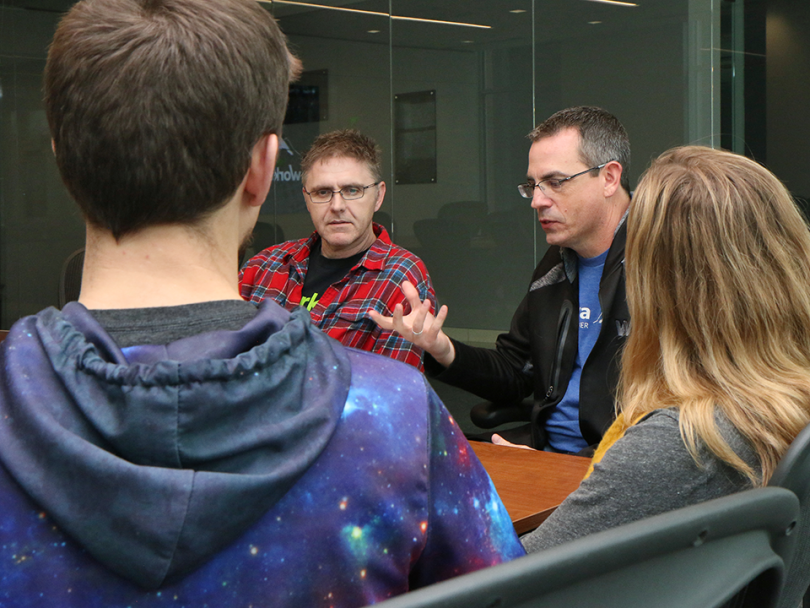 What characteristics do you look for when you're interviewing a candidate to join your team?
When I'm interviewing, I'm looking for candidates who may not always have exactly the skills we're looking for but that they have potential and drive. I want team members who are passionate about technology, feel comfortable working with people at all levels and have a great sense of humor.