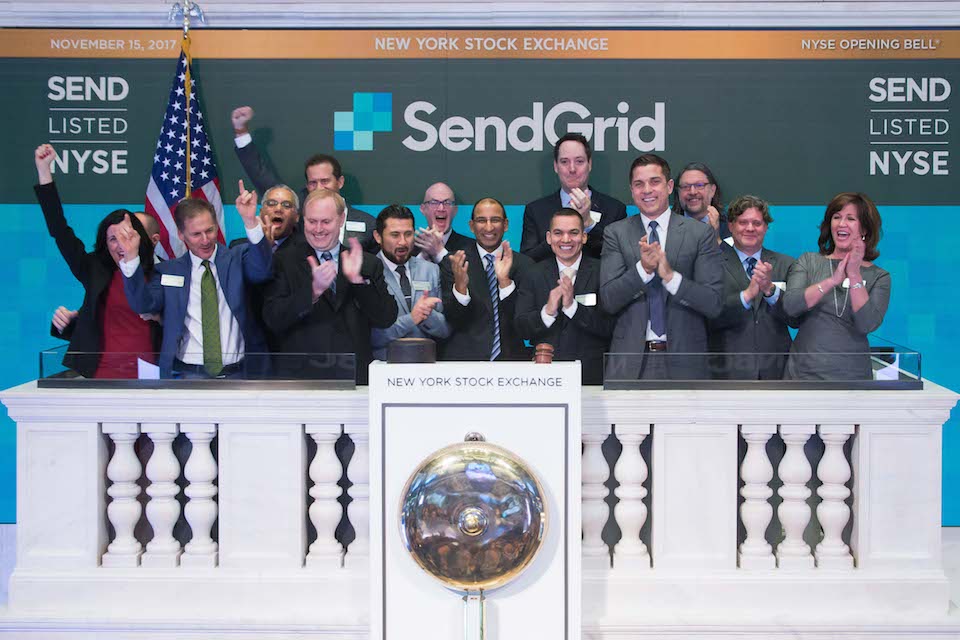 Today, nearly a year after its debut on the New York Stock Exchange, SendGrid announced that it will be acquired by San Francisco-based Twilio in a deal valued around $2 billion.
Twilio — whose cloud API enables developers to build complex and customized communications systems via text, voice, video and other platforms — makes a natural partner to Denver-based SendGrid, which delivers an email API platform that also caters to developers. The acquisition will help expand Twilio's API capabilities to encompass a broader spectrum of digital communications.
"Increasingly, our customers are asking us to solve all of their strategic communications challenges — regardless of channel," said Jeff Lawson, Twilio's co-founder and chief executive officer in a statement. "Email is a vital communications channel for companies around the world, and so it was important to us to include this capability in our platform."
Lawson confirmed in a conference call with press this afternoon that SendGrid will continue to operate as an independent unit, with CEO Sameer Dholakia at the helm.
A true Colorado startup success story, SendGrid launched out of the Techstars accelerator program in 2009. Since then, the company has made waves in the email marketing industry, raising more than $80 million in venture funding before going public last year — growing to employ more than 450 people and now sending over 45 billion emails each month.
"This is a tremendous day for all SendGrid customers, employees and shareholders," said Sameer Dholakia, SendGrid's CEO in a statement. "Our two companies have always shared a common goal — to create powerful communications experiences for businesses by enabling developers to easily embed communications into the software they are building. Our mission is to help our customers deliver communications that drive engagement and growth, and this combination will allow us to accelerate that mission for our customers."
The deal is expected to close in the first half of 2019, pending shareholder approval and the expiration of the applicable waiting period under the Hart-Scott-Rodino Antitrust Improvements Act. Both companies' boards of directors have approved the transaction.