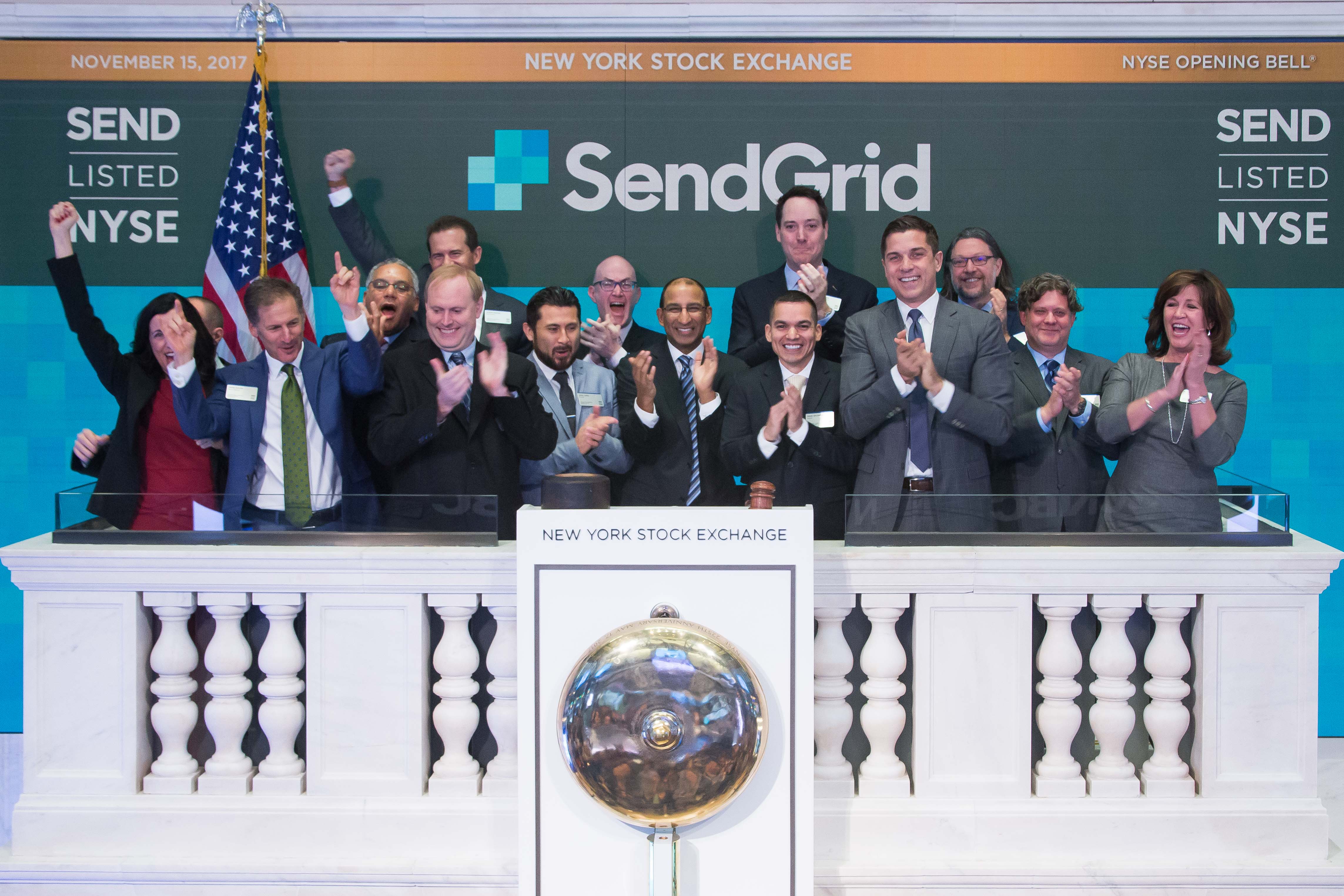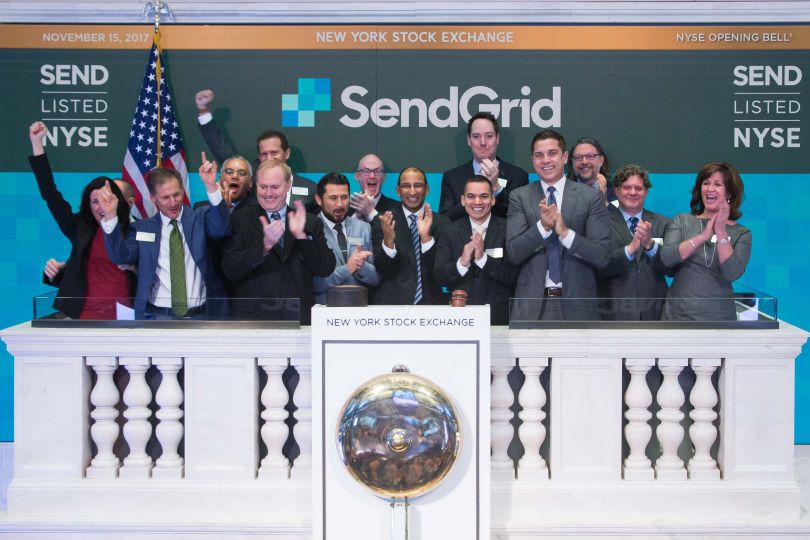 This morning, Colorado tech darling SendGrid made its debut on the New York Stock Exchange with an initial public offering of 8.2 million shares of common stock at $16 apiece.
SendGrid filed an S-1 registration statement with the SEC on October 18 and had initially planned to sell only 7.7 million shares at $13.50 to $15.50 per share. However, the Denver company upsized its IPO before this morning's opening.
The offering, which is slated to close on November 17, will raise $131 million for the company.
SendGrid is a quintessential Colorado startup success story. Founded in 2009 and an early graduate from the Techstars Boulder program, the company has grown from three engineers to more than 400 full-time employees — 300 of which sit in its downtown Denver headquarters. This year, SendGrid is on track to continue its breakneck growth rate, surpassing $100 million in revenue — an increase of $20 million from 2016. 
As a pillar of the local tech community, the company has both benefited from and contributed to the vibrant ecosystem in our state.
"We're blessed to be located in Colorado, where there's a rich environment for companies like ours to continue to innovate and grow and serve our customers better," said CMO Scott Heimes. "There are many companies here that are growing fast, making a difference and really contributing to the evolution and uniqueness of the technology industry in Colorado today."
The company marked the achievement with celebrations at its offices around the world. It also brought roughly 60 "Gridders" to New York to ring the bell on the New York Stock Exchange, where today a massive SendGrid banner hangs outside to mark the occasion.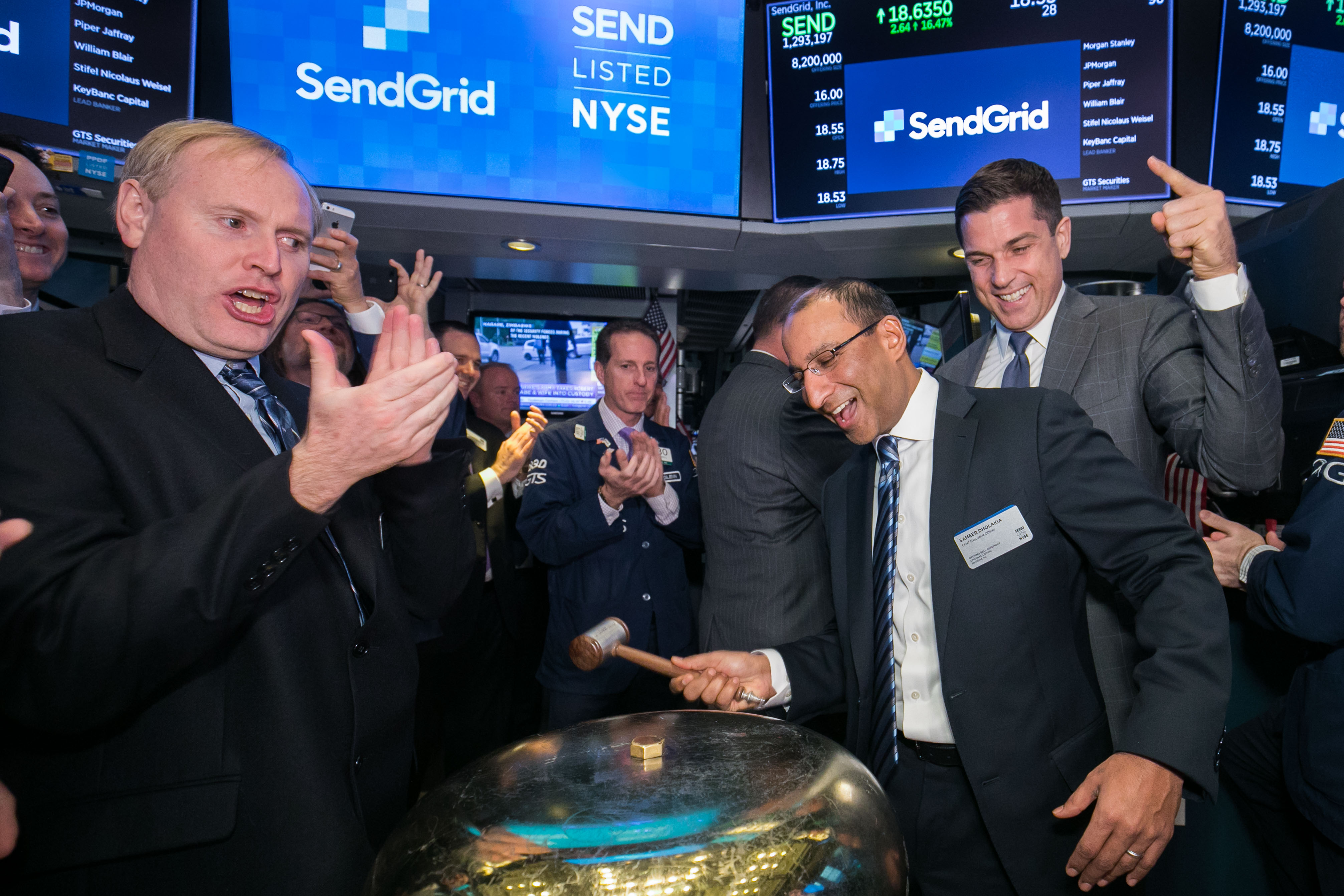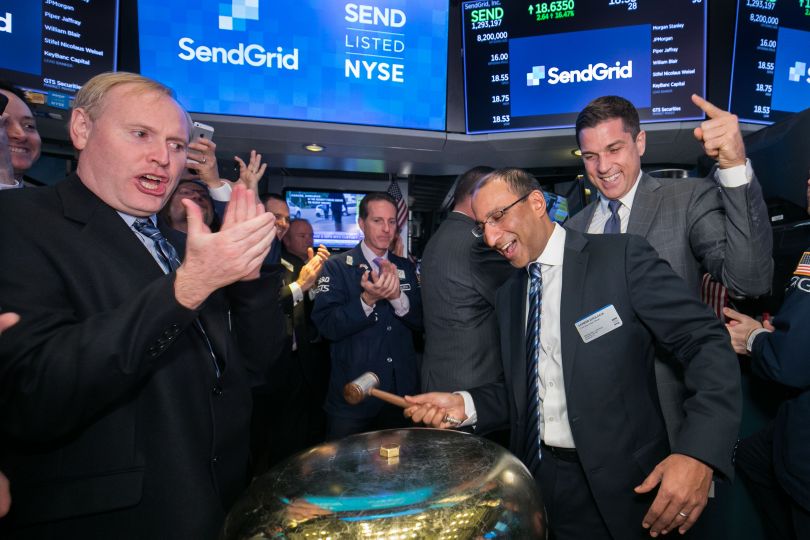 According to Heimes, the timing was just right.
"We decided to go public because our business is ready for it and our momentum as a company is incredibly strong," Heimes said. "Our market opportunity out there is really large; we consider it to be $11 billion, of which we've only penetrated about three percent. So we have tremendous opportunity for growth and evolution as a company."
SendGrid, which has raised a total of nearly $89 million in venture funding, began talks of an IPO last November after raising its biggest funding to date — a $33 million round led by Bain Capital Ventures with participation from Foundry Group, Bessemer Ventures and SofTech Ventures.
The company joins an elite minority of Colorado tech companies to go public since the dotcom bubble burst. The only other local software company to do so was Boulder-based Rally Software, which went public in 2013 and was later acquired by CA Technologies. At the beginning of October, HomeAdvisor completed its acquisition of Angie's List, merging into a single publicly traded company, ANGI HomeServices. Telecom companies Zayo Group and Wide Open West also IPOed in recent years, with WOW going public just this past May.
"Every person in the company recognizes that this is just one milestone in our journey as a company," Heimes said. "We have a vision to become the world's most trusted customer communication platform and to be a true built-to-last company that's around for decades. So, this IPO is just one step along on that journey."
Stock prices have, so far, held steady at or above $18 per share — reaching as high as $19.20 a share. SendGrid listed its common stock under the ticker symbol "SEND." Morgan Stanley and J.P. Morgan are managing the IPO.