Let's be real — during the week, most people spend more time at the office than they do at home. So it makes sense that modern companies are creating spaces where people actually want to spend their time.
These types of spaces aren't just practical; they also incorporate the unique characteristics and design aesthetics of a company's brand and culture. But don't take our word for it — take a tour of three local tech office spaces below.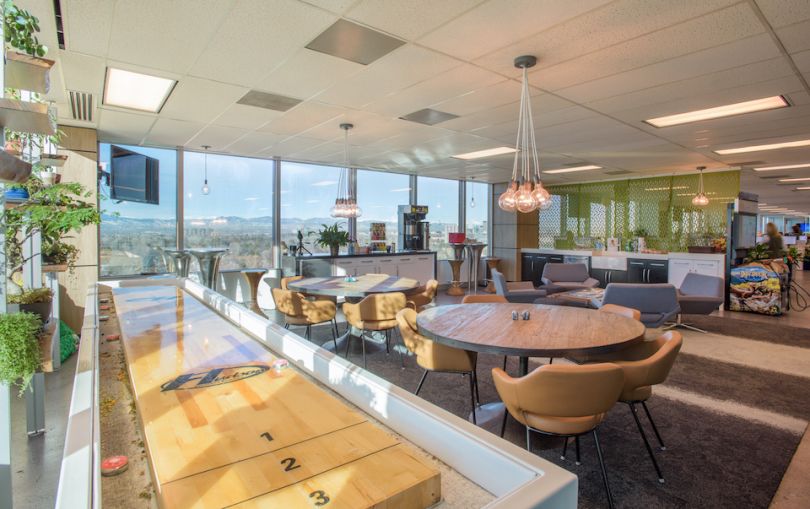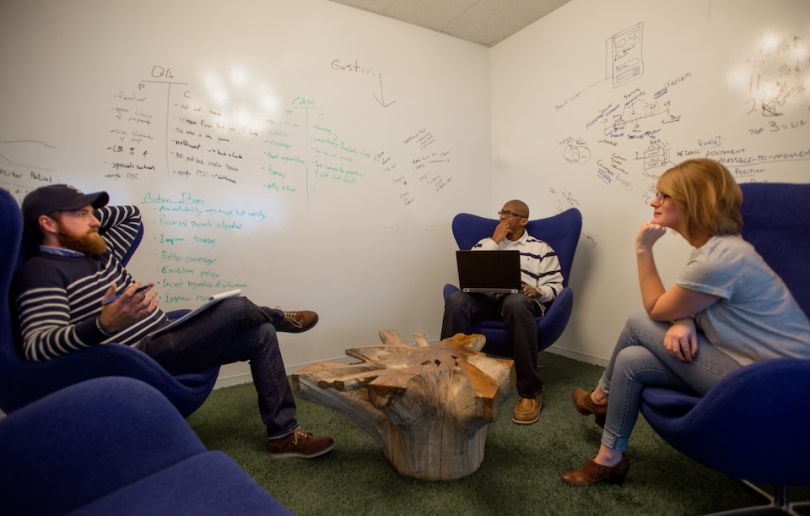 Location: Glendale
Industry: Travel
Number of Colorado employees: 148
Square footage: 12,000
What inspired the design of your office?
"We wanted an office that emphasized open, collaborative spaces as well as our 'work hard, play hard' mentality," said Sarah Soenke, copywriter. "Throughout our many table clusters, we have sit-stand desks that offer a healthy flexibility for different work styles. Our team members can use our conference 'War Room;' an astroturf-covered 'Grow or Die' meeting space; a private Zen room; and two kitchen areas with games and beer/hard cider on tap."
What's the coolest or most unique feature?
"Our prime views of the Rocky Mountains," Soenke said. "With floor-to-ceiling windows all along our outward-facing walls, our 10th floor office is filled with a ton of natural light and views of the surrounding city. We keep rows of planters and more than 20 bonsai trees throughout our office to keep it green and lively."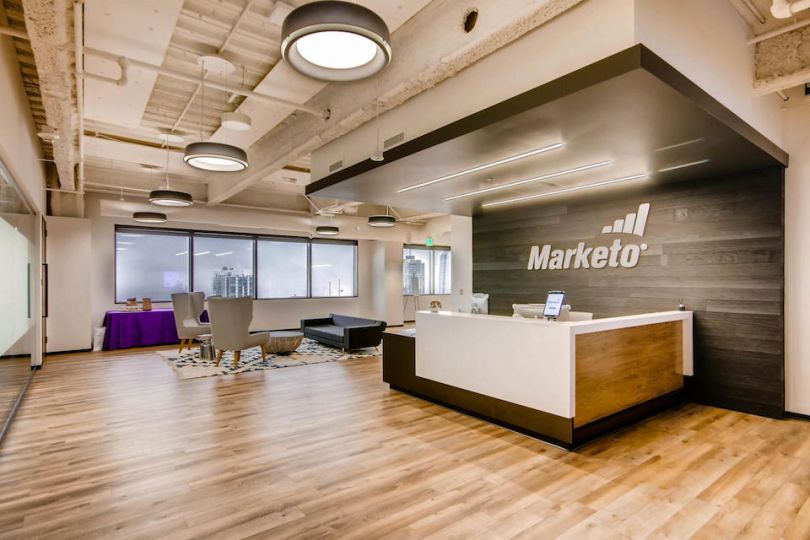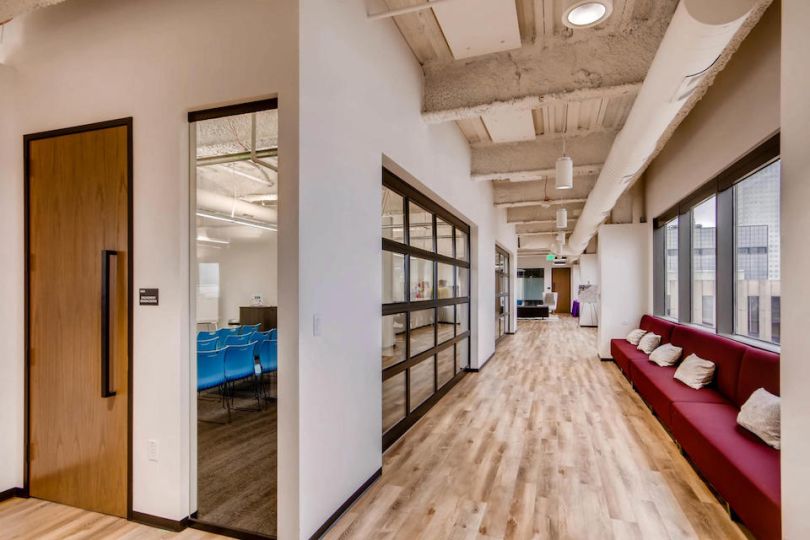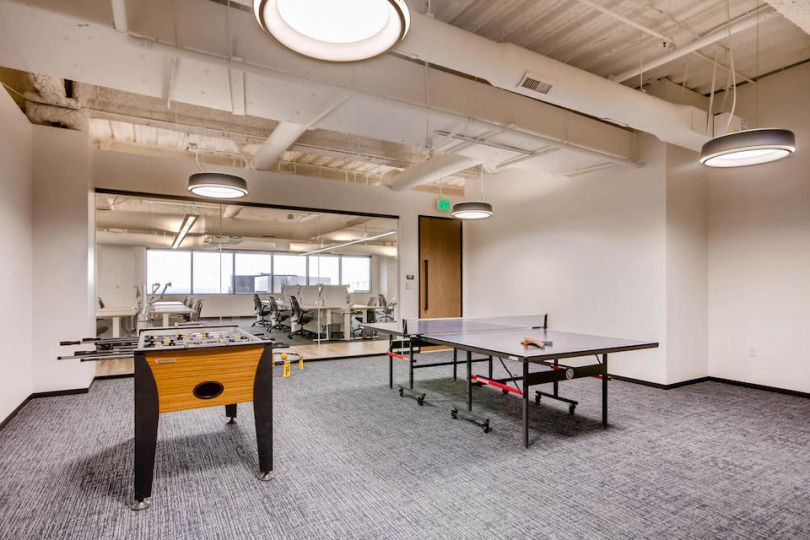 Location: Denver
Industry: Marketing tech, software
Number of Colorado employees: 250
Square footage: 51,377
What inspired the design of your office?
"The design concept was originally inspired by the look of a sophisticated ad agency with dark rich colors and textures while maintaining a light open feel," said Teresa Grau, senior vice president, people experience. "We also wanted to enhance the overall feel of the space by removing the ceilings to expose the building structure. Another source of inspiration was the views from the building; we wanted to let as much light into the space as possible and provide panoramic views of the mountains for all of the employees."


What's the coolest or most unique feature?

"Some of the coolest features in our space combine beauty and function like ceiling to floor garage doors to maximize space and capacity when needed and all employees have convertible sit-stand desks," Grau said. "Additionally, we designed the space to focus on bringing our people together. Some of the ways they get to do that is in our game room and our café/collaboration areas."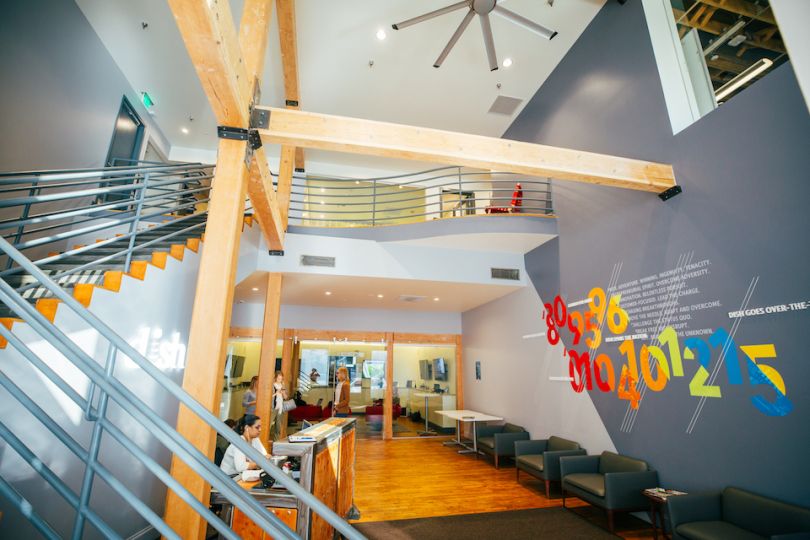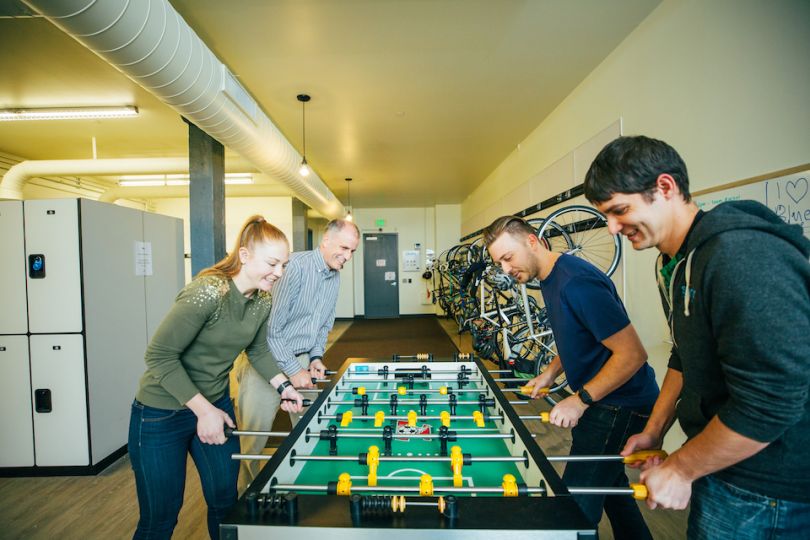 Location: Denver
Industry: News, entertainment
Number of Colorado employees: 140 Denver; 4000 in Colorado.
Square footage: 26,000
What inspired the design of your office?
"We renovated the space to create a collaborative, open work environment that would still honor the Grand Central Building's historic integrity," said Travis Cole, senior software engineering manager. "Our office was designed to look and feel like a modern tech startup with an open floor plan, high ceilings and lots of natural light. At the same time, we've kept many of the landmark's industrial elements including its original brick, steel and wooden beams."

What's the coolest or most unique feature?

"With plans underway to build a national narrowband IoT network, we've created an innovation lab so that team members can explore the IoT space," said Cole. "The lab is stocked with resources including a variety of devices, access to third party partners, and opportunities for idea incubation and development."