On March 20, news rocked the sports world: After 19 years of leading the New England Patriots to nine Super Bowls, and collecting six championship rings along the way, Tom Brady announced he was leaving the team for the Tampa Bay Buccaneers.
Patriots fans were perhaps speechless for the first time, rival AFC East fans rejoiced at the news, and Tampa Bay and Brady fans were eager to get their hands on the quarterback's fresh gear, which was available for purchase across Fanatics' network of online stores as soon as the news went public. 
After the announcement was made, Fanatics said they saw Brady merchandise spike 900 percent day over day. A few weeks later, the Bucs would officially unveil Brady's new No. 12 uniform as part of the teams' new identity launch. Sales would once again spike, with both Brady and the Bucs becoming the top-selling NFL player and team, respectively.
Events like these, which cause rapid spikes in traffic and demand, might be classified as an outside-the-norm event at other companies, but Fanatics employees say it's business as usual. 
"For us, it's kind of a non-event," said Cloud Engineer Samantha Gongora. "We know that our industry is unpredictable, so we plan for it so we can react accordingly."
This planning impacts everything at Fanatics, which has transformed the licensed sports industry through its "vertical commerce" or "v-commerce" model. Through v-commerce, pioneered by Fanatics executive chairman Michael Rubin, the company utilizes an agile supply chain and on-demand manufacturing capabilities to design, manufacture and distribute the widest assortments of real-time merchandise ever available to fans, retailers and more than 250 partners worldwide. 
Gongora, and her colleagues Timm McShane and Alex Novelli, led Built In Colorado through what technical processes it takes to support the fast-paced, fluid sports world.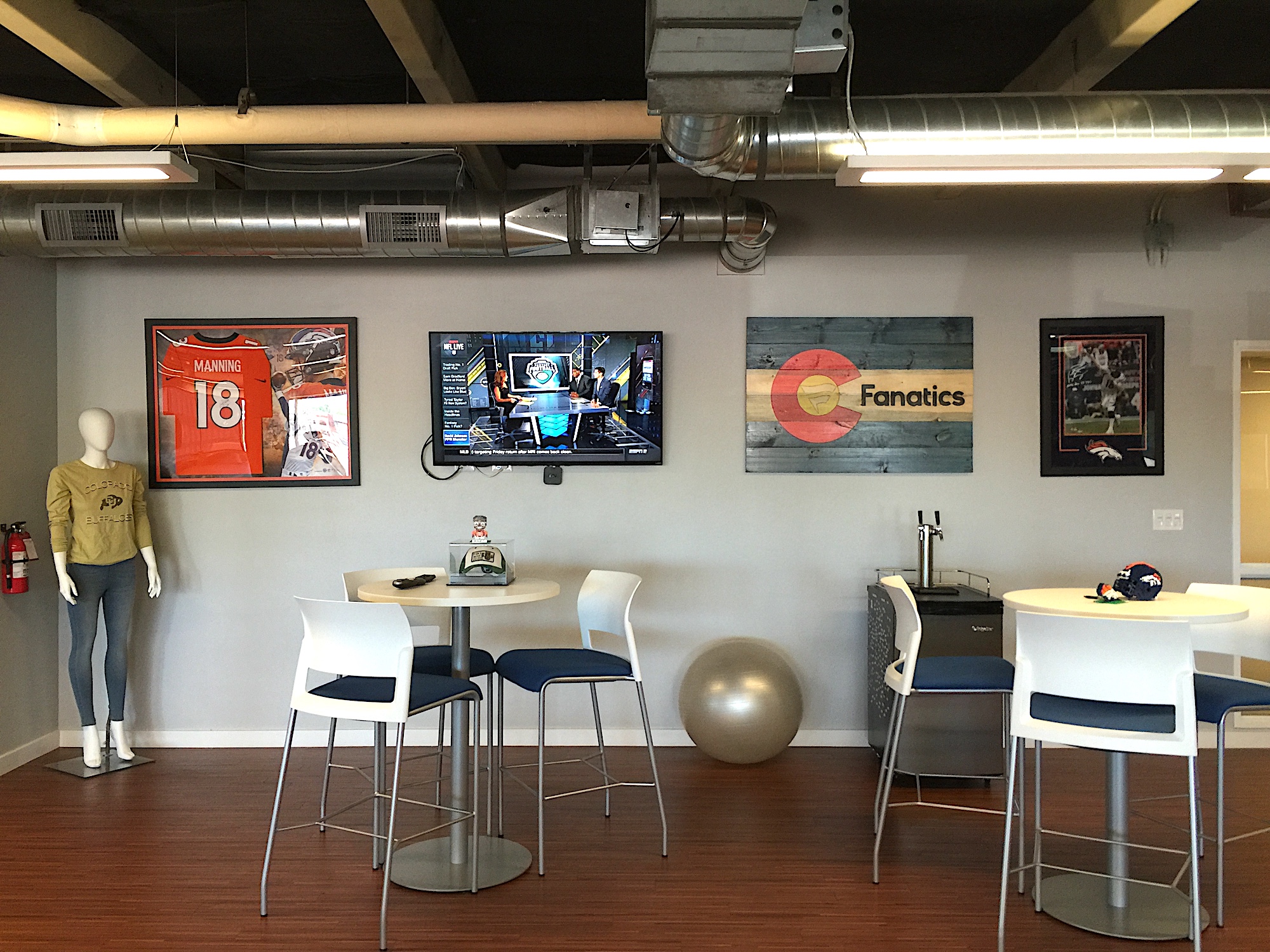 Adapting to 24/7 sports
The sports industry is unpredictable. 
A player can become a sensation overnight, like Baker Mayfield, who after leading the Cleveland Browns to their first win in nearly two years in 2018 immediately became the top-selling NFL player. Any event, like the Browns' resurgence, LeBron James joining the Lakers in a blockbuster move, or Brady's trade can trigger immediate fan demands for player and team merchandise throughout the year. 
To meet the 24/7 on-demand economy of licensed sports merchandise, including the unforeseen events and the more predictable ones like playoffs and holiday season, Fanatics implemented Rubin's v-commerce model. Unlike e-commerce, the selling of goods online, v-commerce encompasses an end-to-end process beginning with product design and ending with delivery to a customer's door or partner's storefront.
"We're intimately integrated through the entire vertical process, not just the point of sale," said Senior Product Manager Alex Novelli. "We're not just the website — we're the warehouses and the manufacturing, too."
Reducing Waste
An advantage to Fanatics' v-commerce approach, which relies heavily on data, is their system's ability to inform how much of a product to produce. "For championship t-shirts, like a Super Bowl, we don't actually start producing that product until the team clinches the win," Novelli said. "That way we are only making the products we need and eliminating waste."
To connect each component of the process, Fanatics invested in proprietary cloud-based infrastructure that pulls data to detect events in real-time and immediately kicks off processes to meet rising demands and scale without issue, said McShane, an engineering manager. 
This data includes every point of customer engagement through Fanatics' online sites, like searches, clicks and purchases, as well as marketing tracking and sales from the company's brick and mortar stores. Fanatics' system also monitors traditional media outlets and social media for official team and player announcements, as well as to gauge fan reactions and interests as events unfold.
 
We have a lot of flexibility — it's just built into the way we operate."

When a notable development pops up, like a player trade, Fanatics can immediately post a digital image of the product and have it available across its network of online stores before the jersey is even produced. As orders come in, the production warehouses receive real-time alerts to begin churning out items on-demand. Fanatics proprietary logistics software then moves the purchase through fulfillment, informing each step of the process until the customer receives it days later. 
Novelli called the v-commerce model a competitive advantage, and all three employees said they couldn't think of another company across industries that functions at the capacity and speed that Fanatics does. 
"We have a lot of flexibility," McShane said. "It's just built into the way we operate."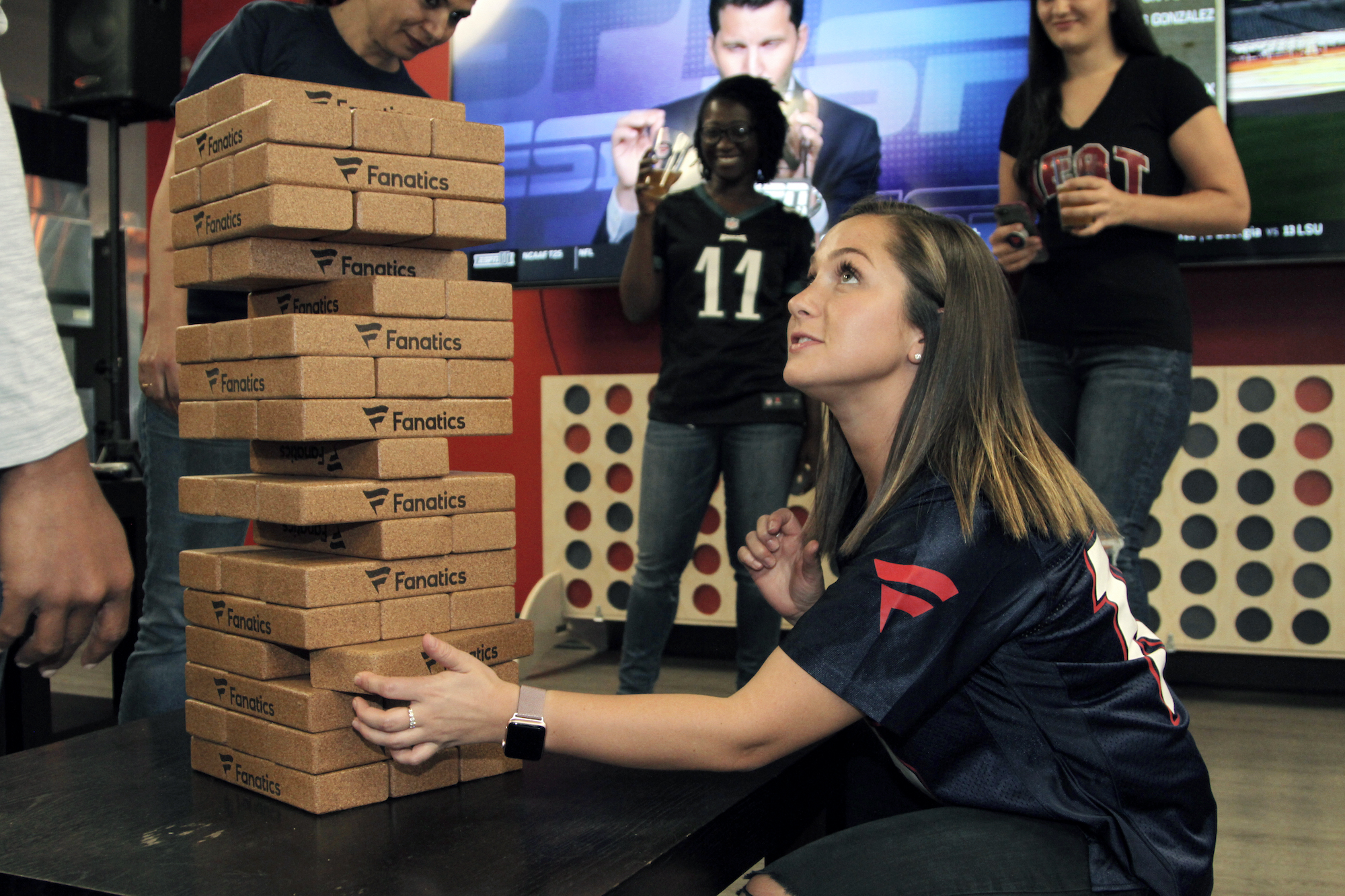 Building for v-commerce 
To complement the pace and precision at which the technology runs, Fanatics engineers have adopted frameworks and processes that support rapid iterations. 
McShane, who oversees a pricing engineer team, recently finished development on a pricing tool that will support Fanatics' upcoming international market migration. The team formed in January and built a minimum viable product (MVP) in 10 weeks that will soon help global site managers control pricing.
"We were able to drive everything we wanted to do for our MVP, and then some," McShane said. "Every sprint, we deliver new functionalities and features."
McShane credited his team's ability to consistently deliver on sprints to leadership's clear communication and alignment of target goals. 
"Leadership told me on day one what exactly they were trying to accomplish and what role I would play in reaching that," McShane said. "This alignment shows up at every turn across our entire engineering department."
TECH FOR GOOD
In April, Fanatics' technology team built out a fully-responsive e-commerce and mobile experience to support the "All In Challenge." The All In Challenge, started by Rubin, aims to raise tens of millions of dollars to feed those impacted by COVID-19 through a series of online auctions and enter-to-win giveaways from the biggest names in sports, entertainment and business. The All in Challenge platform was built in less than two weeks, and to date, the initiative has raised more than $32 million.
Internal squads, like Gongora's cloud engineering team, are building out technical components that allow for teams like McShane's to iterate faster.  
"My team's focus is to provide tools, applications and services that empower internal engineers to deploy software to the cloud," Gongora said. More specifically, Gongora is working on automating infrastructure as code (IAC) configurations in Terraform. 
 
I've worked for a lot of companies, and I've never seen teams perform at the consistent level that ours do at Fanatics."

As far as methodologies, Gongora said her cloud team runs a primarily Agile shop with continuous development and Scrum practices. 
"I can't remember a sprint that we didn't release a new feature on," Gongora said. "Our approach really focuses on how we can break each two-week sprint into manageable pieces so that we can consistently deliver."
Novelli, who works with Fanatics' data science, data engineering and application teams, said his side of the house follows a similar two-week approach. The application and data engineering teams adopt Agile practices, the data scientists run Kanban, and Novelli, with the engineering leads, connect the two approaches through regular communication. 
"I've worked for a lot of companies, and I've never seen teams perform at the consistent level that ours do at Fanatics," McShane said. "I think it all goes back to having a clear understanding of where we're going as an organization."
So, where is Fanatics headed next? For engineers at Fanatics, they'll be ready for wherever the world of sports takes them.