At Convercent's annual conference CONVERGE last year, a speaker from the nonprofit organization Unseen addressed how human slavery infiltrates every industry.
"There wasn't a dry eye after he presented," said Nick Ryder, a marketing campaign manager at Convercent.  
The keynote wasn't an easy or comfortable conversation, but significant issues like child slavery laws, sexual harassment and bribery are some of the major problems Convercent aims to solve for its customers through its ethics and compliance platform.
"We put these conversations at the forefront of what we do every day to make sure that we're helping people that are being affected by it," Ryder said. 
Instead of shying away from uncomfortable experiences and conversations, Convercent employees say they run toward them, even naming "uncomfortable" as one of the company's core values.
Ryder and his colleagues, Laura Ling and Lauren Fox, talked to Built In Colorado about what it means to operate uncomfortably from both a mission perspective and through everyday practice.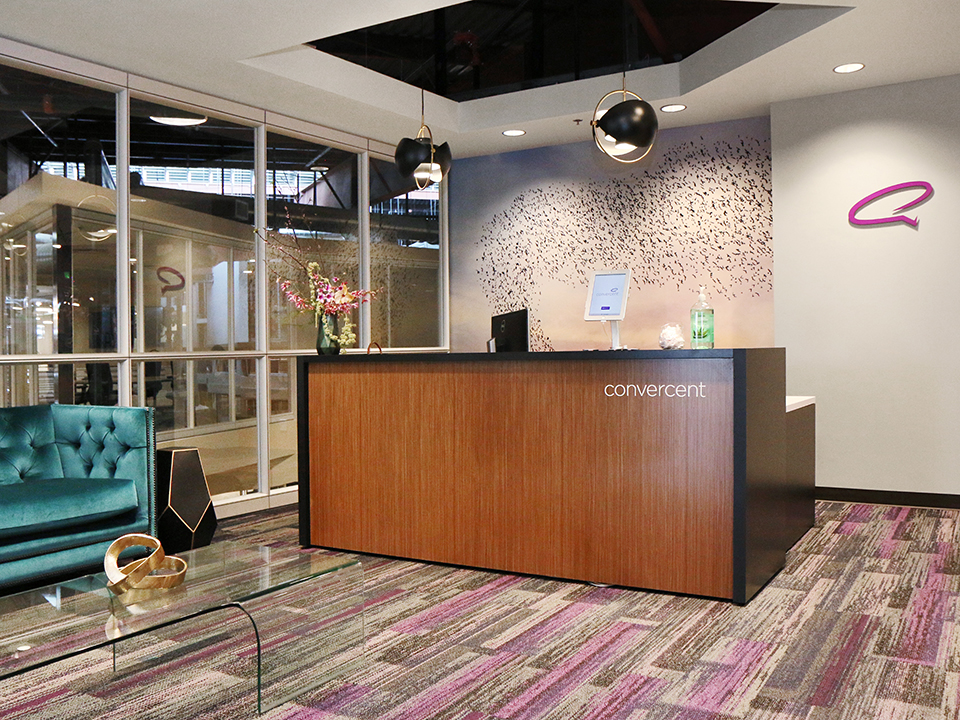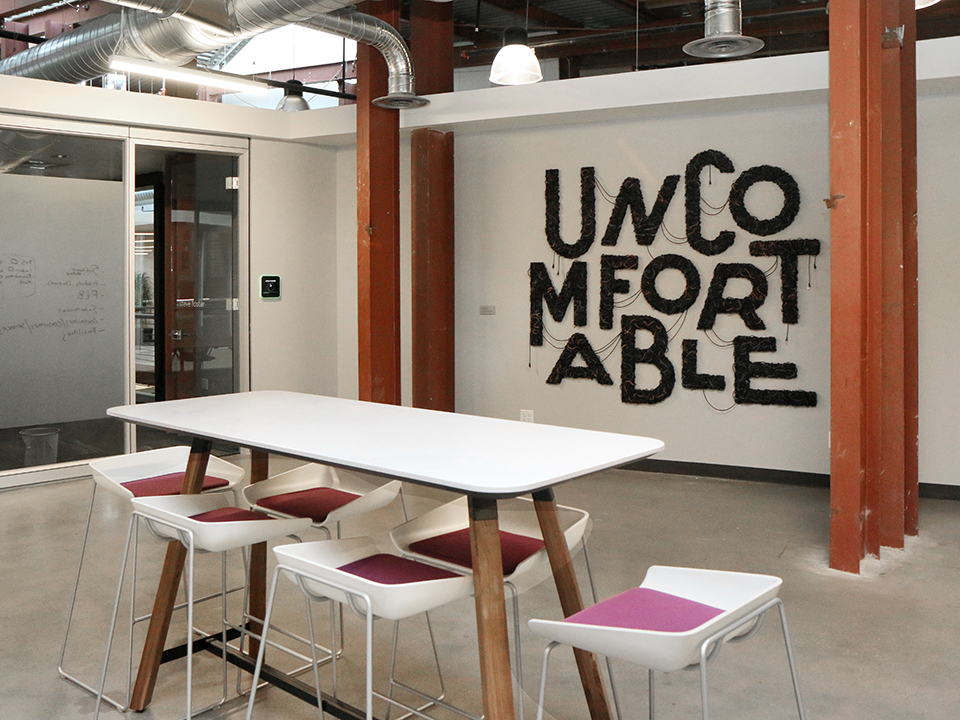 Practicing uncomfortableness
Merriam Webster defines uncomfortable as "causing discomfort or annoyance" and "feeling uneasy."
At Convercent, team members say uncomfortable means welcoming difficult conversations, decisions and situations internally with colleagues and externally with clients.
Recently, Ling, a software development manager, embraced the uncomfortable when she spoke up at a recent leadership meeting. 
Surrounded by her peers on the leadership team, Ling called attention to the fact that a plan they were discussing was unlikely to resonate with clients.
"It was a choice that I had to make to speak up, and it was scary," Ling said. "But at the same time, knowing that 'uncomfortable' is one of our values means that it's an expectation to speak up and to question circumstances."
This expectation shows up for Fox in two ways, she said: through pushing herself and her team professionally, and holding difficult conversations as a leader when the time calls for it.
"When you're communicating bad news to the receiving party, it's hard as a leader," Fox said. "But it reminds us that it's OK to have open and honest conversations because those are the conversations that matter most."
Beyond the daily applications of getting comfortable with discomfort, Ryder said the value takes on a deeper meaning when applied to what Convercent hopes to accomplish with clients.
"This is not an easy job for a lot of people," Ryder said.
Convercent's platform includes a helpline for anonymous employees to report unfavorable working conditions, and it's fair to say that it's not usually good news when a tip pops up.
As a result, Fox said Convercent employees often have to imagine what it's like to be the employee who submits a report, as well as the retaliation they could experience because of the submission. 
"That understanding and empathy help us then tailor our product to allow the most optimal, comfortable environment for reporters as possible," Fox said. 
Speak Up
Fox, Ryder and Ling said they each experienced career trajectories by being open and honest with leadership from the beginning of their times with Convercent. Fox, who started as a senior accountant, is now the company's controller. Ling began as a software engineer and now as a manager leads six teammates through their own career paths. Ryder joined as a business development representative and now manages Convercent's marketing demand generation function.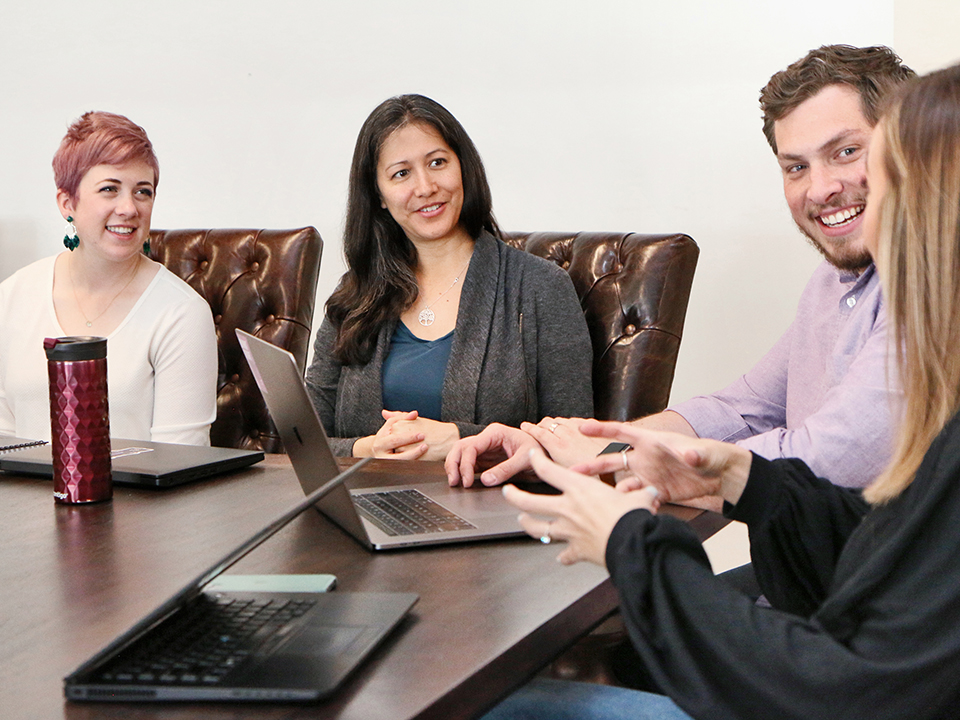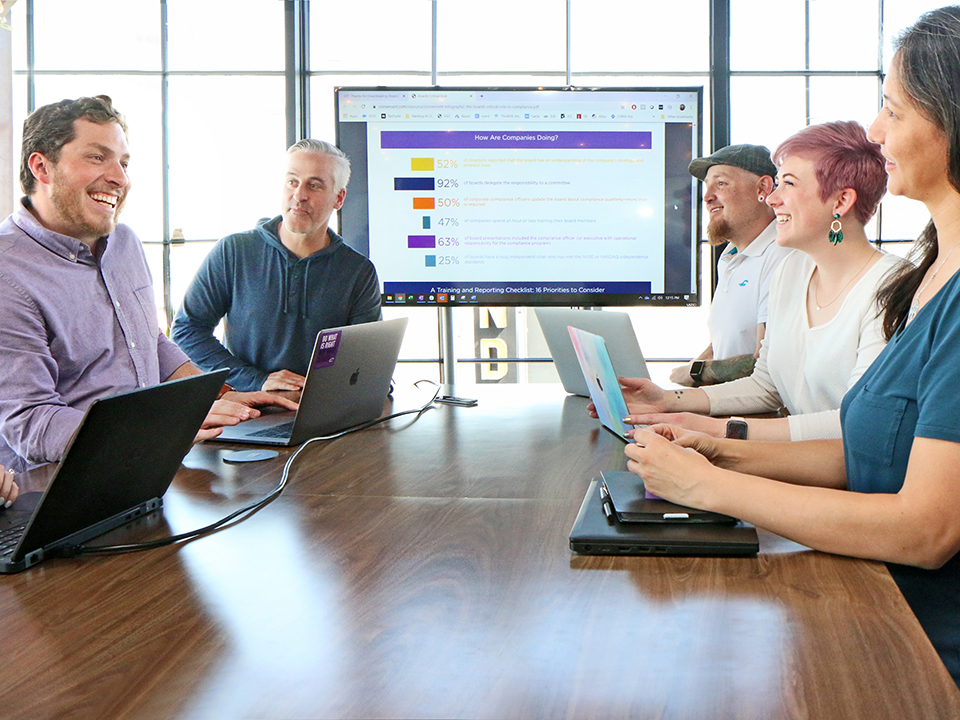 This isn't for everyone
Fox, Ryder and Ling all agree on one thing: working for Convercent is not for everyone. 
"Employees here need to be willing to think outside the box, solve the problem and not just hope that someone else is going to solve it for them," Fox said.
By interviewing candidates using empathy-focused questions and reiterating that this is not an easy job, Ryder said Convercent is able to seek out those who will thrive in difficult situations.
"I've had some rather candid interviews where I've said, 'Look, you're going into a situation where you're going to hear stories that will absolutely break your heart and you need to take that, use it in your everyday job, realize why you're doing it and use that as a launching point,'" Ling said. 
While Ling's candidness may sound intense to some, Ryder said the idea behind it has the opposite effect.
"It energizes us," Ryder said. "It drives us forward to work hard and put our full effort behind what we're doing because we know that we're making an impact. It's not easy, but that's exactly why we love doing what we do, and why we've been able to create such a supportive and collaborative environment. We genuinely celebrate each other's wins, because our wins mean we're helping our customers make the world a more ethical place."
Beyond candor, leadership has developed infrastructure, like coaching sessions, one-on-ones and HR leadership training to foster an environment that welcomes new, different and sometimes unpopular opinions.
"I am a risk and conflict-averse person, and when I came into Convercent, this was actually the value that I had the most trouble with," Ling said. "But as I got used to this environment that encourages you to speak up, I got comfortable doing so."
Whether it's urging individuals to voice their thoughts or asking employees to imagine themselves in their clients' tough positions, Convercent's exploration of the uncomfortable may be considered unconventional by some, but to employees, it's the expectation.
"Nothing great ever comes from your comfort zone," Fox said.