Celebration Is Serious Business at Conga
Built In heard from three Conga leaders about how investing in a colleague-oriented culture builds a foundation of strong relationships, trust and authenticity for their team.
A seven-piece jam band plays a virtuosic rendition of "While My Guitar Gently Weeps" with soaring guitar riffs, a driving bass and a bone-deep drum break. 
A fire dancer performs in front of a shifting video mosaic. 
A duo covers a Justin Bieber song amid gentle fairy lights and serene voices weaving in harmony. 
An electronic music artist layers beats, samples and melody into an irresistible dance track. 
Dancers perform modern and traditional dance from cultures across the subcontinent.
Such performances weren't the highlight of the Edinburgh Fringe Festival, Burning Man or Glastonbury — this was Congapalooza V, an hour highlighting incredible talent across Conga's international team in early November of 2022.
"This is a no-fear, all-fun event," CFO Bob Pinkerton said as he introduced the event from Conga's Broomfield, Colorado, headquarters, just before appearing on keyboard in the first performance. 
The colleague-driven virtual event launched in 2020 as a way to keep culture alive while working in a distributed environment and celebrating the diverse passions, talents and identities of Conga's team. It has continued to flourish as a way to bring team members together.
"We celebrate the whole person," Conganeer Adrienne Alesandro said. "The acts are only part of Congapalooza. We also support our colleagues for who they are outside of their work role. We have so much amazing talent, and we want to share it with each other and the world."
"We also support our colleagues for who they are outside of their work role."
As the senior director of colleague engagement and leadership development, Alesandro has keen insight into the talent and individuality her colleagues bring to Conga each day. And she wants their work experience to match that level of excellence.
"We prioritize authenticity," she said. "When people join our organization, we follow through on what we say matters to us."
And what matters most at Conga is encapsulated in the company's core values of fostering an entrepreneurial spirit, achieving together and championing customers. Together, these underpin daily life at Conga and form the Conga Way.
What They Do
Conga's SaaS offerings provide revenue management tools to support clients with billing, contracts, pricing, Salesforce optimization and more. Together, the offerings provide a unified data model that encompasses the entire revenue management lifecycle while aligning processes, teams and technology.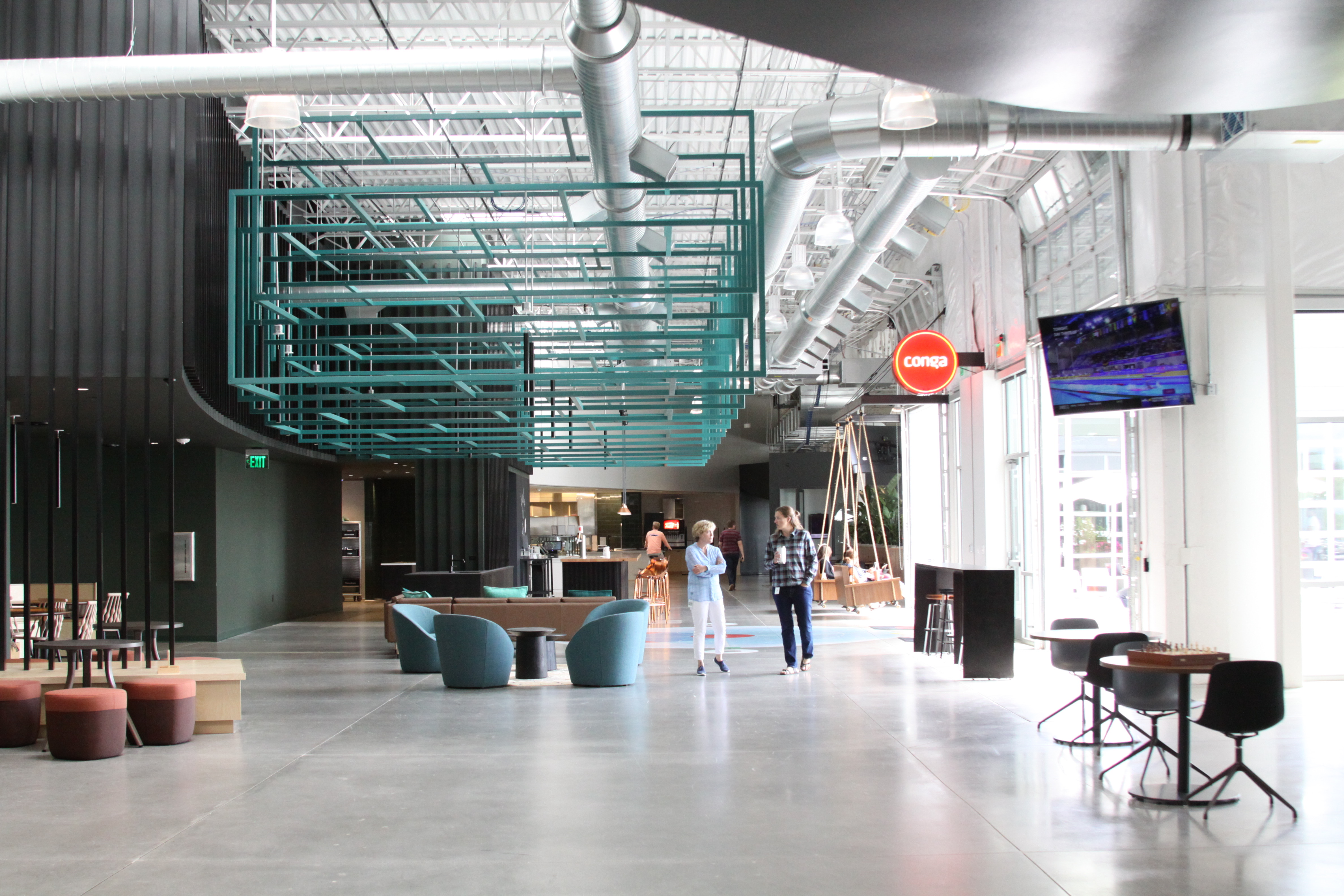 "Big egos don't fit well here."
"The Conga Way is about solving real business problems for customers together," Dayna Perry, chief people officer, said.
According to Perry, coming together with a unified team mindset allows Conga to deliver the best products, services and support to customers. "That requires a lot of trust, communication and collaboration across and within our teams," she said. "Big egos don't fit well here."
For both Perry and Alesandro, the primary client is their colleagues.
"Serving our colleagues as our customers means spending real time considering what we want their Conga experience to be and working hard to ensure congruence across all the touchpoints within that experience," Perry said.
"My focus is on creating opportunities for people to be part of a great culture and build their careers," Alesandro said. "I want people to look back on their time at Conga and feel like they've been part of something special."
Conga's Colleague Value Proposition
As Perry, Alesandro and the people team align their work with the Conga Way, they are also guided by the company's colleague value proposition. "​​We've set a high bar for ourselves, and we intend to hold ourselves accountable for delivering on it," Perry said of that promise, which reads in part, "Conganeers shape and sustain a culture that's dynamic, friendly, transparent, collaborative and always customer-first. We treat each other like family. We have fun, recognize greatness in one another and celebrate shared successes… We embrace people from all walks of life and help colleagues realize their full potential."
Rusty Jensen, vice president of global inside sales, joined Conga not only because he believed in the product or saw stability and opportunity for the company in the marketplace.
"When I joined Conga, I had offers with more prestigious titles or a higher salary, but I realized that I wanted to prioritize my own happiness in my career and work with people I like. And this has been the highlight of my career," Jensen said.
For Jensen, putting the Conga Way to work in the sales organization has meant fostering a culture that celebrates more than meeting quotas.
"We spend a lot of energy ensuring that we keep healthy competition framed with a mindset of positivity and learning from our teammates," he said. "When we look at performance, we look more broadly than quota attainment. We need people doing the right things at the appropriate volume with a high degree of skill. When people participate in our culture and focus on growing their skills, they reach their numbers."
Across the board, Conga's leaders emphasize that building a strong culture and adhering to the Conga Way isn't driven by results, but rather by a desire to treat colleagues and customers by the tenets of the Platinum Rule.
"There is real heart to this company and the care for colleagues is genuine," Perry said. 
"We treat others how they want to be treated and show that same degree of respect for the customer," Jensen agreed.
And that model of respect starts with Noel Goggin, CEO and culture leader.
Recognizing colleagues through Conga Stars
Conga's internal colleague recognition program allows team members to appreciate individuals on their teams for actions that exemplify the company values: achieve together, champion the customer and entrepreneurial spirit. "The emphasis is on real-time, peer-to-peer recognition and creating a culture of recognition," Dayna Perry, chief people officer, said. "In one 24-hour period, more than 75 colleagues were recognized by their peers or leaders." Beyond rewards and recognition, data gathered through the program gives the people team insight into how to better serve colleagues and continue growing Conga's culture.
"Consideration is contagious."
"When I see how the leadership team treats everyone, I want to treat those around me the same way," Jensen said. "Noel, in particular, balances high accountability with a team-focused approach. That consideration is contagious."
When Goggin joined Conga as CEO in 2020, soon after the company joined with Apttus, he had a clear challenge in front of him — fully integrating the people and products within the new Conga organization. As he stepped into a high-pressure role working with a recently-disrupted team, Goggin focused on building a stable team rooted in shared values. So he took on a second title that reflected his priorities: culture leader.
And according to Jensen, "Having a CEO who cares about both culture and results is transformative."
With Goggin's leadership, there is a focus on building good working relationships that foster understanding across the organization and promote an environment where people listen, respond and collaborate with success.
"Having a CEO who cares about both culture and results is transformative."
"The secret," Jensen said, "is that, when people get to know each other, most of the time we like each other."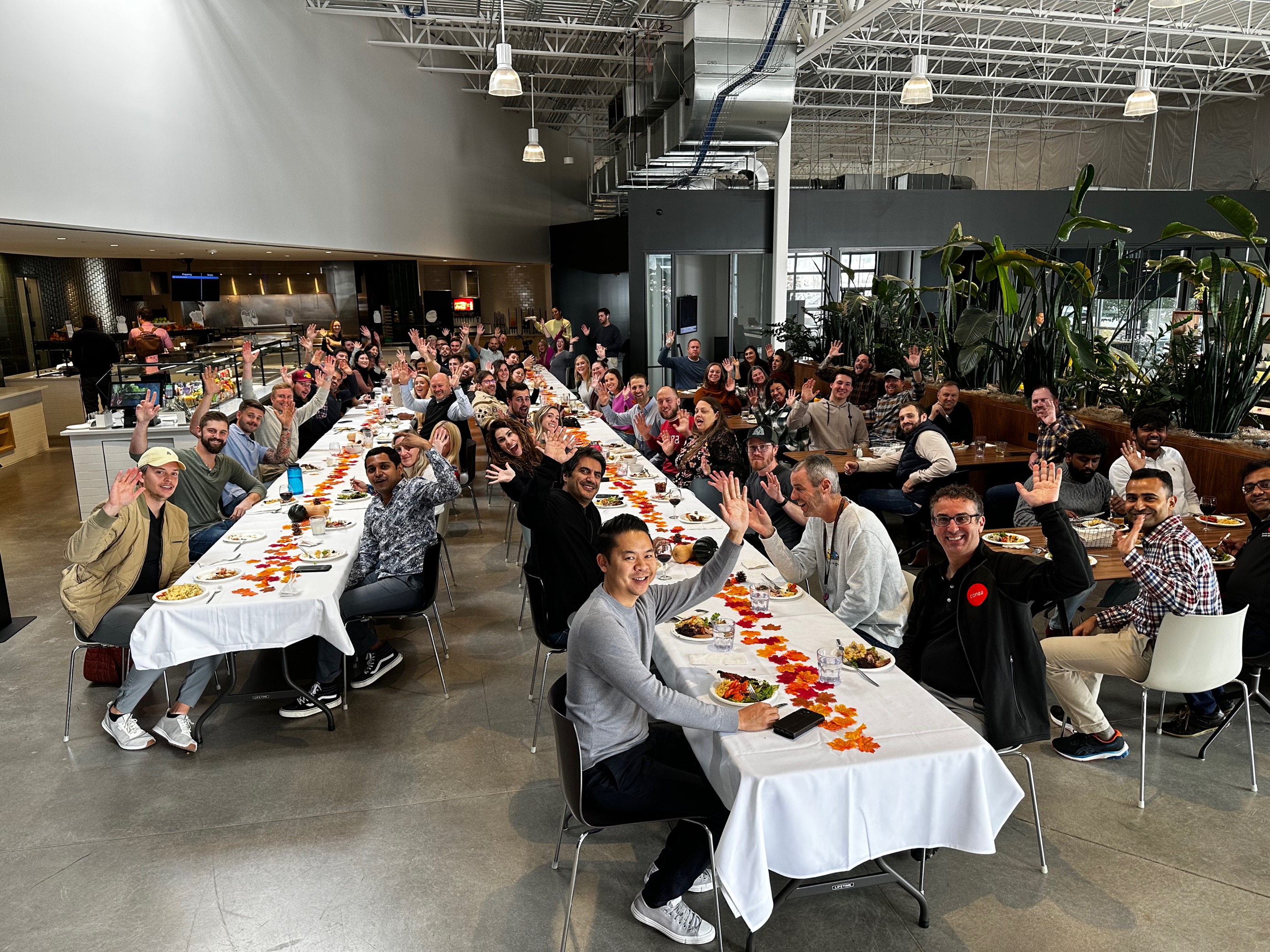 "Breaking bread"
"We're given the time to actually work on our relationships," Alesandro said. 
"A long-time colleague and I were at a team dinner during a leadership workshop (we had worked through The Five Dysfunctions of a Team by Patrick Lencioni) that morning. At dinner, we were able to take a moment to be honest with each other and have a breakthrough in our relationship. Having that kind of time and space to develop deeper relationships with my team has been a new and positive experience."
For Alesandro and others, moving beyond the daily grind and sharing a meal with colleagues can unlock the opportunity to more deeply connect with one another.
"We can become so focused on the unending list of things we need to work on that the relationships become transactional," she said. "To build deeper and more productive relationships, we need opportunities to exercise vulnerability-based trust. When we are upfront about the way we approach others and treat one another with respect and candor, we build stronger and healthier teams."
Building relationships is key to finding new ways ahead for the business, as well.
"The people team leadership — many new to Conga within the past year — recently came together in-person for the first time," said Perry. "It was an opportunity to have fun together, share meals, plan for our team's future and collaborate on some meaty initiatives. We spent time giving and receiving feedback on what we felt was 'world class' about each other, as well as observations for ongoing development. Everyone came away from that experience feeling a deeper level of trust and support."
The investment in connecting Conganeers goes beyond borders, whether through virtual events like Congapalooza or in-person opportunities for colleagues to gather around the world.
Perry recently returned to the United States from a week visiting three of Conga's offices in India, and a cornerstone of the trip was christening the Chennai team's new office space.
"When we celebrated with our colleagues in Chennai, I was warmed by the openness and inclusiveness of the celebration, which included prayers from four different religions," she said. The day continued with a lavish meal served on banana leaves, as is customary in south India.
Eating a formal meal with her hands was new for Perry, but Conga's supportive culture made the experience simple. "My Indian colleagues ensured I navigated the experience with a modicum of grace," Perry said.
But even in more familiar destinations, Conga's people-first culture shines through.
"My first time breaking bread at Conga was before I started," Perry said. She visited the Broomfield office and enjoyed an "exquisitely prepared" meal by Conga's in-house Chef Anthony Cutajar. Despite sending pictures of each course to her husband back home in Seattle, the food isn't what she remembers most.
"The genuine camaraderie, laughter and warm Conga welcome stood out," she said.