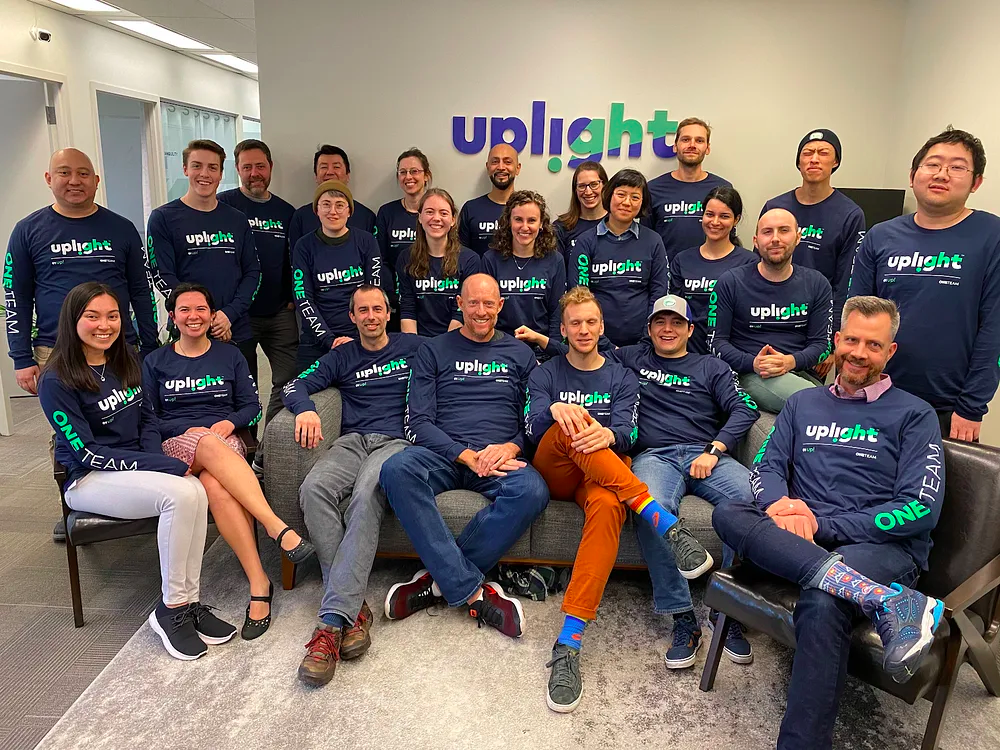 Clean energy is poised to be an increasingly valuable industry over the next few years, as more energy consumers are shifting to renewable sources. But the companies building solar, wind and other sustainable power plants aren't the only businesses that stand to benefit from this trend. Companies that are building the technology to support the greentech ecosystem are also riding this wave as well.
One of these companies is Boulder-based Uplight. On Wednesday, the company announced that it received new funding from several investors, including Schneider Electric, AES and Huck Capital.
Although Uplight didn't reveal the size of the investment, it says that the deal values the company at $1.5 billion — putting the company well into unicorn status.
Founded in 2019, Uplight was formed when Tendril and Simple Energy merged, and then acquired FirstFuel, Ecotagious, EEme and EnergySavvy. Together, these companies have developed a suite of tech solutions geared toward helping consumers transition to renewable energy sources and manage their energy portfolio.
The Uplight tech suite can do things like deliver cost-effective energy savings and peak load reduction, engage with utility customers through data analytics and personalized solutions, help hit regulatory goals, streamline transactions and more. Over 80 utility companies — representing 110 million energy consumers — use Uplight technology, in order to help boost adoption of renewable energy.
As the demand and infrastructure for renewable energy grows, Uplight wants to help provide the tech tools to make this growth possible. The new capital will help the company grow organically by allowing it to invest in its product and make more acquisitions.
"The grid is experiencing its biggest change in 100 years as it decarbonizes in front of our eyes. The boom in clean hardware — electric vehicles, renewables, batteries and connected devices — is rapidly changing energy demand and creating new complexity," CEO Adrian Tuck said in a statement. "Uplight is creating the software operating system that connects the dots between customer choice and control and grid resilience and affordability in this transformation."
The reliability of the grid has been a hot topic lately, thanks in part to the weeks-long power outages seen in Texas last month. These outages followed several days of extreme weather, which caused the power grid to go down for millions of Americans. Although exactly what went wrong is still being investigated, some people are using the catastrophic event to springboard into a larger discussion about the future of energy and how to prevent this from happening again.
Uplight's data-driven analytics can help utilities save their customers money and respond in real-time to changing grid conditions. The company estimates that it helped energy users collectively save about $390 million on their energy bills. It also reported "significant" year-over-year annual recurring revenue growth in 2020, and expects that trend to continue.
Lastly, Uplight is a registered B Corporation, which means it has pledged to use its business to help be a force for social change. As the company grows, it hopes that it can help speed up the adoption of renewable energy for a more sustainable future.
"Every energy solution provider participating in the new energy ecosystem is going to be better off partnering with us to connect their solutions to others and improve their value to customers," Tuck added. "Uplight is making it easier and faster to deliver outcomes at scale and hit carbon reduction goals."