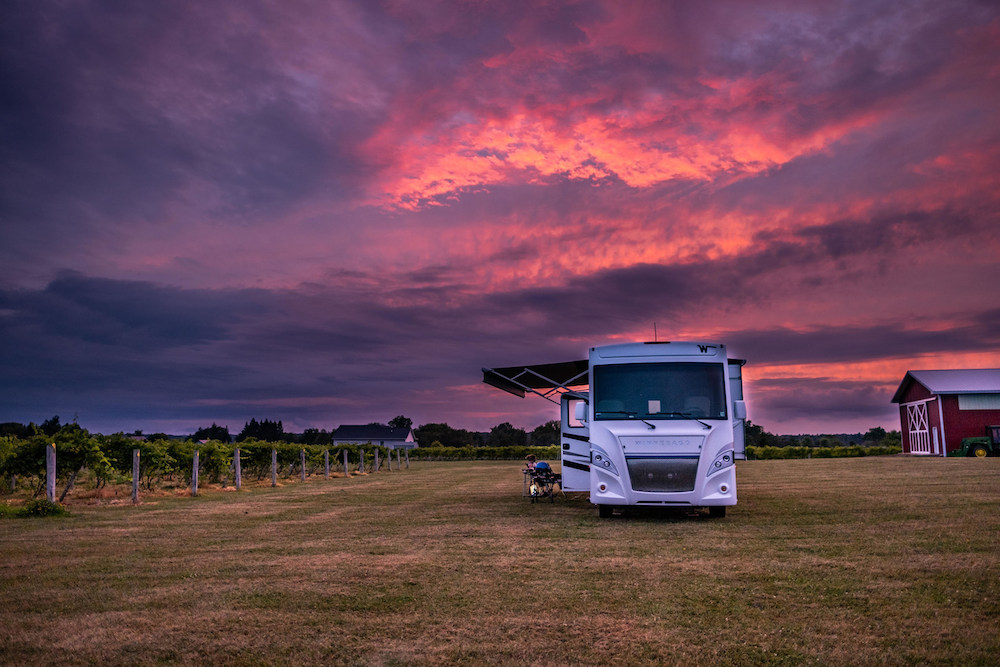 For Harvest Hosts, RV camping means more than pulling your RV into a campground and hanging out for a few days.
Harvest Hosts is a membership-based service that allows RVers the option to stay overnight at more than 1,900 different locations. But these locations aren't your generic RV parks. Harvest Hosts' network includes everything from farms to breweries, museums, wineries, golf courses and more. There's even a lavender farm and skydiving center.
The Vail-based company is led by tech entrepreneur Joel Holland, who purchased Harvest Hosts from its original founders in 2018. Holland and his wife Mary Ashley both love to travel in their RV. After staying at a few locations through Harvest Hosts, they knew they found something special and wanted to bring these experiences to more people.
On Tuesday, the company announced that it raised $37 million in funding from growth investor Stripes.
"At Harvest Hosts, our mission is to help people live happier lives by getting off the couch and onto the open road, while also supporting the small businesses that are the backbone of America," Holland said in a statement. "We want Harvest Hosts to continue being a trusted resource for finding a unique RV experience. We are excited to be partnering with Stripes to double down on the investment in our host network and member experience. We want everyone who interacts with Harvest Hosts, members and hosts alike, to benefit from the experience."
This investment comes at a pivotal time for Harvest Hosts. The COVID-19 pandemic resulted in a huge decrease in air travel and stays at hotels. But that doesn't mean Americans gave up traveling altogether. Instead, many people opted to take road trips or stay at campgrounds. This type of vacation provides an alternative to jet setting and the company is betting that it's not going anywhere.
In fact, an RV Industry Association study from last June showed that 46 million Americans planned to travel via RV over the next 12 months. Harvest Hosts is in the position to take advantage of this demand, especially because reservations at many popular campgrounds remain limited. The company already saw its membership base double in 2020, and it expects this growth to continue throughout 2021.
Part of Harvest Hosts' business revolves around supplying overnight stays to RVers, but on the flip side, the company is able to appeal to farms, wineries and the like by providing them with access to customers via its network of RV travelers. The company doesn't charge camping fees, but it does suggest that travelers spend some money at the businesses they're staying at. In turn, this provides a lifeline to these businesses, many of which have been hit hard by the pandemic. Harvest Hosts says that its members spent over $25 million at the small businesses they visited in 2020.
"It's an exciting time to partner with Joel and the Harvest Hosts team. We look to back ambitious entrepreneurs who are delivering amazing products, and it became clear as we spent more time in the space that Joel is building a really special product for RVers," Chris Carey,  a partner at Harvest Hosts investor Stripes, said in a statement. "His vision for the company is something we are excited to be part of."