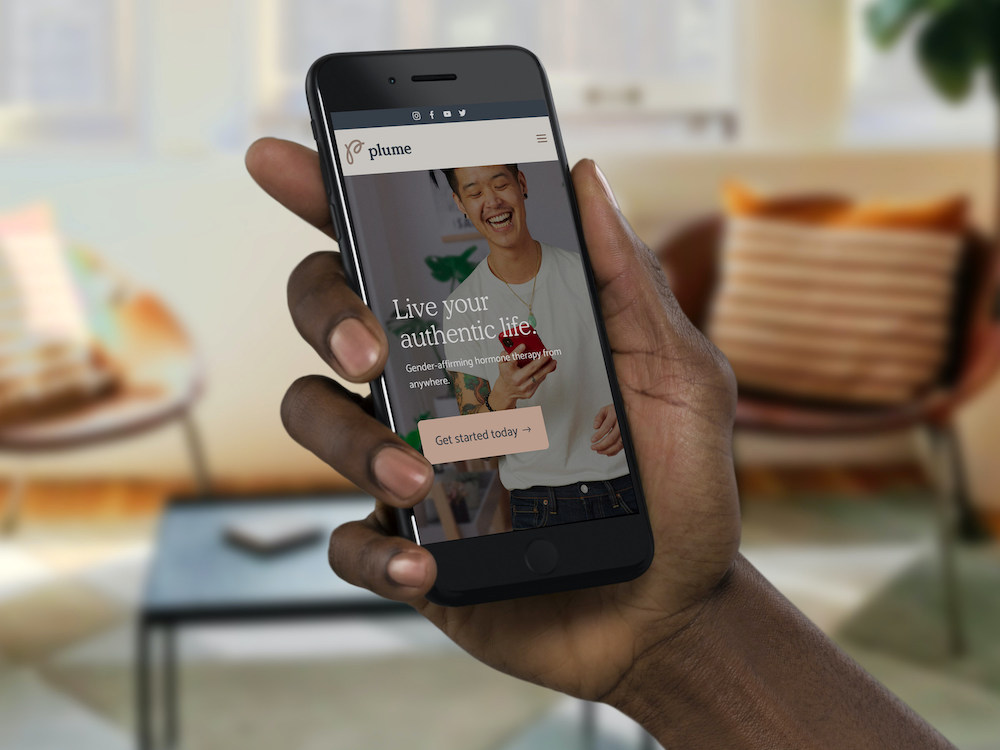 Trans people are reliant on a healthcare system that seems like it isn't built for them, which is why about a third of trans Americans delay healthcare out of fear of being harassed. But distrust in the healthcare system can mean that people don't get access to the gender-affirming procedures they need, and it can be deadly when there's a medical emergency.
That's why Plume created a healthtech company specifically for trans people. Plume provides access to a team of medical professionals who specialize in trans needs, whether that's gender-affirming hormone therapy, lab monitoring, medications or just access to a doctor that trans people can trust.
The Denver-based company launched in December of 2019 and has since grown to serve people across the country. Now Plume is ready to grow further thanks to new support from investors.
On Tuesday, Plume revealed that it raised $14 million in a Series A funding round led Craft Ventures. This comes about a year after the company raised its $2.9 million seed funding round.
This funding will help Plume grow its reach nationally and expand into new markets. Right now, residents of 28 different states can sign up for Plume. And while the company says it's currently available to over 90 percent of the trans population in the U.S., there are still more people who could benefit from access to the company's services.
Plume is available through a $99-per-month membership that provides access to various health services and an app that gives members 24/7 support from doctors. The company's service also doesn't require medical insurance, potentially providing a lifeline to the uninsured.
"The trans community has long been denied the healthcare it deserves and Plume is changing that. Our telehealth model allows us to scale quickly in new markets and provide expert care at an affordable price for our members," Plume CEO and co-founder Dr. Matthew Wetschler said in a statement. "Our platform is designed to make the journey for those seeking gender-affirming care a seamless and joyous one. Our goal is to transform healthcare for every trans life."
Wetschler previously spoke to Built In about building his company with Dr. Jerrica Kirkley, Plume's co-founder and chief medical officer. The two said that a key part of getting the company where it is today had to do with emphasizing inclusivity from the start. Since Plume's intention was to serve trans people, the company had to make sure trans people could trust them. A lot of that involved hiring trans employees and clinical professionals who identify as trans.
Plume says that the new funding will allow it to invest in "top tier talent specialized in trans health." As the company grows, it will be important for Plume to stay true to its mission of helping trans people. Doing so will allow it to help save more trans lives.
"Access to gender-affirming care can be lifesaving for those who need it," Lainy Painter of investor Craft Ventures said in a statement. "While a small number of clinics have focused on the trans community, the vast majority of patients have been unable to access affordable care. Plume has built a team of providers, care coordinators, and clinical managers that are trans specialists and allies to their patients: they are making possible what has until now been a distant promise of the future. We are excited to partner with this excellent, purpose-driven team."