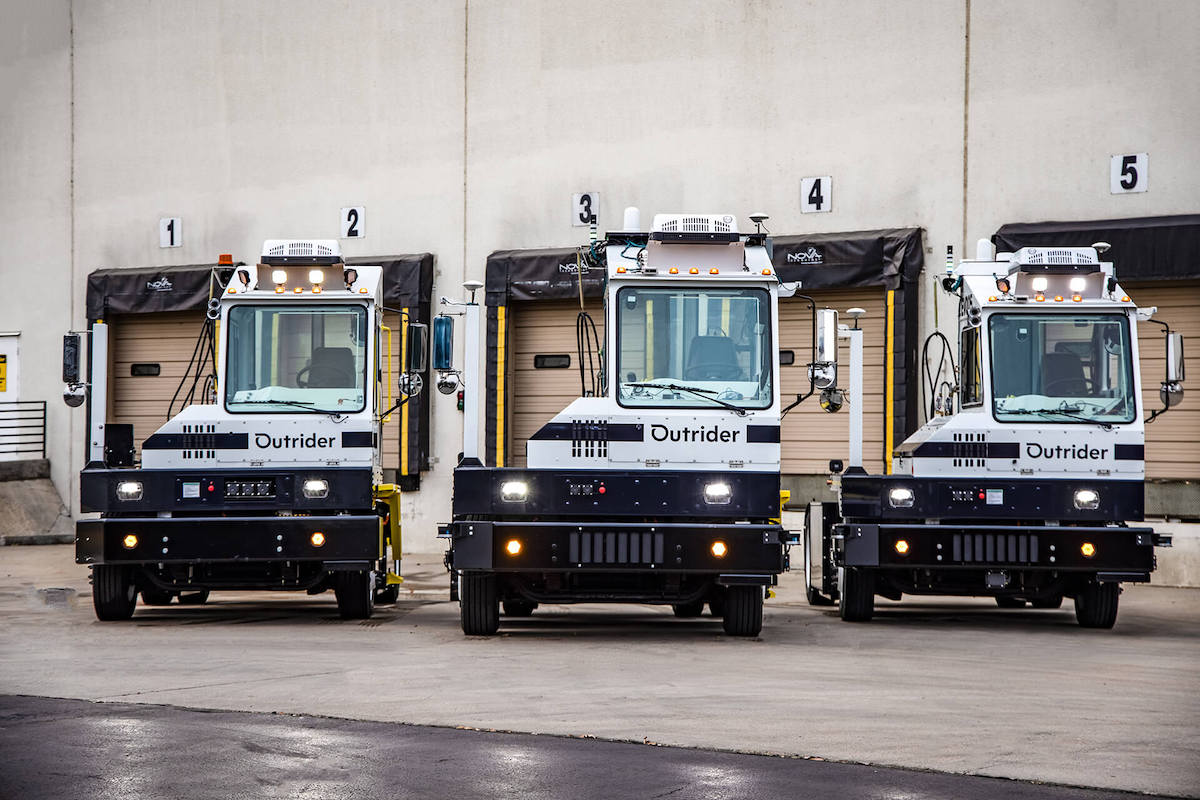 Outrider lets logistics managers control 80,000-pound trucks with the touch of a button. On Wednesday, the autonomous vehicle startup announced it was making moves of its own.
The Denver company announced it raised $65 million in Series B funding, which CEO Andrew Smith plans to invest in continuing to grow its team, and scaling its tech across its customers' systems. As the COVID-19 pandemic continues to drive demand for online shopping, Smith said Outrider helps businesses scale their distribution center yards sustainably and safely.
"When you have peaks and valleys in demand, it's very hard to go scramble to get more yard truck drivers overnight," Smith told Built In. "The pandemic has had a huge impact, driving more e-commerce, more distribution center activity and more demand for the robotic systems that Outrider's providing."
Although the startup was founded in 2017, Outrider emerged from stealth in February, after announcing it raised $53 million in Series A funding. Its three-part software system allows businesses to dispatch and monitor fleets of autonomous vehicles; design their yard infrastructure to accommodate self-driving yard trucks; and manage how trucks' robotic arms connect and transport trailers full of goods. Smith said its technology was intentionally built to power electric vehicles, rather than diesel, since electric yard trucks are easier to maintain, cheaper to operate and work well with the company's robotic systems.
"It is clear to us that the yard of the future is not just autonomous, but electric," he said.
While the company's robots are coming for the dangerous, dirty jobs of their human counterparts, Smith said Outrider's system creates new jobs inside the distribution centers that they operate. He added that the company's customers generally operate over-the-road fleets of trucks that always need to be staffed too. Moreover, as coronavirus cases continue to surge across the United States, Smith said Outrider helps workers operate at a safe social distance, and businesses build more resiliency into their supply chains.
"What we've seen, especially due to COVID, is the demand for more support of logistics and e-commerce," Smith said. "We are in a position to take this technology and scale it to really address these core issues in the supply chain."
Since its launch, Outrider has completed multiple pilots of its technology with Georgia Pacific and other Fortune 500 customers, which Smith said represent thousands of distribution yards across the country. Now, the company plans to spend its Series A round on refining its robotic systems so they can better endure the outdoor environment of the distribution yards in which they operate. Updating the system will require expanding the team.
Less than a year since its public release, Outrider has grown its headcount by 50 percent, now counting just over 110 people as members of its team. The company plans to hire roboticists, as well as industrial, simulation, mechanical, electrical and software engineers "at the rapid pace following what we've done," Smith said.
The Series B round brings total investment in Outrider to $118 million. Koch Disruptive Technologies led the round, with participation from NEA, 8VC, Prologis Ventures, Henry Crown and Company, and Evolv Ventures.