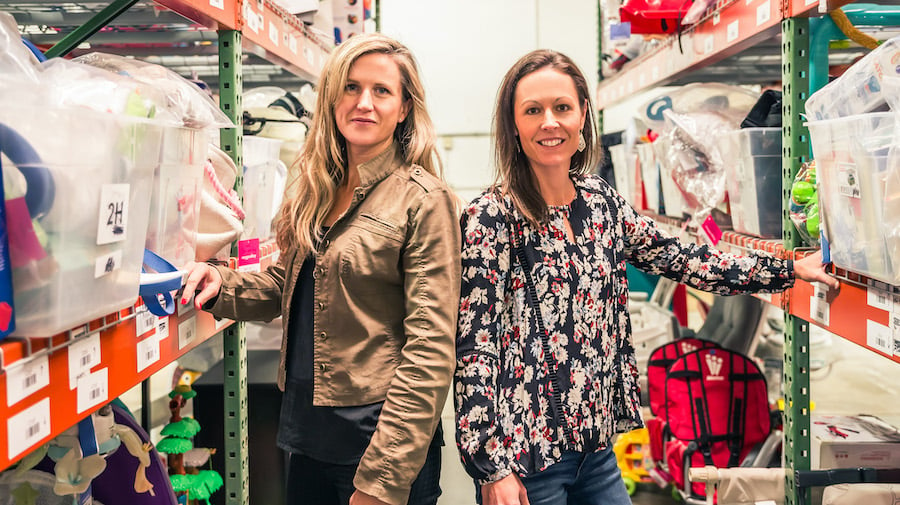 Kristin Langenfeld's search for a used stroller started on social media.
She joined a local "mom's page," scrolled through the site's messages and found a stranger willing to part with her old stroller. She negotiated over a time, place and price — "Just coordinating alone was a pain," Langenfeld said — and traveled to the woman's apartment, carrying her three-month-old daughter up an endless flight of stairs. When she finally reached the top, she was greeted by two huge dogs and a dirty stroller with two flat tires.
"It was so awkward because I wanted to get out of there, but I knew that I was paying too much for this used stroller," Langenfeld told Built In. "I was just very frustrated at myself for wasting all the time, paying too much for it and having this horrible experience."
Langenfeld knew there had to be a more efficient way to buy used children's goods. In 2016, she teamed up with a family friend to launch Good Buy Gear, a re-commerce marketplace for secondhand kid's products. On Tuesday, the Denver company announced its first Series A round.
Good Buy Gear raised $6 million, which Langenfeld plans to invest in growing the startup's retail partnerships and developing its tech. The cash comes amid record growth for the company. Over the past eight months, Langenfeld said the company's revenue has increased fourfold.
"The value proposition for decluttering and making money has only been more elevated in the pandemic," Langenfeld said. "We want to be the go-to place, where parents can find what they're looking for, when they need it, at prices they can pay."
Four years since its launch, Good Buy Gear now lists thousands of items, which range from breast pumps to cribs to toy trucks.
Sellers send items to the startup, and Good Buy Gear automatically generates a listing for the item, with its algorithm considering its current retail price, condition and historical sales data to determine a price. Sellers receive up to 80 percent of the proceeds from each sale. Unlike used items sold on Facebook Marketplace, or through a garage sale, all Good Buy Gear products must be cleaned, contain all the pieces and undergo a product assurance test before they are listed.
"A lot of people have tried to solve this problem with peer-to-peer marketplaces, but it's hard to scale and get people to trust it," Langenfeld said. "Ultimately you're buying from an individual who doesn't know if an item has expired or been recalled."
In addition to listing used products from consumers, Good Buy Gear also partners with retailers to list their returned products. The company delivers nationwide and, in Denver and Dallas, will come to sellers' homes, pick up their children's clutter and deliver the products to buyers' front doors. The company plans to spend the Series A funds on expanding its delivery and pick-up services to the East Coast.
Within the next year, Good Buy Gear also plans to personalize its online user experience, so the site's able to build off its understanding of individual shopper preferences, as well as the general life cycle of children's products. After about four months a baby will have outgrown its bassinet, Langenfeld said — at that point, she wants Good Buy Gear to recommend the user sell the item and buy another, age-appropriate bed in its place.
"There's a few inflection points in your life that completely transform us as consumers and having a child is one," Langenfeld said. "We know that the customer experience, if we can get it right, we're setting up ourselves for endless opportunities."
The 11-person company plans to add five people to its team, and is currently hiring marketers and business operations professionals.
The Series A round brings total investment in Good Buy Gear to $8 million. Revolution Ventures led the round, with participation from Access Venture Partners and Relay Ventures.