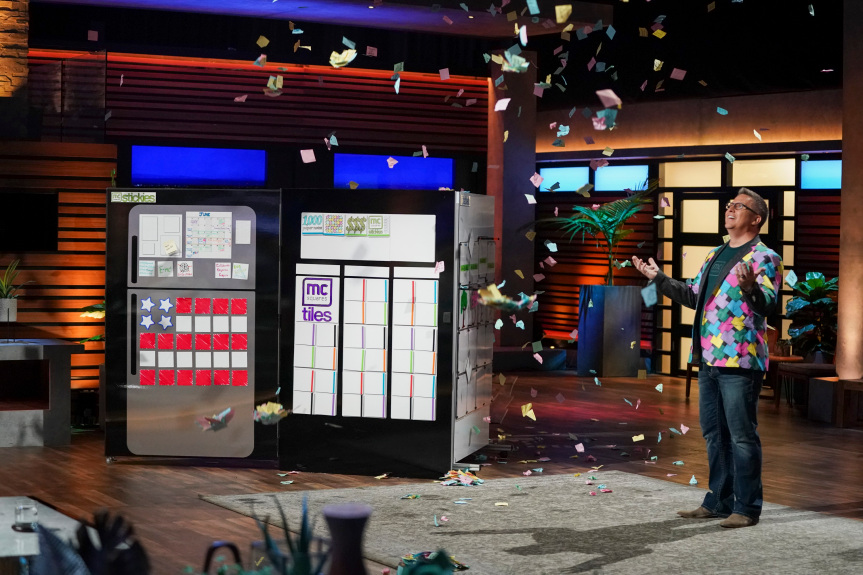 In May, Denver resident Anthony Franco pitched his startup on ABC's Shark Tank. This week, the company, mcSquares, reported 500 percent year-over-year sales growth in Q2.
"The exposure is incredible for a startup like ours," Franco told the Denver Post in May. "Ten or 15 minutes of prime time air time to get your brand out there is something we could never buy as a startup."
Founded in 2016, mcSquares, pronounced "m-c-Squares," like Einstein's theory of relativity, manufactures dry-erase tablets, whiteboards and reusable sticky notes it calls "Stickies." The startup plants a tree for every sale processed.
Before the Shark Tank episode, Franco told BusinessDen that the startup processed about $1 million in sales per year. During the first quarter of 2020, prior to mcSquares' appearance on ABC, the company was already growing sales by 600 percent annually.
That growth accelerated in the second quarter. In addition to its sales growth, the company also opened a new facility in Thornton that is four times the size of its previous Denver space, announced a hiring spree and officially inked a deal to sell a portion of the business to Shark Tank titan Kevin O'Leary, popularly known as "Mr. Wonderful." The investor also helped Franco launch a crowdfunding campaign that has so far raised $500,000.
Additionally, Franco explained in a blog post that the company hit a significant milestone of selling more than 500,000 of its Stickies, enough to keep a billion paper sticky notes out of landfills.
"For a sense of scale, if you were to stack up a billion sticky notes, the stack would be 63 miles high! That's literally tons of waste avoided," Franco continued. "We are committed to our vision for a more eco-collaborative future and reducing reliance on technology for better connections and collaboration at home and in the workplace."
The company also announced it just closed its biggest educational deal to date: the Novi, Michigan, School District has purchased 6,600 of its Surface personal whiteboards and is providing them to all of its students to help with remote learning.
mcSquares isn't the only Colorado company to appear on Shark Tank recently. In January, an Erie resident pitched his healthy snack brand Ka-Pop! to the sharks; a Broomfield 10-year-old once pitched his lemonade stand; and a pair of Denver entrepreneurs talked up their stylish Golfkicks sport shoe brand.