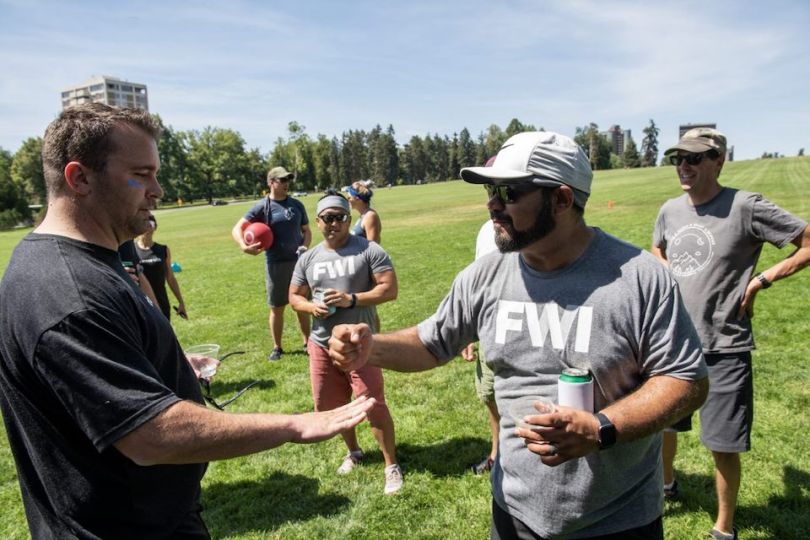 It can be hard to build a career at a company that isn't growing or whose product doesn't excite you. Andrew Daughters has never had that problem. Daughters is a senior sales executive at Four Winds Interactive, whose software powers over 500,000 digital signs around the world. 
Since Daughters joined the company, it's added over almost 400 new employees and grown its customer count to over 6,000 organizations and companies around the world. And there's still more growth to come, thanks in large part to the versatility of FWI's solution.
"Our solution is made up of software, hardware and professional services, so there are many moving parts," said Daughters. "The exciting part is that there are endless problems that our platform can solve which means a lot of opportunities."
We recently sat down with Daughters to learn more about the career he's built at FWI, what makes its sales team unique and how his work has driven the company's growth.
Tech is known for job hopping, but you've been with Four Winds Interactive going on 11 years. Why did you decide to build a career there?
From the start, FWI has been fast-paced and in growth mode. We've had growing pains but also huge success, and the success is a big part of what has kept me at FWI. Additionally, the people at FWI are why I decided to build a career here. In 2008, FWI had roughly 25 employees and today we have over 400. I have developed a lot of relationships with both past and present team members, which is one of FWI's greatest attributes.
Speaking of building a career, what professional development opportunities FWI offers to help employees build their skills?  
FWI offers professional development opportunities which include trainings, certifications and internal communities for personal and professional development. FWI invested in me by enrolling me into the EXECS Advocacy Program, a nine-month program through the Colorado Chamber of Commerce that offers insight into the workings of top Colorado companies through business tours and policy-based forums with key state executives and officials. However, the most valuable tool has been the people and relationships I have built at FWI, as time in the field with mentors and peers is the best way to learn and master the art of selling. 
From the start, FWI has been fast-paced and in growth mode. We've had growing pains but also huge success, and the success is a big part of what has kept me at FWI."
Can you describe the culture of FWI and what makes it unique, both from a high level and with regard to the sales team?
FWI's culture is all about inspiring each other to grow. Our office is innovative, has an open layout with coffee bars and a casual dress code. Our leadership reports regularly on eNPS [employee net promoter score, which measures an employee's willingness to recommend their company to others] along with our core values, which are: bring your best self, see it, own it, crush it and be gracious. Everything we do revolves around our values. On the sales side, we are a high-performing team with big goals and high expectations. We work hard, play hard and have fun doing it.
FWI works with companies in a variety of industries. Can you describe your role and what makes it challenging and unique, especially with regard to your vertical?
 My sole focus is new logos in the hospitality space. We have a strong footprint in this space and focus a lot of energy and resources on it. However, we also have challenges as the market for digital signage is mature, and buyers often believe they know what they need and that all vendors are equal. We are just another "thing" they are buying for their property, but actually we are a solution that is made up of software, hardware and professional services. Many variables come into play when creating a strategy for our solution. My job is to differentiate and dig deeper into the root problem, which can be challenging due to the structure of hotel ownership groups, operators and consultants.
One of the best parts about joining a fast-growing company is the ability to make a real impact with your work. How does your role help propel the growth of FWI?
I feel that my work at FWI is helping the growth of our business by contributing to our people strategy and our revenue goals. By providing a culture of winning and success along with professional development and inclusion, FWI can continue to have accelerated growth by having great people.