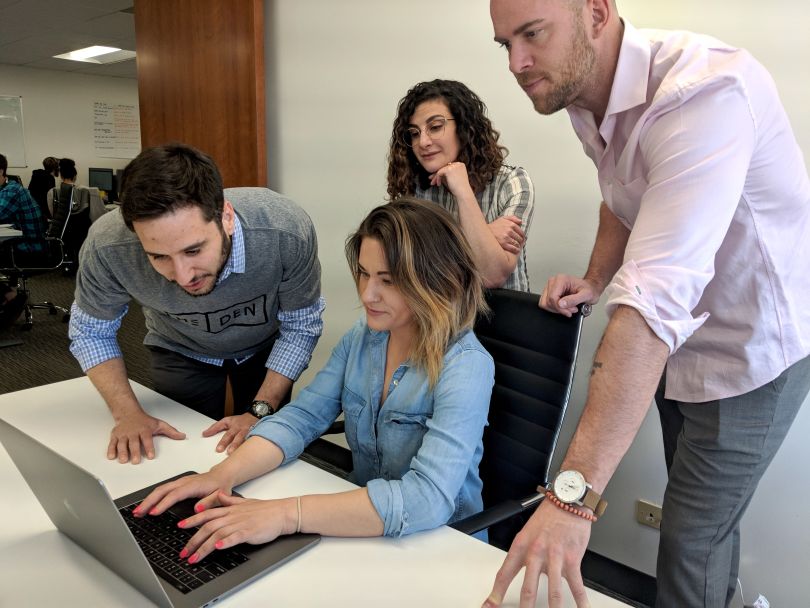 Hotel Engine, a travel tech startup that wants to make corporate hotel bookings cheaper and easier, announced it is hiring close to 100 people this year to keep up with the growth of its member base.
The Denver-based hotel booking platform made about 21 hires last quarter. It also plans to more than double its office space to accommodate more team members across the board, including in engineering, product, sales, marketing and operations roles, CEO Elia Wallen told Built In. 
They're also in the process of moving into a new, temporary office space near Cherry Creek, and will likely be moving to a larger office again next year.
"Unprecedented" growth of the platform's membership base is driving the move, according to Wallen. Between 2015 to 2018, membership of the site grew 1,700 percent.
Hotel Engine launched in 2014.
While the concept of booking hotels and other travel accommodations online is not new, Wallen says Hotel Engine's niche is working with small and medium-sized businesses to ease their employees' travel bookings.
Most travel management companies require contracts and a pretty extensive onboarding process."
"Most travel management companies require contracts and a pretty extensive onboarding process. What we've done is taken a customizable platform and made it so it's extremely easy to roll out," Wallen said. "It's a very easy and approachable product, and that makes it so a [company's] travel coordinator can use it without needing to jump through hoops."
Though the bootstrapped company is growing fast, Wallen said its goal is to stay focused on its current market and make the user experience better for its customers. The startup is expanding its hotel booking platform's features and using machine learning to predict what kinds of hotels customers will be looking for when they log in.
"It will learn someone's patterns, what they book, what they like, and try to suggest properties, so that eventually you can [log in] with a certain guest name at a certain time of day, and we will actually know where you're going," Wallen said, adding that he thinks machine learning will play a larger role in travel tech in the future.
Wallen said Hotel Engine's new office will feature lots of break areas that encourage employees to work away from their main work stations, desks that convert into standing desks and a west-facing view of the Rocky Mountains.