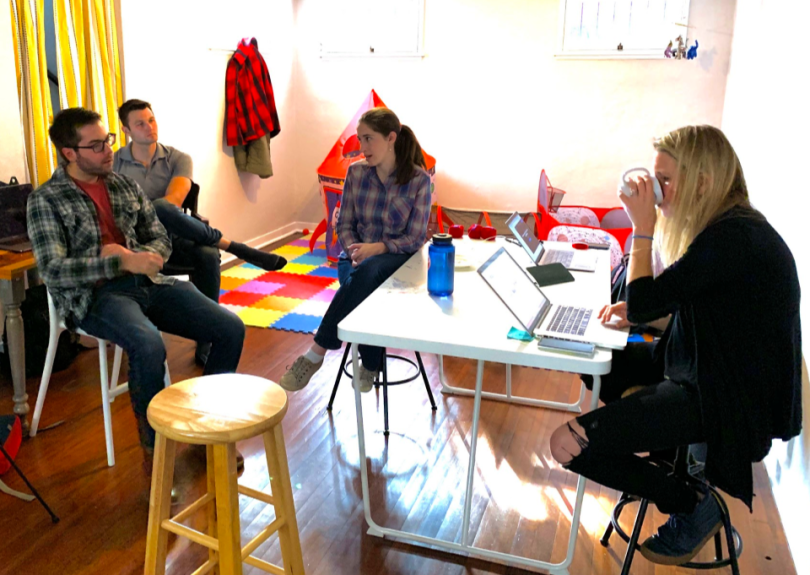 Want to know more about that band your dad played in in college? Or that epic European adventure your grandma embarked on in her youth? 
Denver-based startup Kinecho now offers a place for those conversations to happen with its recently launched family legacy preservation app.
Pronounced "kin," as in family, and "echo," as in the repetition of sound, Kinecho allows users to create a dynamic, interactive family legacy — to which anyone can contribute — by recording and sharing meaningful stories through photos, audio and text. In essence, it's a way for people to create a repository of cherished memories that will live on long after their family members are gone.
"We've heard this saying that, when an older adult dies, it's the equivalent of a library burning down. We thought, 'How can we prevent that?'"
"We've heard this saying that, when an older adult dies, it's the equivalent of a library burning down," said CEO and co-founder Ryan Brown. "You lose all their stories, memories, life lessons, philosophies, et cetera, and that was something that really inspired us. We thought, 'How can we prevent that?'"
In a tech-enabled world longing for connection, it's ironic that those to whom we're most closely related are often those we know the least about. More important, what we do know is often relegated to old photo albums or stories told (and retold) over holiday dinners or at family gatherings.
But Kinecho aims to change all that.
The startup, whose founding team previously worked together developing new products for Denver-based Bluprint (formerly Craftsy), began working on the project last summer with the goal of addressing the problems of senior isolation and loneliness through a social platform that could connect the whole family in a way that felt intimate and meaningful.
"What's really important to me and to the rest of the team is that there are safe places where families can connect about interesting things," Brown said.
And he's not talking about the typical "how's the weather?" or "what's new at work?" — conversations that are often the default when catching up with family.
"It's hard to stop one of those conversations and say, 'Hold up mom. Before you tell me what the weather was like today, tell me about your childhood best friend.' That just feels awkward," he continued. "So, yes, there's this aspect of preserving and sharing stories, but also creating this space where it's okay and encouraged to talk about things we normally wouldn't in casual conversation. Our vision is around connecting and strengthening families over the stories that they have to tell about their lives."
Kinecho officially launched its family legacy preservation platform in December, which followed a soft launch to presale customers on Thanksgiving — not coincidentally, a day many families spend celebrating together.
Since then, the startup has been busy gathering user feedback and fine-tuning its product. In December, it raised nearly half a million dollars and is currently in the process of closing its first seed round.
In the months ahead, Kinecho plans to continue testing key assumptions around its business and pricing models as it focuses on growing its user base. While the application is currently only accessible through its website, Brown said his team will also begin building out mobile applications on iOS and Android, making it even easier for users to record and upload their memories for their families to enjoy.