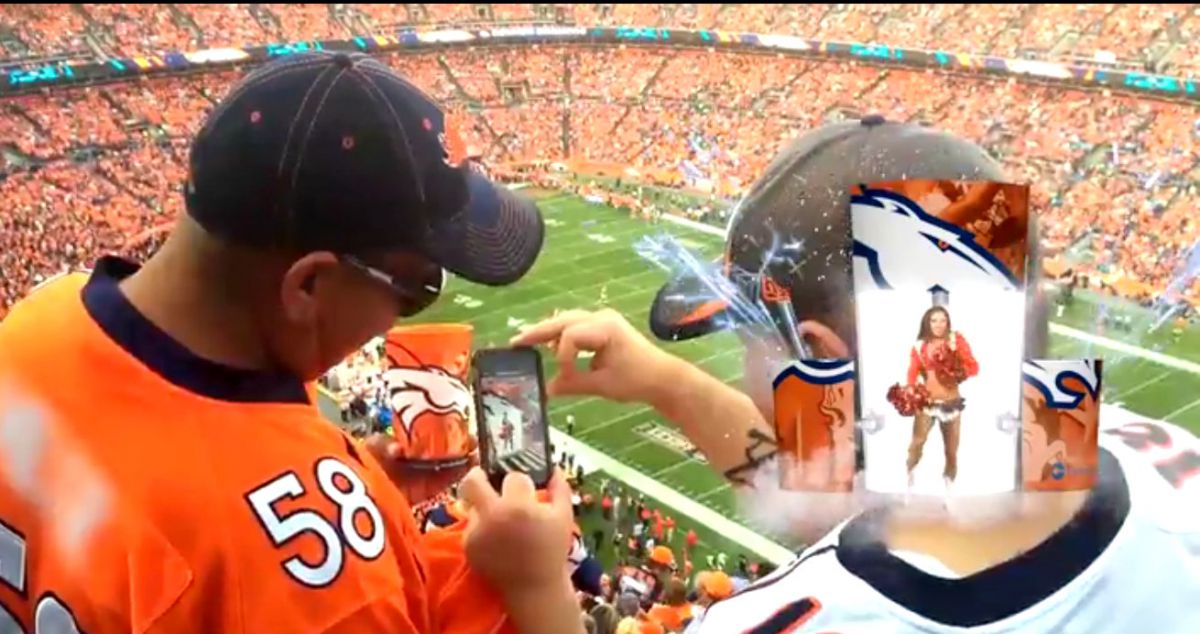 When most people connect the Broncos with technology, they think of the team's social media platforms or the videos produced and played on game day and their website. But through some key initiatives and partnerships, the Denver Broncos have embraced more tech than meets the eye — on game day and beyond.
"Innovation is core to our organization," said Brady Kellogg, the Broncos' Vice President of Corporate Partnerships. "We want to connect our fans to our partners' products."
Kellogg said the team's technology and digital efforts help "displaced" fans who may not attend games feel like more a part of the fan community than they have before.
Join the Orange Herd
For fans attending games or watching at home, there's the team's Orange Herd app. Orange Herd gives users access to exclusive content, including videos, games and a Broncos-specific emoji keyboard.
Through partnerships with brands like Coca-Cola and Bud Light, Orange Herd becomes an AR tool. People can scan beverage cups, which will pull up videos like game highlights, encouraging messages from players and player recaps. The team has developed five different cups, each of which unlocks a different digital experience for fans.
"This is really one location within this app where we've pushed innovation," said Kellogg. "The Broncos 365 app has more downloads, but it's been tougher to bring novelty and innovation as quickly to that app."
Orange Herd also hosts VR content, like a VR video of the Broncos' Super Bowl victory parade, filmed by Breckenridge's FathomVR.
Tweet and you shall receive
But mobile apps aren't the only way the team is using tech to engage fans on game day. The Broncos also have the league's first Twitter-enabled vending machines set up at Mile High. Designed to drive engagement on social media and make fans' game day experience even better, the machine uses natural language processing and AI to validate interactions.
Users are prompted to tweet a specific saying and two hashtags — one of which is unique to that user. For example, one machine asks users to tweet "Broncos Fan since ____." The machine will recognize when the message has been sent and will then dispense a prize, like ticket upgrades and concessions vouchers.
Charging into the tech community
In addition to big names like Bud Light and Coca-Cola, the Broncos count a number of local tech companies among their partners and sponsors.
To kick off this season, they worked with Ibotta and Bud Light to pull off a beer giveaway through the app, where users could redeem their Bud Light purchases in exchange for a rebate.
"Bud Light is one of the brands that is most progressive from a tech standpoint," said Kellogg.
The team also has an SMS program using Denver's OneReach to engage in more of a dialogue with fans using bots and AI.
Not all of their local tech partnerships are tech specific, but all of them are vetted. The Broncos' sponsored, in-game promotions with Webroot and partnership with NetApp had to be approved by the team's IT staff first.
"If you're going to tell a story, it has to be authentic," said Darren O'Donnell, the Broncos' Vice President of Business Development. "All of these companies want to go out into the marketplace and say, 'The Broncos trust us and they use our tech.' When our IT staff approves, it's authentic — it's not just saying they're a sponsor."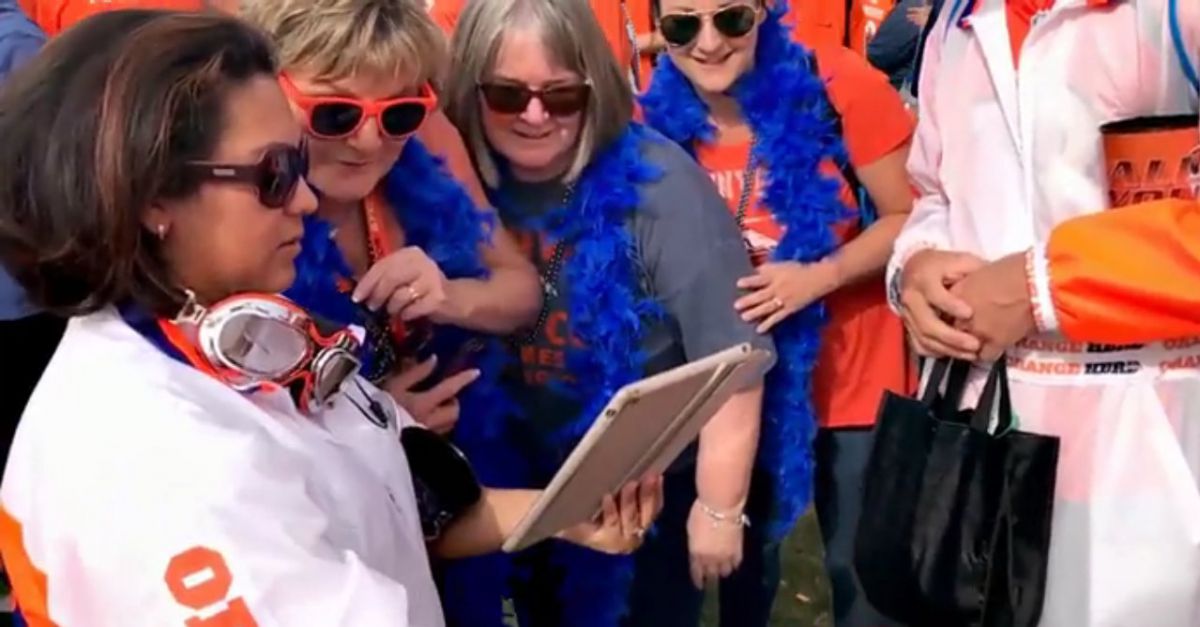 Tackling STEM challenges with students of all ages
To further their community engagement efforts, the Broncos have also partnered with Arrow on their Tackle STEM initiative, which exposes kids and college students to different STEM careers.
"It's an issue of great importance as members of this community and as members of the business community," said Kellogg. "It's a way for us to recognize the importance of STEM to companies... We look for ways to use our brand to further engagement with this topic."
Kellogg said the team has continued to grow its own STEM workforce, even if they don't have the same pressing shortage of STEM talent as other companies and organizations in Colorado.
Tackle STEM relies on partnerships with groups like the Colorado Technology Association and CSU's Little Shop of Physics to offer activities, projects and events. One activity, Mile High Math, uses real-world examples where math applies to football, like graphing the trajectory of a punt or using math to determine which attributes are most important in a player's position.
They also honor top STEM educators with their "Tackle STEM Coach of the Month" award, where the winning teacher and up to 25 students get to tour Mile High, with the option to teach a class at the stadium.
Even Broncos' coaches and players have connections to STEM: offensive coordinator Rick Dennison has a master's degree in civil engineering, offensive tackle Russell Okung is an angel investor in tech startups and snapper Casey Kreiter was a high school science teacher before joining the team.
"People may stereotype football players, cheerleaders and other employees here," said Kellogg. "But you don't always have to trade off your education."
Among Tackle STEM's events is a hackathon for college students, happening at Mile High this weekend. Teams will compete for different prizes while receiving mentorship from local tech professionals.
"If they were doing a hackathon in a conference room at a hotel, that's not going to have as much impact as doing it at the stadium," said O'Donnell.
According to Kellogg, the Broncos — and sports in general — are a great way to change the way fans approach technology.
"Tech is embedded in so much of what we do," he said. "We don't have it all figured out, but we've shown a capacity and a desire to experiment with passions we believe in."
Photos via the Denver Broncos.
Have a tip or know of a company worth covering? Email us.