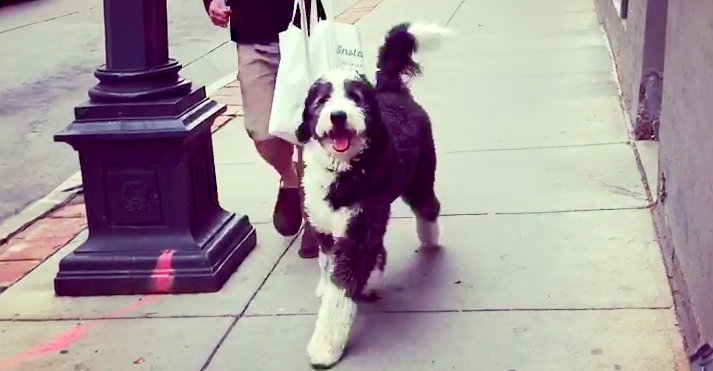 Startup couples aren't exactly hard to find in Colorado. We have such a close-knit community, it only makes sense that there would be companies founded by teams of significant others, people who fall in love while wearing many hats at a fast-growing company and even couples who meet each other at one of the thousands of events our community hosts every year.
But it's not often you hear about an entire family working in the startup world — especially when one of those family members is a dog.
Enter Brianne, Justin and Hamilton ("Ham") Houck. Brianne works in marketing at Red Canary, Justin is an iOS developer for iTriage and Ham "works" for Pana as their office dog.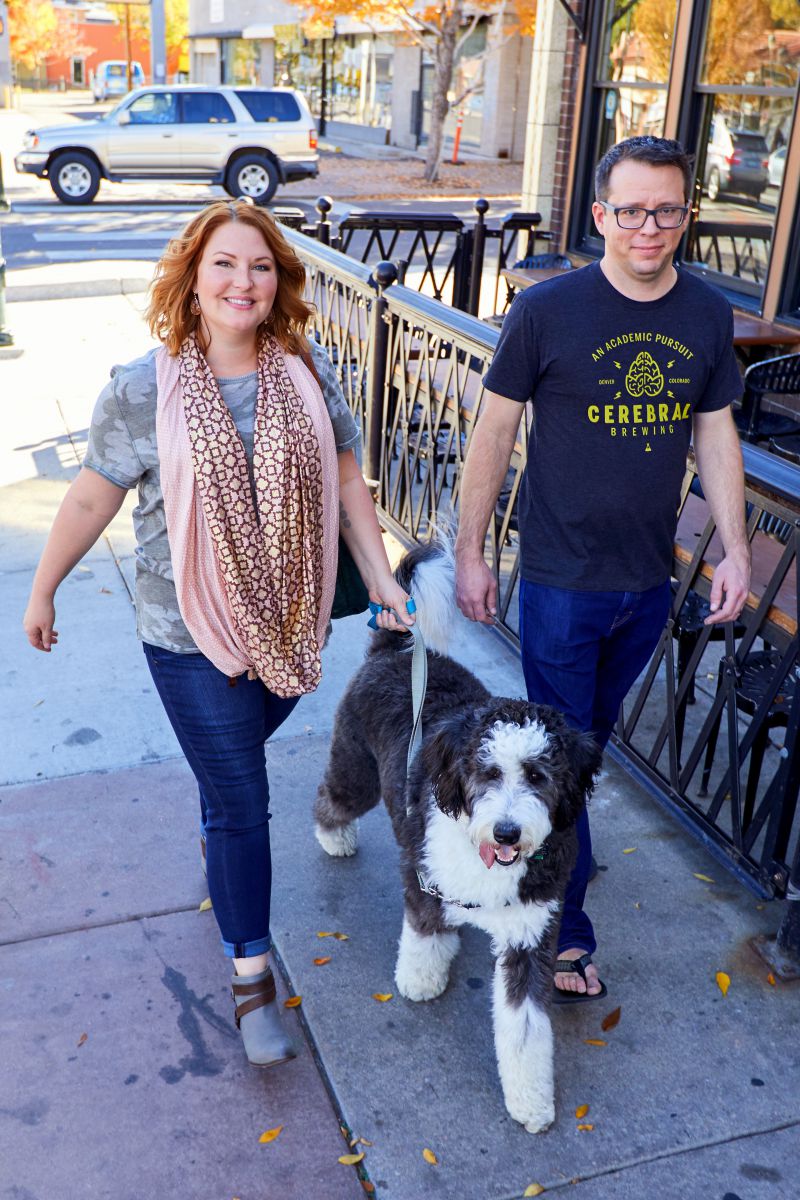 At their core, the Houcks are a true startup family. Justin and Brianne met while they were both working at Lakewood tech company Brandwise — she was a product marketer, he was a web developer on the same project, and they ended up working closely together building out the product.
"Never in a million years would you ever think a marketer and a developer would connect, but somehow we did," said Brianne. "It's the stereotypical 'opposites attract.'"
They both grew in their roles at Brandwise and eventually got married in 2013. After making a few career changes, the Houcks welcomed Ham into their family almost a year ago.
"We had decided it was time for a bit more excitement in our house," said Brianne. "Little did we know, it was actually a lot more excitement. We wanted a big dog that was kind of chill… but we very quickly learned that Ham was not exactly low energy. He, from day one, was a terror. But we thought, 'This is our life now. We have this dog, and we love him, and that's how it's gonna be.'"
Fortunately, the flexibility of their startup jobs allowed Justin and Brianne to stay at home with the Bernedoodle every so often or to bring him into the office when they wanted to.
Earlier this year, Brianne found herself with an opportunity to take some time to think about her next career move. She decided it was important for her to stay in the startup community.
"It's a community that supports everything and everyone within the community," she said. "It's not a competitive environment, it's a supportive environment. You don't see that very often in large scale companies and communities."
When Brianne started working at Red Canary last month, she learned the company's lease wouldn't allow Ham to come to work with her anymore. She started looking on Rover to see if she could find anyone downtown who could take care of Ham and came across a post from Pana co-founder and CTO, Lianne Haug, saying they were looking for an office dog.
"It made me feel really good because she said they were looking for a long-term dog," said Houck. "It's stressful to be in and out of an office just once or twice. And we were looking for a long-term fit, too."
The arrangement clicked, and Ham joined Pana's team earlier this month.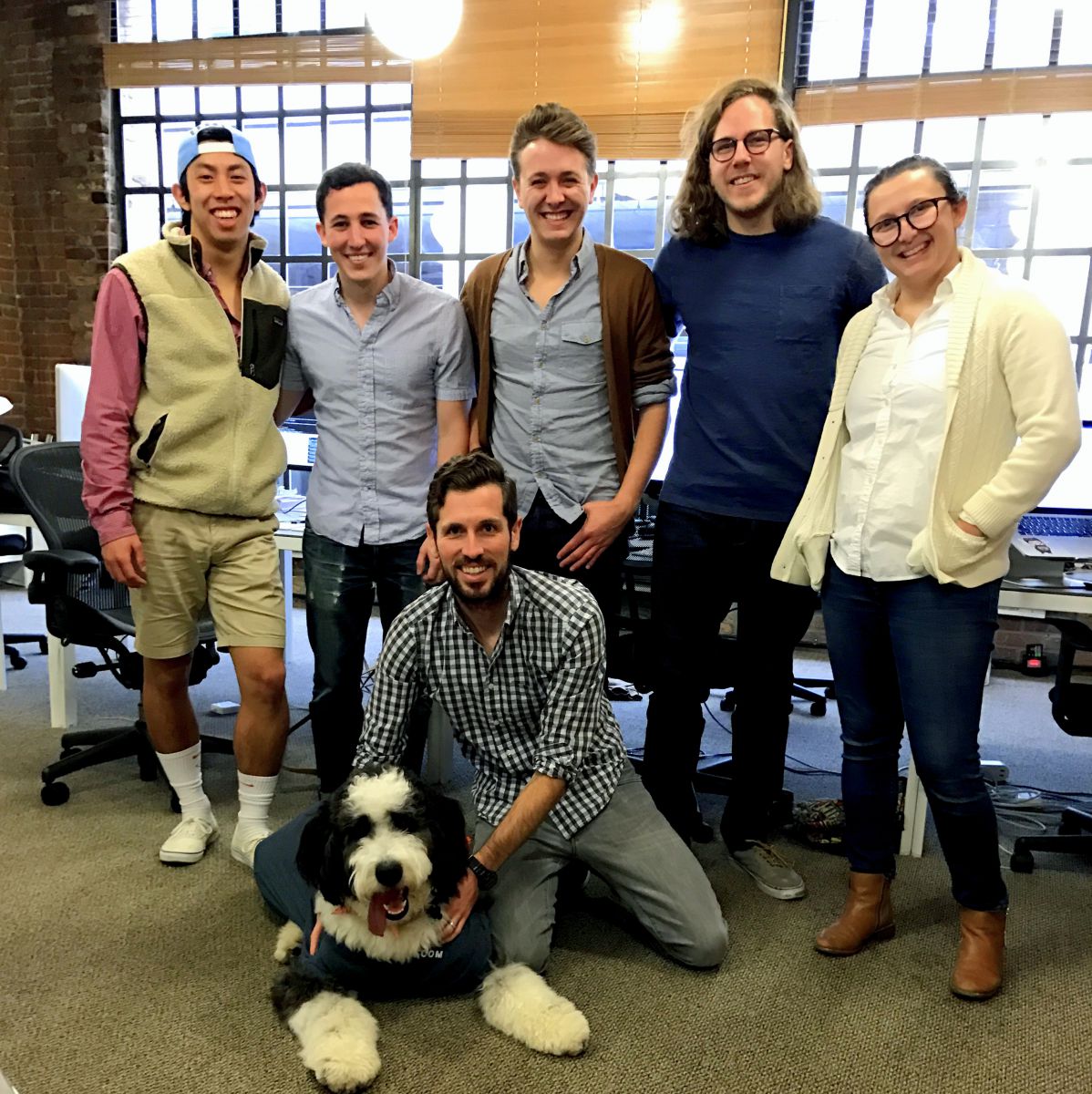 "At first it was a little iffy because he's so excited to meet new people and be in new spaces," said Brianne. "On the first day, he managed to escape. He runs into every single office, happy as can be — he just wants to see everyone in the building. Lianne texted me that morning saying he was so excited to meet everyone… and 'Let's see how it goes.' I thought, 'Great, Ham is getting fired on his first day of work.'"
But by the end of the day, Ham was completely calm, sleeping on a dog bed set up in the office.
Now the family commutes into town together two to three days each week, and either Justin or Brianne will drop Ham off at Pana's office before heading to their own. While he's at work, Ham goes to stand-ups and other various meetings, and he naps under desks when he's not seeking out treats or someone to play with.
"Ham is still very 'early' in his career," said Brianne. "I like to think of him as the Happiness Coordinator; hopefully he's on track to become a specialist and manager and then, one day, Director of Happiness. From what I hear, everybody is really enjoying him."
Photos via the Houck family and Pana.
Have a fun story or know of a company that deserves coverage? Email us.