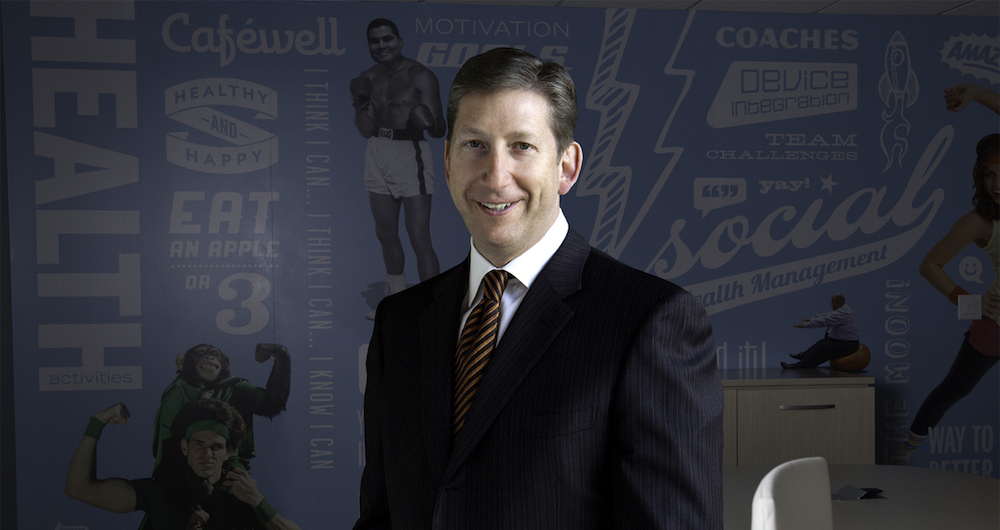 Denver healthtech company Welltok pulled in a substantial round of funding today, announcing the closure of a $33.7 million Series E with an additional debt facility allowing for $13 million in expanded borrowing capacity.
The company works with health insurance providers to incentivize consumers to make healthier choices. Their CaféWell platform gives patients the ability to set goals for their health, and then offers them customized guidance so they can achieve those goals.
Welltok said in a statement they plan to use the new funds to further develop and improve CaféWell and other products, along with expanding into new market segments.
"We have clearly defined and established the need for a consumer enterprise platform that systematically connects individuals with the resources, benefits and support available to help them achieve and sustain their optimal health," Welltok chairman and CEO, Jeff Margolis (pictured), said in the statement. "What continues to attract investors and customers is the maturity of our platform and services, and our ability to deliver an unparalleled personalized experience for consumers on behalf of their sponsors."
The round had participation from new and existing investors New Enterprise Associates, Bessemer Venture Partners, Georgian Partners, Emergence Capital, InterWest Partners, Sigma Partners, HLM Venture Partners, Flare Capital Partners, Trustmark, Qualcomm Life Fund, Hearst Health Ventures, Singapore-based EDBI, Okapi Venture Capital and Miramar Ventures.
The company's debt facility was provided by Silicon Valley Bank.
Founded in 2008, Welltok has raised $163 million to date and was recently recognized as an Inc. 5000 fastest-growing company. The company said their growth has come through organic and inorganic strategies, including the acquisition of Silverlink Communications, Predilytics and IncentOne. They now have more than 400 employees in six offices across the country.
Photo via Welltok.
Have a tip or know of a company that deserves coverage? Email us.