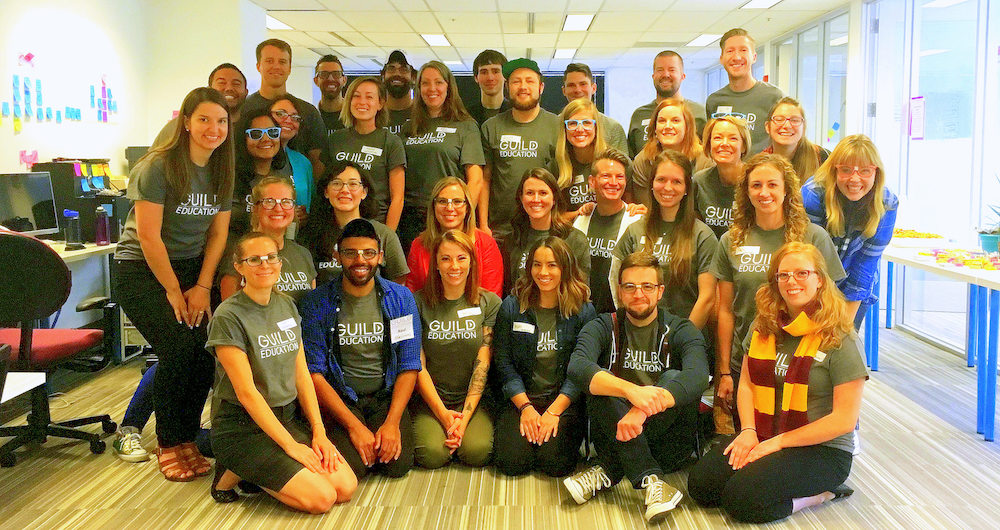 With a strong mission and a powerful tech platform, a local education startup is poised to make an impact on the 64 million working adults in the U.S. who don't currently have access to higher education.
Denver's Guild Education has grown their team nearly five times its size in the last five months, and they now have more than 200 students. And with a new round of funding, they hope to continue to expand their reach to further help students earn and education — and to help employers build a stronger workforce.
Founded in 2015, the company recently announced an $8.5 million Series A. The round was led by Redpoint Ventures, with participation from Social Capital and existing investors Harrison Metal, Cowboy Ventures, 1776 Ventures, Vista Ventures, Ulu Ventures, Matt Glickman and Fern Mandelbaum.
In addition to focusing on continuing to serve students, they plan to use the funds to expand their employer and university partnerships and grow their team.
Guild Education's CEO and co-founder, Rachel Carlson, said the turnaround for fundraising was around five weeks — aided by the company's drive to have the right investors participating in the round.
"It's about finding folks who understand our students-first vision," she said. "We've had really wonderful experiences with existing investors who all have a deep understanding of the education or employment space. We wanted new investors who had that same vision, and we've been fortunate to work with a lot of folks who understand our students; we have a lot of female investors and people who grew up in underrepresented minority households."
That students-first vision motivates every decision the company makes, from their community partners to the people they add to their team — and especially when it comes to how they've created their product.
Guild Education works by offering working adults access to online courses and degree programs that are accessible via the web and their mobile app. Their courses are a hybrid of traditional online classes — reading, writing and reflection activities — and a live session where students have a community of peers to learn with. Since students are all over the country, the "live" sessions are actually virtual, Google Hangout-style group calls.  
"The live session is important for accountability but also for hearing others' diverse perspectives," said Guild's co-founder and Head of Student Services and Academics, Brittany Stich. "We learn well when we learn from others. We think learning is best when you get to see how it applies, so we love that our students are learning something in our class and can apply it at work."
Guild partners with universities and employers to attract students and provide them with course content. It's designed to support students holistically — if a student is working full time, has a family and is going to school, those parts of their lives can feel disparate.
But one of the key features of Guild's model is the availability of their student success coaches. Coaches check in with students every week to learn more about what's going on in their academic, professional and personal lives. They assess students' goals and look for ways they can best support them, whether that's working with the employer or talking to a university about a specific course offering.
"If a student says, 'My goal is to protect my golden hour with my child when I come home from work,' that is something that matters to us," said Stich. "If they're protecting that time, that means things are going well with work and they're going well with school, and they're able to fit it all in."
And Guild's coaches meet students where they are. Some might be more comfortable over the phone, others via FaceTime and others still by texting one another.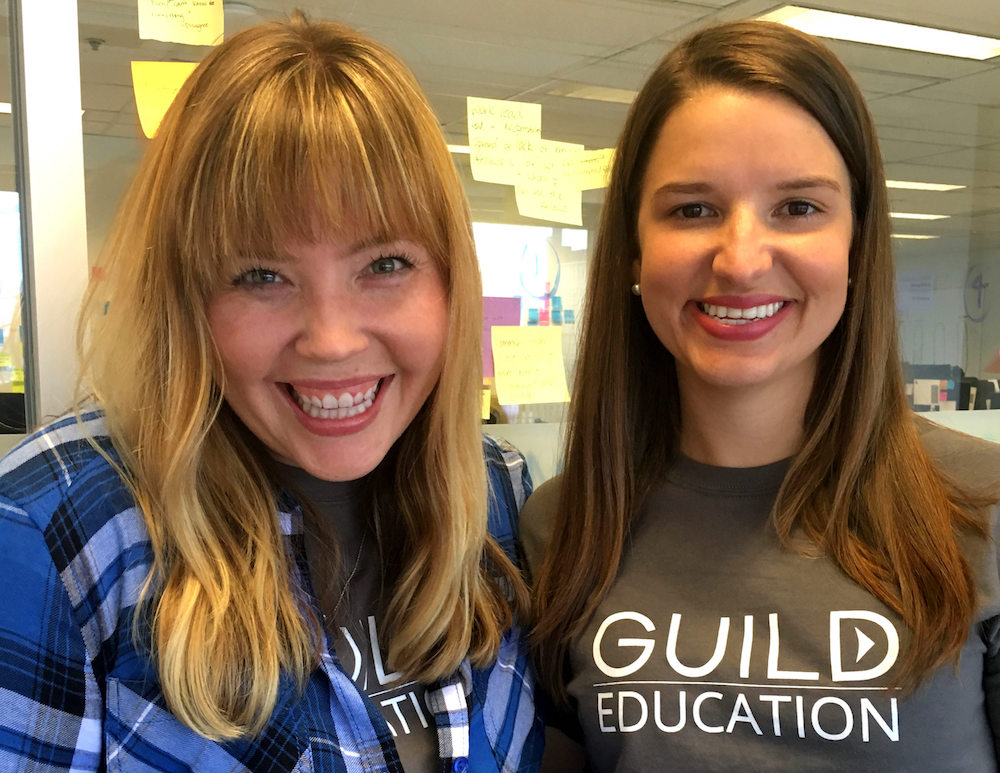 Guild has six fully rolled-out employer partnerships now, including with Chipotle, Public Service Credit Union and Denver Public Schools. Though their partnerships will soon run on a national scale, they chose to run pilots in Colorado to benefit from a tight feedback loop, where they could be close to customers and students and get feedback quickly.
The company kicked off their university partnerships with a local choice as well — CSU Global was one of their first partners, before they had even fully moved the company to Colorado.
"It's been cool to have a local Colorado partner for that tight feedback loop, but also because there's a really cool entrepreneurial approach here in Colorado, and they're a byproduct of that," said Carlson. "It's the first fully online state university in America, which was the brainchild of a lot of innovative folks in Colorado."
With their sights set on growing partnerships and student impact, Guild is also growing their team. They're looking for people to assist with product and operations, student services, engineering and design, along with people who can work on content the company builds in-house.
With such an important mission, Carlson and Stich are highly discerning when reviewing candidates.
"We look for evidence of excellence," Carlson said. "But we don't think about that the way folks traditionally do."
She said candidates who have great universities or high GPAs are fine, but at the heart of it, they look for candidates who can demonstrate their ability to rise to the top of whatever circumstances they were served.
"Because that is so much of how we set goals, it's really important that everyone have that same evidence of excellence," she said.
And the company's mission-driven focus is also coupled with high growth — meaning they expect members of their team to be willing to work hard.
"This is not the place to 'slow down and give back,'" Carlson said. "We're a double-bottom line business, and we work really hard to do so. Our office is open from 7 a.m. to 11 p.m. everyday, including weekends. We work hard as our students, and that's when they need us to be there for them."
Ultimately, they're seeking candidates who are committed to learning, value empathy and compassion and are willing to put in the hard work to ensure their students' success.
"Part of why it was important to raise a meaningfully large round is to look every student in the eye and say, 'We're here for you for your entire educational journey,'" said Carlson. "For many students, that's a four-to-five year journey we're embarking on with them. We can now make that commitment to every student."
Photos via Guild Education.
Have a tip or know of a company that deserves coverage? Email us.