When applying for a job, it's kind of hard to tell what life would be like at that company. Sure, the job description says what you'll be doing, and maybe it'll have a bit of info about the company and its culture.
But what's it really like to work there? Does everyone have a say in giving feedback? How does the team work together? What's the office environment like?
For the past few weeks we've been featuring a few companies who are adding to their dev teams, giving you a behind-the-scenes look at what it's really like to work there.
This week isBoulder office on the west end of Pearl for about a year. And their tech team is growing — they're hiring four engineers right now., a cloud iPaaS company whose suite of tools allows for cloud integrations with Salesforce, NetSuite, social media and more. While their headquarters are in California, SnapLogic's been in their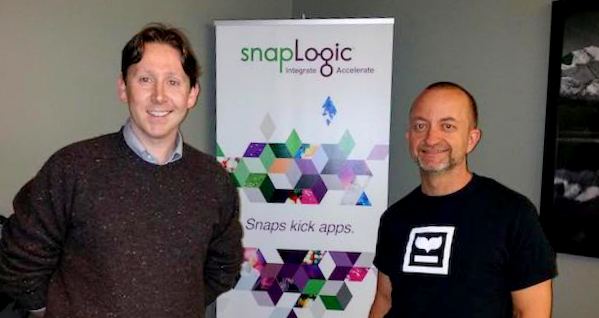 Robin Howlett and Patrick Taylor are both senior engineers for SnapLogic — Howlett on the software side, Taylor with Java applications. Howlett learned to code through a university program in Ireland before he moved to the U.S., and Taylor got his start in middle school, eventually studying computer science in college.
We spoke with them about what it's really like to work at SnapLogic, from the day-to-day to being part of the team and the most challenging parts of the job.  
Day-to-day
Howlett said most of the morning is preparing for the day — spending time looking at where they are in a sprint, overnight builds and following up on emails. Then they have a scrum every morning with the San Mateo team via a joint video call where each person gives their update. The rest of the day is spent on coding, development and support for anyone who needs it.
Howlett also wears a lot of hats, especially when it comes to hiring new talent. Taylor said he tends to be more head-down on his work than Robin, but he'll do the occasional code review for other members of the team.
Supporting passions
Howlett said SnapLogic allows him to work on projects he's passionate about. He's spent much of his education and career learning about and experimenting with APIs and distributed systems. "One of the reasons I joined SnapLogic was I had almost by accident built my own integration engine, and it relied on a lot of the tech we use," he said. "Once I tried the product, I was convinced this was a better way of doing things."
Having had an interest in web technologies — "even before the web was a thing" — Taylor's spent decades working on his passion for the ways the Web connects different documents and media. "I jumped into Java language training, and I've always followed it pretty closely," he said. "I'm always keeping up with new developments in web technology."
Autonomous culture
Definitions of culture can vary from company to company — or even from person to person.
For Howlett, culture is how people treat each other. "We have a collaborative view — everyone can give feedback on code, and an effort is made to incorporate suggestions," he said.
They also use 7Geese to acknowledge each other, either with a pat on the back or something bigger. "It's really rewarding and satisfying doing that," said Howlett. "It's not top-down at all — it's very much organic with the employees."
Taylor's assessment of SnapLogic's culture broke into two parts — the company environment as a whole, and the team-specific dev culture.
Taylor said he really enjoys the company's office on West Pearl; in addition to its proximity to restaurants and shops, "we have a comfortable office space with snacks and fun salespeople who keep it lively," he said. They also have a Friday afternoon "Snappy Hour" where team members can celebrate on the company's patio or play a few games of table tennis.
"It's a fun environment and I think it's getting more fun all the time," said Taylor.
He said when it comes to dev culture, everyone tends to work pretty separately. "There's a lot of autonomy and responsibility," he said. "You become responsible for the particular integration and making decisions about how to move forward."
Because of the company's structure, Taylor said there's a lot of latitude for taking on responsibility, and they're not micromanaged at all.
"Since we're a small company, you really have to take on different roles yourself," he said. "You don't have large QA teams and support orgs so we're responsible for taking some of that on ourselves, and we're really helping drive our processes." 
Taylor said taking on those different roles can be a bit challenging, but it also allows engineers to use and grow the rest of their skillsets.
Challenges
SnapLogic's Boulder team only has four developers right now, with the rest in the San Mateo office. Like with any other company, being on a small, distributed team isn't without its challenges.
"The realities of being a distributed team are that it can be a little bit slower to get feedback, communication is a bit more nuanced and practices are new," said Howlett.
Those challenges meant it took the team some time for us to get into the groove. "We're still a smaller company in our space but we're pretty ambitious and aggressive with our goals," he said. "It can be a fast-moving environment when you need to solve something quickly."
Taylor agrees: "I think beyond process, one of our biggest challenges is the ambition of the company's vision, given that we're such a small company," he said. "We want to integrate with as much as possible, which is a very ambitious agenda for a small team."
But he added they're getting better all the time. He said the challenges of being remote can take a toll, but since they're growing their engineering team in Boulder they're starting to gravitate toward geographic balance between the two offices.
Howlett said the challenges are worth it, though. "The eclectic nature of the work we do is a big positive," he said. "If you work on the same thing for five years it can feel stale, challenges can become more complex and flexibility of solutions won't exist as much as it used to." Because SnapLogic constantly adds new integrations, Howlett said the work they do varies week-to-week. "It keeps you a little bit fresh," he said. "You have the ability to be exposed to a lot of different technologies in a pretty deep way."

Interested in working with SnapLogic? You can view their open jobs here.