Inside Snapdocs' Quest to Make Employees Feel Continuously Valued
Even Through Hypergrowth, Employees at Snapdocs Are Still Given The Agency to Make an Impact.
If a company pledges to make 635 new hires in one city over the next eight years, how does it ensure employees feel continuously valued?
Snapdocs, which is doing just that in Denver, is pushing back against the notion that a bigger business means employees have less influence, especially new ones. For instance, Senior Product Manager Kelly Nightengale has been at Snapdocs for less than a year but meets weekly with the CEO to discuss areas of opportunity. 
"He has decades of experience in this industry and I have six months, but he's willing to learn from me and other newer team members and incorporate our ideas into platform strategies," Nightengale said.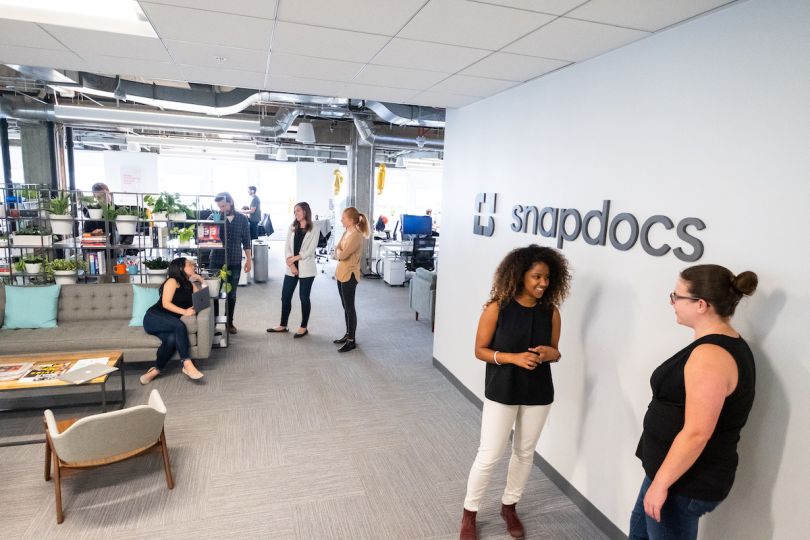 For Nightengale — and the roughly 200 additional team members the company plans to hire this year — Snapdoc's egoless structure makes it easy for everyone to contribute. The growing team is tasked with evolving the platform's capabilities, like its eClosing suite that digitizes mortgage closings. In working on that suite and others, Senior Engineering Manager Bob Stone said employees are empowered to share their perspectives with teams across the business to close knowledge gaps. 
"When I think about growth, there's no such thing as being an expert in a silo," Stone said. "I can meet with our customer success team to get more knowledge of how users are interacting with the product."
Knowledge-driven collaboration also leads to professional growth because team members get experience working in different areas of the business and learning new skills. Software Engineer Jeannie Evans has been at the company for 10 months, but she said she already feels like Snapdoc's culture gives her plenty of agency in dictating how she evolves her career. 
"I feel really supported in my growth," Evans said. "I have a lot of ownership in growing in the way that I think is important for my career."
Below, Nightengale, Stone and Evans further discuss how agency and a culture of empowerment set the stage for a company that has ambitious growth in its future.
What does Snapdocs do?
Snapdoc's integration and automation technology enables parties involved in real estate closings to work together more efficiently. The platform facilitates more than 3 million closings each year and powered more than 13 percent of all U.S. residential mortgages in 2020.
Ego-less interaction
Leaning into a hierarchical structure is not part of Snapdocs' scaling plans. According to Stone, collaboration is fluid between employees of all levels because everyone is aligned on the same goal: improving collaboration on real estate closings. So all ideas are welcome.
Stone: My team recently worked with Kelly's to solve a problem. There were never moments where one team dictated work to another. We looked at what we needed to solve and helped each other reach a solution. 
There are no egos in any room. Directors pair with people that have been here for six weeks. Everyone buys-in and tries to figure out solutions, which can come from any level. We don't want anyone to be afraid to speak up. We're all there to solve problems and whoever happens to be there, happens to be there. 
 
There are no egos in any room. Directors pair with people that have been with us for six weeks."

Nightengale: That buy-in means everyone can contribute outside of what may be traditionally expected out of their role. For example, everyone's willing to take part in design review because they're engaged and they have a vested interest in helping us solve user pain points. We also have the autonomy to bring our own perspective to challenges when we think they can be solved a specific way. 
Evans: I'm helping senior engineers navigate parts of the product as a junior engineer. I'm trusted to contribute and it's allowed me to grow as an engineer in the ten months that I've been here. When I have ideas, folks listen. And if they don't quite agree with the idea, no one is dismissive. I've seen this sentiment show up in our success and efficiency as a team. There's so much humility because we have to have vulnerable moments with each other all the time.
Closing knowledge gaps
With agents, buyers, notaries and other unique users interacting with the platform, and a growing cross-departmental team assisting them, employees can run into knowledge gaps. However, Evans, Stone and Nightengale agree that Snapdoc's culture of autonomy means no one is afraid to speak up and ask for guidance when they aren't knowledgeable in a specific area.
Evans: When a customer is having an issue accessing the site, there are a lot of people from different departments looking at it together. Sometimes an engineer will say something and someone will ask, "What does that mean?" There are similar interactions when I work in feature development. My team might hit a roadblock and ask, "What are we supposed to do here? Let's ask product about it." We have conversations like this all the time and it creates a lot of fun back and forth.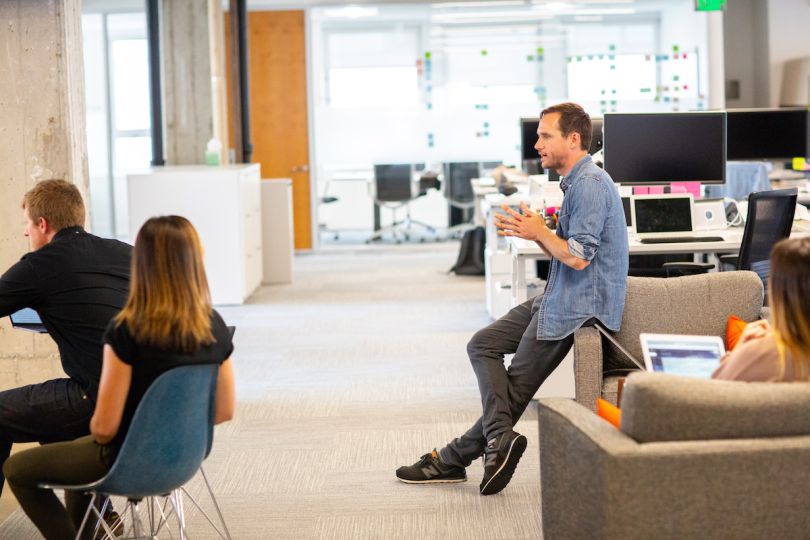 Stone: There are the more structured, future-looking projects that go through many iterations on a feature we're building, like eClosing. Engineering, product and design teams can align on our areas of overlap. Sometimes there's very little overlap in knowledge but we found out who needs to know what and build a solution.
We also have informal situations where we run into a problem and solve it with an impromptu Zoom. We might look at a problem from a UX or product standpoint and admit that we don't know which way is better. So collaboration shows up in a lot more places than the defined roles and teams that we have.
Nightengale: It's not always fun to be on the team that doesn't have some knowledge and admitting that we don't know how something works. But it's easy for us to approach another team for support. They respond with the generosity of their time lending advice. These interactions are easy and fun because we all get opportunities to learn and grow. 
Upskilling to success
Nightengale said Snapdoc's hypergrowth creates opportunities for teammates to grow and achieve their long-term career goals because there are always new challenges to solve and skills to learn. 
Nightengale: We have a lot of support to grow our careers the way we want to, leveling up to whatever's next. I've picked up knowledge in engineering, design and marketing just by talking to people around the business. We are our only limitations. So it's great to be in an environment where our success is based on our own execution and smart planning.
 
It's great to be in an environment where our success is based on our own execution."

Stone: We encourage growth in whatever way makes sense. I have team members who, a year ago, said, "I want to be the best front-end engineer I can be." Then nine months go by and they say, "I'm finding the back end kind of interesting." I said, "Great, let's throw you more stuff over there." I don't have to pigeonhole anyone based on a title. We are looking for people to help us build the best product possible. If people's roles can grow or change within that, then we'll support it.
Evans: When I advocate for myself and share ideas, the team says, "Great, go do it." For example, I went to a conference called Lesbians Who Tech & Allies in November. At the time, I was an employee for less than six months and I asked for the OK to virtually attend — with my own money — and watch events during the day. As soon as I brought it up, my manager said, "You need to go to this." The next day, a ticket was bought for me. Later, I gave a presentation on the conference that was open to the whole company and some of the ideas from the event are going into our platform. 
Not only was I encouraged to see cool speakers, but I was able to bring those experiences back to Snapdocs. That has been really amazing and it's allowed me to grow in the way that I wanted.