How This VP of Sales Hires For Scale
At Udemy, Vice President of Commercial Sales David Wiedeman Says Growth Starts With Hiring the Right People.
Though Udemy's sales team may be split between its B2C and B2B functions, Vice President of Commercial Sales David Wiedeman doesn't see it that way. 
"While we target consumers and businesses separately, we look at it as one unit," Wiedeman said. 
And that's important: Over the past year, Udemy, an online education company, has doubled the number of members of its sales team and the number of clients, Wiedeman said. 
To keep the team cohesive as they add more team members, he's constantly evolving the sales team's processes based on the makeup of current departments and future objectives, and looking for new sales candidates who can help grow Udemy over the course of the next few years. 
"While I would love to clone one of our corporate account executives and just fill the teams with her, it doesn't help with the diversity of thought and what we're bringing to the table," Wiedeman said. 
Below, Wiedeman explains how a culture of collaboration makes Udemy well-positioned for future growth.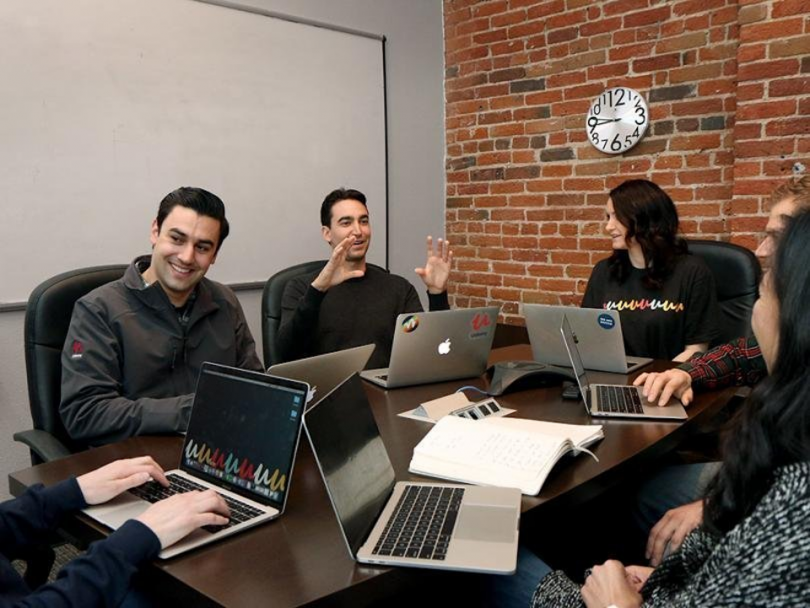 What growth have you seen over the past year at Udemy, both internally and externally? 
Vice President of Commercial Sales David Wiedeman: In a pandemic year, we're pretty proud of the growth that we've accomplished. Our team has close to doubled. We went from 29 sales reps last year to 53. We also have six leaders on the team. And a lot of that growth has been not only domestic but across our European markets, mostly in Dublin and our APAC markets in Australia and India. 
As far as client growth, we've doubled there too. The clients that we have stem across two of the products that we sell: our team plan product, which is essentially online self-service, and our enterprise product. We're coming up on 7,000 clients worldwide.
 
If you build up a huge team but then you don't give people a voice, they will leave.''
With that kind of growth, how do ensure you're scaling the sales team in a smart way? 
Wiedeman: It starts with hiring the right people. We hire people who either have the skill or have the potential to grow into a role, and we also hire based on cultural additions. We want to make sure people embody at least a few of our core values. If we steer away from hiring the right people and get lazy or cut corners, that's where I think this thing starts to fall apart. 
That strategy goes another few layers for leaders. There's almost an extra level of scrutiny because we know that their impact is going to be felt not just from the work they do, but their team's work and cross-functional partners. As we continue to evolve, we have to make sure we build for scale. That means working on things that will work for us now and ideally will work for us later. And so if we have that short-term and long-term vision in play, that is more or less our guiding light. 
NOT YOUR TYPICAL 9 TO 5
Corporate Account Executive Tara Smith, who is based out of Udemy's Denver office, believes that the right hires are people who are looking to belong to a company rather than just show up. "With so many new hires, we've really used our mission to bring us all together," Smith said. 
How do you know if you've hired "the right people"? What do the best candidates showcase when they're looking to join the sales team? 
Wiedeman: Oftentimes, I will ask candidates to tell us about a moment in their career that they're most proud of, a deal that they were most excited about or a customer that really resonated with them. There's an element of how they talk about it — what sort of details they can remember and what they actually get excited about — that I think can tell you a lot about what they might bring to the table. 
And then there's definitely a personal element to the interview. What are you passionate about? What do you care about in life outside of work? Do they have a life outside of work? We want that. We want people to have a good balance because then they bring their best selves to work.
We also dig into the core values themselves, including "mission-inspired, results obsessed." We want people who are really focused and take pride in getting to and feeding their goals. But we also want them to do it in the right way. 
We're not trying to trick someone into buying something. If you sell someone too much in the beginning, then they're not likely to renew that product down the road. Ultimately, we're trying to get learning into people's hands and really change the lives of the employees that have access to Udemy. And so we look for a collaborative salesperson. We've turned down people who could have been the best salespeople ever, but they had no interest in collaborating. They didn't want to bring ideas to the table, and that's not how we operate. We want people to share ideas. Sometimes it's not about that person bringing in $1 million a year. While that would be great, I want them to do it in the right way, both for our clients and for us internally as we collaborate. 
 
We want people who are really focused and take pride in getting to and feeding their goals. But we also want them to do it in the right way."

Once those sales team members are onboarded, how do you ensure they're challenged and continuously learning? 
Wiedeman: Of those six leaders I mentioned above, three of them started within the last year. Being a leader means a lot of learning on the job, but we're really trying to lean into leadership development. We've done a lot of enablement for account executives and for customer success managers, and want to take it to the next level to make sure that we're empowering our leaders. We do have a pretty hefty learning and development team that focuses internally across all skill developments.
Oftentimes, we hold sessions and manager labs that focus on different skill sets. Finally, we use our product. We have an entire manager learning path that all leaders go through. This initiative was kicked off last year and there were incentives in place for managers to not only learn within the various paths but to complete them. 
Practice What They Preach
New employees are required to take the following classes when they join: "Feedback Is Fuel," "Unconscious Bias," and "Allyship." "If you're involved in the interview process, we have a specific interview course that covers unconscious bias and culture fit," Corporate Account Executive Tara Smith said. Sales professionals take Sales 101 and B2B-related courses to learn strategies that will serve them in their role.
How do you ensure those salespeople stay around for the long haul? 
Wiedeman: If you build up a huge team but then you don't give people a voice, they will leave. Any business will not be successful if it is constantly on a treadmill of hiring. We want to make sure that we give everyone the tools to do their job well. A lot of times, we'll open up feedback to all levels to make sure that people's voices are being heard and we're all going in that right direction. 
Additionally, we want to make sure in terms of building for scale, we continue to implement internal processes. There are always going to be certain things that one person needs versus another, but in terms of how we drive outbound lead generation from the agency side or how we think about growing our client base, there are processes that we can put in place that will apply to all folks. 
Lastly, we want to empower each person to make sure that they're in charge of their growth here. We have formal career conversations every six months. Informal ones are happening all the time. There's an empowerment piece at every level that allows us to grow the way we have.