How do you create products that don't underwhelm?
For Jesus "Chuy" Salcedo, Jr., experience design manager at Vendavo, it's more than just functional considerations that inform how he and his team create user experiences.
"The currency of a UX designer — at least, at Vendavo — is user data," Salcedo, Jr. said. "Having that user data assures that we don't we don't design things that suck."
Based on the numbers, that's been far from the case for the Denver-based organization. According to a company blog post, the B2B software company experienced "record-setting growth" in 2019, with SaaS revenue growth of nearly 80 percent.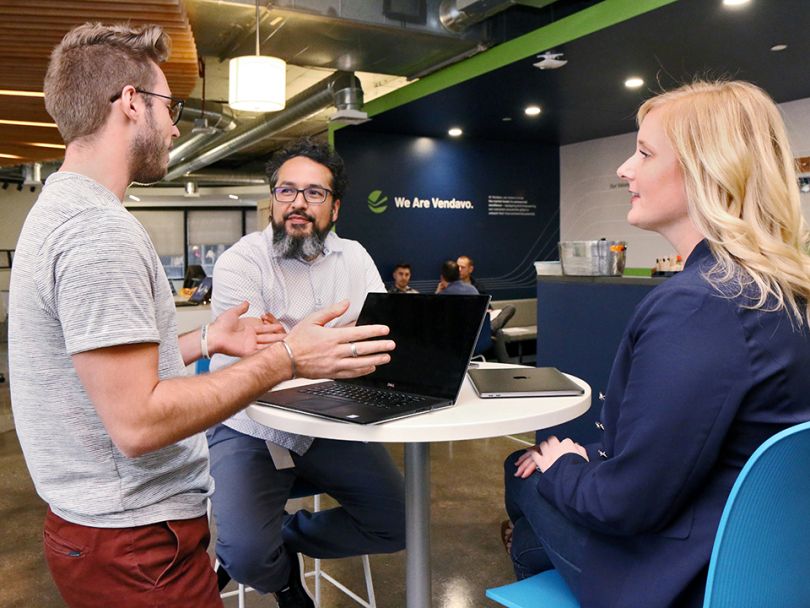 Last year, however, the company decided that it needed a stronger, more thorough way of tracking usage — a key means of garnering the data that would indicate high- and low-areas of usage on the platform.
"We provide enterprise software to large companies to use internally," SVP of Product Management Alex Hoff said. "In the past, it was very difficult to know which features and capabilities they were really using or whether they liked the experience. So we wanted to really understand our users much better, and how to provide a truly delightful user experience."
That initial goal ultimately expanded into the "User Adoption Improvement Initiative." Rolled out earlier this year, Product Manager Jin Sheen Yeoh said it has three core areas of focus: tracking usage, bolstering usability and user adoption, and gathering user feedback. 
"Having the visibility and the data points will help us better understand how our customers interact with our application and where the pain points are so that we can work on improving them sooner," Yeoh said.
It's a broad focus anchored in a specific goal — and, as a result, it's an effort that touches many areas of the organization.
"This is one of those really cool unicorn initiatives that the entire company can embrace. It's brought a lot of different teams within Vendavo together to work for a common good," Director of Global Learning Experiences Carrie Connolly said.
Below, the quartet shared what gave rise to the undertaking, how it manifested in the product and how it provides a stepping stone to future success. 
Vendavo 101
Launched in 1999, the organization has nearly 500 team members.
Harnessing AI and ML, the company's SaaS solutions help companies with pricing decisions in order to maximize profits.
Notable customers include Ford, PayPal and Corning.
Identifying the Problem — and Finding a Solution
According to the team, tracking usage was an organizational deficiency. But, after conducting preliminary research, what was originally a singular focus soon grew to encapsulate multiple domains. 
Yeoh: Before we started this initiative, usage wasn't tracked in a very systematic way. It would only happen when we set up a time with customers. From an organizational standpoint, this was a major shortcoming for us because we didn't have some of the most critical insights that are needed.
Hoff: A lot of features and capabilities of technology products often don't get utilized because a lot of the time, users don't even know what to do with it. We want our users to be able to understand all the capabilities that the solution has and how they can get the most out of it.
Yeoh: We have three main objectives with this initiative: First, to be able to track usage metrics across all products. Second, to improve the usability and adoption of our system. Lastly, we have to be able to objectively measure user satisfaction. 
Connolly: With SaaS software, it's easy for your customers to turn off, and you don't want them to do that. By understanding exactly how customers are using this software and improving their experience, it makes the software more sticky. 
A Wide-Ranging Effort
Key changes under the User Adoption Improvement Initiative included implementing a code snippet that would track users' clicks, giving Vendavo the ability to see — in an anonymized fashion — the extent to which customers were utilizing various aspects of their platform.
For their focus on usability and adoption, in-app user guides were designed to help customers navigate the product — meaning users didn't have to fastidiously memorize one-off training sessions. Lastly, the roll-out of net promoter score (NPS) surveys help gauge user satisfaction.
From working with UX teams to incorporating design changes, and consulting with legal teams to ensure compliance with the California Consumer Privacy Act and General Data Protection Regulation laws, the initiative called on various facets of the organization to step up.
Yeoh: We worked with the UX team to figure out the templates we'd need to build so that all the guides that get rolled out have the same look and feel and are brand compliant. With the education team, it was a matter of having the trainers familiar with the concept of an in-app guide and building that out.
Salcedo, Jr.: UX team members partnered up pretty closely with their product managers, and sometimes their documentation team colleagues, in order to produce the on-screen text that will be utilized in these user guides. That's a continuing effort that keeps happening as we introduce new features or make adjustments or tweaks to the experience to optimize them.
Connolly: Trainers are involved in creating the in-app guides, but then also linking from those in-app guides to other places, like a learning management system, where there's a learning path of available training options or live sessions. One of the things I think about constantly is how our users want to consume information.
 
It was neat to see how cross-functional teams got really excited about this."
Picturing Success
As teammates reflect, various stakeholders benefit differently from their efforts. Historically, UX teams set up "lab sessions" to garner user feedback — now, with more data at their fingertips, informed design decisions are more turnkey. Sales teams, meanwhile, have ample insights to inform dialogues with clients. In the process of bettering the end user's experience, teams reap their own respective perks.
Hoff: In a couple of customer renewal conversations, our team has been able to pull certain usage information. Then, that information was used to have a more informed conversation with the customer and make a more compelling case for how important the software is.
Yeoh: Having the visibility and the data points will help us better understand how our customers interact with our application and where the pain points are so that we can work on improving them sooner. With UX improvements, we can actually observe the click paths, see where customers are stuck, and proactively reach out to them to confirm if it's a behavior due to the way the system is built, or if it's a process that we need to change or improve on.
Salcedo, Jr.: This initiative gives us the ability to really get in there and see the analytics of what people or the stuff that they're actually using. Getting real usage data is critical for us as UX designers. The currency that matters most to me is user data because that's what I utilized to make my decisions and evangelize my designs throughout the product organization.
Connolly: Having information to better understand the learning needs and challenges of our audience helps us target content much more accurately and ensure that people have the information when they need it. The fact that people can get over the initial learning hump, and then have ongoing learning in the places that they need, is the biggest benefit for me.