An effective customer feedback loop can pay dividends. 
In a feedback loop, customer questions, concerns and comments are collected, then passed along to teams to brainstorm and develop solutions. A finished product is handed back to the customer, and the loop is repeated. If done right, it's a double win – a happier customer and a better product.
At Workiva, a financial reporting and compliance software company, internal stakeholders constantly ingest customer pain points to develop and iterate potential solutions. The effectiveness of this feedback loop hinges on open communication.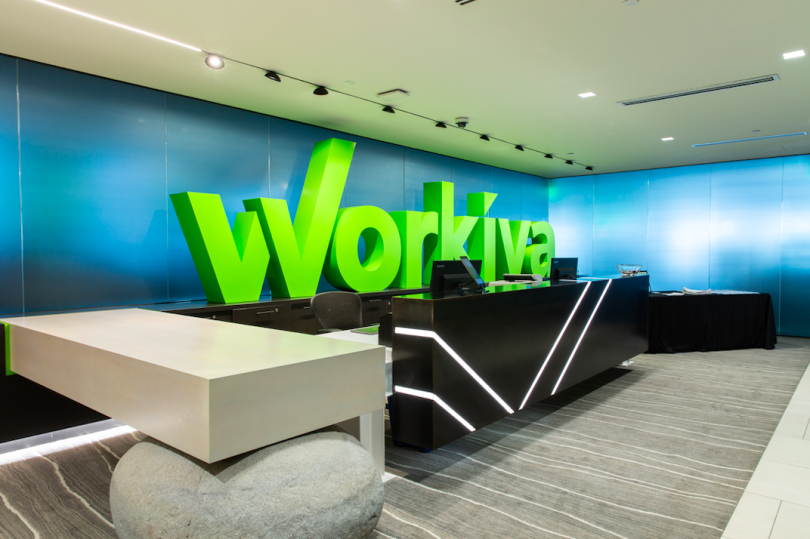 "At Workiva, our teams are working together to understand the problem set, what's technically possible, what fits in with the rest of the product well and what really solves the customer's needs," Dave Walker, an engineering manager at Workiva, said.  "We've used the feedback loop to understand what it is we're trying to develop that delivers the best value in the most efficient manner."
Providing solutions expediently results in all members of a team having a degree of project ownership. "It's not just the client's voice that gets heard," said Product Manager Madelyn Stephens, "but those of other teammates, as well." 
"We get our developers engaged with the customer, and we keep their connection tight for perspective and for empathy-building," Stephens said. "There are so many times when a customer will talk about a pain point and I think there might not be a solution, but then I'll get developers who will say, 'That would be so easy.'"
For Denver-based Stephens, Walker and UX Manager Wilfredo Merced, a well-oiled feedback loop hinges on candid conversation and open forums for sharing information to ultimately drive positive customer experiences.
Embracing the 'triad'
A fluid team structure, embraced by Workvia's teams of "triads," helps set expectations and clarify end goals without relegating teammates to silos. Additionally, the structure helps teammates clearly define the guiding criteria for product development.
Walker: The triad includes a product manager (PM), an engineer and a user experience (UX) designer who represents both the company and customer's interest in implementing any new feature or product advancement. They are sitting down and doing early-phase discovery by reaching out to customers and coming up with value-adds that are technically feasible — and integrate well with the product — while satisfying all end-user requirements.
Stephens: On customer calls, we ask users all about their processes: 'Tell me about the last time you did your month-end — what was the most painful part of that process? If you could wave a magic wand, what would you change?' Workiva has a strong relationship between product and customers, and that comes into play when we are iterating product updates efficiently and effectively.
Merced: Our customers are always really adamant about hopping on a phone call with us. From a designer perspective, that makes our jobs a whole lot easier. I've been able to get in front of people to get prototypes or start doing more research to see what opportunities we have based on their feedback. That accessibility has a huge impact on how we're able to design, as well as how quickly we're able to turn around a product release. 
Staying in the loop
Customer feedback is only as useful as the extent to which it gets implemented, and Workiva employees say a collaborative approach ensures customer questions and concerns don't fall on deaf ears.
Walker: Our engineering team sources product feedback by listening in on customer calls led by the customer success (CS) team. The CS team also joins our engineer and PM expert panel discussions to help us get a better understanding of their process and how Workiva can help. This collaboration also helps us prioritize the development of our platform.
Merced: When a customer makes a feature request, the CS team will create what we call an "idea ticket." From a product standpoint, that helps quantify how many customers and what types of customers are asking for a feature. It also helps us prioritize and understand what's going to provide the most value to users.
Acting on feedback and data
Gathering, digesting and synthesizing customer feedback helps inform the team's ultimate efforts, from big-picture items down to the nitty-gritty. For the triad, communicating with customers informs the fine-tuning needed for a positive user experience. 
Merced: While doing customer research, we use data to track feature utilization across our product offerings. For example, a feature could be more beneficial to our documents product versus our spreadsheets product. That information influences our product roadmap and ensures customers have what they need, when they need it.
 
Converting somebody who finds challenges with using our software into someone who would recommend us is invaluable."

Stephens: A true start-to-end discovery example was a feature update for drop-down lists inside of spreadsheets called data validation. There's a subset of our thousands of users who leverage those heavily and a subset that doesn't utilize them at all. 
Through conversations with customers, we found that the feature needed more visibility. We did a lot of testing of the design and location of the drop-down feature with a small group of customers and also released it to our internal testing environment, which our whole company uses. Based on feedback, we made further adjustments before we released it to all customer accounts.  
Cementing success 
The ultimate payoff of a fluid feedback loop? Customers become product enthusiasts. 
Walker: A piece of Workiva lore tells the story that during our annual user conference, a customer came up to our team to tell us how much they enjoyed our spreadsheets product. Our cloud-based spreadsheets gave them the opportunity to go home to their family earlier, rather than having to play with numbers on an on-premise spreadsheet to get a file correct. That makes our jobs worth it at the end of the day.