"Alexa, play Marvin Gaye and tell me about my stocks." 
One of those commands sounds like easy listening, and it's not the complex financial information being relayed through a device. 
Or is it?
Creating a more user-friendly approach to accessing financial information is the challenge IHS Markit Digital was built to take on, said Michelle Bishop, director of client solutions at Markit Digital. The company aims to create SaaS solutions that make confusing financial data easier to digest, regardless of financial acumen.
Now, according to the company, they're stepping it up a notch through conversational UI.
"What we're really trying to do is decrease the barriers to financial data and make it more accessible," Bishop said. "A lot of people get their information as they're driving home or while making coffee in the morning. That's really where we are as humans and that's where financial institutions want to be able to connect with their users."
 
What we're really trying to do is decrease the barriers to financial data and make it more accessible."

For the past several years, Bishop has been involved in the process of building out this offering — which she says is far more advanced than what's currently available to financial groups. 
"There are chatbots that are focused on your daily account self-service activities, like changing your phone number and unfreezing your debit card," Bishop said. "But they are very much trailing the experiences that we're setting out to enable."
A conversational user interface, or the capability to have a naturalistic conversation with technology, is relatively new to the world of finance, according to Bishop. As a result, some of the overarching questions around the technology are startlingly elementary.
"Some of the most important questions we're asking right now are those that help to determine what we are trying to solve for the end user and what will add the most value for them," Bishop said. 
With an overwhelming number of directions to explore, Bishop and her team started out by asking one main question.
"How do we make it better than a chatbot?"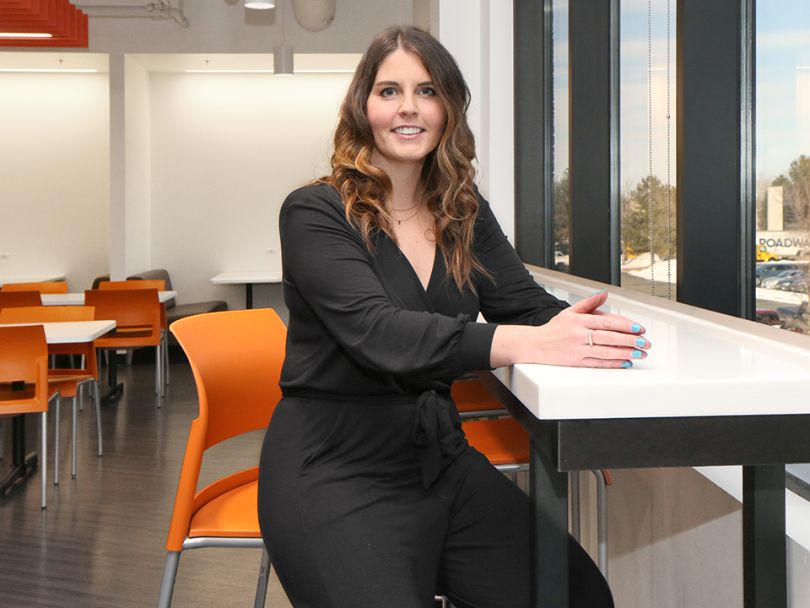 Tell us about the conversational UI capability your team is building. 
Bishop: We're thinking about how to make financial information available to end users in a way that they want, in a way that is a natural extension of their conversations and research. Our company has deep specialization in the quotes and research space, and so we want to be an extension of our clients' help desk capabilities that enables the user to ask about specific stocks, sectors, market events, holdings, portfolios and more.
We want the user to ask, "Alexa, what's going on with Tesla right now?" and not only get a response that fits the question, but that prompts them to explore further in a way that is most meaningful to them, in a conversational format. In order to do that really well, we need to have user context that we can apply to make it the right experience for that user at that moment.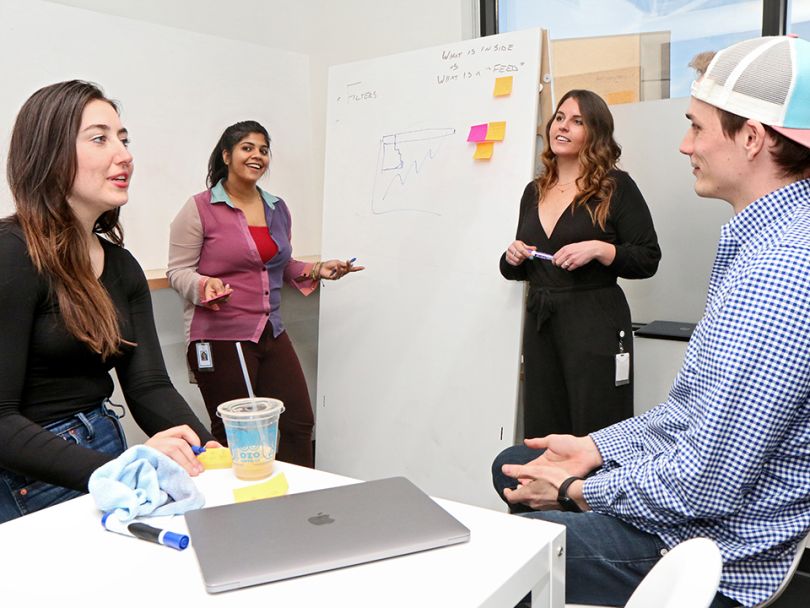 How did this project come to light?
Bishop: We did a proof of concept with one of our clients, doing a data visualization that complemented the Alex Skill that asked and answered basic, questions like, "How is the market doing?" That client has also continued to prioritize moving into this space. Given our expertise and existing capabilities in the quotes and research space, they've asked, "How can we partner with you? Can you help us to deliver a more robust experience that enables deeper conversations with our clients and removes friction for them?"
In order for a new solution like this one to come alive, you need a team with a variety of skill sets. We have design and technology, and then myself who speaks with our clients every day. We're lucky to have a workforce with diverse skills and interests, and we've tapped into this quite a bit. Our solution involves the extension of some of our current microservices, as well as pairing them with new technologies or in ways that we didn't use them previously.
The design of conversational UI is very interesting. It turns out that a lot of the design systems, thinking and artifacts that we have from designing for mobile and websites do not encompass all of the facets of conversation. We've been taking a big step back to think about what the design system is that works for this new way of connecting with end users.
The amount of collaboration and brainstorming on this project is impressive. Having a team that's comfortable leaning into all of the unknowns is one of the aspects I love about this project and about our company. I have learned so much from my colleagues and continue to be impressed with their ability to think outside of the box, learn new skills and to try something, fail, then try again. The ideas I am sharing right now are very much the product of a lot of learning done by my colleagues.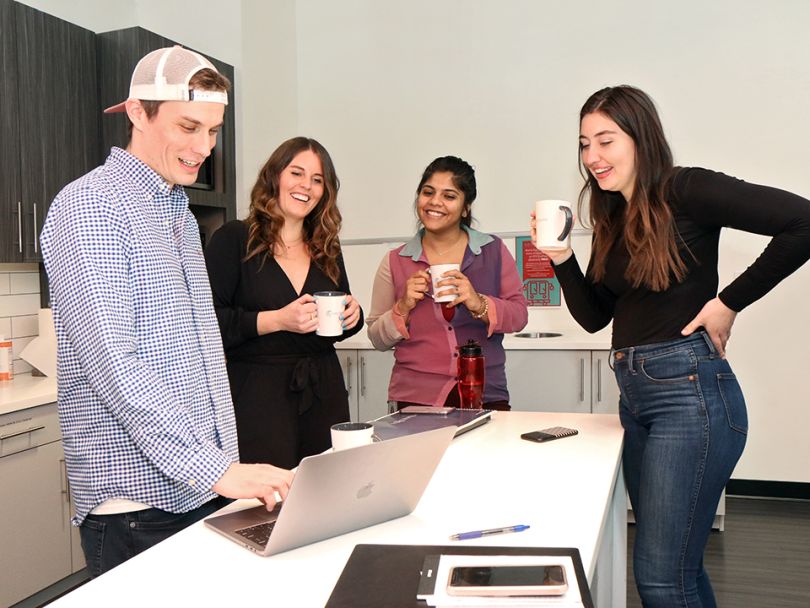 What's difficult about building this technology for financial information?
Bishop: If you think about how we searched on the internet back in the day, you had to use quotes around phrases and be pretty specific in what you were looking for. Now, you can just write your thoughts out and misspell words, and you are still going to get an incredible amount of relevant information returned to you. We're seeing this evolution into a more humanistic way of interacting. 
That's actually really complicated.
We have to focus on how we would naturally ask for something. Nobody says, "Tell me what AAPL is doing today." They're going to say, "What's Apple doing?" And we need to be able to support that. But there are contradictions and colloquial ways of referring to the same thing that really aren't rule-based. Trying to figure out what those exceptions are is a challenge. We want it to feel like you're actually having a conversation — not talking to your computer or your phone.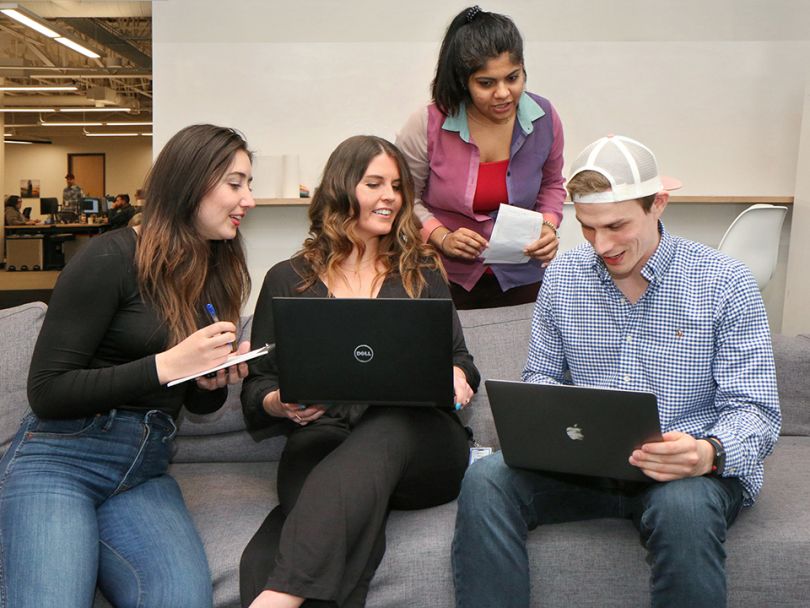 How do you personalize something like that? 
Bishop: If somebody wants to know how their top five holdings are performing or dive deeper into one of their top stocks, we'd need to really create the right conversation for that end user. So, we have to think about the financial acumen and experiences of that individual. Do they need to have some brief educational content before we tell them about a 52-week moving average? Or, if that's something they've asked for the last three days, we shouldn't give them educational content or they're going to be frustrated. That helps to reflect that we know who the client is, as well as keeps the context of the conversation
We're giving them a few dynamic smart prompts that allow them to say, "I want to know more about this piece of information." That helps in knowing who that client is, as well as keeps the context of the conversation. 
Then, we're starting to think about where we are reaching people. Are they on their mobile phone? Is it the weekend, when they might have time to do a little bit more of a deep dive? We're making it a much more intelligent conversation than some of the chatbots that you see out there already.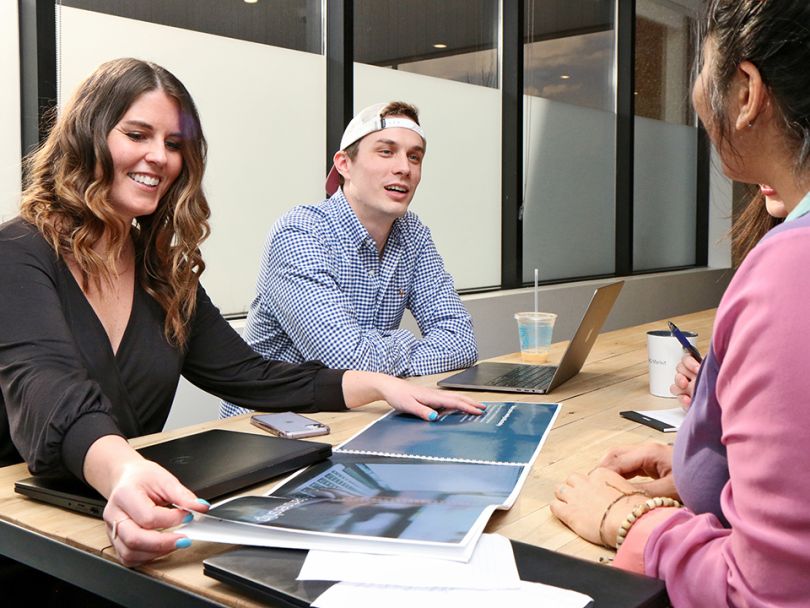 What's the impact of this technology? 
Bishop: I feel like now we can really start dreaming bigger. I love the idea of being able to hear how my portfolio is doing, or if my asset allocation is where I expect it to be, or if I need to rebalance things — and do all of that while driving. 
The financial space is really scary for a lot of people. That's unfortunate because we really want people at a young age to feel more comfortable with talking about money, thinking about saving, and knowing what they need to have in the bank to get a mortgage — and helping them achieve those milestones. So there's a ton of opportunity for giving people the right amount of information at the right time in order for them to become more autonomous and proactive in their financial futures. 
At Markit Digital, when designing experiences, we are always thinking about how we can help support the financial future of the school teacher in Iowa. With conversational UI, we are evolving to meet her where she is and to empower her with the information and guidance that she needs.