Alison Hawke only had two rules to follow when it came to her career.
Don't work in downtown St. Louis.

Don't work at the same company as her husband.
When she joined World Wide Technology six years ago, she broke both of those rules.
Turns out, the opportunity to build World Wide Technology's Denver team from her home base in St. Louis, and set the direction for the company's software quality assurance processes, was too hard to pass up.
Despite having 6,000 employees across nearly 30 offices, the move also provided Hawke with an environment reminiscent of a startup that values feedback, coaches individuals to discover new processes and tools, and promotes cross-collaboration not only between departments but also its offices. 
Now up to 150 employees in its Denver office following World Wide Technology's 2015 acquisition of Asynchrony Labs, the company will continue its expansion plans with the opening of a second office in the Denver Tech Center. Hawke will play a big role in building out the Denver team alongside her two colleagues, Andrew Brydon and Chike Orjih.
Interested in hopping aboard World Wide Technology's Rocky Mountain ride? Here's what you can expect.
Meet The Team 
Since joining World Wide Technology five years ago, Brydon has explored a number of different roles including software engineer, tech lead and delivery lead. Today, he supports the company's application development expansion plans, which include new offices in the Denver Tech Center as well as in Phoenix. 
Hawke's team focuses on all things software testing to make sure the user has an easy, frictionless, bug-free interaction. This includes learning the Elixir language to build a deliberately buggy API. 
At the recommendation from his best friend, Orjih joined World Wide Technology nearly six years ago. He carefully matches people on his team with projects that best suit their skill sets while mapping out individual career growth opportunities and providing mentorship.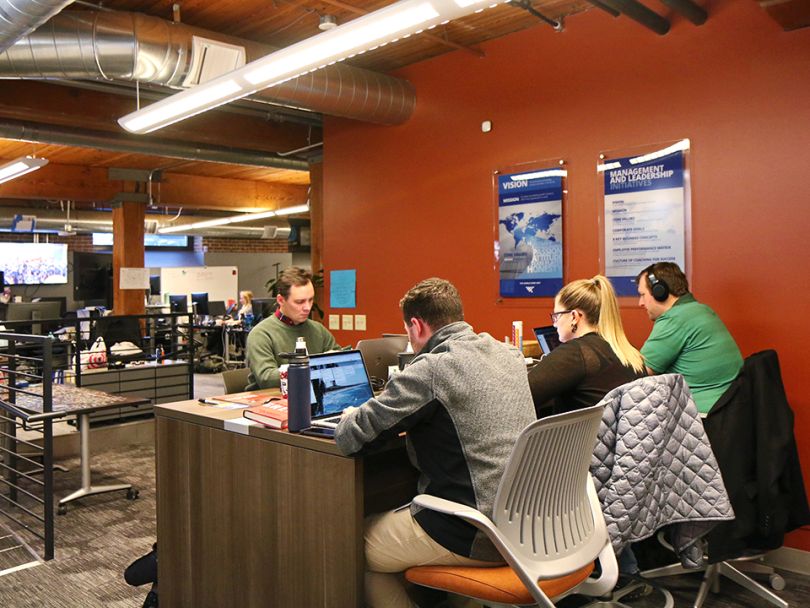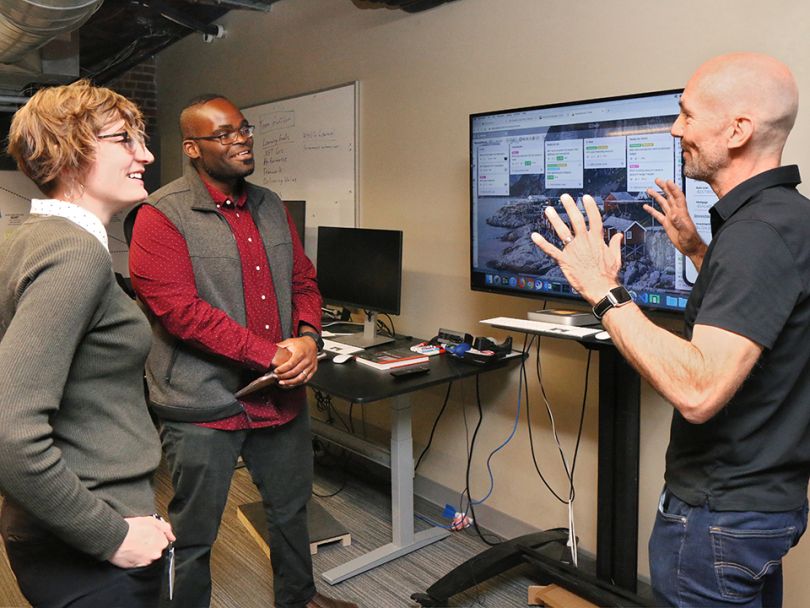 World Wide Welcome
With dozens of offices and thousands of employees, World Wide Technology doesn't necessarily scream "approachable" at first glance. But successful? Absolutely.
In 2018, the company reported revenues north of $11 billion, making it the 27th largest private company in America, according to Forbes. Its client portfolio spans a gambit of industries and verticals, including government agencies to fast food companies, and its offices are scattered about four continents. 
But buried amongst these stats is perhaps the most important: For the eighth consecutive year, Fortune named World Wide Technology a Fortune 100 Best Company to Work For in 2019. From what we've gathered, it's largely due to how approachable everyone is. 
Andrew Brydon: What's great about being part of World Wide Technology is the ability to move between any of our development centers and feel at home. We're all so passionate about technology and working in a way that helps us deliver, and that is shared across our organization. 
At the same time, Denver and Colorado have so much to offer from a culture and opportunity perspective, that we have a pretty steady flow of folks from our other offices who want to be part of what we're building here.
Alison Hawke: We strive to have a feedback culture, which means people can tell you, in a kind way, when you've messed something up. I love that. We encourage one another to admit when they don't know something because someone else will step in with a link, tutorial, or an hour of practical help to get you moving again. We like to run experiments and see if a change alters our metrics in a good way, a bad way, or not at all. 
 
We are approachable, expressive and quite nerdy."

Chike Orjih: We are curious critical thinkers. We ask a lot of questions, not just of our users but of ourselves. We try to make sure that we continue to push ourselves and learn the things we have yet to figure out. We are approachable, expressive and quite nerdy. My role in driving our culture is to make sure everyone has a chance to express themselves. We don't look for folks who are just like us — we appreciate folks who add to our culture and grow it in different ways.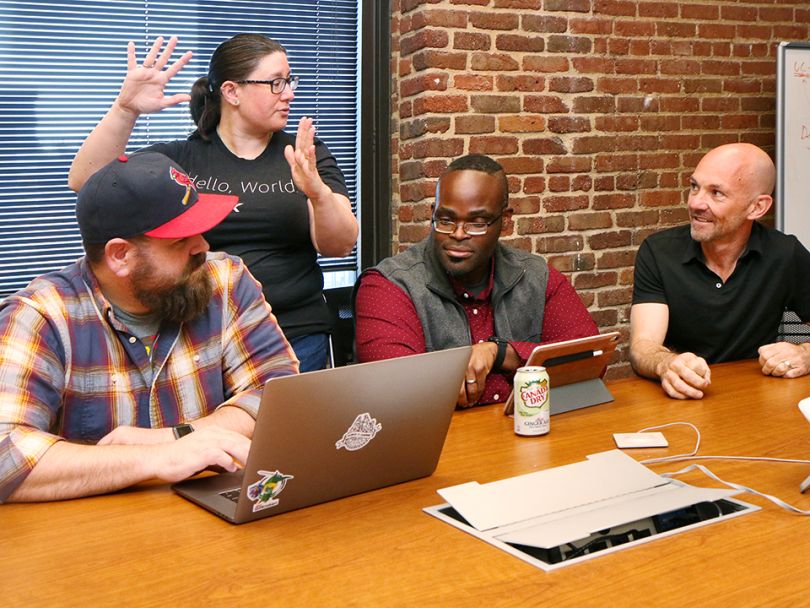 Come Together, Right Now
No silos here. World Wide Technology's emphasis on collaboration shows up across its locations. Even though a number of their projects are based out of one office, World Wide Technology teams also take on projects serving larger clients that require team inputs from multiple offices. 
While some companies struggle with connecting and managing teams from various locations, that's not the case for World Wide Technology. With the aid of regularly scheduled video conferencing via WebEx, ongoing chats over Slack and face-to-face visits, World Wide Technology teams have been able to overcome communication blocks often linked to cross-office collaboration. The proof is in the projects. 
Brydon: Over the last 18 months, we've been working as a whole team with a large national health care network to modernize their consumer-facing mobile applications. By having both our software engineers and quality advocates work to improve test coverage, we stabilized the product to the point where it was safe to make changes. With our developers and delivery engineers working on setting up continuous integration and deployment, we quickly turned around required fixes and got them in the hands of users. And by quickly delivering software to our end users, our UX consultants guided the team on the best way to use metrics and experimentation to prove the value of the changes we delivered.
 
Within a single project, there are tons of opportunities for cross-role paired work."

Hawke: We've got people working from Denver, St. Louis and Springfield, Missouri right now for a large quick-serve restaurant chain. These teams get together once a month for planning and share daily stand-up meetings. Within a single project, there are tons of opportunities for cross-role paired work: QA and user experience will work together on usability testing, QA works with developers to push an application outside its normal bounds, and QA works with business analysts to make sure we are heading in the right direction.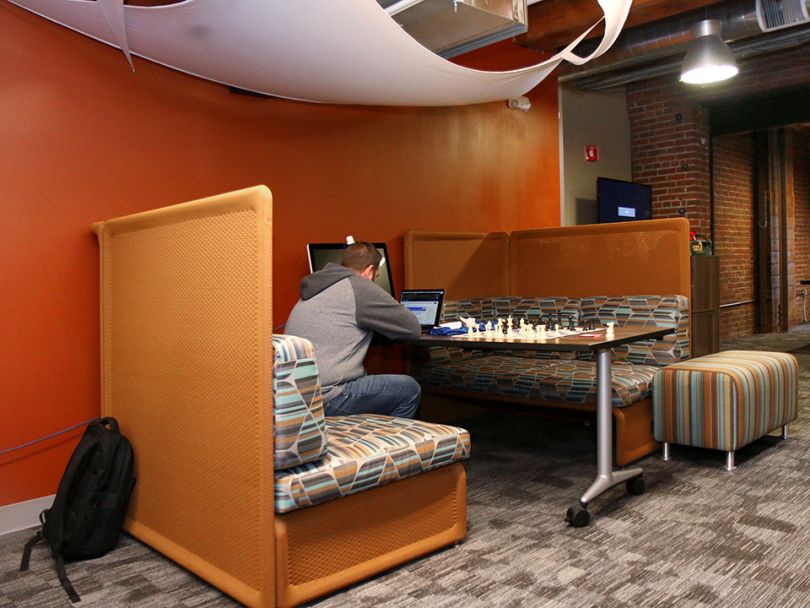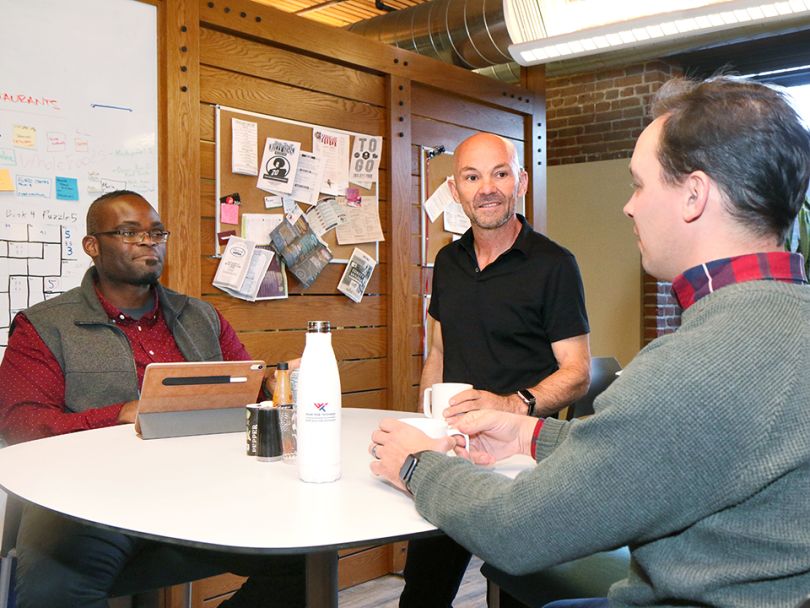 Technically Speaking
Unlike corporate structures that stubbornly use the same processes and technologies from over a decade ago, almost 30-year-old World Wide Technology keeps it fresh by leaving it up to the teams to decide what works best. This motivates employees to regularly evaluate how they can do things more efficiently, stay atop market trends and grow their own skills.
Orjih: The technologies we use span an array of products. For research, we use tools such as Validately and Maze for usability studies and A/B testing. We use Sketch, Figma and XD for a lot of our interaction design. We expect our front-end engineers to be well versed in HTML, CSS and JavaScript, including modern frameworks. The great thing about working here is that we believe in using the best tool for the job, and we make sure those tools are available to those that need them.
Brydon: Our delivery principles are based on Agile principles, with a healthy dose of Lean UX and DevOps. It works well because we don't stick to a dogmatic set of practices but trust our teams to find a set of practices that works for them and ultimately work for our clients. We also encourage people not to be boxed into any single technology as part of their career with us. We currently have projects using Kotlin, Swift, C#, Java, Golang, and multiple types of Javascript including Node, React, React Native and modern Angular. If we're not using it today, there's a good there's a project coming up that will use another interesting technology.
 
We don't mandate a set of tools to use — rather, we want to find the one that best fits the need we're facing."

Hawke:  We use C#, JavaScript in many flavors, Java, Kotlin, Swift, Ruby, Python, and other languages as the project needs them. As a quality advocate, you are always learning a new operating system, browser, phone, mobile OS, API tool, and testing tool. The process is lightweight. We find something that would be useful, investigate it and share what is useful with the rest of the practice. We don't mandate a set of tools to use — rather, we want to find the one that best fits the need we're facing.