Chances are, you've seen some of StickerGiant's work. With the Longmont-based team producing 100 million stickers a year, their work is stuck to everything from beer bottles and cannabis packaging to street-side light poles and sandwich wrappers.
As ubiquitous as their work already is, StickerGiant is averaging around 30 percent yearly growth, which has led to a lot of room for existing employees to grow, as well as a lot of space for outside talent to join the team. We stopped by to check out the factory and see just what it's really like to be a part of one of the most cohesive teams in Colorado.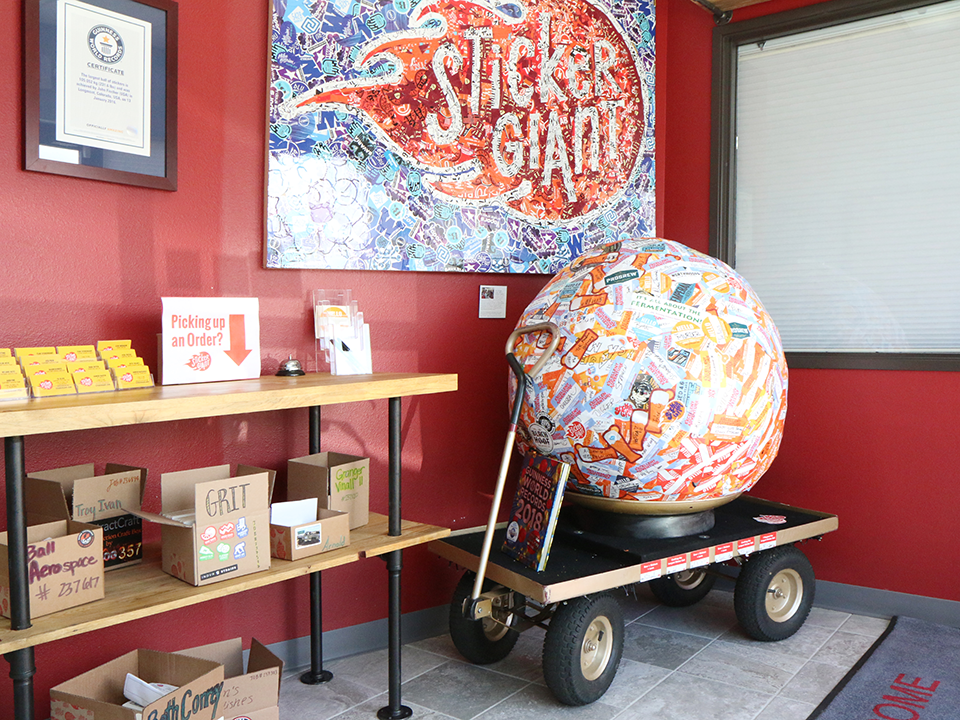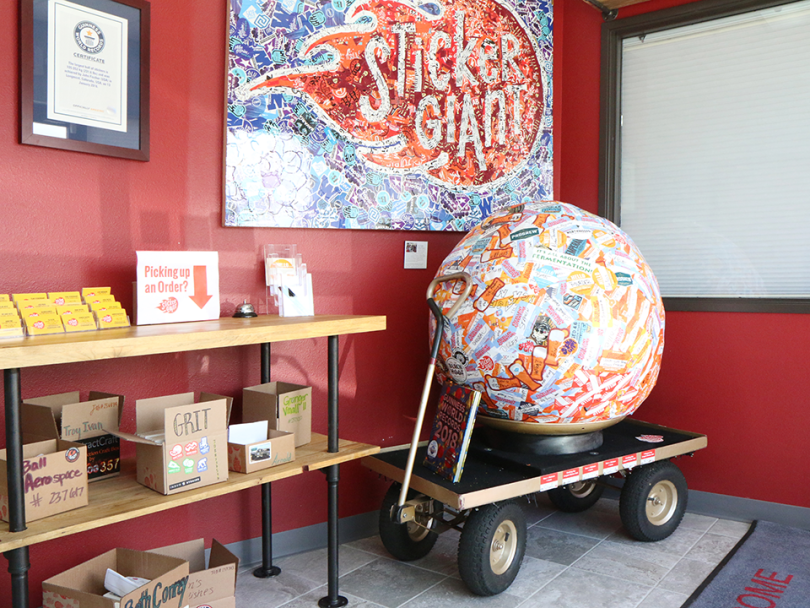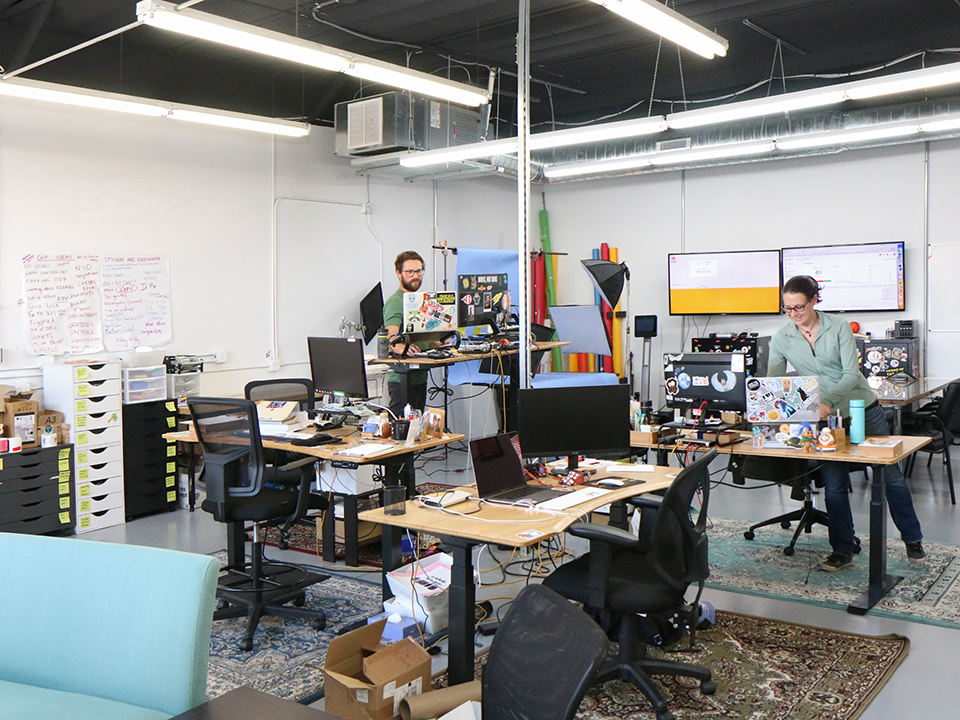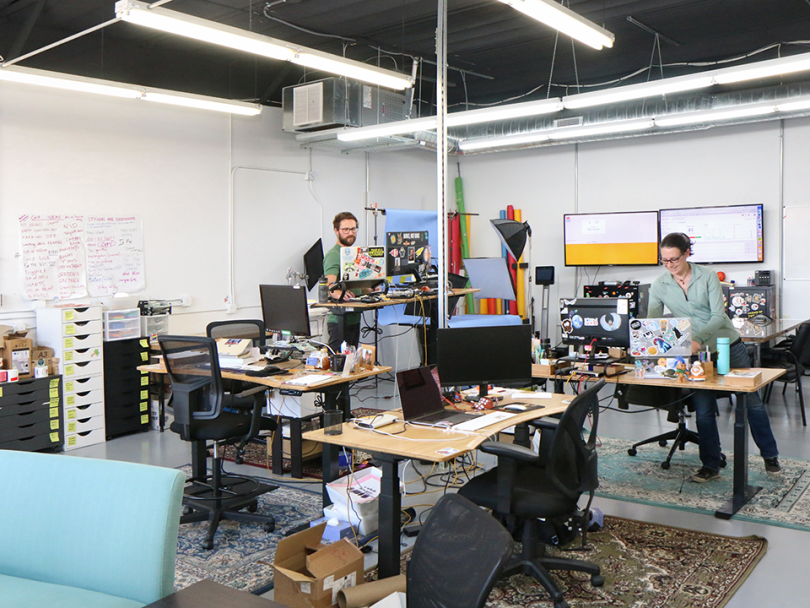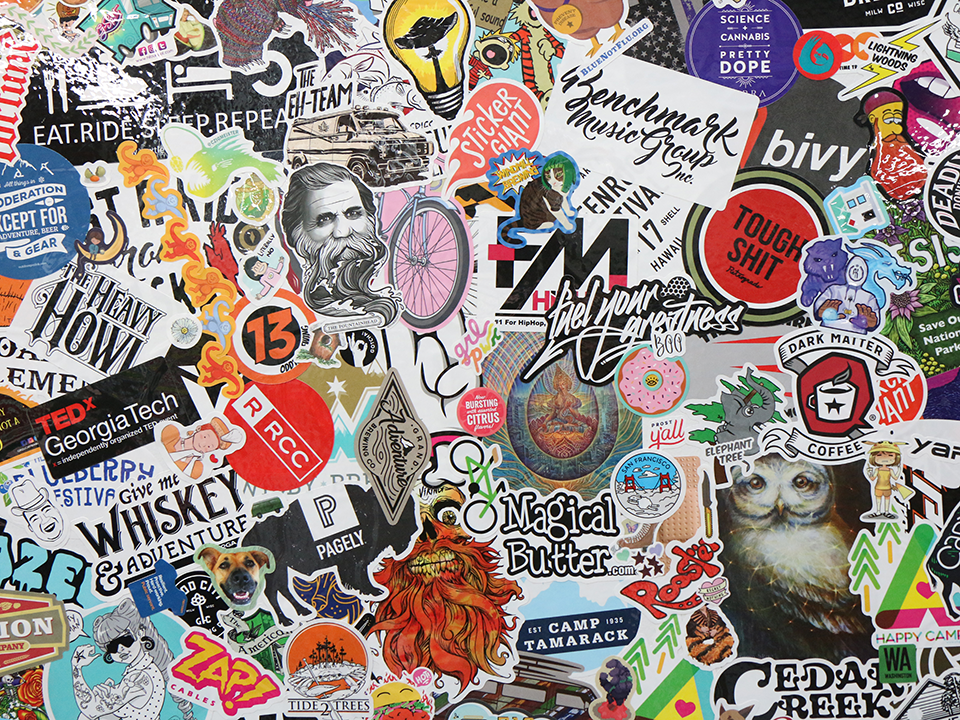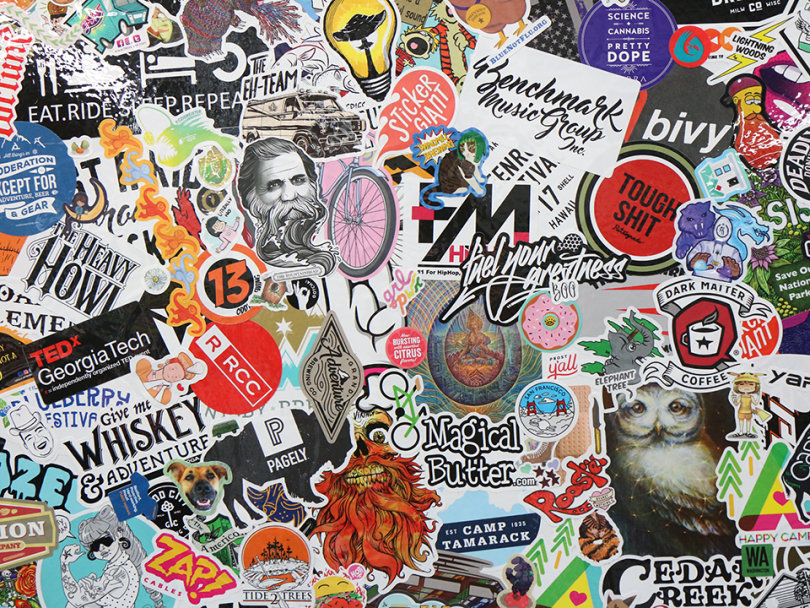 EMPLOYEES: 59
FOUNDED: 2000
WHAT THEY DO: StickerGiant is an e-commerce company that prints custom stickers and product labels. 
WHERE THEY DO IT: Longmont
PERKS: All the normal stuff, like good health insurance and generous 401(k) matching, but also a really cool profit-sharing scheme where a portion of company profits are shared equally among employees. 
STICKY PLAINS: In 2018, StickerGiant produced and shipped 100 million custom stickers from their Longmont headquarters. 
THE IDEAL CANDIDATE: "The ideal Giant is someone who is passionate about their work, wants to make a difference and see their impact on the company," says StickerGiant's Jesse Freitas.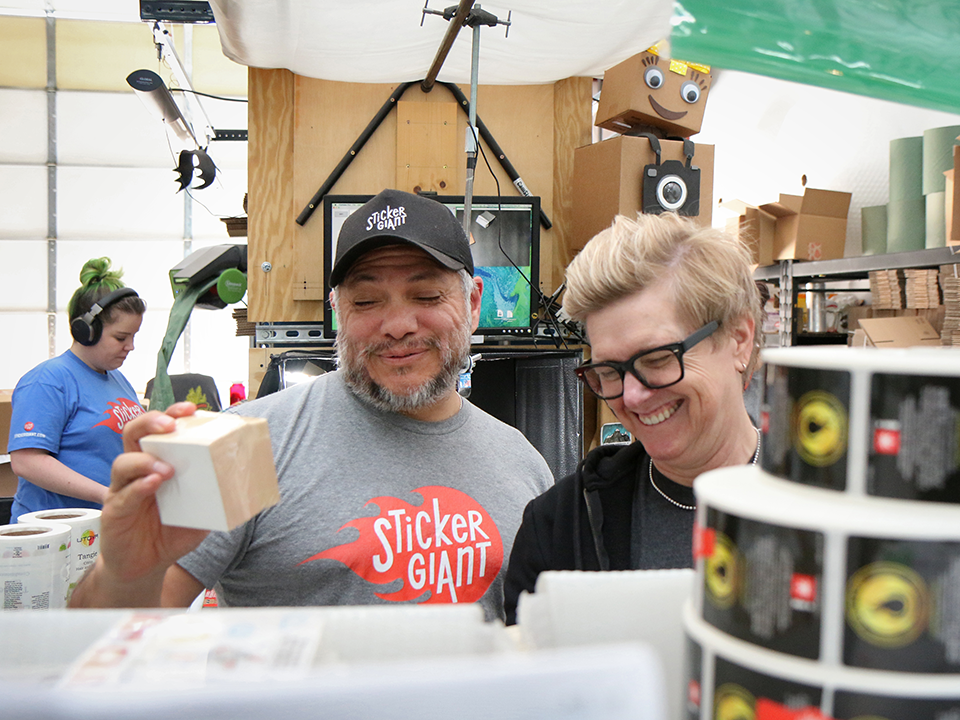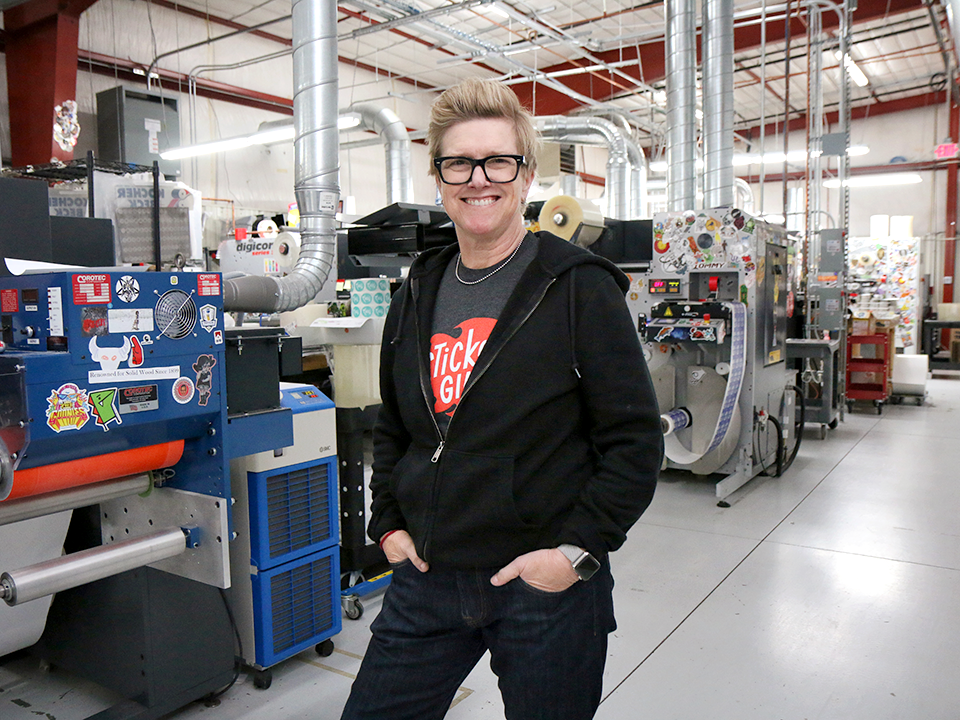 Beth Smith, Chief Operating Officer 
Beth oversees daily operations for pretty much everything that goes on at StickerGiant, including production, customer experience, innovation and technology, finance, marketing and human resources.
BEYOND WORK: When she's not keeping StickerGiant running smoothly, Beth is engaged in a number of home improvement projects. She upcycles furniture and hunts for gems at estate sales and auctions.
Most people probably don't realize that StickerGiant is an 18-year-old company — what's it like working here? 
StickerGiant is a blend of startup and mature-company, which is pretty wonderful. We feel like a startup at times because we are still figuring things out, and we feel like a mature-company because we are very profitable, which takes some of the stress out of running a mid-sized business. 
While our name is StickerGiant, our promotional sticker product accounts for about one-third of our manufacturing output; product labels make up the rest. We joke that we should be called LabelGiant, but that just doesn't have the same ring. Given our focus on quality and a quick turnaround, we keep our product offerings lean, which is one of the ways we are able to consistently stand behind our 24-hour turnaround and our product guarantee.
One thing is for sure — things are never boring or dull here."  
Everyone seems really proud of the 24-hour turnaround — is maintaining such a tight deadline stressful?
It can be stressful running a manufacturing company with 24-hour turnaround time. I can tell you that between noon and 2 p.m., there is vibrant energy pulsing at StickerGiant as everyone is working to meet our deadline. But, like most things, it's all about the team you are working with, the support you get and the sense of accomplishment and pride that comes from hard work and tight timelines. One thing is for sure — things are never boring or dull here. 
StickerGiant has an employee profit-sharing scheme — how does it work?
Every year we have an annual budget and, about six weeks before the upcoming quarter, we meet to re-evaluate our annual plan. We make adjustments to the plan, but once the quarterly plan is made, no more changes can occur. Once the month ends, our finance team closes the books and we compare what actually occurred to our plan. If what we achieve exceeds our planned profits, we put 30 percent of that amount into a pool that is shared by all Giants for that month. We had a banner year last year on many levels, and it was reflected in our bonuses.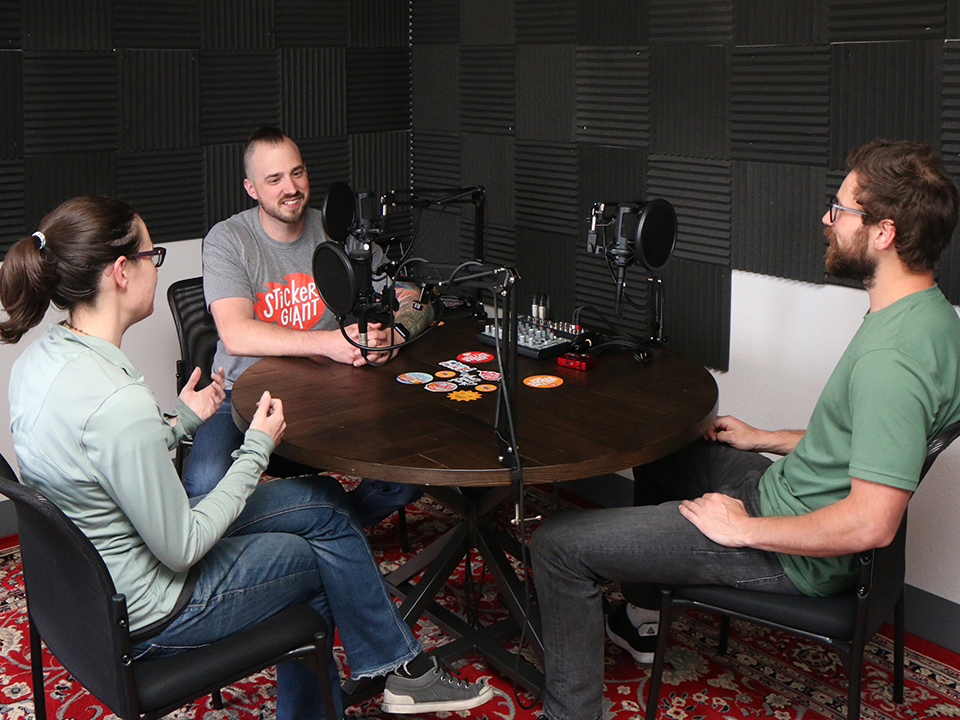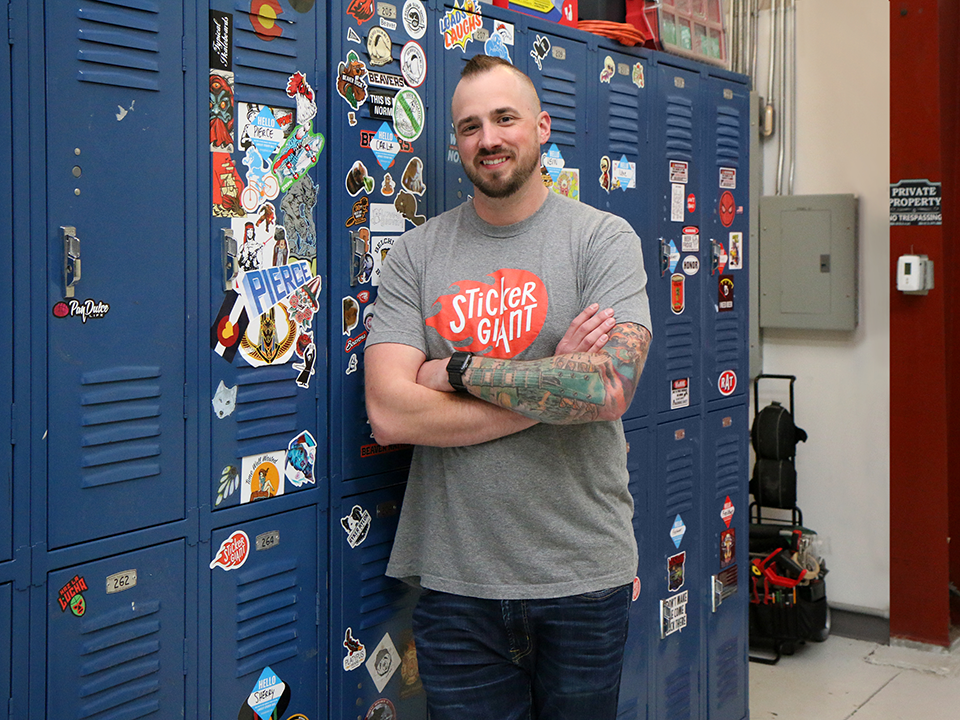 Jesse Freitas, Director of Marketing 
Jesse spends his days focusing on growth and content strategies, as well as facilitating the product owner role for the company's website and brand management. 
BEYOND WORK: In the office, Jesse pretty much always has headphones on — and when he's not at work, he's singing along with music in his car, playing his guitar or writing songs. 
From the outside, StickerGiant seems like a fun company. What's it like on the inside?
It's a fun place to work because no matter what happens day to day, we like to remind ourselves that we're just making stickers. My inner child is screaming for joy every time I get to walk the factory floor and pick out fun sticker designs I see coming through our shop. A culture built on stickers is inherently fun and wacky at times. 
My inner child is screaming for joy every time I get to walk the factory floor and pick out fun sticker designs I see coming through our shop." 
We've heard about Saul the World's Largest Sticker Ball. Can you tell me a bit about it?
Saul was born out of the realization that there was no National Sticker Day. So, we decided to make one and, when we were talking about creating such a day, I suggested that we try and break a Guinness World Record. On Jan. 13, 2016, we rung in the first-ever National Sticker Day and performed a public weigh-in of Saul. 
Breaking the Guinness World Record was great, but the fun part was the team that came out of building it. Everyone at StickerGiant rallied behind the project, and a lot of us even took turns taking Saul home to help build him up over the weekends. Saul's still here, of course, and these days he lives near our front entrance, greeting all of our visitors. It has also been a lot of fun to watch National Sticker Day take off and now we even have big brands like Disney talking about it on social media every year.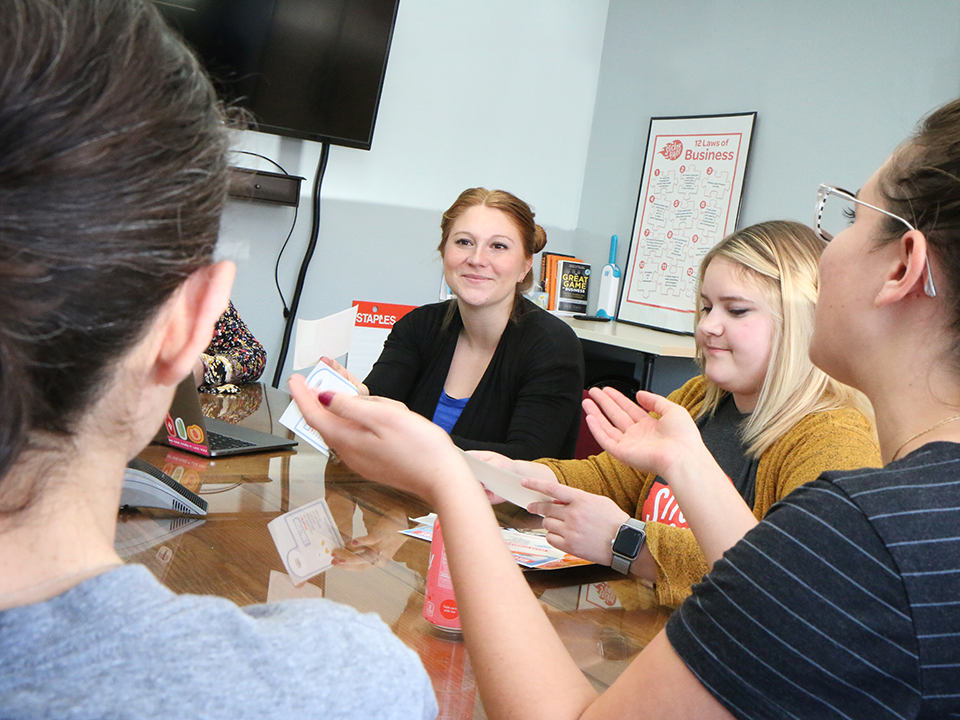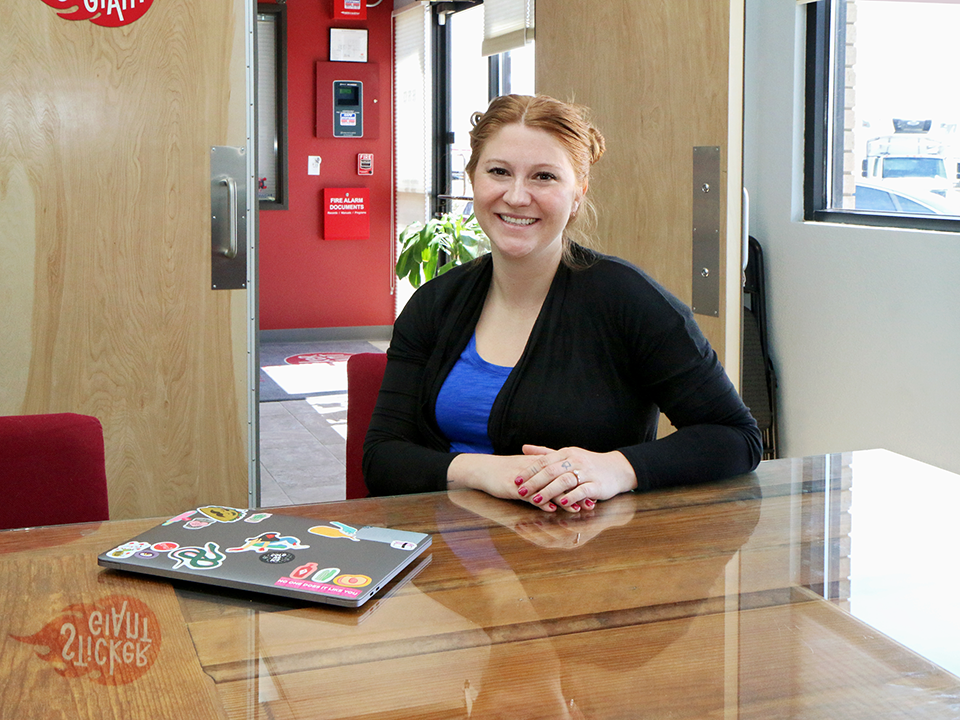 Maddie Powers, Technology Project Manager
Maddie is responsible for coordinating all of the projects that the IT team is involved in, as well as maintaining and developing the company's website. 
BEYOND WORK: Fitting with her fine arts degree in ceramics, Maddie has a ceramics studio in her garage. She also loves soccer, which she played in college. 
You've had the opportunity to make some big career changes while you were at StickerGiant, from a customer service representative to tech project manager. How did you make the shift? 
I am incredibly proud of the moves I've been able to make, and I cannot say enough good things about the leadership team at StickerGiant. In my time here, they have encouraged me to learn about our business and have given me opportunities for outside training. I've felt mentored by my leaders and supported every step of the way, and I believe that is why I've been able to make these transitions.
I came to StickerGiant as a customer service representative and quickly realized that I wanted to help improve our processes. In pursuing that goal, I started to build relationships with our IT team and, over time, the teamwork and process that we established led me to become a project manager. 
I am incredibly proud of the moves I've been able to make and I cannot say enough good things about the leadership team." 
What is your team currently working on? 
We have a lot going on in the IT department. One of the best things about IT is that we have the opportunity to support the entire company's goals. We get to see a slice of each departments' goals and have the opportunity to support them. 
We are developing a new process for an IT Help Desk. I am pretty excited about this project because it is how the IT team and the rest of the company will interact with one another. It is so important that every employee who has an idea, a broken machine or an upgrade request is able to contact IT in a way that works best for them. Maybe it is an iPad in the production room, a Slack request from customer service or an email from the COO. However they communicate, we want to make it easy for the team. Once we have the request, we want to be transparent about when and what is getting done to continue to build a culture of trust and support.
Your offices are blocks from some fantastic breweries. Do those play a part in some culture-building activities? What's the culture like? 
I met a coworker at Left Hand after work just this week. The culture at StickerGiant is a lot like the stickers we make: fun and unique, with interests all across the board. While some of us look forward to meeting up for martinis for Friday happy hour, others spend their lunch breaks playing frisbee golf – and some do both! Every year we have an annual chili cook-off, and we go all out for it. We have a big Halloween costume contest, complete with handcrafted trophies for winners. Working at StickerGiant is inherently fun because we make stickers — and stickers are fun. It is easy to enjoy your job when someone keeps leaving dog stickers on your desk.