This Colorado Company Is Shaking Up the Commercial Insurance Industry
Built In Colorado spoke with three team members at Pie Insurance to learn more about how their innovative tech is changing an antiquated industry.
John Swigart knows that when most people think of insurance, they think of personal experiences — like auto, renters or homeowners insurance. Maybe they recall receiving a quick quote from an app, or having an easy phone call with an insurance agent.
But rarely, Swigart said, do people have an understanding of commercial insurance, which leads to a common assumption: That the industry must be as simple to navigate as personal insurance is.
According to Swigart, it's not.
"The commercial insurance industry is decades behind what people's general perception and experience with insurance is today," Swigart said. "It's almost like commercial insurance still lives in the pre-internet world of the '60s, '70s and '80s."
In 2021, Swigart said people have a hard time believing how antiquated the industry is.
As co-founder and CEO of Pie Insurance, Swigart wants to change that and bring the commercial insurance industry up to speed. The Denver company specializes in workers' comp insurance for small businesses, with an ultimate goal to re-envision the entire insurance experience for small businesses from quote to claim. Today, Pie's use of technology enables quotes in three minutes and savings of up to 30 percent for small businesses.
Built In Colorado sat down with Swigart, Maria Mejia-Bernal, a partner experience lead, and Monica Williams-Jiron, a senior product manager, to learn more about how Pie came to be, the exciting projects they're working on and how Pie is using tech to shake up a centuries-old industry.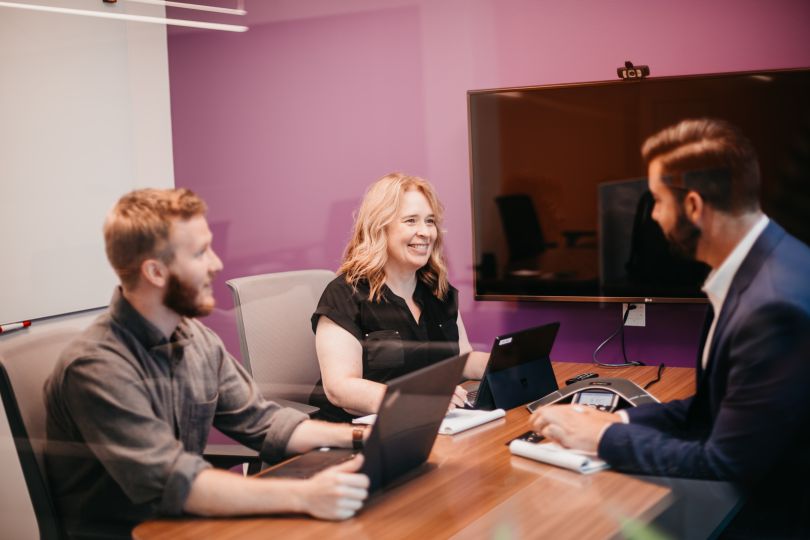 How did Pie originate, and why?
Swigart: Pie exists to empower small businesses to thrive. Four-and-a-half years ago, Pie's co-founder Dax Craig and I saw how small businesses are underserved and overcharged. They have trouble accessing insurance. It's time consuming, opaque and they get denied coverage a lot. Oftentimes, when they do get offered coverage, it's too expensive. 
The commercial insurance industry is designed to serve mid-to-large-sized businesses. We noticed a lack of desire, willingness and ability by traditional insurance companies to adopt data and technology-driven approaches to pricing, underwriting and user experience. We saw a massive opportunity to create a modern experience and more affordable solution for small businesses.

How is tech shaking up the commercial insurance industry?
Williams-Jiron: That's one of my favorite things about Pie. I worked for a big insurance company before Pie, and one of the most frustrating things was the whole idea of, "That's how we always do it," or, "That's how the industry does it." As a product manager, I often wanted to introduce ways that we could automate things, and it wasn't accepted because it wasn't done before.
So the whole idea of using technology to drive underwriting — rather than letting underwriting drive the technology — is one of my favorite things about what we're doing at Pie. It's exciting to know that we can take something that's been done one way for more than a hundred years, and make it new again.
Mejia-Bernal: Working as an agent prior to Pie allowed me the opportunity to work with many carriers and national insurance providers, and it showed me the antiquated nature of the overall industry. It revealed the lack of technological advancements, and a lack of growth and evolution. 
I think there's this thought of "It's not broken, why fix it?" But Pie really wants to shake it up and break that norm. Pie is playing a crucial role in driving change and these improvements are going to propel this industry into the future.

Pie Insurance's partner portal is one of the big differentiators from its competitors and the industry as a whole. Tell me more about it as we approach the one-year anniversary of its release.
Mejia-Bernal: The partner portal is a platform that allows our partner agents to do a multitude of things, such as check eligibility, receive quotes within minutes and track and manage all of the submissions they send our way. Working within the retail space prior to Pie, I know firsthand how essential a platform like the partner portal can be in managing a pipeline of many clients. Pie's partner portal premiered in August 2020, and I think it's a game-changer within the industry. There's an ease of use, and it provides the ability to quote in less than five minutes.
So the whole idea of using technology to drive underwriting — rather than letting underwriting drive the technology — is one of my favorite things about what we're doing at Pie.''
Williams-Jiron: We're allowing our agent partners to self-serve — they don't have to wait for a response. How can they get it done as quickly as possible, and what do they need the most? Those are the two questions that we ask as we create the vision for what's next. One of the key aspects of making the partner portal successful is the broad collaboration on both the business side and the engineering team.
What does collaboration look like at Pie? 
Mejia-Bernal: Everyone here encourages feedback, ideas and creativity, and that allows us to view challenges with different perspectives. The partner portal is a perfect example of this. It's a piece of technology that was built by our own engineering team, but with the support and knowledge from other teams like our underwriters, business development team, marketing team and many others to create something that meets the needs and wants of our partners. Not only do we collaborate internally, we also work with users and partners externally. We're constantly seeking feedback from the people that are going to be using it. They're the ones who tell us what they love and what they don't love. We take that feedback into our conversations, brainstorming and planning sessions internally to provide the best results.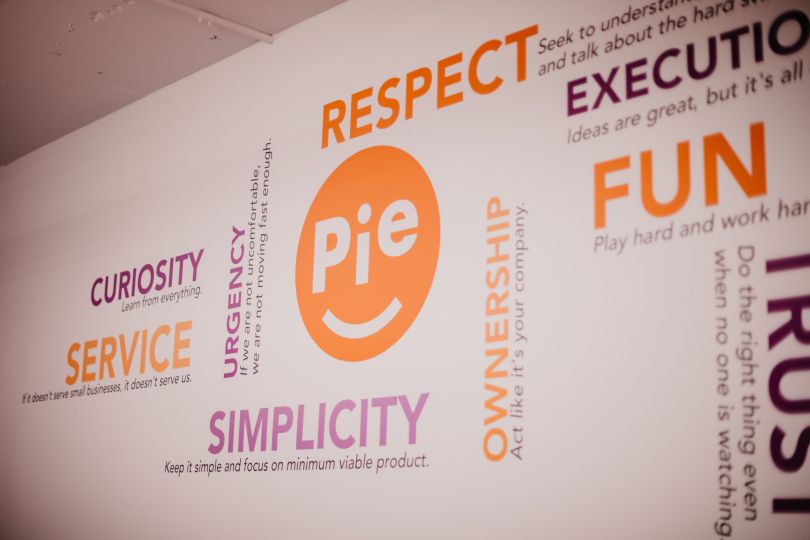 How has Pie evolved in your time with the company? 
Mejia-Bernal: I've been here for almost two years, and it's crazy to think about how far Pie has come. When I started, we were in the beginning stages of building the partner side of our business. In the past 12 months, Pie has increased our number of agency partners by more than 200 percent!
Williams-Jiron: I started on the day we wrote the first customer. I was employee No. 16. So much positive change has occurred since then. We've built a database where we can do our own reporting. We've gone from using someone else's policy management system to building our own, and now we're building our own billing system. Back when I started, we didn't even have an office — we all worked from home and we rented office space when we needed to get together. It's just been an explosion of growth.
Swigart: It's astounding to me to think of how far we've come and where we're going. We had 10 team members when we launched. As of today, we have nearly 300 team members. During the pandemic, we hit the "pause" button because we insure small businesses, and those people were taking a tremendous economic hit. But now, more than half of the employees at Pie today have been hired since the start of the pandemic in a remote environment. Our Colorado offices are now open, and we have a group of team members that are going to be permanently remote. The only thing that is the same about Pie is the fact that it's always changing, growing and evolving.
ON THE HORIZON
There's no shortage of upcoming projects and developments that excite the team at Pie. For Mejia-Bernal, her team is working on high-priority projects that will tighten up internal processes across teams and result in faster turnaround times, ultimately making a positive impact on the partner and small business owner experience. For Williams-Jiron, it's her work building new management systems from the ground up. "We are creating a way for Pie to have more control over the entire insurance lifecycle. We are building products that will give our product and engineering teams the power to easily change our roadmap to meet our immediate needs."
What is the most exciting part about working in the commercial insurance tech space?
Williams-Jiron: For me, it's the fact that we're going to make it better. I've worked in workers' comp insurance for more than 30 years, and seeing the changes we're making, and the places we're going, is really exciting.
We get to create this new tech-driven approach to the industry from scratch.''
Mejia-Bernal: I would definitely have to agree. Also, building and leveraging technology to help small businesses save money is a very rewarding part of being in the insurance tech space. Technology is so advanced right now, and we're helping the industry get up to speed.
Swigart: We get to create this new tech-driven approach to the industry from scratch. That's a tremendously unique experience for somebody who is excited about change. We're building the lights and the electrical wiring that keep the motor running. We're putting all the pieces of the car together. Many people who have worked at young companies or startups crave a little bit of chaos. If you're excited about that, and you like that energizing vibe, this is the place to be.