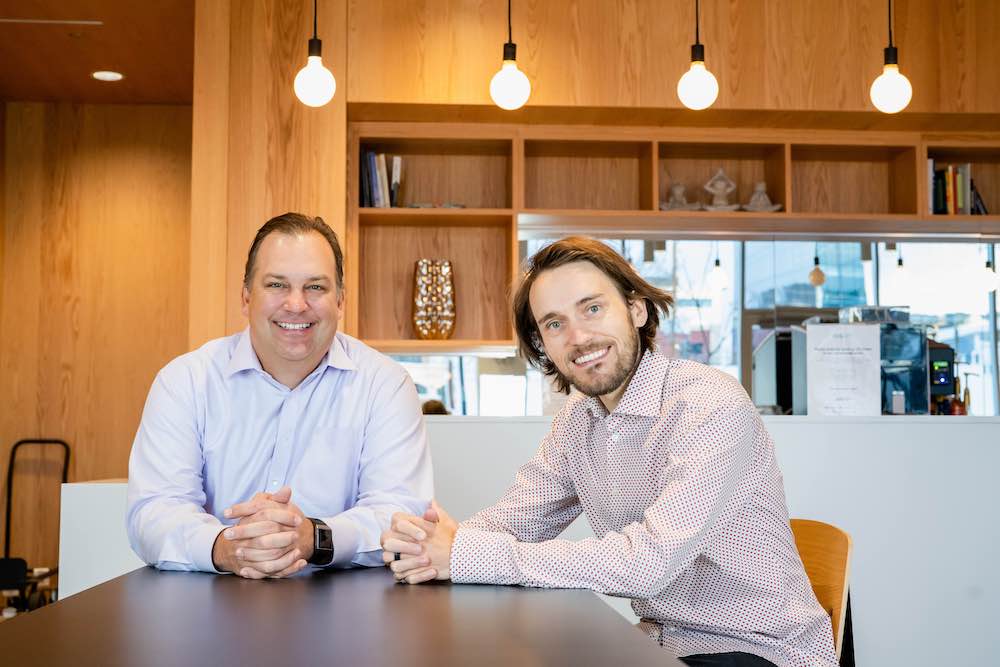 On Tuesday, Denver-based insurance tech startup Highwing announced the closing of its $4 million seed funding round.
Highwing is still a relatively young startup, having spun out of IMA Financial Group in 2017 and officially launched in 2018. IMA tapped tech entrepreneur Erik Mitisek to help figure out how software could help optimize the trillion-dollar commercial insurance industry. Mitisek then recruited fellow Coloradan techie Jay Zeschin, who serves as the company's VP of technology. Together, they mapped out how to address the big challenges facing the industry.
"During that time, we recognized three core things," Highwing CEO Mitisek told Built In. "One, data was really disconnected in the insurance industry. Two, the systems didn't communicate with each other. And three, there was a big opportunity to build a connective platform to move insurance transactions out of email — where nearly all insurance transactions take place."
From there, Highwing was born.
Highwing provides commercial insurance companies with an open data platform that can help facilitate business interactions between insurance brokers and carriers by giving them a centralized place to store and reference relevant data.
"Commercial insurance procurement is mired in repetitive, labor intensive, human centric processes that soak up time in the process. Highwing finally frees insurance associates to spend more time with clients and less time completing the labor-intensive work to submit insurance applications," Mitisek told Built In. "The API-fication of insurance is upon us.  Highwing is positioned to lead the connectivity of the commercial insurance industry through its open data platform for insurance. Open data will connect systems, data, and, most of all, relationships in a new and better way."
This seed funding is especially important to Highwing because of the investors that participated in the round. Insurance distribution firm BRP Group led the round along with BrokerTech Ventures, a broker-led convening platform and accelerator program. So beyond the influx of cash, this deal provides Highwing with a strategic pipeline of potential partners and customers that will help the company better capture their footing in the crowded insurtech space. Several insurance firms that are members of BrokerTech Ventures also participated in the seed round, including Holmes Murphy, The ABD Team, Conner Strong & Buckelew and Heffernan Insurance Brokers.
But beyond making an impact in the insurtech space, Mitisek and Zeschin hope that their young company will be able to play a bigger role in the Colorado tech scene as a whole. Mitisek is also the co-founder of the annual entrepreneurial event Denver Startup Week, where the two worked together for years. Besides that, both Mitisek and Zeschin have experience founding and leading tech companies in Colorado. This gives both of them an affinity and loyalty toward the Colorado startup scene and community.
They hope that they can add to the startup scene by building a successful company with Highwing, and growing it to a larger scale. Right now, Highwing has 12 employees, but it hopes to double its headcount to over 25 over the next 12 to 18 months. A significant portion of these new hires will be for the company's engineering team, which will help Highwing expand its product in the future.
Although Highwing is operating remotely — like most other companies during 2020 —Mitisek and Zeschin want to prioritize the close-knit culture that comes with running a small startup as they grow the team.
"We wanted to make sure that we were able to build those deeper connections with the team, even though we're not in the same place. That takes a lot of time and energy to do, but I think we've been really successful," Zeschin told Built In.
"The way that we think about it is that amazing humans build amazing companies," Mitisek added. "All our choices are anchored in our values and they're executed through our day to day activities and principles. So we want to be a magnet for those types of amazing humans."