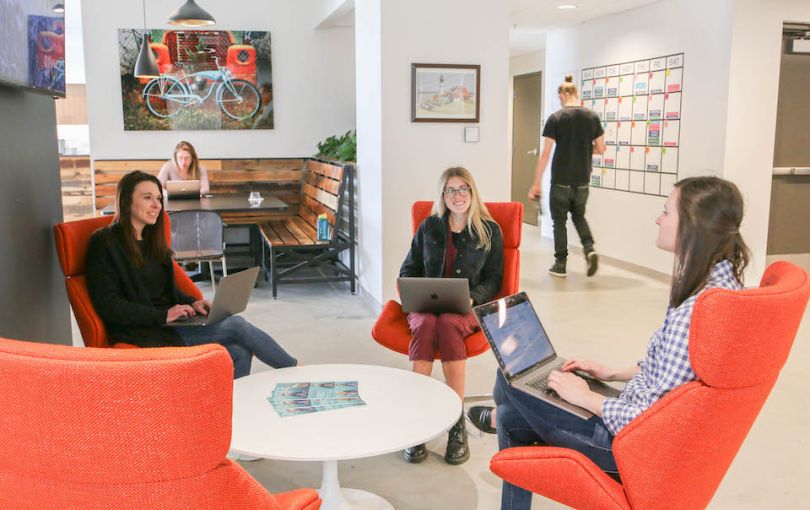 "Engineering managers are still engineers at heart and love to solve problems, but they must be able to do this through others," John Schwab, director of quality engineering at Mersive, said.
Schwab, who has over a decade of experience leading tech teams, said engineering managers must remove themselves from the role of individual contributor. Instead, they must become an overseer, responsible for facilitating their team's success. 
Leaders across Colorado agree that listening plays a significant role in management because it cultivates an open and empathetic work environment. Listening also allows managers to better understand their developers' challenges and aspirations. When managers are able to align developers' goals with the goals of the business, they can better motivate their direct reports and supply them with the tools they need to be successful.
And when engineers create wins for the business, managers should take note.
"Leaders should recognize opportunities for teachable moments but also celebrate victories," SpotX Senior Director of Project Management Kelly Morales said. "Management means honing in on the success of your people and the team as a whole, because recognizing their hard work will drive the ultimate success of the company."
Cucco spent around a decade as a developer before becoming a manager. His love of people drove him toward his current management position. For him, a team's work environment makes a significant difference in how well they operate, and effective managers should ensure their developers feel supported, even when they make mistakes. 
Career path: I studied mathematics and computer science at the University of Houston. After graduating, I moved to Dallas and began my career as a professional software engineer. I worked in several disciplines, including web development. In 2012, I co-founded a startup that was acquired by Church Community Builder in 2015. As an extrovert who loves to see people grow, I was interested in management for a while but I was hesitant to move away from my familiar role as an engineer. However, a few months ago, the opportunity arose for me to try managing developers on a part-time basis.
A typical day: My primary responsibilities are technical leadership and people development. As a technical leader, I provide architectural oversight and direction and work closely with our product team to plan out future projects. I also serve as a manager for a handful of our development team members. My primary touchpoint with them is regular one-on-one meetings. We work together to identify where they want to grow then figure out how to achieve that growth.
Best skills for management: Managers play a large role in creating a safe and accepting environment that promotes developer growth.
Safety means that I can have an off day or make a mistake and still be supported. Being understood and accepted means I can focus on my job and not have to focus on managing my image. To provide these things, a manager must genuinely care about the people they serve. So, I would say the foundation of a good manager is empathy.
Being transparent is an important part of being a manager. Tapping into his decade of management experience, Krzeminski said engineers are more invested in their work when they know why they're doing it. 
Career path: Since graduating from Missouri University of Science and Technology with a degree in computer science, I have been passionate about developing creative software solutions. My first job out of college was writing satellite communications. Then after graduating from the University of Denver with an MBA, I worked for a few larger companies and startups. I also started several of my own businesses.
Coming from the startup world, I learned how to create scrappy, scalable solutions that are adaptable to pivoting product direction. Being an engineering manager allows me to continue to be close to the code while also working with product stakeholders to ensure that the company's vision is being met in a sustainable and scalable way.
A typical day: I make sure that the engineers in my squad have clear direction on their tasks and there are no impediments. I also write code or review pull requests daily. To support releases heading to production and to ensure there is work in the pipeline, I collaborate closely with my product manager and our design and research teams.
I cultivate the growth of individuals on my team by continually fostering an environment where people feel comfortable asking and answering questions. I meet regularly with the other engineering managers to share experiences and improve efficiencies across squads. These meetings are great opportunities to be an advocate for my team to a broader audience that can help the engineers with their career growth.
Best skills for management: One trait all leaders should have, regardless of title, is to lead by listening. Engineers should ask, "Why?" If they don't understand "why" they are working on a task, then they won't understand the importance of that task. An engineering manager with a strong technical acumen will understand the "why" and help communicate that to the engineers. 
A good engineering manager needs to let exciting projects pass onto the other engineers in the squad. And new managers need to understand that their success is measured at the team level and not with their individual contributions. Lastly, managers should learn from the different perspectives of each engineer to drive growth for the team and generate new, creative solutions for the business. 
What good is a win if you can't celebrate it? This idea is one Morales keeps top of mind in her role as a leader. She works to ensure that when her team works hard and is successful, they're recognized and congratulated.
Career path: My professional career started with me taking tech support phone calls from frustrated customers. Although tough at first, this job gave me the chance to learn how the functional pieces of products worked together, and how a customer could be impacted if a product was not working as expected. That experience fueled my curiosity for creating technical products. I worked closely with engineering teams and I found that my real passion was in how all of these moving pieces fit together in order to successfully get a product out the door. So I made the jump into a product management role. 
A typical day: A typical day usually includes helping my team members with solving problems or brainstorming through their ideas. I motivate and support my project managers as they contribute to the progress of projects and act as point people to resolve issues.
I also look for ways to improve the processes the PM team uses throughout the project lifecycle, as well as operational improvements within the engineering department. This practice can include improving how we streamline estimating stories across 20 engineering teams or establishing project and engineering communication tactics to keep the business informed.
Best skills for management: Being a good engineering manager is about finding the balance between motivating and challenging your team members. Leaders should recognize opportunities for teachable moments but also celebrate victories. Management means honing in on the success of your people and the team as a whole, because recognizing their hard work will drive the ultimate success of the company.
"A manager cannot ignore the fact that people — with feelings and emotions — are not computers," Gintchin said.
Leaders can't be successful if they treat their employees like expendable gadgets. Building connections with devs is a key way managers can not only build trust within their teams, but also further motivate employees to deliver real value for the business.
Career path: I started my career as a software engineer. For the first 10 years, I did various forms of development: web applications, front end, monolithic systems and others. I also got involved heavily in architecture and systems design and spent a significant amount of time in release management. That work sparked my interest in understanding what makes a software team effective. 
From there, I moved into a hybrid role spanning team manager, enterprise architect and scrum master, while still writing code. That's how my management career began. Slowly, I stopped writing code and today I focus full time on leading and managing others.
A typical day: I focus on a number of areas, including managing people, ensuring timely software delivery, providing overall technical vision and leadership, and nurturing a healthy and collaborative engineering culture. A typical day might include attending several team stand-ups, a few one-on-ones with direct reports, a lunchtime BBQ with the team, a meeting with a potential technology partner and some quiet time to think and plan.
Best skills for management: A good engineering manager understands both how the business and an engineering organization operate. They work toward helping the two work in harmony and in service of each other. A group of talented developers plus hard work does not necessarily equal value and their efforts need to be clearly channeled in the right direction. There is a difference between being busy and delivering real value, and a good engineering manager understands this and works toward achieving it.
An effective engineering manager genuinely cares about and makes an effort to connect with engineers, product owners and other stakeholders in a real way. A manager cannot ignore the fact that people — with feelings and emotions — are not computers.
For Schwab, moving the engineering team forward means acting as a guiding hand versus the legs doing the work. And part of that guidance involves making sure the personal goals of each developer is understood and that they're on a path to individual growth.
Career path: I started my career as an engineer with a startup designing and building computer numerical control equipment and software. I contributed to engineering tasks, managed the technical support department, supervised software engineers and eventually managed manufacturing operations. 
After moving on from this company after 11 years, I worked for a machine vision company in the Boston area. There, I straddled the fence between engineering machine vision components, building automation, program management and software development management. I eventually moved into an engineering manager role.
A typical day: I manage the quality engineering (QE) team as well as a "smokejumper" team that provides rapid response and fixes for escalations from customer issues. I start the day leading bug triage on issues. Then I go to the smokejumper standup where we review outstanding customer issues, discuss possible fixes and assign development tasks to get fast resolutions for our customers. 
I typically spend a few hours in one-on-one meetings with my team, working through tactical issues like release planning and collaborating on strategic QE tasks. If I'm lucky, occasionally I can get my hands dirty digging into a technical problem.
Best skills for management: A good engineering manager has to care about the wellbeing of their team members above all else. Managers need to spend time getting to know their employees, helping them advance to the next level professionally and aligning their goals and aspirations with the goals of the company. Since all engineers are different, a good manager needs to be able to understand the needs and strengths of their team members and meet them where they are to help them succeed. 
Engineering managers are still engineers at heart and love to solve problems, but they must be able to do this through others. If I do my job right, my team and company will accomplish their goals.