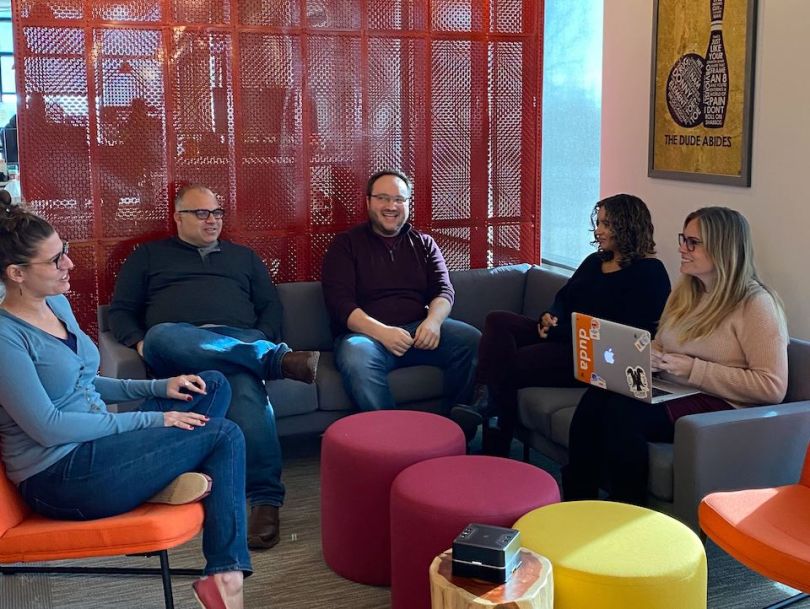 "We have a unique environment in that engagement and culture are not forced concepts or something that can be taught," said Duda's Chief Customer Officer Oded Ouaknine. "You just feel it when you're here."
Visitors walking into Duda's new office in historic downtown Louisville will likely be greeted with a cacophony of sights and sounds, all of which paint a picture of the company's unique culture that Ouaknine described.
They might hear the sounds of curated tunes from one of Duda's in-house DJs resonating throughout the space. Maybe there's laughter coming from a group of employees dining at a community table. A team member's dog might be seen posing for a photo op with staff, while the CEO chats with a team member on their first day. Employees bustle in and out, grabbing lunch or an after-hours drink at one of the abundant bars or restaurants nearby following one of Duda's monthly, expert-led workshops they share with customers. 
Duda's culture is exemplified globally as well. The CFO brings her pooch to the company's Palo Alto office everyday while the CTO writes code from a Tel Aviv location. 
Cultivated from the top down, Duda's authentic culture helps fuel the company mission of delivering high-converting websites at scale, said Ouaknine. To date, the 10-year-old company has helped more than 7,000 agencies create over 14 million websites, 2 million of which were created in 2019.
Duda won't be slowing down in the new decade, either; it raised a $25 million funding round in September 2019, which will be used to scale its fast-growing Colorado team across multiple departments. Ouaknine shared more on what keeps Duda's customers coming back for more, below.
What are some key elements of your platform that make it unique? 
We have built a product that is specifically designed for agencies, SaaS platforms, hosting companies and digital publishers; they are our focus. We consider how our clients are running their businesses, engaging their clients and managing their staff, all while building converting websites for their customers. Our goal is to help our partners become more profitable, recognizable and better serve their customers. 
Everyone has a part in influencing different initiatives."
What's a cutting-edge technology tool that has led to a breakthrough in your product? 
We have strong relationships with Google when it comes to new web technologies, including getting early access to their new website performance improvement tool, Lighthouse. Having this access has allowed us to move faster in the market with page speed and performance metrics that actually matter.
Google's Lighthouse
Lighthouse is an open-source, automated tool that audits the performance of web pages based on their load times, accessibility and search engine optimization. Duda worked to optimize its platform and improve their Lighthouse scores by implementing lazy loading for widgets and investigating new image formats.
What does a culture grounded in transparency look like?
Our executive team holds a company-wide, quarterly business review where they share information about finances, performance metrics and activities around the company. Our product team shares the full Duda road map twice a year. 
Everyone has a part in influencing different initiatives as well. For example, our account management team recently partnered with product to facilitate more frequent and detailed product updates. This partnership resulted in a great new system that benefits the whole company and our customers.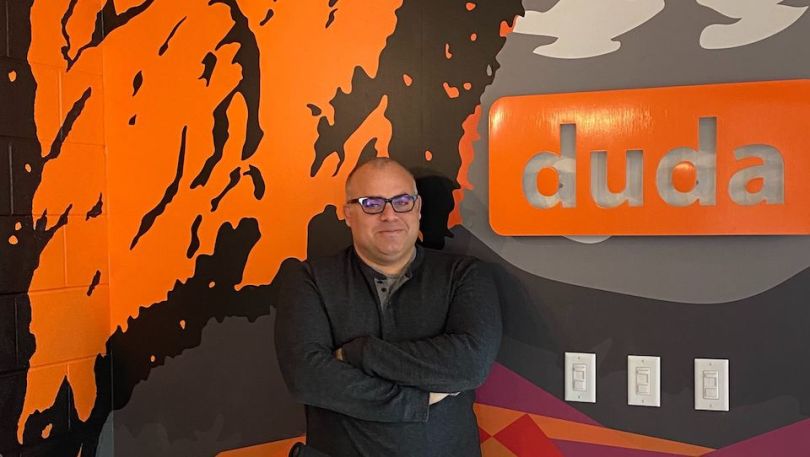 How are employees empowered to help shape the office culture? 
It's one thing to push for employee engagement, it's another for employees to feel at home in a place where they can provide opinions or ask for changes without thinking twice. We have a unique environment in that engagement and culture are not forced concepts or something that can be taught. You just feel it when you're here.
What is one trait you look for in new hires? 
We are looking for passionate people who bring interesting ideas to the table and want to do more than their job description. Everyone here is an ambassador of Duda. We are looking for people who are committed and skilled at fitting in with where Duda is today. But your best way to impact the company going forward may evolve. New hires are encouraged to question the status of any process and often drive important change.