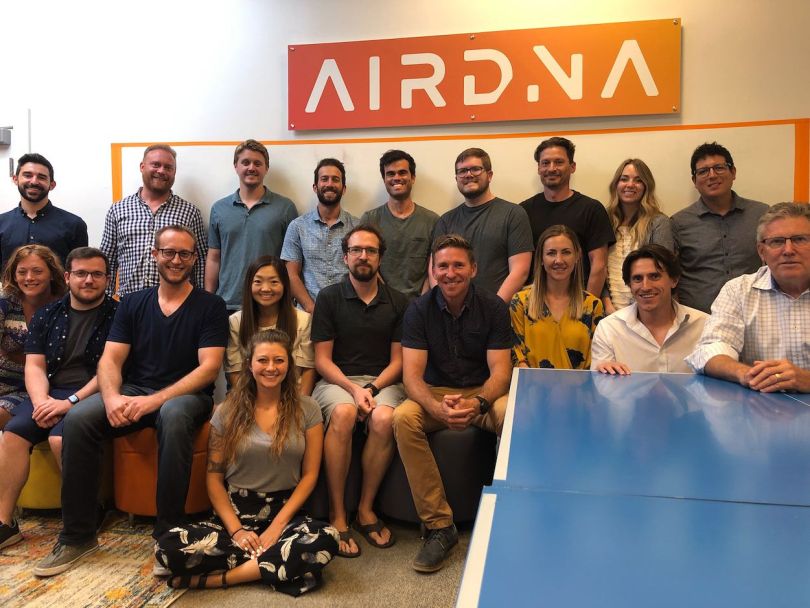 Platforms like Airbnb and Vrbo may have democratized the lodging industry, but pricing for hosts is still a tricky numbers game. 
Factors like historical bookings, market demand and comparable listing rates all influence the optimal price for a short-term rental unit. Unfortunately, the average owner doesn't have easy access to the kind of data that would make them more competitive with hotels and other established companies. 
In 2015, a California startup called AirDNA decided to take Airbnb reservation data and use it to help hosts, property managers and investors better their businesses. When Airbnb stopped making that data available, AirDNA built a machine learning model that scrapes Airbnb and Vrbo for data on bookings, pricing and property values. 
Since then, the company relocated to Denver, bootstrapped its way to profitability and moved from a co-working space to its own office.
Now, it's moving again, to a 5,500-square-foot space at 1509 Blake Street in Denver's LoDo area. 
The move will come with a hiring push, AirDNA's VP of marketing Leslie James told Built In. The company's Denver team grew from seven employees to around 23 in the last 18 months, and it will hit 50 within the next two quarters.
That growth will be split among AirDNA's data science, engineering and marketing teams. Its sales and customer success teams are based in the company's 26-person Barcelona office.
"We generally are an always-be-hiring organization," James said. "So, if we find good people, we'll bring them into the fold and then find the role for them."
The new Denver office was built in 1884 and housed the signing of the Colorado State Constitution. The interior was re-done in the early '90s, and it features floor-to-ceiling windows. But James is mostly looking forward to the dedicated conference rooms, she said.
"Right now, we're all in a single bullpen area, so trying to get quiet time has been hard," she added. "I think we'll have 10 quiet rooms in the new place. So that's a particular excitement for our developers."
AirDNA hit 120 percent year-over-year growth from 2018 to 2019 and plans to see 85 percent growth from 2019 to 2020, James said.