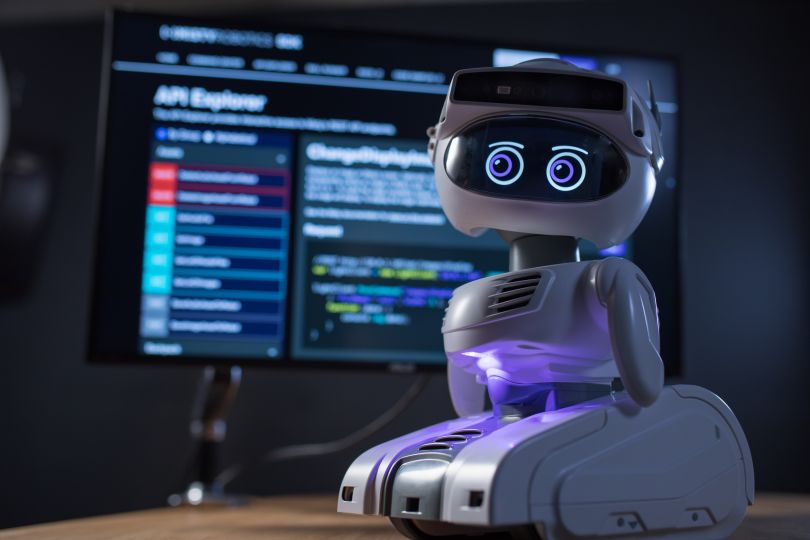 In the programming classes of tomorrow, students never bring an apple for the teacher. Because the teacher cannot eat it. Because the teacher is a robot.
This apple-free vision of STEM education is brought to you by Misty Robotics, which this week started shipping its Misty II personal robot to more than 500 crowdfunding backers.
With an accessible software development kit new Misty II owners can use to build helpful robot skills, teaching a programming class is just one of the wide-eyed automaton's potential capabilities.
For example: A team of student developers at the University of Denver wondered if Misty could be helpful to elderly people with limited mobility. They used her changeable arms to design their own appendage that could pick up out-of-reach objects on the floor. (To see how they did it, check out this blog post.)
Concierge, lab assistant, roaming security officer, you name it — Misty Robotics' vision of what personal robots can accomplish is wide-reaching, and the developer ecosystem surrounding the startup will play a crucial role in determining how Misty actually gets used. As it stands, her applications for business and personal use remain fairly open-ended, and hundreds of developers will set to work in the coming weeks to write new skills with JavaScript.
Some capabilities — like locomotion, facial recognition and her programmable personality — come ready-made. Others — like spatial awareness — will require some build-out. 
In a press release, early Misty II user and web developer Michael Rodriguez said developing with the robot's pre-built command center and skill runner happened with "absolute ease."
Misty II will be available for public purchase later this year. Until then, customers can pre-order the robot for $2,399. 
Sure, that's kinda steep, but how can you say no to these precious eyes?