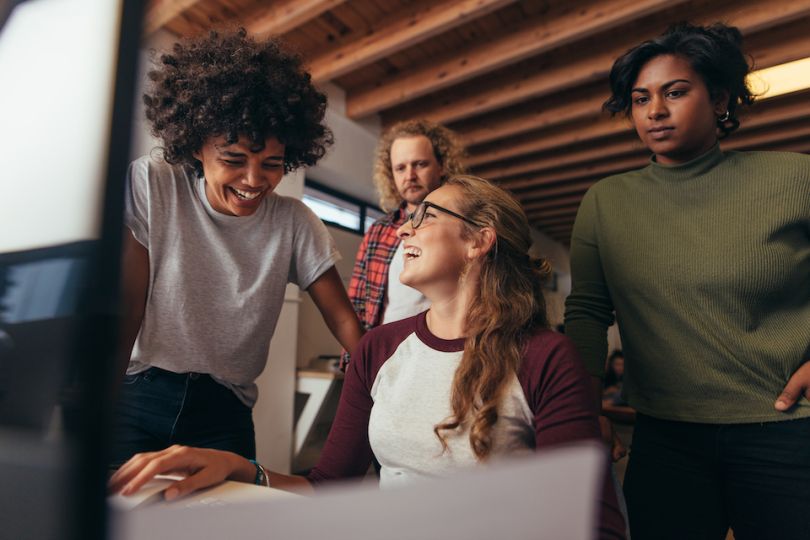 The tech community at large — and in Colorado, specifically — have long been criticized for their utter lack of diversity. In fact, according to a report from the Equal Employment Opportunity Commission, white professionals make up 68.5 percent of the tech workforce, with men, in particular, making up 64 percent. On the flip side, African Americans and Hispanics make up only 7.4 percent and 8 percent respectively, with other minority groups barely represented at all.
Case in point: we have work to do.
But for the underrepresented and often overlooked members of Colorado's tech community, it's tough to sit by and wait patiently for the tech world to catch up. And thanks to some of the fantastic, progressive organizations in Colorado — they don't have to.
We've compiled a list of some of the meetup groups, businesses and professional organizations helping to create a more diverse and inclusive tech community — each of which provides opportunities for learning, mentorship, empowerment and community-building among people of common backgrounds and those seeking to support their success.
Did we miss anyone? Let us know here who you'd like to see on the list!
Hispanics in Tech
Mission: The Latino community represents one of the fastest-growing demographics in America today, yet members of that community continue to be underrepresented in the tech workforce. Run by local tech leader James Foy in partnership with the Hispanic Chamber of Commerce of Metro Denver, Hispanics in Tech works to address this disparity by creating a hub for Hispanics whose careers center around technology and for those looking to invest in and support those professionals. Its meetups provide opportunities to learn from and connect with leaders in the Hispanic technology community and avenues to improve academic awareness and achievement for Hispanic youth.
Get involved: You can join the Hispanics in Tech meetup group online here, where you can also stay up to date on upcoming events or spark a conversation with fellow techies.
National Center for Women & Information Technology
Mission: Headquartered in Boulder, NCWIT is a national resource supporting the advancement and empowerment of women in tech. The non-profit community was chartered by the National Science Foundation in 2004 and uses a three-pronged approach to improving awareness and knowledge and motivating change within our country's institutions and businesses, including: bringing together women and men who drive change at its annual NCWIT Summit; providing free, online research-based resources to drive reform at every level; and uniting its members through programs that focus on policy reform, image change, outreach to underrepresented groups and empowerment.
Get involved: Check out NCWIT's list of programs, browse its online resources or sign up for its newsletter to stay in the loop about the latest research and events.
National Society of Black Engineers
Mission: The National Society of Black Engineers is one of the largest student-governed organizations in the country. Its mission is to support the academic and professional success of black students and tech professionals through leadership training, professional development opportunities, mentorship, community service projects and more. The organization has programs and initiatives that start at the pre-collegiate level — with services like college admissions prep, discounted test prep and scholarships — and continue to support members after graduation — offering services like leadership development workshops, career and networking fairs, and access to mentors.
Get involved: Learn more about joining the Boulder chapter, become a member online or keep up with the latest from NSBE's Region 6 (which includes Colorado) by clicking here.
Society of Asian Scientists and Engineers
Mission: Founded in 2007, the Society of Asian Scientists and Engineers helps Asian STEM professionals reach their full potentials. The organization provides educational and professional resources that prepare its members for career success, celebrate diversity on campuses and in workplaces, and give members opportunities to engage with and contribute to their communities. SASE hosts a variety of national and regional conferences, think tanks and leadership trainings and, on the local level, hosts community networking events and more casual gatherings like barbecues and volleyball tournaments.
Get involved: You can join and learn more about SASE's local professional chapter here or follow them on Facebook here.
American Indian Science and Engineering Society
Mission: AISES's mission is to increase the representation and visibility of American Indians, Alaska Natives, Native Hawaiians, Pacific Islanders, First Nations and other indigenous peoples of North America in STEM studies and careers. Its founding stretches back to 1977, and since then, the organization has grown to more 4,600 members with 189 college and university chapters, 15 professional chapters and 158 affiliated K-12 schools. The organization offers an array of programs, events and resources that aim to help American Indians succeed in the rapidly growing tech world and connect them with career opportunities.
Get involved: While there currently isn't a Colorado-based professional chapter, there are a number of pre-college and college chapters with opportunities for members of all levels to get involved. You can become a member here.
Patriot Bootcamp
Mission: Patriot Boot Camp has made a name for itself in Colorado — and throughout the startup community — through its commitment to providing active-duty military members, veterans and military spouses with the education, resources and community needed to be successful technology entrepreneurs. Since launching its intensive, three-day programs in 2012, PBC has organized and hosted 13 events in nine U.S. cities, graduated over 800 entrepreneurs, and rallied more than 300 mentors and volunteers in support of veteran entrepreneurship. It currently runs two programs per year — one in Denver and one in Austin, TX — for cohorts of 50 tech entrepreneurs.
Get involved: Check out Patriot Boot Camp's blog to stay up to date on the latest happenings, follow them on Facebook or apply to participate in one of their upcoming programs here.
BeVisible
Mission: BeVisible aims to celebrate, support and bring visibility to the thriving community of Hispanic professionals across the country. Acting as a sort of LinkedIn for latinx professionals, its social network offers ways for members of the community to connect with peers, mentors and resources, ask questions, share relevant content, build professional profiles and learn about career opportunities in tech, finance, marketing and advertising. Headquartered in Boulder, BeVisible also hosts events and conferences — both locally and around the country.
Get involved: Build your own BeVisible profile here or follow them on Facebook for regular updates here.
Emerging Women
Mission: Boulder-based Emerging Women is a leadership community for women entrepreneurs, providing the tools, knowledge and network for women to lead confidently and in a way that integrates core feminine values, such as connection, collaboration, intuition, empathy and heart. Its mission is to empower women to embrace those values while navigating the many challenges they face in the business world. The organization offers an online community as well as networking circles, useful resources, international events and retreats.
Get involved: Become an Emerging Women member here, join one of their Power Circles or register for an upcoming coaching retreat.
Equili
Mission: First launched in 2013 as a two-day seminar for women in tech, called LadyCoders, Equili went on to expand its mission — and its services — to support all underrepresented and underutilized groups in technology. Today, the Denver-based organization provides a range of tools and resources both for underrepresented members of the tech community and local organizations looking to improve (or initiate) their own diversity and inclusion programs. Through events, workshops, speaking engagements, D&I research and consulting services, and recruiting courses, Equili is building a more diverse tech community and leveling the playing field for all tech professionals.

Get involved: Check out their blog, subscribe to their email list or follow them on Facebook to learn about upcoming events. You can also pick up tickets to the 2019 LadyCoders conference here.