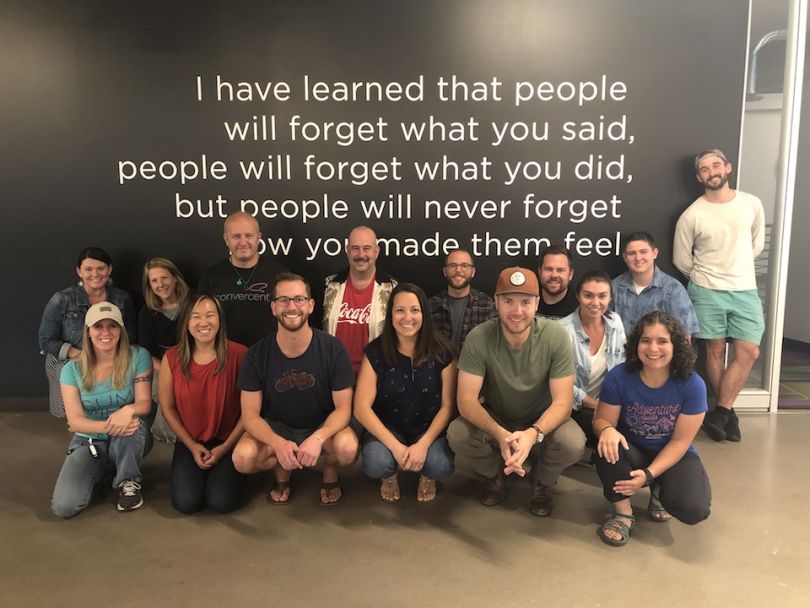 "Mission-driven" is somewhat of a buzzword in the tech space today  — a moniker that could be assigned to virtually any business with a core mission that drives the goals and actions of its teams.
But at Denver-based ethics and compliance management company Convercent, "mission-driven" is far from a cliché. It's part and parcel of everything they do.
At a time when corporate ethics violations are coming to light with increasing regularity and scrutiny, causing greater damage to companies' reputations and costing millions of dollars in reparations, Convercent aims to make ethics a central and critical part of its customers' internal conversations. More than a mere compliance auditing software, Convercent's solutions help businesses take action and transform their organizations with integrity and confidence.
We talked to VP of Customer Success Patti Saunders to learn more about the company's powerful mission and how her team works side-by-side with Convercent's customers to drive that mission forward.
Tell us a little about Convercent's mission as a company.
Convercent's mission is to drive ethics to the center of our customers' businesses and connect ethical behavior to their corporate performance.
Companies are under more pressure than ever to hold their employees and partners accountable for their behavior. We believe there is more to the story than providing just a hotline to report issues. We want to empower our customers to extend their reach to bring in more voices and give them the tools and insights to affect the changes in behavior that will have a lasting impact on their businesses and their brands.
How does your mission play into the conversations and interactions the customer success team has with your customers?
In many ways, the work to connect our customers with our mission is the easy part. Convercent's customers have unique stories, but they come to us with a shared vision.
Companies looking to check a box for a compliance program audit can find cheaper options. Our customers work with us because they know that building a connection between input, action and outcome matters. The exposure our customers are facing over ethical breaches are more visible than ever — the almost daily coverage of these types of events tells the story for us.
For customer success, Convercent's value proposition to our customers is dependent on their employees' engagement with our platform. People engage when the solution — including the services and experiences supporting it — is seamless, meaningful and confidence-building. To understand what that means for our customers, it's important that we work closely with them. We spend a lot of time with our customers getting input on our roadmap, listening to their vision and sharing ours. This has the knock-on effect of reinforcing our mission and inspiring the team to keep innovating.
What are some of the benefits of having both your employees and your customers invested in the company mission?
We have some serious fortitude. Growing a business isn't easy, and the quicker our company grows, the greater the chance of seeing gaps in the alignment of sales, product development and our customer needs. The collective commitment — between our team here and our customers — has created a pretty sticky glue. As we come out of those early growing pains and are picking up momentum, we are feeling the increasing velocity that comes from such a tight alignment of purpose and vision.
How do leaders in your company bring the mission to life in the day-to-day lives of your employees?
Our CEO is passionate about civic engagement and our responsibility as individuals to be informed and involved. As such, he arranged to have the Democratic and Republican candidates for governor and attorney general come to meet with us and answer our questions. It was a small but remarkable thing, in these contentious political times, to step out of the middle of the workday to have a thoughtful, civil discourse that wasn't about persuasion but about listening and being open and respectful. I was struck by how thoughtful and not-agenda-y it felt. I was really proud of us as an organization to practice what we preach about being open, curious and, sometimes, a little uncomfortable.
As a leader of the team, I feel like I have been handed this secret weapon that is going to propel us to redefine what CS can mean to our industry." 
How does your experience leading the customer success team at Convercent differ from your previous experiences?
Every SaaS company measures CS success through some combination of retention, upsell and the number of references we can collect. Convercent is no different, but our charter within CS at Convercent is to help our customers create meaningful engagement in their ethics programs, so we have to look beyond whether our customer stakeholders renew their licenses with us. That is table stakes; financial metrics are certainly critical, but chasing renewal dollars won't realize the vision.
I am still relatively new to leading the CS team here at Convercent, but the connection to our mission within the team is a galvanizing force for us. As a leader of the team, I feel like I have been handed this secret weapon that is going to propel us to redefine what CS can mean to our industry. Our long-term success is going to come from engaging with our customers in a way that we haven't yet imagined. It's inspiring.
How would you describe your ideal job candidate? 
My ideal candidate understands the expectations of working with professional, enterprise organizations who are working with solutions central and visible to their businesses.
Convercent has a great culture — it's fun, collaborative and there are dogs everywhere — but we know when it's time to button up and present our serious side that understands the importance of the work we are taking on. Our stakeholders are chief compliance officers and general counsels; they aren't typical technology buyers. We need folks who can translate technology to business problems and know the boundaries of their expertise.