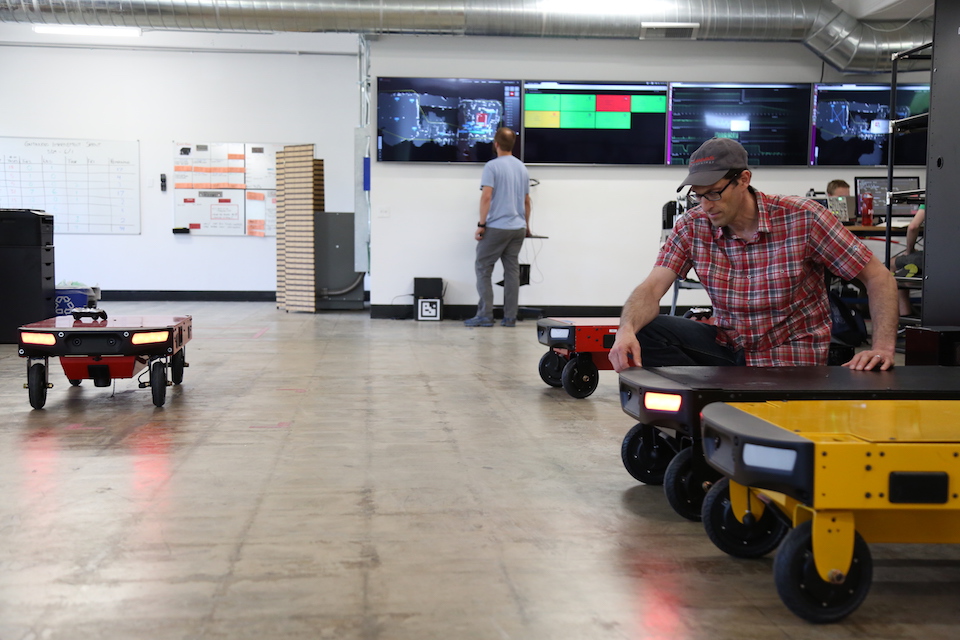 The only thing more exciting than building and working with cutting-edge technology is exploring creative new ways to apply it. For the team at CANVAS Technology, that's exactly what they get to do every day.
CANVAS made waves last year with the close of a $15 million Series A funding and the unveiling of the world's first completely autonomous self-driving cart. But it's the proprietary technology behind those carts that's the real showstopper.
With its team of tinkerers and techies, the company has developed state-of-the-art 3D cameras and sensors and powerful vision software that enable the autonomous movement of vehicles through complex, ever-changing spaces.
CEO and co-founder Jonathan McQueen shared his insight into the exciting work happening at CANVAS's Boulder HQ — and how he and his team stay ahead of the curve.
CANVAS Technology is known for its self-driving carts, but can you talk a little bit about the technology behind those carts?
A good way to describe the technology we are creating is spatial AI — in other words, an ability to see and understand the world around you and act appropriately. Our robots use our state-of-the-art cameras and other sensors to perceive their surroundings in full 3D with unrivaled vision and fidelity.
By seeing accurately, from floor to ceiling, and with the ability to identify objects and people and predict their actions, they can work with humans and other machines in a graceful and fluid manner. The result is a safe and intelligent autonomous platform that powers vehicles through complex, dynamic spaces alongside people and other moving vehicles — on-road or off-road, indoor or outdoor, even where there is no map.
What are some of the other potential applications of CANVAS's technology?
Our goal at CANVAS is the end-to-end autonomous delivery of goods, from the factory to the end customer. Our first product, the CANVAS Cart, is an autonomous material moving solution that works well in even the most dynamic environments. It's in deployment across the US (and soon internationally) in manufacturing, warehousing, logistics and e-commerce. Our vehicles have travelled thousands of autonomous miles!
However, many companies have needs for vehicles that are quite specific to their applications. In those cases, we tailor our powerful vision system — both software and advanced camera sensors — to turn their vehicles into intelligent autonomous systems.
How are you staying ahead of the curve in your space?
We started the company with technology that was ahead of the curve in our space; no one else had commercialized camera-first autonomy. Two of our co-founders were fresh out of their PhDs in computer science and computer vision and had done meaningful work in the labs and were excited about bringing it to industry.
We definitely have to — and want to — keep innovating. Our culture is deeply rooted in learning and continuous improvement. It means that employees are voluntarily enrolling in classes, going to seminars, reading the latest papers on computer vision and machine learning, etc. In addition, I'll sometimes hear how a developer has spent the weekend building something they were excited about.
The goals ultimately come from a strategic planning process, but everything else is up to teams. That allows the teams to get really creative about the ways to meet goals."
How are employees encouraged to explore new and unique applications for the tech you build?
We use a planning model called GIST that encourages a ton of autonomy and creativity. GIST stands for goals, ideas, step projects and tasks. The goals ultimately come from a strategic planning process, but everything else is up to teams. That allows the teams to get really creative about the ways to meet goals. This ends up generating ideas from all levels of the organization and keeps the teams highly engaged and bought into what we're building and how we're building it.
How would you describe the company culture at CANVAS?
We have a high-performance, low-ego environment. Amidst our big goals and tight timelines, most people would describe CANVAS as having a family-like feel. We value learning, persistence and ingenuity along with collaboration and kindness.
What qualities make someone successful on your team?
We look for bright people who are excited by challenge.
The most successful people joining the team show strong interest in our technology, products and customer needs. They throw themselves fully into their challenges while also building camaraderie with others on the team.