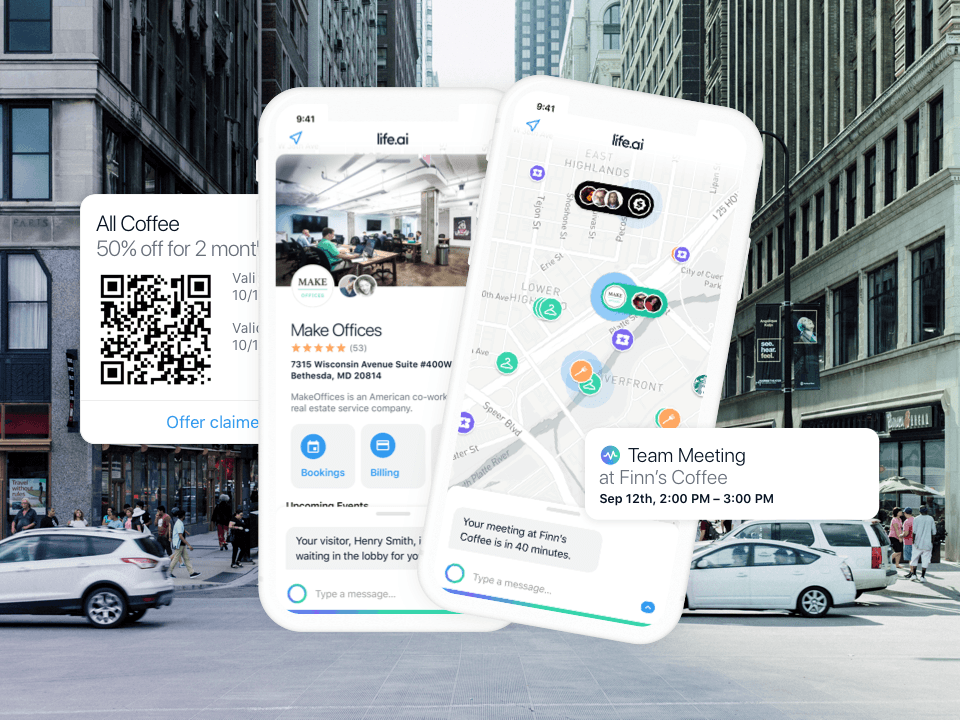 When we hear the term "smart city," many of us think of infrastructure: sensor-enabled traffic lights, "smart" parking areas, energy-efficient buildings.
But the folks at Denver-based Life.ai have a different vision for the smart cities of tomorrow, a vision of cities fueled by artificial intelligence, driven by hyperlocalization and dedicated — above all else — to serving the citizens who inhabit them.
The latter provision is, perhaps, the most surprising. As tech leaders like Elon Musk publicly decry the advancement of AI technology, many people, in the industry and out, eye it with suspicion. They picture super-intelligent robots capable of manipulating our minds and behaviors — or worse, rendering humans obsolete.
Musk isn't totally wrong. Artificial intelligence is powerful stuff, capable of both great good and great evil. But Life.ai founder and CEO Dave Ladouceur prefers to focus on the good, and the company's AI platform is proof of that.
In order for AI to be beneficial — truly beneficial — to humans, to mankind, it has to be citizen-centric."
"In order for AI to be beneficial — truly beneficial — to humans, to mankind, it has to be citizen-centric," Ladouceur said. "It has to work for a person, not for a company. It's not going to be sold by a Google or a Microsoft or an Apple. It has to be something that's going to work with you, for you, and is not incentivized in any way to sell you, manipulate you or get you to do anything you don't want to do."
Ladouceur and his team have been hard at work over the last couple years developing a platform that addresses every facet of day-to-day life and brings it all together in one app. This year, the company cemented a partnership with smart city developer CityLink.ai, serving as the primary driver behind a $700 million-plus smart district development outside of Washington, D.C., called Gramercy District. The company also partnered with national coworking chain MakeOffices to create smart district hubs in 15 spaces across five states.
While no Life.ai smart districts currently exist, the Gramercy District project will break ground late this year and is expected to open in early 2019. Its Concept Foundry platform — which brings together immersive learning experiences, collaborative workspaces, and accelerator programs under one roof — will go live in MakeOffices' coworking spaces this year.
In a smart city powered by Life.ai, Ladouceur said, you can open the app at a desk in your coworking space and immediately access the resources and businesses around you. You can book a conference room, sign up for a workshop, add money to your parking meter or invite a fellow coworker to coffee. You can then ask the app's personal assistant to show you the coffee shops in your area. As you browse your options, you can view their hours and menus, and those coffee shops can even sweeten the deal by offering you a special discount when you visit.
But that's just the tip of the iceberg.  
Life.ai's smart cities can also provide educational resources for people of all ages, help connect individuals with government resources, link businesses with local suppliers, plan an activity with friends, navigate a neighborhood — the list goes on. The app's open APIs and interfaces allow anyone who wants to build a smart city application or connect a data set to do so, growing the district in a way that meets that community's unique needs.
It's critical to note that Life.ai users have complete agency over their privacy and the data they share.
We don't need to make money spying on people. We want to make money by helping people build relationships with the people, places and businesses that they want."
"Privacy is paramount to us," Ladouceur said. "If you want to share that data, then you can. If you don't, that's fine. We don't need to make money spying on people. We want to make money by helping people build relationships with the people, places and businesses that they want. That's the future of AI, the ability to manage relationships and experiences to create a simple and convenient lifestyle."