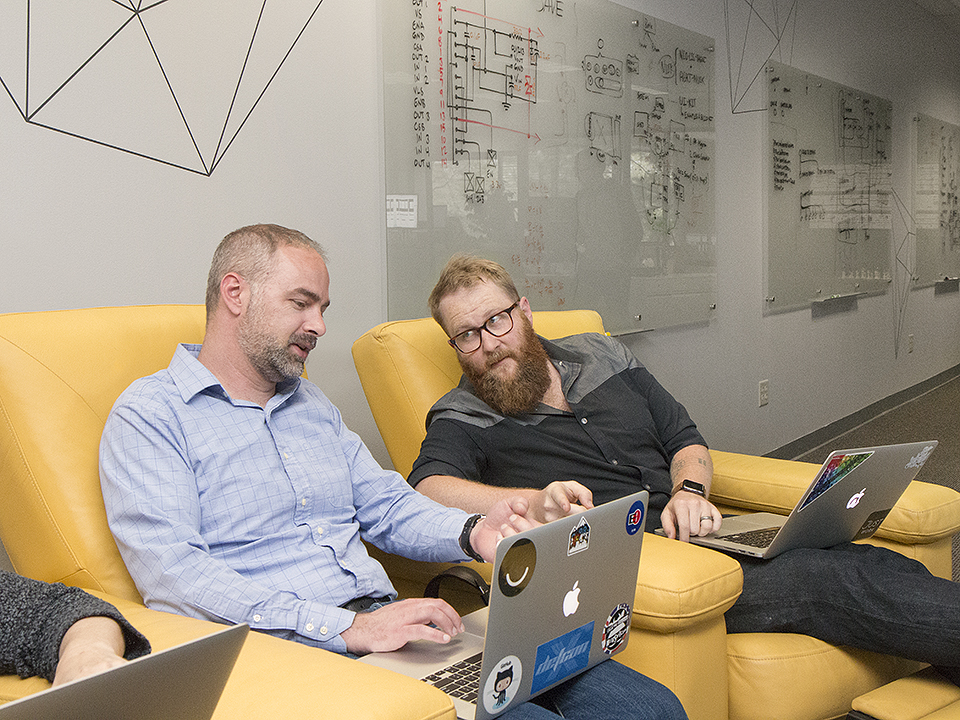 Yes, that's a dinosaur head mounted on a wall in the "Jurassic" conference room at software company n.io. And sure, that's the latest put-put golf challenge in the engineering lab — but these details reflect more than n.io's sense of humor.
Innovation and creative expression is on display throughout the Broomfield offices, reinforcing the fast-growing company's commitment to design thinking. Colorado's n.io (pronounced "Neo") knows that its universal and interoperable artificial intelligence platform will amount to nothing if smart design does not significantly shape its development and use.
Called DxP, the platform advances the global shift to the Internet of Things (IoT). DxP provides a single, unified platform that allows input and interaction from any data source, person or thing. It can connect billions of smart sensors, devices and ordinary products and also integrate them with information systems.
The result, according to Boulder-based Harbor Research, is a "digital nervous system that will smoothly interact with individuals and the physical world."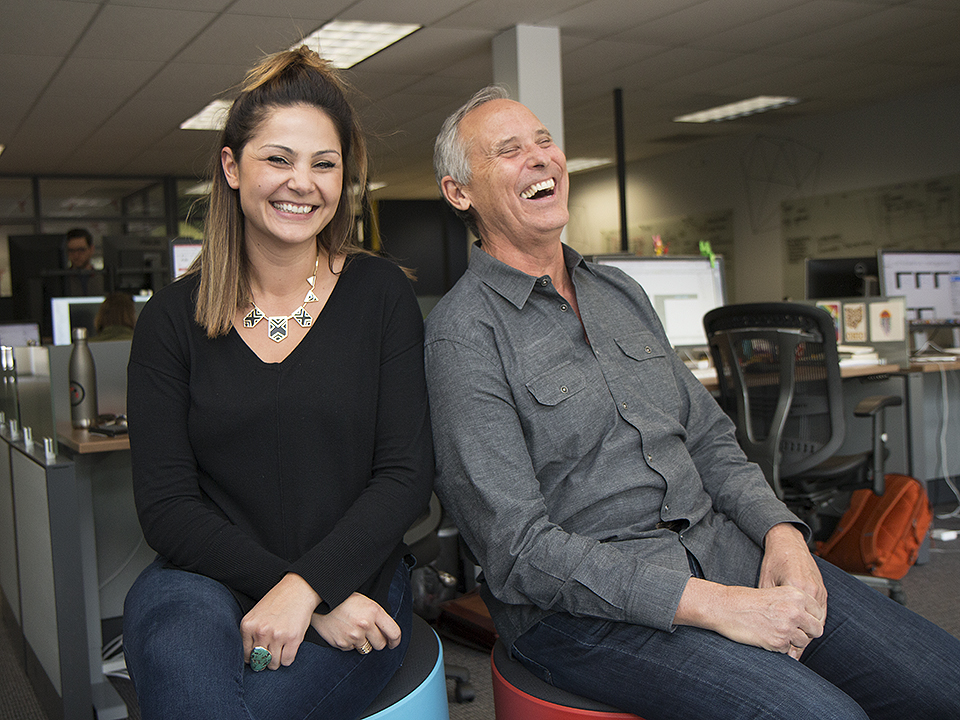 The company applies design thinking — not just in the platform's development, but also in how it is configured to empower end users.
Take for example, n.io's award-winning solution for Deep Sky Vineyard in Arizona. They installed hundreds of sensors in the vineyard to monitor plants, soil conditions, weather, irrigation systems and an array of mechanical devices.
Data points flow into the DxP platform for display on a mobile dashboard specially designed to let farmers make operational adjustments that yield the best, most robust crops. The system can be fully automated so a farmer doesn't need to turn on or off devices like water pumps. So n.io literally can sense what is happening to a plant and apply the optimal resources it needs.
Even better: DxP is hardware-agnostic, so a farmer can use existing infrastructure or integrate new tools to have more actionable information and/or automation.
Currently, n.io works with clients across industries, from retail to steel. With the recent addition of two prominent tech executives from Time Warner Cable and Dell EMC, n.io is preparing to launch a full rollout of DxP to industrial and logistics users by the start of 2018.
The 37-person company expects to jump from $5.5 million in revenue last year to about $15 million this year, and to increase employees to about 75.
We recently caught up with n.io founder and CEO Doug Standley and design director Alexa Jaime to discuss n.io's culture of design-led development.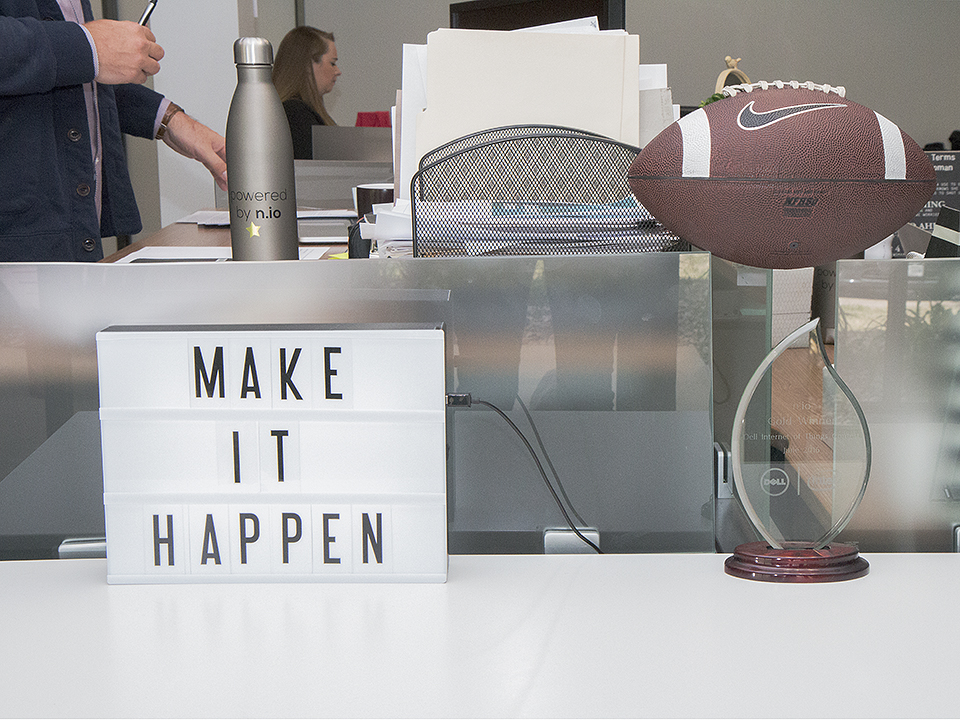 N.IO AT A GLANCE
FOUNDED: 2014
EMPLOYEES: 37
WHAT THEY DO: Advance the global shift to the Internet of Things with its DxP, a unified, single platform that allows input and interaction from any data source, person or thing.  
WHERE THEY DO IT: Broomfield, Colo.
WHO THEY DO IT FOR: Clients across industries, like Deep Sky Vineyard and Intel's Global Retail team.
YOU HEARD IT HERE: "Success for me will look like everyone else who works here enjoying financial security for the rest of their lives." — Doug Standley, founder and CEO.
DINOS ARE GREAT BUT: Check out the fresh meeting space with oranges painted on the walls.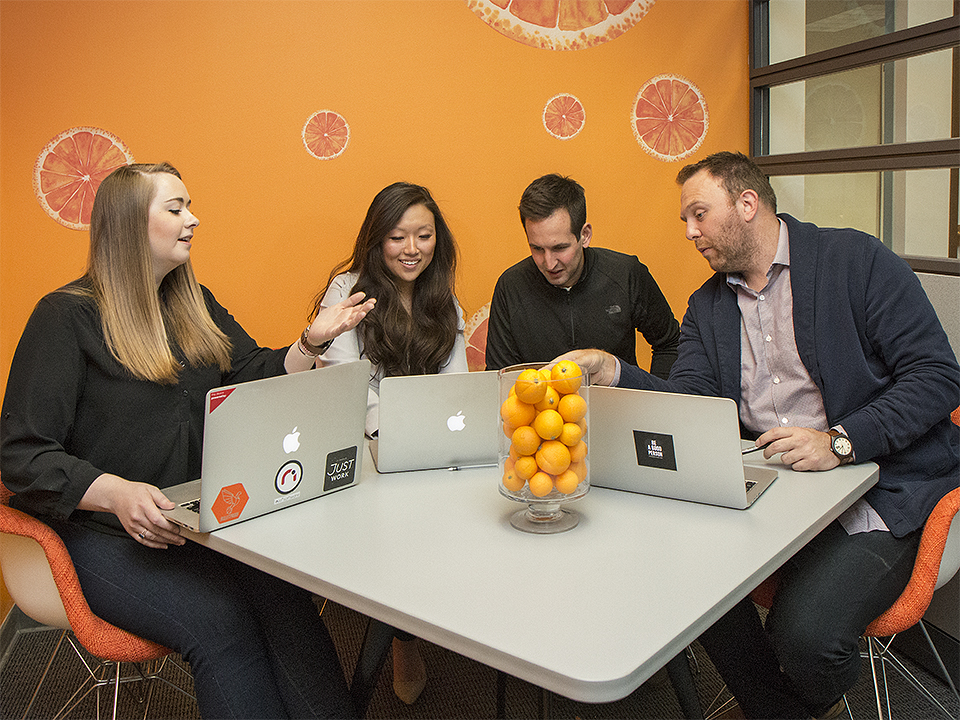 n.io clearly has a culture of design thinking. How does this mindset translate into the platform you have created?
Jaime: Flexibility, iteration and innovations are critical when building a system in a design driven fashion. We approached the DxP platform with the goal of arming our customers to innovate.  
DxP's development hinges on three key architectural elements: It is fully configurable and allows peer-to-peer and client-server distribution of services. It can act simultaneously and asynchronously on information from any device, streaming source or storage. And it enables intelligent and real-time spatial, state-based and temporal contextual processing.
Why is design such an important aspect of the business?
Jaime: Everyone encounters a lot of complex technology nowadays, and we have all felt the pain of poor design. At n.io, we are committed to maintaining an empathetic design perspective for users. We want them to have an intuitive and pleasurable experience across all devices and at every touch point.
Every customer-facing function is an opportunity for us to identify what a user wants and needs — and sometimes what they wish was available. Design is able to take those findings and create incredible experiences that result in enthusiastic, satisfied and loyal customers.
How do you use design (and design thinking) to innovate?
Jaime: As we experiment with new ideas, we allow ourselves to fail, and we embrace risk. We also use rapid prototyping, and from those, we iterate with involvement from everyone. We get everyone to collaborate on strategy, problem-solving and innovation. We maintain cross-functional teams and, first and foremost, encourage everyone on them to become a user advocate. It is imperative for everyone at n.io not just to understand end users, but to champion solutions that will empower them to innovate, too.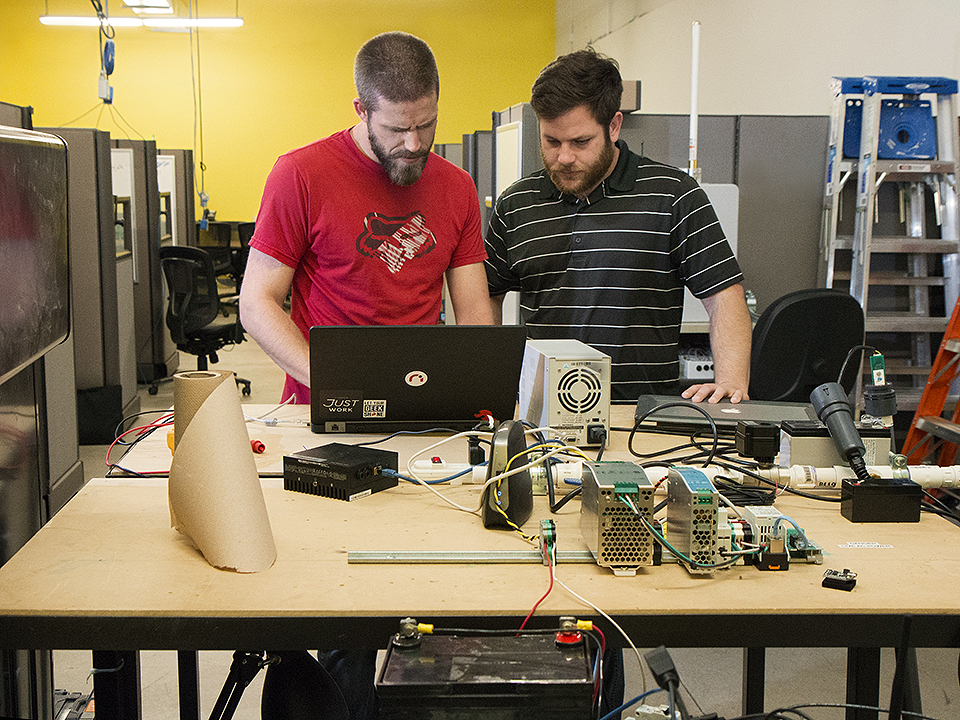 How do you empower your team to be more creative?
Jaime: I want everyone to embrace their freedom to explore and be curious. I encourage people to find inspiration anywhere and everywhere. I want them to constantly question how things have been done in the past and what they could do to improve those processes.
Standley: I recognize that much, if not most, of the real thinking and iteration happens when people go home — but we make it possible for everyone to collaborate on a moment's notice. Groups of us have gathered at 4 p.m., on a Friday. We make ourselves available for calls after hours.
It's not hard to see the energy and excitement around here, and everyone wants to be a part of it. I try to help everyone understand that the moments when you learn and do the most are not scheduled. They're not part of weekly meetings. They're found in impromptu mentoring. It's what we do for each other and with each other that really matters and what brings out our best work.
To reward this kind of commitment, we have been liberal with equity. Success for me will look like everyone else who works here enjoying financial security for the rest of their lives.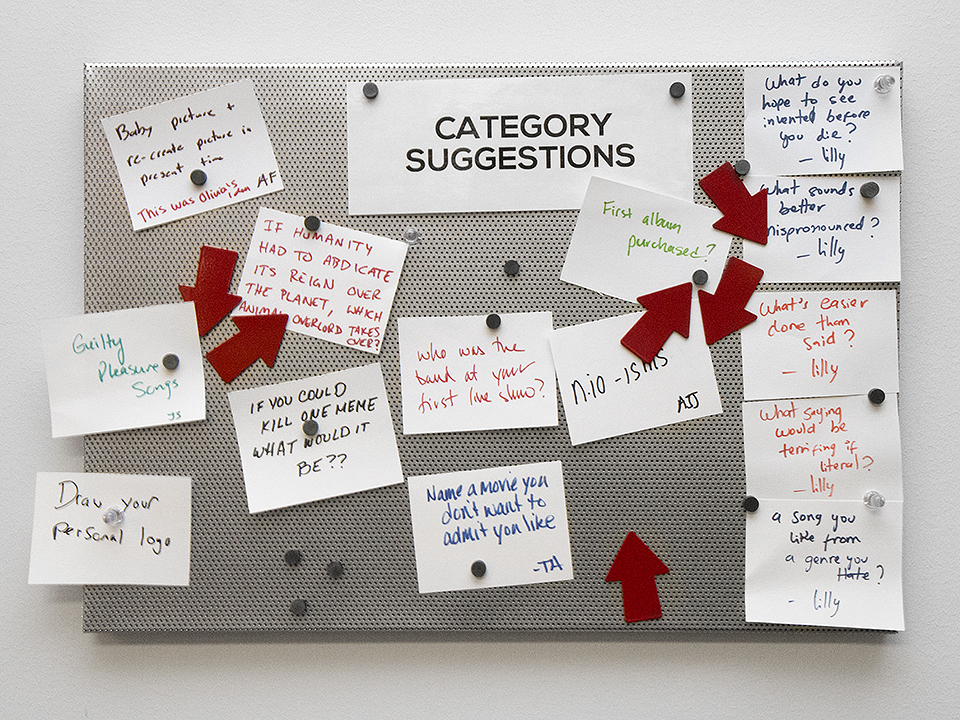 How would you describe your individual and overall leadership philosophies?
Standley: I have a couple. One is that it's OK to be direct; just don't be hurtful. Sometimes, direct communications are perceived by the recipient as hurtful — but I'm comfortable with apologizing. We have to be direct and to get things done here.
I believe with absolutely all of my being that n.io can be massively disruptive and transformational in a very good way. I also know we are not going to get to that by thinking and working like everyone else.
Another is that we will not be hierarchical. Our org chart starts at the center and moves out. It does not move from top to bottom. Everyone here has a lane that is anchored around our central focus on our customers and products.
Jaime: Excellent designers are open-minded, flexible and able to adapt to change. I push designers and other people in the company to reconsider the way they approach a problem. More specifically, I try to push the user to the center of all thinking and discussion about the problem. I emphasize the importance of simplifying the tasks of the user so they can make effortless adaption of the technology.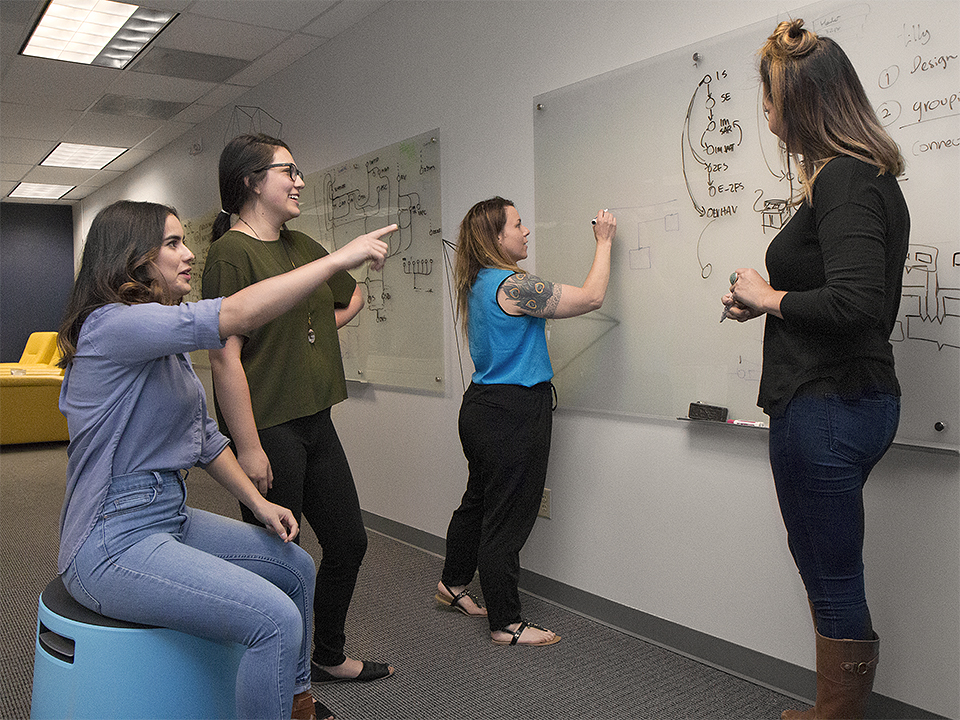 What excites you most about what n.io is doing?
Standley: This is the year we come out of stealth. We've already proven ourselves in three vertical markets. We run by objectives. This will be the year of product positioning for mass scale. We absolutely will be one of those businesses operating at that scale.
So, n.io will always be "openable" — and what that means is that it will remain completely unbiased and without incumbrance that discourages developers from using it. Our vision is to have children learn to configure smart systems off of n.io so academically it becomes like a development language.
Balancing how you do that commercially is a challenge, and we won't do anything stupid. But we do really want mass usage. We don't see limitations and constraints. I don't like to use the word "ubiquitous," but n.io has been developed to be applied on an infinite basis. The degree to which we fulfill that will be how I measure our success, and I'm really looking forward to that.