Let's be real: Colorado tech loves our dogs. To add a little levity, and as our gift to you this holiday season, we've asked some Colorado tech companies to share photos of their most festive pups — along with how they're spreading holiday cheer around the office.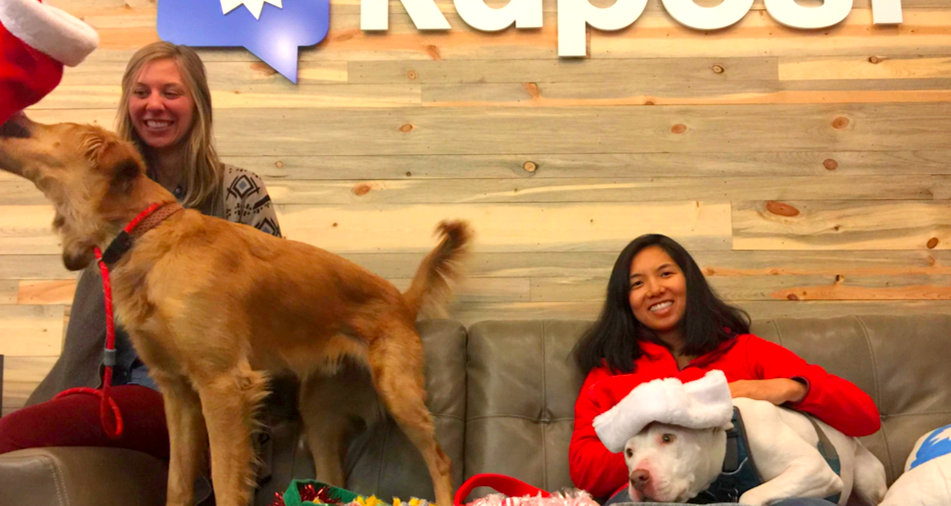 Milton and Pigdog are best friends, bringing joy to the team at Kapost. Milton is the company's garbage collector, while Pigdog is the unofficial office snuggie. Owner Teresa Tarn, software engineer, said Pig loves letting out her elf ears around the holidays. As for how Milton's spreading holiday cheer?
"He recently got a red coat he's been wearing on hikes which seems to solicit a smile from just about everyone we pass," said owner Bricelyn Jones, product owner.
Follow Pigdog on Instagram: @pigdogjones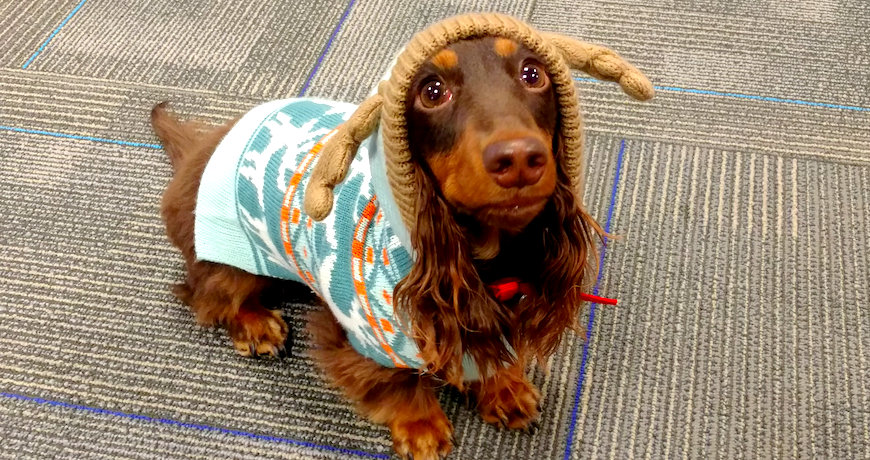 Tipper is literally the face of "puppy dog eyes." The office therapy puppy, this mini dachshund loves frolicking in the snow, cuddling by the fireplace and staring at the Christmas tree.
"He bought presents for all his buddies and can't wait until Christmas day to give them," said owner Britta Morris, communications and events manager.
Morris says Tipper is all over her Instagram: @brittamorris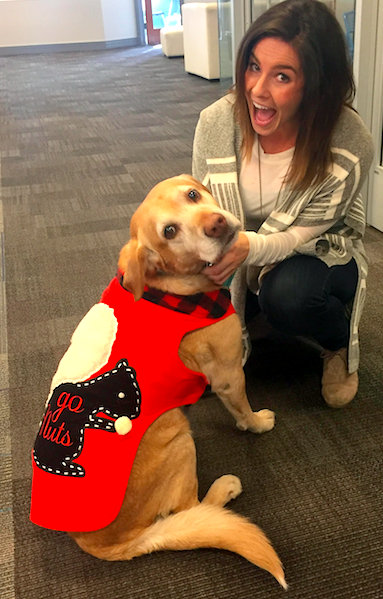 In addition to Tipper, Milton, and Pidog, there's Tucker. He fills the role of top dog at Kapost, taking on the title of "director of dogs." The yellow lab loves romping in fresh powder, stepping on the back of mom's skis when touring and digging in the snow for frozen goose poo.
"Tucker's spreading holiday cheer by carrying his duck around to show off to all his office mates, being the vacuum cleaner at holiday parties and wearing his ugly Christmas sweater with pride," said owner Meredith Giersch, director of customer success.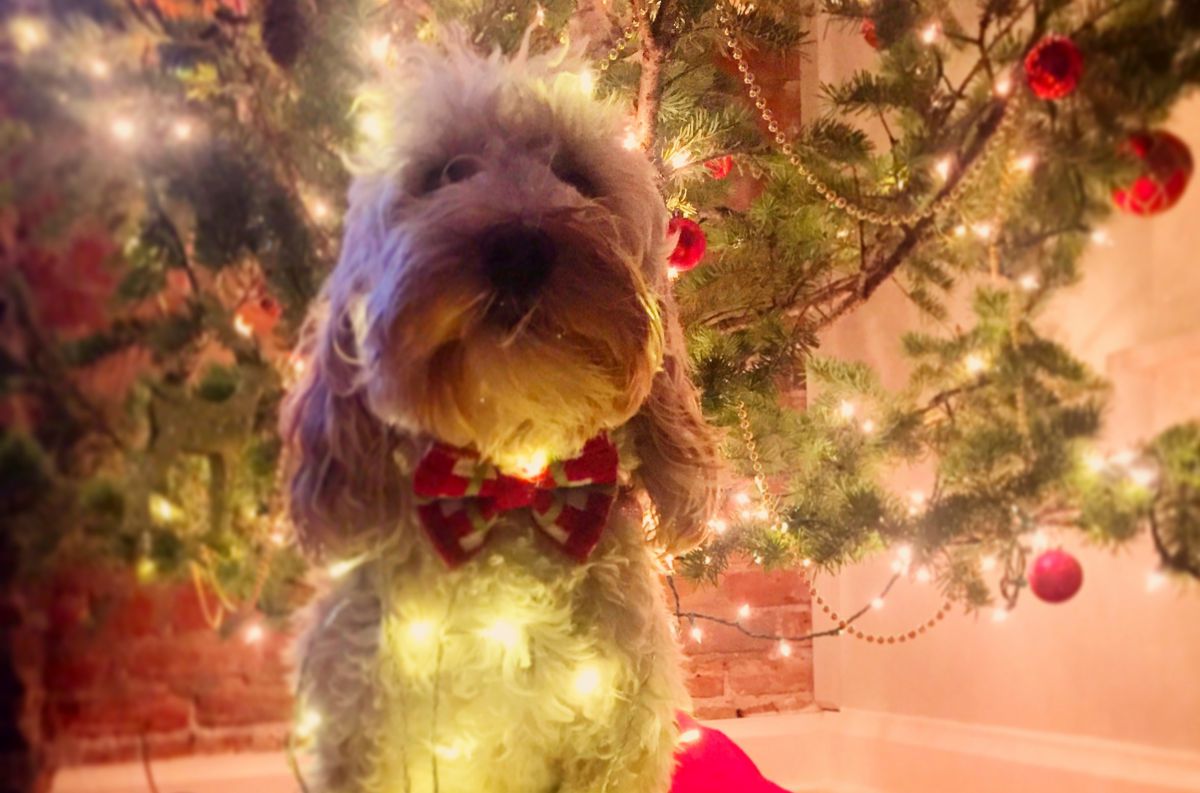 Bean, the Australian Labradoodle, spreads holiday cheer around Apto's office by rocking a festive bowtie, which scored him invites to not one but two holiday parties this year.
"Bean is famous for army crawling through the snow and sticking his head straight down to ensure a proper snowstache," said owner Camilla Calhoun, customer success director.
Follow Bean on Instagram: @beanerdoodle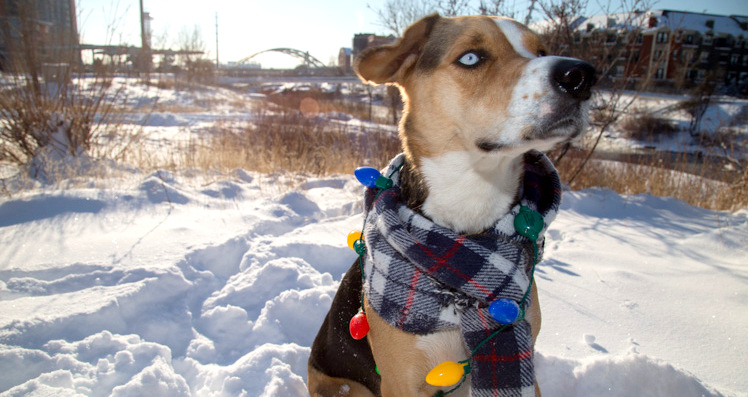 Lhotse is a stunner in the snow — look at those eyes! In fact, she's got the honor of having the most mesmerizing eyes at Screen Pilot. The husky/hound/rottweiler mix loves running alongside her parents when they're backcountry skiing, along with trying to catch the occasional snowball or two.
"Lhotse is spreading holiday cheer by greeting everyone with a big smile and a sloppy kiss, whether they want it or not," said owner Arielle Rubenstein, social media coordinator.
Lhotse makes an appearance alongside foster siblings on Instagram: @meetdafosters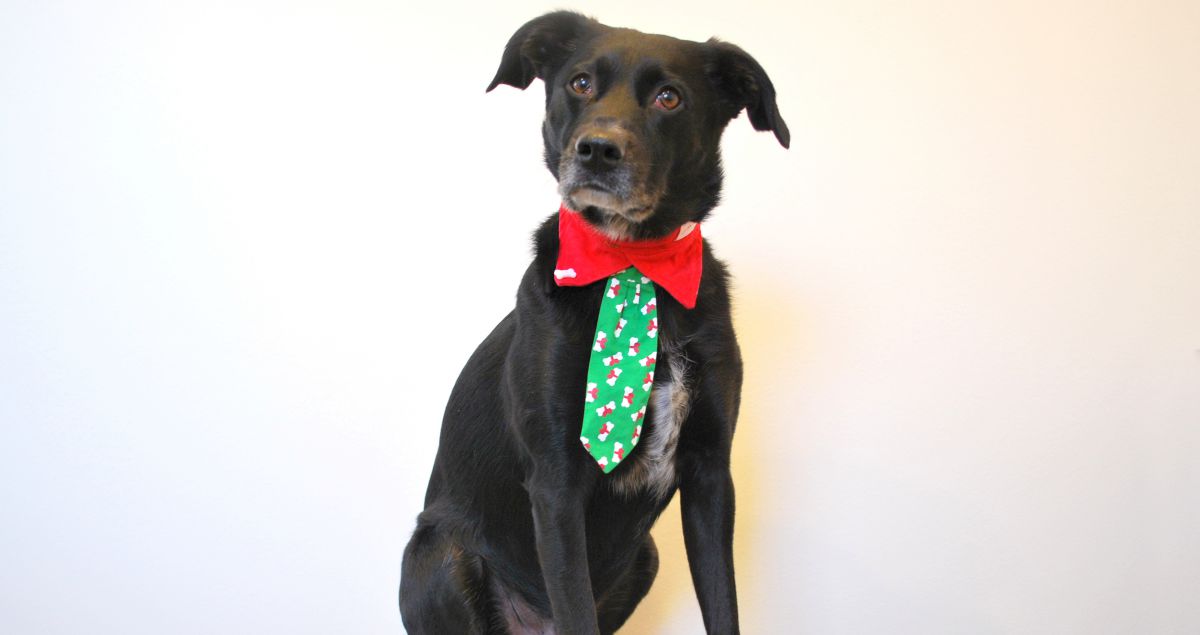 Logan came from a Kansas kill shelter when he was six weeks old, and now he's the CFO (chief fetching officer) in MojoTech's Boulder office. Owner and design director Chad Totaro said Logan loves skiing, snowshoeing, running and playing in the snow, and he's spreading holiday cheer by wearing goofy hats and sweaters in the office.
Follow Logan on Instagram: @luckyloganthedog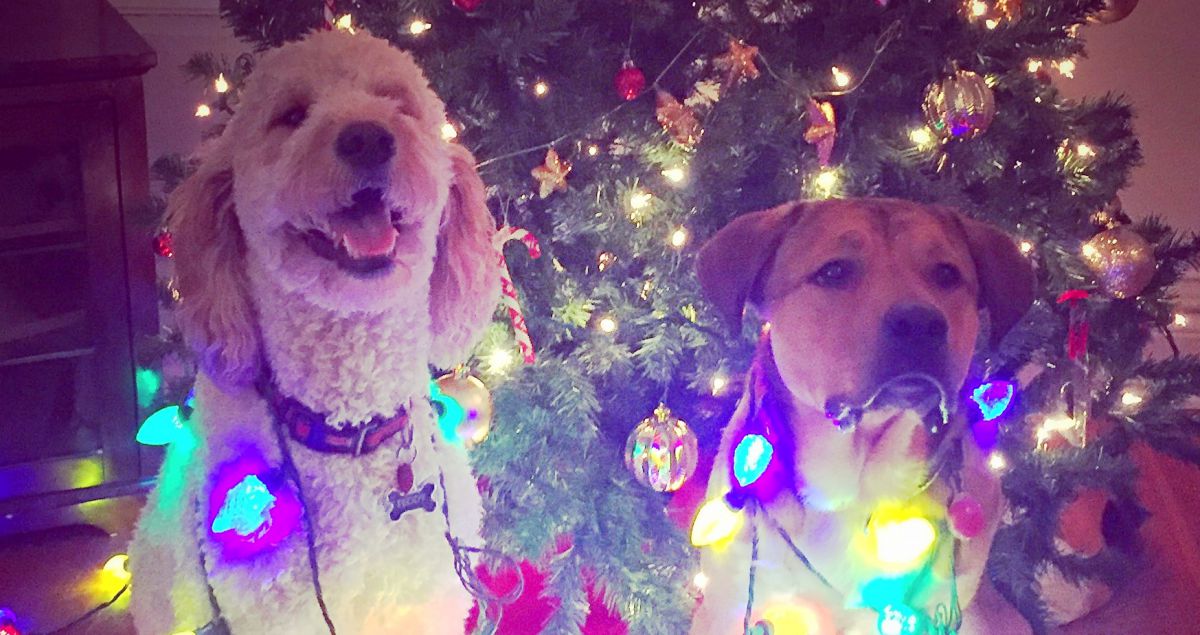 Teddy and Scout are roommates and co-workers at Choozle, just like their owners Kristen Ditsch, client success manager, and Mel Werthmann, client success coordinator. Respectively, the dogs serve as welcoming committee chair and resident drooler on Choozle's team. The two spread holiday cheer by hosting all of their favorite Choozle dogs for an ugly sweater party.
Follow Teddy on Instagram: @teddyrdoodle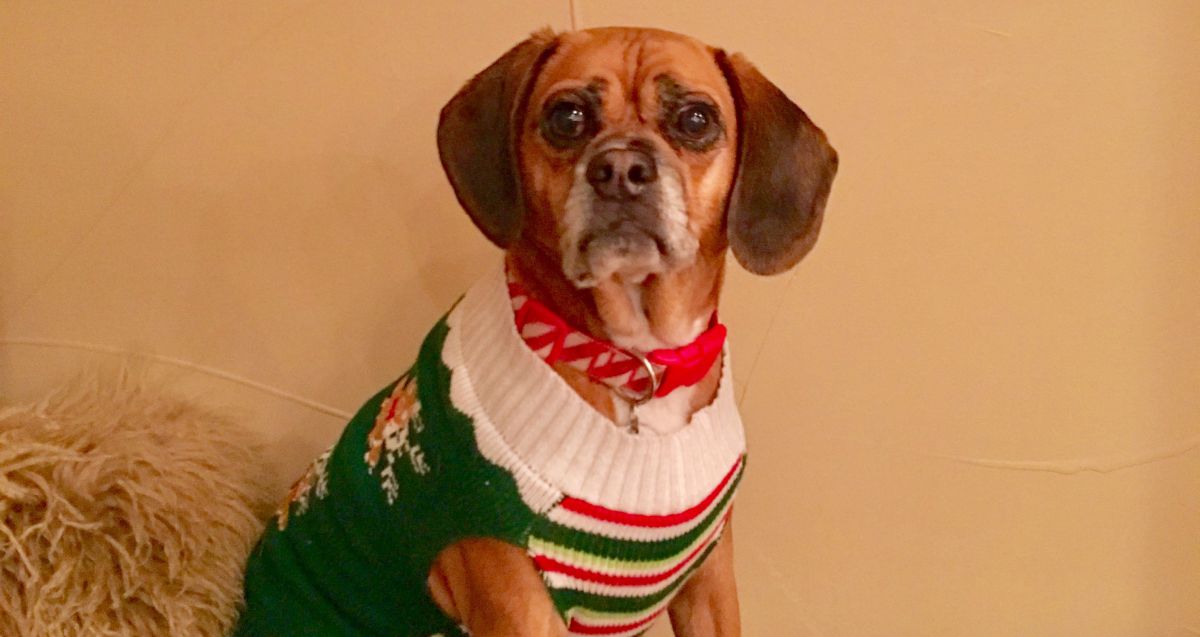 Tucker the puggle loves taking naps, secretly trying to taste test human food and acting cute to get more treats.
"Tucker brings holiday cheer by helping bake Christmas cookies, wearing cute holiday sweaters, and singing loud for all to hear," said Ben Wright, CEO of Velocity Global.
Photos via featured families.
We want to see your festive dogs, too. Tweet us a photo or tag us on Instagram — be sure to use #BICOpups!