We often hear (and tell) stories about companies' early days in terms of the "aha moment," trying to raise funds and even working out of the garage. But how often do we hear about the company's early team? Products are nothing without people, and building an initial team is critical to a company's success.
We caught up with three rising Colorado startups to learn the backstory behind how they formed their initial teams.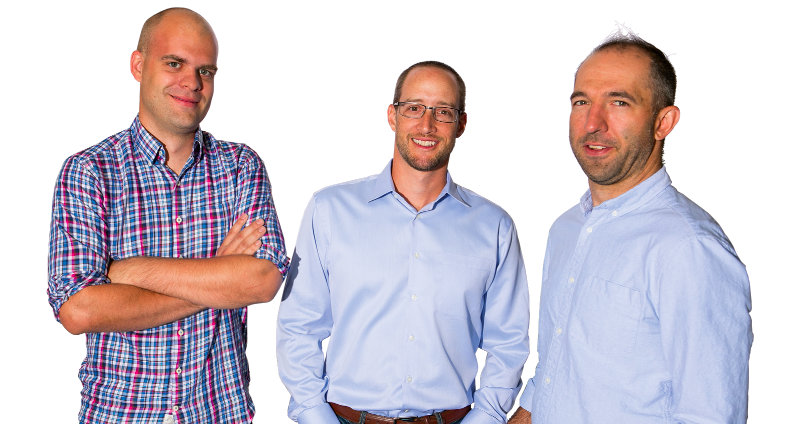 Before launching cybersecurity company Red Canary, its co-founders — CEO Brian Beyer, Chief Security Officer Keith McCammon and CTO Chris Rothe (pictured above) — had all made names for themselves in the defense and intelligence communities.
The three had been working together at Kryus — an offensive and defensive cybersecurity company that works with the government (and one of Red Canary's seed investors) — when they realized a project they'd been involved with had the potential to become its own company. Kryus gave them their blessing, and Red Canary was born.
But forming a founding team and kicking off the company was the easy part — hiring their first crop of employees was no small feat. In fact, it took Red Canary two years to hire their first 10 employees outside of their co-founders. By contrast, they've added another 10 employees in the last seven weeks alone.
"It's something we're very much focusing on and trying to dial in," said Red Canary's Director of Marketing, Cory Bowline. "We've hired good people, but now it's really ramping up and we need to be really spot on from a culture standpoint, a skillset standpoint and an understanding of security."
Working on such sensitive projects means the company has to be extremely selective when sourcing new hires. For many of the roles on the initial team, employees came directly from referrals from the founders' professional networks. It's not easy convincing people with years of cybersecurity experience to join a brand-new company, so the mutual trust required in a referral helped create a smoother experience for candidates and the company alike.
"It's extremely risky to join a company when you're employee No. five, 10, 15, 20," said Bowline. "It's saying, 'We're building a great company, and we want you to help us build it.' We don't have all the answers and we need great people to come on board and help us figure these things out."
Bowline said the company values taking care of their employees — including offering demonstrably competitive compensation and benefits — but that balancing company benefits and a desire to grow with a need to be fiscally responsible has been a challenge in building their initial team.
"We've seen a lot of our peers basically just burn through money," said Bowline. "And that's definitely one approach, but we didn't want to take it. There have been people we've wanted to hire but we weren't able to move quickly enough. It's challenging, figuring out when to pull the trigger on who to hire and what job function they'll have."
Bowline said for Red Canary, the key to building their team has been hiring thoughtfully and deliberately — even if that means having to do more work until they find a perfect fit.
"Be willing to sit in the pain of having too much to do for a little bit longer, because it's a lot more painful to hire too quickly and overspend," he said. "It's so painful to be wrong on a hire at such an early stage."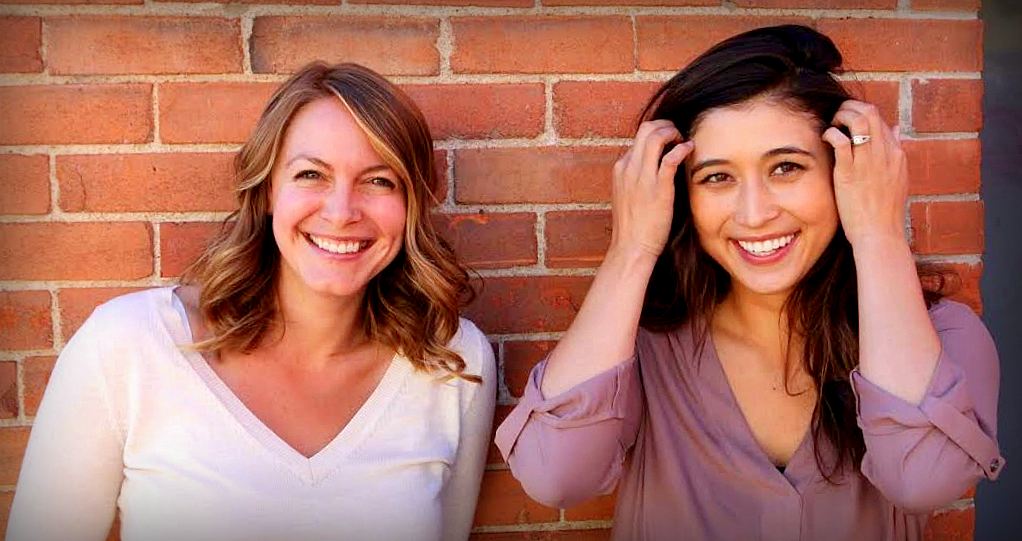 For Shelley Janes, CEO and co-founder of real estate tech company Sidedoor, building her initial team was a lot like dating. She'd rushed into finding her first co-founder after learning she needed one in order to participate in the BoomTown accelerator, but shortly after realized it wasn't a good fit, and the two parted ways.
"You're really looking for your work wife or work husband," she said. "Don't make a decision out of fear like I did in the beginning… you have to make sure you're compatible on a lot of levels — but you usually don't find your spouse on your first date."
Janes did eventually find a work wife, though, in co-founder and COO Mariko Hodgkinson.
Hodgkinson cold-emailed Janes while working for a different company — she wanted to set up a partnership with Sidedoor. Nonetheless, Janes said she was hesitant to meet up with someone who had cold-emailed her. But the two hit it off right away.
"I was like, 'This girl is talented, and she's a hustler,'" said Janes. "She gets stuff done."
The opportunity and timing presented itself, where it worked out for both of them to agree to be co-founders. Janes said the two were at happy hour together when they ultimately decided to take the leap.
"She pushes me to do everything I don't want to do, and vice versa," said Janes. "Together we probably get more done in an eight-hour day than most people do in a week."
Of course, building a team didn't end with finding a co-founder.
"Every founder's story is really different," said Janes. "It depends on what you need as a company. Because we're a marketplace, that really had to do with driving our inventory so we focused as much as we could on sales."
To build out a sales team, Janes looked to interns who were driven and willing to dive in head-first.
"You have so much more time on your hands than you do money," said Janes. "The interns were some really talented CU students who were hungry to make something for themselves and weren't afraid to do anything."
Ultimately, the key to building Sidedoor's initial team was learning how to take it slow — interview lots of candidates, be deliberate in your choices and be patient.
"It'll work out naturally with the right person," Janes said.

Virtual travel agent startup Pana's founding team came together organically. Ever since they were classmates at CU-Boulder, CEO Devon Tivona and CTO Lianne Haug knew they wanted to build something together — and they found the opportunity to do so with Varsity, a company that eventually became Pana.
After going through Techstars (and rebranding Varsity as Native), Tivona and Haug started sharing parts of what they were working on with fellow alumnus Sam Felsenthal. As Felsenthal grew more interested in the product, it became obvious he belonged on the company's founding team, too, and he joined as COO.
"That was very fluid and it kind of just happened," said Tivona. "The thing we had to work at was, after we were a real company and raised money, we had to convince other people to join us. Asking someone to be a co-founder is a huge step but asking your first one, three or five employees to do something is on the next level."
In an act of desperation — they needed someone to help with the personal concierge part of Pana's operations — the team made their first hire quickly off of a recommendation. And, surprisingly, it worked out like "a dream."
"That never happens," said Tivona. "We hired quickly, which was against all of our recommendations, and it worked out."
The rest of the company's hires took an average of four to five months during the interview process — which, in startup time, "feels like an eternity." Tivona said the team went through hundreds of candidates to build out their initial team of six employees, learning key lessons along the way — including what qualities they really needed in a candidate, and when it was time to let someone go.
"We made some mistakes," said Tivona. "Once you know someone isn't a fit, you have to make sure you have the right bandwidth to bring the right people on."
Tivona describes the initial team as the crew of a "pirate ship" — they're a group of dedicated people performing all sorts of tasks they wouldn't expect to do.
"The single most important trait we were looking for in that team was the willingness and interest to get their hands dirty," he said. "We weren't looking for anyone who had been in the C-suite for a while and didn't want to actually do any work."
As the team grows — they've got 15 employees now — Tivona said candidates have come from all over the place, but an unexpected pipeline is newcomers to Colorado.
"We have a unique advantage as a state," he said. "Everyone wants to live here. An interesting thing about someone who's relocating is that they're transitioning, but not because they got fired or their last company failed or anything like that. They're the rare, active job seeker who's looking by their own accord."
For Tivona and the rest of Pana's leadership team, the greatest challenge was an expected one.
"You build processes and habits as a team that you don't even realize you're building," he said. "As you bring new people onto the team, it always breaks because they weren't in there at the beginning."
Defining and re-evaluating processes as the company scales has been challenging, but it's also helped them build a stronger team. Pair that with the drive to hire people who are in it for the long run, and you're on track to take the team to a new level.
Photos via featured companies.
Have a tip or know of a company that deserves coverage? Email us.